Yam Haus frontman Lars Pruitt takes us track-by-track through the Minneapolis pop rock trio's new EP 'Stupid and Famous,' a clever, cathartic, and irresistibly catchy seven-track singalong full of high energy and raw emotion.
for fans of Weezer, Oasis, The Rare Occasions, COIN, flipturn, Hippo Campus
Stream: "Sandcastle" – Yam Haus
---
I finally quit, but I can't give up, and I'm empty but I'm full up to the brim, with little contradictions…
Five years ago, they were stargazers. Today, they're stupid and famous.
… sort of.
Minneapolis pop/rock trio Yam Haus had tons of fun making their latest EP, and it shows in everything from the melodies they're making to the words they're singing. Clever, cathartic, and irresistibly catchy, Stupid and Famous is an exhilarating seven-track singalong ready to soundtrack our highs, lows, and in-betweens: Roaring energy and raw passion come together in a sonically and emotionally charged set of songs reflecting on purpose, place, and survival in the social media age.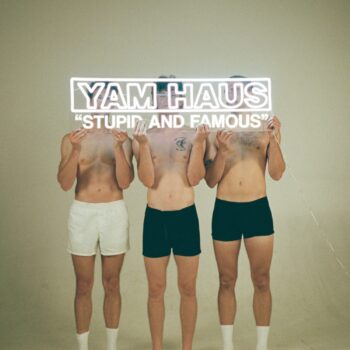 The whole world is made of sand
I feel it slipping through my hands
It's a shame it's a hassle 
Living in a sandcastle
It's a bunch of fun and games
But I don't really wanna play 
It's a shame it's a hassle
Living in a sandcastle 
– "Sandcastle," Yam Haus
Released October 6, 2023 via Big Loud Rock, Stupid and Famous is a spirited, seductive, and smile-inducing reintroduction to Yam Haus. Arriving five years after the Midwestern band's debut album Stargazer first set them in motion, their second multi-track collection finds the group – comprised today of frontman Lars Pruitt, guitarist Zach Beinlich, and drummer Jake Felstow – wearing their hearts unapologetically on their sleeves as they rise and fall on waves of cinematic, enthusiastic pop rock euphoria.
Effortless and emotive, heartfelt and hard-hitting but nonetheless relaxed and fun: This is the magic Yam Haus cook up across Stupid and Famous, diving deep while keeping things surprisingly light and easy. Their dynamic, invigorating sound is comparable to late '90s, early '00s bands like Weezer and Oasis and contemporary acts like The Rare Occasions, COIN, Florida's flipturn and Minnesota hometown heroes Hippo Campus.
Even so, it's clear that Yam Haus are charting their own course and carving out their own niche in the genre.
According to Lars Pruitt, this EP is something of a smorgasbord culled together from various writing and recording sessions over the past couple of years. "'Rafters,' 'Can't See Anything,' and 'So Long' were written at Zach's parents' cabin in Wisconsin. 'Sandcastle' was written at our old guitar player Seth Blum's house way back in 2021. 'Little Contradictions,' 'Stupid and Famous,' and 'Shakin' Yer Hips' were written in my basement," he tells Atwood Magazine. "Tony Hoffer produced and helped us cut 'Sandcastle,' 'So Long,' 'Can't See Anything,' 'Little Contradictions,' and 'Shakin' Yer Hips.'"
"We tracked 'So Long' and 'Can't See Anything' at a studio called Dave's Room in LA. We cut 'Little Contradictions' and 'Shakin' Yer Hips' at the recently closed Public Hi-Fi in Austin, TX. 'Rafters' and 'Stupid and Famous' were cut at multiple places. Partially at home, partially at Lala Mansion in Nashville with the help of Mark Needham, and at our friend Taylor Heinzen's studio Deep River Audio in Prescott, WI. Dave Katz helped me write the chorus to 'Rafters' after we had demoed it out in an early form."
Given how many different places and spaces were involved in these songs' creation, it's a true testament to the band's focus, drive, and dedication that they come together as such a cohesive assembly.
We'll never know, we oughta go
what really matters in the end, in the end?
and my friend you oughta know
It's a dead end
And I'll race you to the end, to the end
Because I wanna swing from my hands
in the rafters, and let myself fall
can you see me falling?
So fast you can't catch me
You can play it safe, you can do what you'd like
But as for me I'm falling
Don't cry I can't hear you
Call my name I'm flying
Gonna pull the stars down, just for the night
---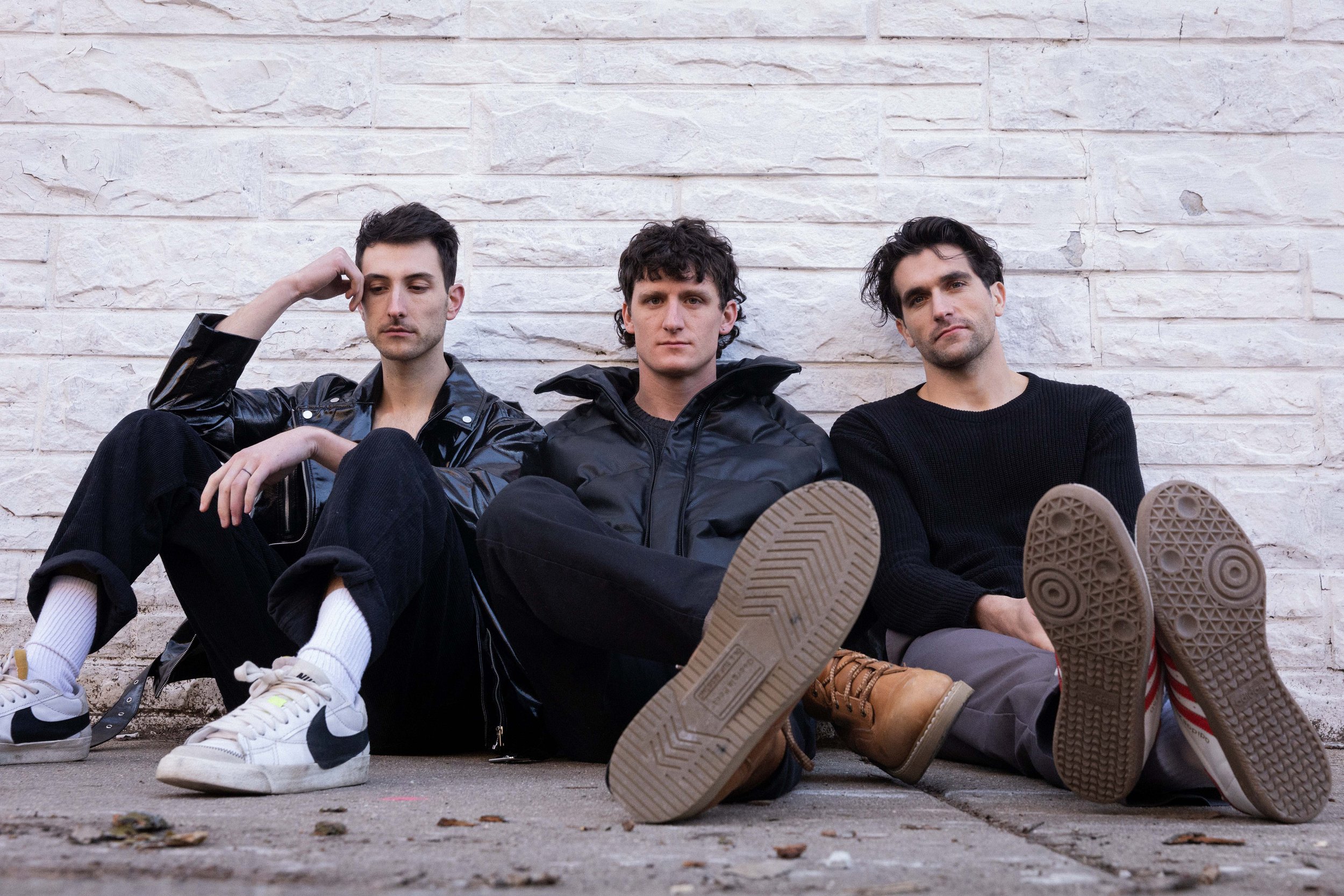 "It was a collaborative and fun process. Lyrically and musically, it feels the most true to form we've been as a band yet," Pruitt reflects. "It has less frills and is pretty minimal, production-wise. It's just us being a band. The lyrics feel very honest and personal, so it's definitely a look into who I am and where my brain is at currently."
"I don't know if I had a vision, but I had certain strong feelings and things to get off my chest from a writing and recording standpoint," he continues. "First, I've been very burnt out on social media discourse and the constant conveyer belt pressure of making content and having an opinion on everything. Second, I've been working through some strong inner struggles in regards to being in the band, and the personal dynamic I have with it. And third, we all wanted the music to feel closer to what we would play live."
Pruitt candidly describes the EP as organic, instinctual, and sassy. The title Stupid and Famous, he says, is a reference to the current climate.
"It's how I feel trying to "succeed" as a musician and be online all the time. In some ways, it's also how everyone appears online. We all have so much stuff to say and it appears as if we truly believe the world is waiting for us to say it."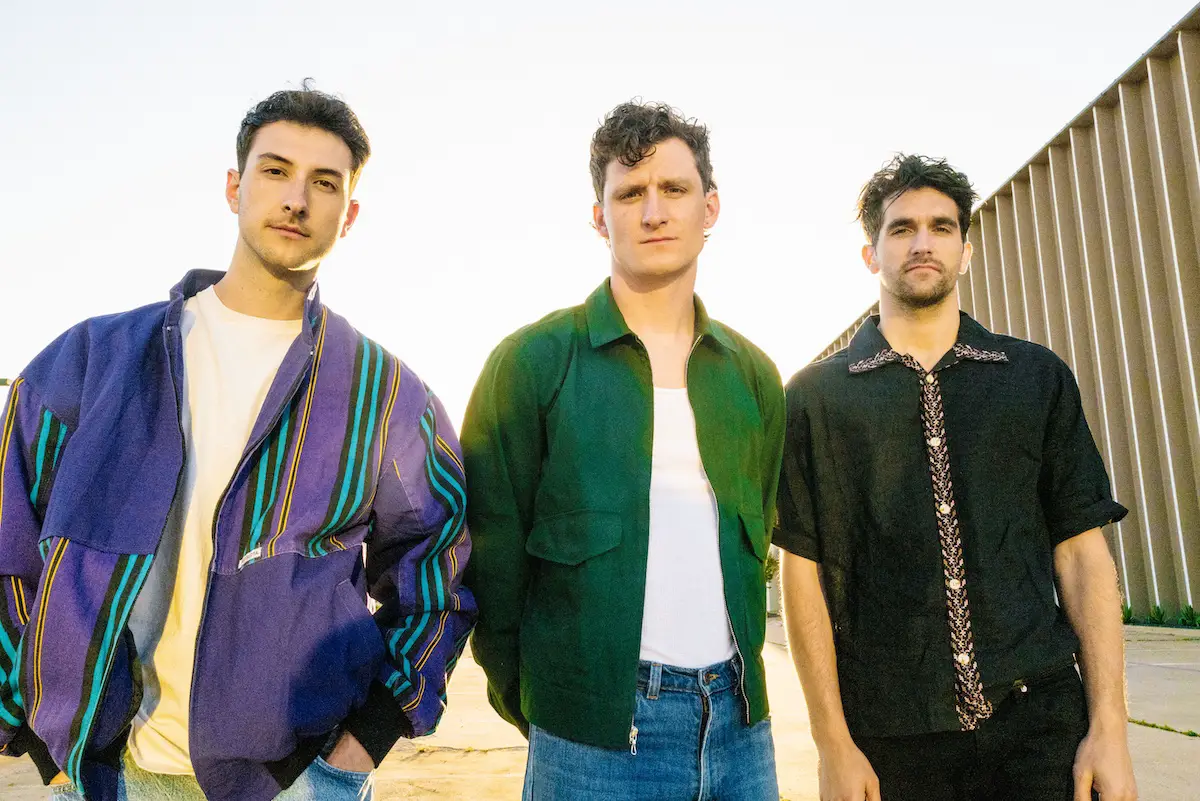 Highlights abound on the snappy 21-minute journey from the self-discovery fueled opening anthem "So Long" to the heated and feverish title track "Stupid and Famous" – a showstopping finale that bottles up all the record's tension, and releases it in a fantastic, furious blaze of glory. Standouts include the buoyant and bustling "Sandcastle," the visceral and thought-provoking "Little Contradictions," the groovy, feel-good "Shakin' Yer Hips," and… well, there's a lot to love about all seven tracks.
Pruitt shares three of his favorite lyrics off the EP:
"I'm gonna crash, gonna burn out til the end
and wake up and do it all again.
I can't resist 'cause I like the way it feels.
I'm a proud little hamster on my wheel"
"My ego's a charm
so don't be alarmed
when it says what it wants
in hieroglyphic fonts"
"She wanted a pop song,
I leave it to Bieber"
"I love them all and they've all been my favorite in different capacities and at different times, but if I had to choose one right now, I'd say 'Little Contradictions' is a personal favorite," he smiles, explaining how that song "came from a time when I was very torn up."
"I was processing some complex feelings, realizing how many different conflicting perspectives I held inside me."
The lyrics to "Little Contradictions" are intimate, impassioned, and utterly intoxicating:
I'm a product of the years I've spent
Worried about what I'll forget
And I'm always so afraid
That I'll end up old and in a fit
Realizing I wasted it
Then I wake up and decide to never change
My bleeding heart, it won't open up
My candle it burns, in a metal tub
I finally quit, but I can't give up
And I'm empty but I'm full up to the brim
With little contradictions
---
Ultimately, this is one stupid and famous thing you'll actually want to listen to on repeat.
Yam Haus have returned to the pop rock spotlight with seven stunning songs that instantly win us over with charming, memorable lyrics, big, bold hooks, and a relentless, rip-roaring energy level that never seems to dip below 7 or 8.
"I hope it voices something [listeners] relate to, and makes them feel less alone in their anxieties or frustrations about the state of the world, both internally and externally. I hope it gives them some dopamine and serotonin in the way only music you discover and love for yourself can," Pruitt shares.
"For me, making this EP has given me a lot of confidence and made me feel empowered as a writer, producer, and a musician. I think it was the first time we truly got the green light to kind of just do whatever we want by the people helping us do this on the business side, and it paid dividends in all of our collective enjoyment and I think the product is better as a result."
Experience the full record via our below stream, and peek inside Yam Haus' Stupid and Famous EP with Atwood Magazine as Lars Pruitt takes us track-by-track through the music and lyrics of the bands latest release!
Catch Yam Haus on tour throughout the United States this November and early December as they bring their Stupid and Famous songs to a theater near you: Find tickets and more information at yamhaus.com!
— —
Stream: 'Stupid and Famous' – Yam Haus
:: Inside Stupid and Famous ::

— —
So Long
"So Long" is a song of self discovery and self inventory. I'm a bit peeved it took me as long as it did to figure out what I want.
Sandcastle
"Sandcastle" is a personal commentary on the futility of our little lives. Having plans and working hard to try and achieve some form of security is really just an illusion.
Little Contradictions
"Little Contradictions" came from a time when I was very torn up. I was processing some complex feelings, realizing how many different conflicting perspectives I held inside me.
Shakin' Yer Hips
"Shakin' Yer Hips" is a song for the navel-gazing entertainer who is doing what they can to just hang on mentally. Dance through the insecurities and self-doubt, baby.
Rafters
"Rafters" is a song about letting go. It's about going back to the perspective you had as a kid and letting go of all of these adult expectations and perspectives that keep you from the joy of whatever you're doing.
Can't See Anything
"Can't See Anything" is about self-righteousness, both within myself and observed in the world around me. We're all so damn enlightened and all we seem to do is bash each other over the head with our perspectives.
Stupid and Famous
"Stupid and Famous" is a song about social media, especially from the perspective of an artist. It feels like we're all trying to be influencers who think we need to save and conquer the world.
— —
— — — —

 © Casey Pflipsen
:: Stream Yam Haus ::
---