Everyone loves a good joke. A joke dressed beneath the guise of genuine musical talent is even better. To the delight of fan-girls and boys around the world, Cool Dads have masterfully achieved the latter with their newest and brightest track, "Younger Than Expected."
Listen: "Younger Than Expected" – Cool Dads
[soundcloud url="https://api.soundcloud.com/tracks/262212995″ params="auto_play=true&hide_related=false&show_comments=true&show_user=true&show_reposts=false&visual=true" width="100%" height="150″ iframe="true" /]
---
As previously mentioned in our ongoing Cool Dads premiere series, when you constantly tour with internationally famous musicians, you're likely to have some inspiration rub off onto you, too. This is expressly true in the case of Danny Carissimi and Jay Bonisolli, the respective touring manager and merchandise manager for Atwood Magazine favorites The Griswolds, who have undeniably cultivated a culture of fans all their own–and the fascination has only continued to grow, and stick. Most recently, the two revealed that they have been working on their own debut EP, entitled Cool Dads. The EP, curated entirely from the brains of Carissimi and Bonisolli, features production from The Griswolds' drummer, Lachlan West, and guitarist Danny Duque-Perez, as well as an interlude track starring bassist Tim Graham.
"Younger Than Expected," however, does not find itself on the duo's forthcoming EP; rather, it stands strong and firm on its own ground. With an infectiously catchy chorus courtesy of The Griswolds' frontman Chris Whitehall and Bonisolli's proven rap prowess, "Younger Than Expected" finds itself as an addictive and bouncy track that becomes instantly memorable. The track, as described by Carissimi for A Music Blog, Yea?, is a tongue-in-cheek jab at the rappers who always boast about being young, and how temporary that boast actually is. In response, Carissimi and Bonisolli decided to create a track about the youngest rapper of all time — hence, "Younger Than Expected" was born.
My heart's beating overtime, it's beating double,
It's beating double to the minute
"Younger Than Expected" glides with a subtle beat beneath dreamy instrumentals, and – as usual – Bonisolli's rapping is wholly well done. Whitehall's trademark falsetto on the chorus blends beautifully with the track's quixotic sounds, making "Younger Than Expected" that much more enticing. The track follows along with the youngest rapper of all time, and finds him detailing life as "the youngest of the young." He proudly explains who he is and the life that he lives, not necessarily caring about what others think of him.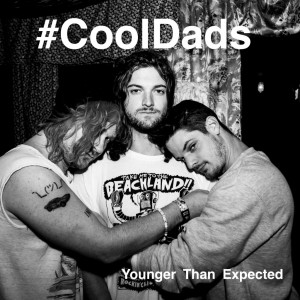 The track is an obvious shift from the narrative told on the previously released tracks, and does not follow Bonisolli's beloved "dad" character whatsoever. Instead, the song sees Bonisolli boasting about his youth; he's "about that Rugrat life." Rather than relying solely on the joke, as the previous tracks had done, "Younger Than Expected" is, in fact, a(n ironically) mature release from Cool Dads. It still remains aligned with Cool Dads' persistent dichotomy of both true rhythm and obvious parody; and, although it's very clearly a joke, the song does successfully manage to feel like an authentic, masterfully produced, radio-ready tune.
Cool Dads know exactly what they're doing. There is no denying that diehard fans of The Griswolds are now equally enamored with the two of them, and the fact that they can so successfully create a separate brand that is so ridiculous yet still so admired is undoubtedly commendable. Bonisolli and Carissimi have undeniably fostered a unique freshness with their Cool Dads collective, one that should certainly not be overlooked. Though they are admittedly ridiculous in their content and themes, the musicianship is still wholly there, and the subsequent result is something noteworthy in itself. Cool Dads may have started as an illegitimate side project, but clearly must be acknowledged as something much, much more.
Read our exclusive Cool Dads premieres here: 1, 2, 3
Listen to "Younger Than Expected" on SoundCloud.
Follow Cool Dads on Twitter