The 2010s are coming to a close, and with them ends an exciting era of musical innovation and societal transformation. The past ten years have seen the breakdown of genre, increased accessibility for content creators, and new modes of access for music consumers. Downloads bowed to streams in the West, and artists like Justin Bieber, Drake, and Taylor Swift rose to international superstardom – but this is just the tip of the iceberg of a busy, busy age; it seemed like the more connected we were, the more disconnected we felt. Music was a means of transcending distraction and hardship; a vessel of understanding that lent us stability for moments of stress and doubt.
How better to capture a decade in music than in the words of those who lived it and breathed it? Atwood Magazine is proud to present Our Favorite Albums of the Decade, in no particular order (you can jump directly to an artist by clicking their name above, and return to the top of the page by clicking any album art below). For ten weeks, our writers will be breaking down the music of the 2010s year by year. These are the records that shaped the people we are today: The music that carried us through pivotal milestones, the songs that together form the soundtracks to our lives. We have grown and changed, matured and evolved, but in this time of reflection, we can still feel the sense of wonder we felt as listeners pressing "play" for the very first time.
This week we celebrate 2015 in all its moving grandeur: From Kendrick Lamar's majestic To Pimp a Butterfly and Alabama Shakes' epic Sound & Color, to Carly Rae Jepsen's pop masterpiece Emotion, and Father John Misty's brutally honest I Love You, Honeybear, albums by Beach House, The Weeknd, Oh Wonder, James Bay, and more.
Mitch Mosk, Editor-in-Chief
— —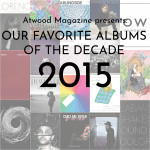 Our Favorite Albums of 2015
From the moment the first bell rang out into cool, dark space, Sound & Color made clear that it was unlike any other record – and that Alabama Shakes had achieved something truly profound. The Brittany Howard-fronted band redefined themselves on their sophomore album, blending funk and blues, rock and soul into a special medley of warm groovy tracks that were as heavy as they were light, as subtle and nuanced as they were epic and bombastic.
At a time where political turmoil and social upheaval continued to rile the United States and parts of Europe, Sound & Color offered a safe space of refuge and empowerment. Folks striving to find balance between the news and their everyday lives could tap into Alabama Shakes' fury, their angst, and their heartache: For whereas title track wrapped its warm, soothing tones around us, Howard's soulful wail at the beginning of "Don't Wanna Fight" seemed to carry with it the weight of a generation. The musical genius of Sound & Color could be heard in most every song, with sonic standouts "Dunes," "Future People," "Gimme All Your Love," and the tenderly rip-roaring "Gemini" highlighting Alabama Shakes' irresistible stylistic fusion. Filling the gaps were the garage rock bangers "The Greatest" and "Miss You," and the southern rocker "Shoegaze" – evidence that Alabama Shakes also maintained that homegrown soul-rock ethos of their debut.
Perhaps one of Brittany Howard's lines in the harmony-laden crooner "Guess Who" puts this album best: "Why is everything so complicated? Why is everyone so infatuated? I gather myself safely to a life I'll never form again… Everybody's leaving all the time, all I really want is peace of mind." Alabama Shakes sought to create a cathartic soul-shaking experience in Sound & Color, and by God they did it. For once, the Grammys got it right. – Mitch Mosk, New York
---
I'm embarrassed to admit I never once stepped into the world of funk music until 2015, not until I saw a Kickstarter campaign for a band called Vulfpeck. It was their debut album, Thrill of the Arts, and I decided to give it a whirl seeing as how their goal was a mere dollar. I watched their promo and began to experience sounds new and exciting to me, all rushing in with upbeat tempos and slick guitar licks and bombastic percussion and brass presentations. The album then released not long after, and since then I have done everything in my power to constantly explore and learn more of the funk genre. Thrill of the Arts opened up several avenues for me, all of which I still walk down with a pep to my step to this day.
With an aptly named title track "Welcome to Vulf Records," it's hard to not already be on their side. Then "Back Pocket" plays, and everything simply works. The vocals, the keys, and the guitar all coalesce into melodic brilliance, making feet everywhere tapping and moving to the groove. Ballads like "Game Winner," (a Joey Dosik cover I found out later) incorporate gorgeous piano playing to join a celestial vocal performance. It's a knockout; a track that will have you closing your eyes and swaying to the beat as if second nature. Thrill of the Arts encompasses so much and excels at it all, and if you're still unfamiliar with the funk genre, your gateway to it is right here. – Adrian Vargas, Seattle
---
Father John Misty, the stage moniker for Josh Tillman, has never been one to stray from raw, redolent song-making. Throughout his career, he has remained brutally honest and subverting perceptions of modern culture. His sophomore album I Love You, Honeybear finds Father John Misty not only making astute observations about our collective customs as humans, but also peppering in sweet love notes to his wife, Emma. The dichotomy of the record shows Tillman as a rounded and intellectual musician, making I Love You, Honeybear simultaneously palatable and personal.
Songs like the eponymous "I Love You, Honeybear," and "Chateau Lobby #4 (In C for Two Virgins)" illustrate Tillman's relationship with his wife Emma, while other tracks like "True Affection" and "Bored in the USA" critique modern American culture at its most blasé and impersonal. I Love You, Honeybear, seamlessly oscillates between affection and abhorration, curating a duality that ostensibly should not work, yet works so well. Father John Misty has masterfully proven himself as a bard of brilliant lyricism, subsequently and smartly supplementing his words with affable instrumentation, giving his album a cinematic and visual quality that feels easily recognizable.
I Love You, Honeybear denotes life in all of its monotonous glory – through love and hate, boredom and excitement; it perfectly encapsulates not only adulthood, but overall personhood, and tries to understand how to best grapple with the things that make us all human. As the album draws to its close, "I Went To The Store One Day" perfectly sums up all of the things that Father John Misty sought to discuss throughout the record: seemingly recounting an uninteresting trip to the store, the song ultimately ends with an homage to Emma yet again, as it in actuality is a recounting of the day that the two met for the first time. It is a beautifully cathartic moment for the intense duplexity that is I Love You, Honeybear, and something that only Father John Misty could achieve. – Maggie McHale, Philadelphia
---
Few debuts have landed with such genre-bending force than Courtney Barnett's Sometimes I Sit And Think, And Sometimes I Just Sit. The Aussie's bombastic combination of stream-of-conscious, diary-reading lyrics and caustic, clattering music was a breathe of fresh air in a time of superficial "everything is alright" party jams.
Barnett makes you feel less like a weirdo just by being herself: Her anxieties over the mundane, the awkward, and the self-created are universal in its specificity. For decades we've all lived this way but finally someone said it out loud.
I love you, I hate you, I'm on the fence, it all depends
Whether I'm up or down, I'm on the mend, transcending all reality
I like you, despise you, admire you
What are we gonna do when everything all falls through?
I must confess, I've made a mess of what should be a small success
But I digress, at least I've tried my very best, I guess
This, that, the other, why even bother?
It won't be with me on my deathbed, but I'll still be in your head
The music is often as chaotic and brash as her inner monologue, creating a beautiful cacophony that honestly shouldn't work. But it does, and we're all better for it.
She's immediately charming and disarming, making you stop your own panicking and climb into her head for a verse or two. She captured the voice of our scared, frazzled generation just by being herself. – Oliver Crook, Halifax, Nova Scotia
---
Making socially conscious music is incredibly difficult. Those songs often become dated, awkward, and tired very quickly. We're seeing it with so many songs coming out during the Trump era, but Kendrick Lamar's 2015 landmark album To Pimp a Butterfly became a set of anthems that were thoughtful and personal, which couldn't have prepared us for what 2016 brought, but it became a proper coping tool and "Alright," became an anthem of protest. The lush production of tracks like opener "Wesley's Theory" or the "live" version of "I" that appear give the record some more depth.
What's perhaps most interesting about Butterfly is how it shows the end of an era of hip hop. With the rise of trap and mumble rap that would follow, Butterfly is a big, ambitious record that had a lot of thought put into the lyrics, production, and delivery. While artists like Tyler, the Creator, Kanye, Jay-Z, and a few others have continued to stretch their boundaries, this felt like the last big, ambitious rap record to have the level of impact that it did. It's also well-balanced. For every thoughtful song like "Mortal Man," there's a banger like "King Kunta." While hop-hop is currently in a place where it's taking a hard pivot in a new direction, To Pimp a Butterfly offered a benchmark that no one could really top. – Jimmy Crowley, New York
---
For much of 2015, it seemed as though we may never see the day when a song other than "Uptown Funk" and "See You Again" would be the #1 single in the country. But by the time the year was up, The Weeknd had snuck in to spend a solid nine weeks sitting atop the Billboard Hot 100, on the strength of monster singles "The Hills" and ode-to-the-joy-of-cocaine "Can't Feel My Face." Other hits such as "In The Night" and "Earned It" had also reached respectable heights on the charts. And lined up alongside these widely recognizable releases were an additional ten tracks that demonstrated just what a skilled songwriter and hypnotic vocalist the Toronto musician could be. It's a dark and unsettling listen at times, but Beauty Behind the Madness remains quite a compelling experience several years later, and is one of those few records that thoroughly encapsulates its year of release in retrospect. It oozes 2015 like almost no other album aside from TPAB. – Josh Weiner, Washington, DC
---
It's hard to say that you're a Carly Rae Jepsen fan in mixed company. Those whose familiarity with her begins and ends with "Call Me Maybe" may raise a few eyebrows if you insist that she's one of the essential talents in pop music today. I get it. 2011 wasn't a safe place for anyone trying to hit Trader Joe's without hearing an assault of synthesized strings and precocious telephone-based flirting.
Whether you're here or there on her global bow, it's her follow up that stakes her flag in the pop music machine. EMOTION is — quite simply — a masterpiece. Its genius lies not in how it flips the rules of the game, but how deftly it navigates and transcends them. It's pop music as you know it, done to pristine perfection.
Blasting out of the gate with "Run Away with Me's" triumphant saxophone hook, Jepsen beckons the audience to do just that. For nearly an our, she spins and dives down a candy-cane water slide, charged as a heart in a sugar rush. Whether it's the adolescent flush-cheeked declaration of "I Really Like You" or the 80's MTV slow jam of "All That," it's a roller coaster ride that would give you whiplash if it weren't so damn thrilling.
At its core EMOTION lands as far from subtle as here to the moon, but from an artist who self-admittedly wears her feelings on her skin, that's precisely the point. Its title acts as a mission statement as she belts her emotions over punchy, cathartic pop hooks and juicy synths. She has no time to play coy. Her feelings take the wheel as she sprints through a forest of butterflies and glitter.
I really wanna stop, but I just got a taste for it
Feel like I could fly with the boy on the moon
So, honey, hold my hand, you like makin' me wait for it
Feel like I could die walkin' up to the room, oh, yeah
EMOTION showcases Jepsen as one of the definitive voices in pop, a talent acutely attuned to changing her feelings into song. This year's Dedicated continued that penchant to a great deal of success, but her sophomore effort is still her gold standard. And it's arguably the best pop record of 2015 to boot. – Anthony Kozlowski, Los Angeles
---
MisterWives came out of the gate swinging with debut album Our Own House. Packed with bangers and anthems that make you want to live your life the way you want to live it. Love songs and odes the city that kept them, Our Own House is as authentic as the word gets.
A tremendous introduction into the six musicians that make the band as they each pour so much into every single song. With album two under their belts and album three on the way, this is a band that has continued to stay true to themselves, all starting in 2015 with Our Own House. – Kelly McCafferty, New Orleans
---
I don't remember the exact circumstances that delivered me Boston-based, chamber-folksie-indie rock quartet, Darlingside and their second album Birds Say. I do however remember the lyric that first drew me close.
Cuddled in the middle of the dreamy track, "She's All Around," sparkled these simply and masterfully woven words:
Even when we lost her
She's all we can find.
She's all around
You now
These poetic and insightful lyrics, delivered through their trademark swells of sighing instruments and vocal harmonies was a perfect way to meet Darlingside.
Since the release of Birds Say, Darlingside has been deemed, "a 'must-see' act" by RollingStone Magazine who went on to describe Darlingside's music as, "locomotive folk-pop confections so richly executed it's hard to tell if it's one voice or 12."
In 2018, Darlingside released Extralife. Experimenting with slightly different lyrical lenses, Darlingside explained that "Extralife grapples with dystopian realities and uncertain futures. " And they even make those topics sound harmonious.  Darlingside has the super ability to lift its listeners up even in their times of down. It's this aural levity that has developed and maintained Darlingside's loyal fandom. I mean, how could they not have a loyal following with a band mascot as warm and loving as the adorably quirky "Unicorn of Friendship?!" Darlingside is a must hear. – Ilana Kalish, New York
---
From the very start, Oh Wonder have been something special and unique. "Their songs are delicate and human, and served as a perfect anchor to humanity in the chaos that was 2015," I wrote in Atwood Magazine's albums of the year feature. Four years later, the self-titled, fifteen-track Oh Wonder remains heartbreakingly magnificent. Josephine Vander Gucht and Anthony West's haunting co-vocals are delicate and chilling; together they weave a multi-dimensional mix of R&B, minimalist indie, singer/songwriter and electronic influences that feels at once subtle, and startlingly expansive. The vivid tearjerker "Livewire" is poignantly emphatic; the rhythmic "Technicolour Beat" pulses with intense sincerity; the bittersweet "All We Do" strikes pain in the heart; and the solemn "Drive" showcases the weight of insecurity and self-doubt.
Oh Wonder have grown tremendously in the past four years since their debut album's release; their sophomore record Ultralife released in July 2017, and their third record No One Else Can Wear Your Crown (featuring new single "Hallelujah") is due out in February 2020. The pair's music has expanded in every way possible since their nascence, but there is nevertheless an innocence surrounding Oh Wonder. It is beautiful, pure, intimate, and serene: The perfect introduction for a truly one-of-a-kind artistry. – Mitch Mosk, New York
---
Few albums have such completely captivating power as Christine and the Queens' self titled debut. First released in 2014 under the title Chaleur Humaine, the LP was rereleased in English a year later as a debut for the American market, freshly dubbed Christine and the Queens. The project of Héloise Letissier, Christine and the Queens made waves in the art and synth pop scenes at large with the album. Deftly produced, gorgeously sung and enticingly artistic, CatQ amassed plenty of critical acclaim. The album also landed Letissier spots on coveted American lineups like Governers Ball and Coachella less than a year after its release.
Christine and the Queens showcases the best parts of art pop, pulling plenty of influence from classical, R&B, hip hop and synth pop. But the album's real genius is in Letissier's thematic vision of breaking down and examining gender identity alongside her impeccable lyrical and vocal work. Christine and the Queens opens with the powerfully gender defiant "iT". Through self proclamation, Letissier's alter ego Christine declares herself a man now, and there's nothing anyone can do to change her mind. This concept speaks to gender identity's extremely personal existence. If you want to be a man, you are one, so long as you feel it, and that message is delivered through clever, subtle references juxtaposed against short, matter of fact phrases.
With iT
I become the death Dickinson feared
With iT
I'm a red admiral on this ship…
'Cause I've got it
I'm a man now
As much poetry as it is music, Letissier confronts trauma and fear via Christine throughout the 12 track album. She and her partner feel the pressure of public alienation through judging eyes on the ethereal, bouncy and utterly funk-laced "Science Fiction". She questions her partner's ability to overcome internalized shame on "Jonathan," a heartbreaking and gorgeous duet with Perfume Genius. Questions of whether a relationship can be repaired echo on melancholic "Night 52," and discrimination against ambigious gender expressions is challenged on "Half Ladies".
A hair of breadth's away
From changing my mind
Cause just when you thought
I'd be still a little girl
I'm one of the guys
To be sure, though, these elements of theme and message could not shine as bright without the delicate and thoughtful production behind them. And for such an ambitious undertaking, Letissier hits her mark with laser sharp precision across her first LP. Listeners are left feeling gutted after certain songs, inspired and introspective after others and borderline invincible after still others. Christine and the Queens is easily one of the most triumphant visions of art to come out of the 2010's, queer or otherwise. Letissier's artistic vision remains unparalleled and ever expansive after more recent work like 2018's Chris, but CatQ will live on as the near perfect introduction to the strong, smart-witted musical genius that is Christine and the Queens. – Alex Killian, San Francisco
---
Yes I'm changing, yes I'm gone
Yes I'm older, yes I'm moving on
And if you don't think it's a crime
You can come along with me
– "Yes I'm Changing," Kevin Parker
It took three, multiple hour listening sessions to finally write this blurb.
And lo, the third time was made in a car journey. Fuck it, might as well get the trippin' mojo on and ride this shit out on the road. Thus, the writer, in his car at approximately 7:53PM, regarding the full moon bright, out of her harvest yellow phase, a plane journeys across the nightsky as Charon through the mist of a cirrus Styx and listening the guitar solo pluck his brainstem, "EVENTUALLLLLLY" moaning from the stereo, kick drum resetting the song, the Farfisa reentering the fray, setting it into tailspin, pausing the beat—INHALE—"EVENTUALLLLYYYY, IIIIIIIII"—BOOM—everything exhales. Everything slaps. The beat, the synthesizers, the organs, everything exhales and everything slaps. Thoughts of ex-girlfriends, bad trips and friends deceased too young telling him that Currents' track 5, "Eventually," was a new favourite, souvenirs all happening in the same car to the same record on the same track replayed in the writer's head at the same time. Everything exhales and everything slaps.
Speaking of: slap the writer awake to explicate the listening experience of each Tame Impala record in the canon and it would follow suit: InnerSpeaker is the Sixities on acid, Lonerism is the Seventies on acid and Currents is the Eighties on acid. And Lonerism might be his favourite, but Currents he heard first.
Specifically he heard "The Less I Know the Better" first. And that cut just about connects every modern music fan in the world. That might be the one imprint that every Anglophile remembers; but that didn't stop Parker from making a damn good record long-player. How about that sudden game of red-light-green-light, freezing the train in place and then looping its synthline rumble into "Let It Happen Pt. 2"—oh shit here I am again, caught in a loop—fabricating a new fractal from the kaleidoscopic first? Psychedelic inclinations meet oozing electropop and R&B sonic conjurations, burrowing themselves anew with each relisten. And that is where this album's conceit links listener to song to other listeners—each track is wrapped in breakups, late night drives, writing fevers, card games, acid trips, sex and chores. Currents has scored and mapped out each repeat listener's brain so thoroughly that to separate listener from product is to separate artist from piece. This is not a record, Currents is a totem, one of the indisputable records of the 2010's, a generational milestone in the same vein as Dark Side of the Moon or Sgt. Pepper's Lonely Hearts Club or Nevermind. And yet even that does not matter.
This is a record of the decade because everything exhales and everything slaps. – Ben Niesen, Pacific Northwest
---
It's impossible to give Beach House's Depression Cherry a listen and feel completely grounded. The music created by the Baltimore-based dream pop duo comprised of Victoria Legrand and Alex Scally evokes the feeling of entering in a dreamworld that cannot be accessed outside of their music. Depression Cherry is otherwordly, etheral, and open to interpretation. When the album was dropped in August 2015, it became the duo's fifth studio album and added another layer of depth to an already impressive catalogue of music.
The album's title garnered a significant amount of attention. According to Pitchfork, the duo spoke about the title, stating, "For us, Depression Cherry is a color, a place, a feeling, an energy…that describes the place you arrive as you move through the endlessly varied trips of existence…" The album is a collection of songs that demonstrate what makes Beach House a rarity in today's musical landscape; their songs are more determined to demonstrate their craft and dedication to their creative process than creating pieces that will land them a spot on the highly coveted Billboard 100 list. In a press release, Beach House confirmed this, stating, "Here, we continue to let ourselves evolve while fully ignoring the commercial context in which we exist." The result of this evolution is one of Beach House's finest albums, a masterpiece that pays tribute to the complexities of the human experience and examines the duo's sentiments towards the topic. – Madison Vettorino, Poughkeepsie
---
There is something new left under the sun. At long last, after an entires species' history worth of musical ideas, after a century of recorded music, there is still something that sounds truly new.
Dawn of Midi is a trio of a drummer, a bassist, and a pianist, all playing only vaguely in time or tune with each other. Taking clear inspiration from Steve Reich-esque rhythmic experiments, each player creates a repetitive, atonal groove, all with slightly different meters, shifting in and out of each other. It's hypnotic. It's eerie. It doesn't quite sound like anything else.
Dysnomia doesn't just defy genre categorization — it's not quite jazz, not quite classical minimalism, definitely not pop — but also emotional. This music cuts to the core of your body, creating its own feeling of jitteriness, of concentration, of unsettled energy, of a trancelike focus. It is not a feeling that is easy to recreate. The songs blend together as the grooves change and shift imperceptibly and unevenly. Nothing has changed, and everything has.
To say that Dawn of Midi defies characterization is unbelievably lazy writing. But it's also true. Writing about music is like dancing about architecture, and Dysnomia is one of those bizarre and angular Frank Gehry monstrosities that no level of avant-garde modern dance would do justice to. Just listen to it, and enjoy the joy of hearing something completely unlike any other music you've heard. – Jon Hecht, Arizona
---
How Big, How Blue, How Beautiful is the third studio album by the British band Florence + the Machine. Lead singer Florence Welch is known to be a highly sensitive person and expresses deep feelings in her songs. At first sight, this album might seem like just another breakup album in a sea of records singing about our broken hearts, but in fact, this album is about a person who experiences a breakup as the worst thing that could have ever happened to them. Welsh liberated herself from her enormous pain whilst writing the record, as she felt she had destroyed something she shouldn't have. Lacking that extra layer of skin, Welch simply tends to feel things more intensely than others do. She uses her creative magic to communicate these strong feelings in her musical work.
Listening to the record feels special. It feels like you are being teleported into an old Greek amphitheatre play of heartbroken gods. It feels like a mixture of a play and an opera about a breakup, that destroys the weak human heart into a million pieces.
The album opens with "Ship to Wreck," an anthem about feeling uncomfortable about the ending of a relationship, being messed up about the whole outcome like a wrecked ship. She touches on addiction problems in the first line: "Don't touch the sleeping pills, they mess with my head." After the first track, the record is filled up with anthems, guiding through the devastating state of mind in the post-breakup aftermath. "What Kind of Man" is about the pure anger you have in the process of getting over someone. The devastation that rushes in your veins once you realize the true colours of someone you used to love is expressed with the line: "What kind of man loves like this, what kind of man?" With "Drifting through the halls of the sunrise (holding on for your call)," the track "Delilah" is driving straight into the state of mind we develop whilst waiting for a call from a significant other in times when things aren't going that well. The anxiety, the fear, that overtakes you and you have no chance but to let it out. In "Third eye," Welch sings about feeling worthless after a breakup:
Hey, look up
You don't have to be a ghost
Hidden amongst the living
You are flesh and blood
And you deserve to be loved
And you deserve what you are given
And oh, how much?
These lines are central in the song, appealing to the issue of how hard it is to believe your own worth after rejection. Taking inspiration from fairy tales, Greek gods, Ophelia, or biblical figures make the breakup record seem like we enter another world once our ears listen to the first couple lines: The world of Florence Welch, who lives physically in London, is one where she is constantly dreaming on another magical planet. – Nina Schaarschmidt, Manchester, UK
---
Jamie xx arguably scored one of the top dance records of the decade with this one. In Colour, a debut album five years in the making, is a totally immersive listening experience that demonstrated just how much creativity and innovation the young DJ had acquired in his time spent dabbling with post-dubstep, future garage, and other offshoots of electronica throughout his early career in London.
Sometimes, Jamie brought some vocalists onboard for the ride; Romy lends quite a helping hand to fellow member of indie pop group The xx on "Loud Places" and "SeeSaw" while Young Thug adds a welcome dose of hip-hop flavoring on "I Know There's Gonna Be (Good Times)." Other times, he let his own music work its magic, like on the mostly vocal-free "Obvs" and "The Rest of Noise." Yet no matter whether he was operating by himself or otherwise, Jamie xx consistently proved himself to be a master of his craft on In Colours, a more-than-worthy follow-up to its criminally-under-recognized predecessor with Gil Scott-Heron, We're Here Now. – Josh Weiner, Washington, DC
---
Chaos and The Calm is an aptly named album. In James Bay's debut record, he paints a vivid landscape of the wild, tranquil, unsure, devastating, and exhilarating moments of youthful life. Although "Let It Go" and "Hold Back the River" gained most of the major radio plays and media attention, Chaos and The Calm as an album cannot be brushed by the way side.
Bay elegantly resurrects the soft rock, singer-songwriter early 2000's sound by relying on simple production and focused lyricism. The contemplative ballads like "Scars" remind us of Ben Howard and the rock-leaning ditties  such as "When We Were On Fire" take us back to Gavin DeGraw. In the midst of a pop heavy era, Bay successfully released a work of true, homegrown musicianship.
In short, Chaos and The Calm tells us the tale of growing up. Through "Craving" and "Get Out While You Can," we hear about Bay's natural inclination to search for more than the small town story he's been handed. Our listening continues with tunes of impassioned lust like "Collide" and – alternatively – heartfelt  companionship with "If You Ever Want To Be In Love." There's no doubt that at least one of these tracks will ignite an emotion within each of us, and that's what makes it my undeniable favorite album of 2015. – Baylee Less, Memphis
---
Hailing from Kentucky and raised on the influence of bluegrass, outlaw country, soul, and southern rock music, Chris Stapleton is regarded as one of the most renowned songwriters in the industry today. After moving to Nashville, Tennessee in 2001 to pursue a career in songwriting, Stapleton found himself with endless opportunities to pen hits for artists from Dierks Bentley to Peter Frampton to Adele. However, the year of 2015 brought in a new kind of audience for Stapleton, and it was one filled with everyone from country music fans to rock and roll artists to the Grammy Awards.
Stapleton's debut studio album was released in May 2015. While no shock to the country music industry, the southern rock fused with acoustic country and soul album won the hearts of mainstream country radio and even pop artists like Justin Timberlake. Stapleton's performance of "Tennessee Whiskey" with Timberlake at the 2015 CMA Awards gained him national attention. With a booming, soulful voice tied together with the rawest ways you could every play an acoustic guitar, Stapleton's sound began climbing to the top of the charts, and it suddenly became easy to see why his talent for songwriting had brought on major success for so many other artists. Certified platinum and a Grammy-Award winner for Best Country Album, Traveller brought to light for mainstream music audiences what everyone who had previously worked with Stapleton already knew – that authenticity, heart, and soul in country music never disappeared at all. – Erica Garcia, Los Angeles
— — — —