Akai Solo and Pink Siifu collaborate for a bleak and otherworldly experience on their newest project, 'Black Sand'.
•• •• •• ••
Black sand carries economic and environmental benefits. Only scientists and geologists understand its natural impact. For most, black sand is just as simplistic and mundane as the grass we walk on, but if one were to really do their homework, they'd realize how important black sand's minerals are, specifically with regards to mining and renewable energy.
Listen: 'Black Sand' – Akai Solo & Pink Siifu
---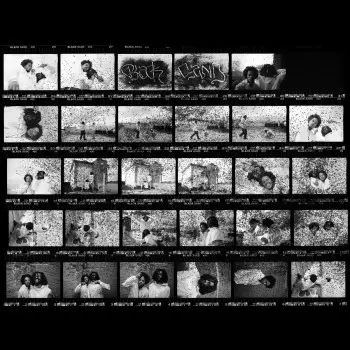 The perception of black sand is a metaphor for how a lot of our leaders and police officers perceive African Americans in today's day and age– simplistic and unimportant; sensitive but problematic. Black sand is also the inspiration and title of Akai Solo and Pink Siifu's newest album. Racism and narrow-minded stereotypes are still very much alive during the Trump presidency.
To combat these prejudices, Akai and Siifu look inward and outward for visual clarity. Black Sand's greatest strength is allowing its listeners to immerse themselves into a time-warped; oftentimes otherworldly experience. There's a sense of lyrical riffing on a majority of the 15 tracks; almost as if the album is one thread of an entire stream of conscious. The songwriting teeters on the edge of constant contemplation and political idealism. "Black Everything" balances these two themes pretty poignantly, particularly in the middle portion of Akai's heavy-handed verse.
Gold star bustas, mega blast on a MAGA hat, ya'll
Fact, I don't fuck with frats
Shorty agree with me when I paint the picture
Call it what it is, life bleed art
These four bars are equal parts socially progressive and ironically cathartic. Solo presents his beliefs as opaquely personal, never allowing his thoughts to be kept in a figurative box where moments of transparent aggression can quickly turn into therapeutic realizations. "Show Love" features Siifu in a laid-back state appreciating the purity of life's basic needs and wants; food, water, love, etcetera. His softer tonal inflection is a great leeway into Solo's urgent bursts of self-affliction.
Take the demons in my mental out to dine
Tryin' to reach a resolution, I'm fine
Scooped 'em up for the dinner date
Hey, don't wait up man, I'll be down late
Contrasting emotions such as these help to uncover the full scope of what it means to live as a black man in our current United States. In one aspect, Siifu's verse on "Show Love" represents the continuous plea for a normal life free of discrimination. On the other hand, Solo illustrates a portrait of mental instability through metaphorical language, another common method used within this album's songwriting.
Watch: "Show Love" – Akai Solo & Pink Siifu
---
A good portion of Black Sand is backed by warm and fuzzy guitar riffs and grainy sonic textures; there's not an 808 drum to be found on any of these cuts. Instead, Siifu depicts this uneasy feeling of despair through pale instrumentals and each track bleeds into the next as if it is a part of a greater collage. It's one of those albums that must be listened too without skipping around.
A real moment of stark clarity occurs on "Galaxy Eyes" where Siifu himself dictates a story about past tribulations. His personal conflicts add a great deal of dimension to the record's overall breadth.
Niggas said fuck, you left your
shit on bricks, right outside crib
Right outside shorty crib,
I don't really trust shit
Niggas got shot right there, front steps
Right by shorty crib, slippin through
cracks like the ones dim lit
Even without a concise narrative, Solo and Siifu are able to submit a climax filled with emotional despondency. "Hussle's Ghost" kicks off the final act with occasional sarcasm and detailed street talk as well as an apparent ode to the late Nipsey Hussle. The drowned-out voices in the background create the perfect platform for each to express their hatred for gang life. A sudden self-awareness is captured when both rappers give different perspectives.
All that fly talk, I been needin' real shit around me
Sick of leeches, gang talk, I'ma take a break
Tired of screamin' e'ry night at my demons
I be up late, tryin' to break the bank
Black Sand will go down as one of the more introspective albums of 2019. Rather than display their thoughts from a black and white standpoint, Solo and Siifu provide the full African American experience, and much like the granular textures of black sand, that experience is beautiful and complex all at once.
— —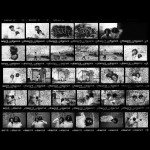 ? © Black Sand 2019
Black Sand
an album by Akai Solo & Pink Siifu
:: Stream Akai Solo ::
---
:: Stream Pink Siifu ::
---