In an industry full of #MeToo's, indie pop band Hippo Campus make a conscious effort to be allies and positive examples through 'Bambi', their delightfully transparent sophomore album.
— —
It's 1:00 p.m., but Jake Luppen has just barely woken up. En route to Pontiac, Michigan, the Hippo Campus lead vocalist is still readjusting to the exhausting whirlwind of his familiar on-the-road lifestyle. This time around, it's in support of the band's stellar second LP, Bambi, which dropped September 28.
"The new songs are a lot more difficult to play," Luppen explains, recalling a nervewracking night in New York City just three days before the album's release. That night, Hippo Campus – also consisting of Nathan Stocker, Zach Sutton, Whistler Allen, and Decarlo Jackson – performed nearly all of BAMBI to an intimate Lower East Side crowd with just a week of preparation.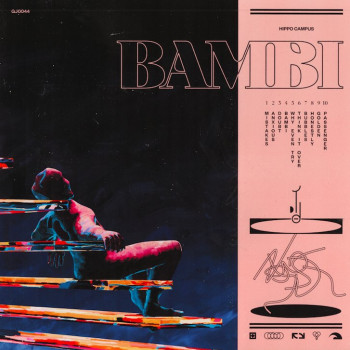 Hippo Campus garnered an intense hometown following not long after formation, but the release of debut LP Landmark in 2017 helped propel the young Minnesotans towards a mind-blowingly loyal fanbase worldwide. While Landmark was chock full of zippy guitar riffs, dashes of unexpected orchestration and profound lyrics that spoke wisely on society in general terms, Bambi reads not unlike a personal journal.
In the year and a half between the two albums' releases, it's evident regarding songwriting that Hippo Campus have come to a stark change in content preferences, having driven off the path of traditional indie pop with a comparatively experimental, electronica-infused sound.
"Personally, I wasn't that nervous," Luppen says of the sonic switch-up. "I feel like our fans all have open minds and they want us to grow. I was listening to a lot of Elliott Smith before writing this record. His vulnerability in his lyrics was super inspirational. Our producer [BJ Burton] also played us the new Low record very early on in the process. Listening to how that pushes sonic boundaries really inspired us."
Despite Bambi's boundary-breaking nature, its name derives from one of the places where Luppen and his bandmates feel the most comfortable.
"My Aunt Bambi has this lakehouse in Wisconsin kind of out in the middle of nowhere," he says. "Since the band started, we'd go out there for writing retreats. It was always like a therapeutic trip, as well. It's always been a special place for us. [Bambi] was a working title that just kind of stuck."
The lyrics presented on Bambi begin to show just how therapeutic those lakehouse trips were. Lead single "Passenger" is a poignantly cinematic recollection of growing up with a romantic partner, backed by an unconventional chord progression. It's the track to which Luppen feels the strongest personal connection, and as of right now, his favorite on the album. It also contains one of Bambi's biggest surprises — the album version of "Passenger" tacks on an understated, yet strikingly gorgeous piano outerlude to finish off the LP, almost as if to give listeners a moment to fully digest the ten songs. However, the two-minute ditty predates Bambi significantly.
Stream: "Passenger" – Hippo Campus
---
"Whistler had done that piano piece probably a few years ago," Luppen details. "He and Nathan had a project called Pisces and Cancer that was just sort of an album of piano music recorded on an iPhone. Very indie! We had written the bulk of Bambi and had a few things to fix near the end of the process. We decided we needed something to kind of end the album. That piano piece Whistler did just fits so well to end the record."
The unguarded storytelling Hippo Campus exude on "Passenger" spills into the entirety of the record, but it's no accident. Whether it be overwhelming worry ("Anxious"), inescapable self doubt ("Mistakes") or a jeopardized friendship ("Why Even Try"), Bambi covers nearly every base when it comes to the highly personal — and often alienating — issues the band members have faced.
"I hope the takeaway is that it's OK to feel vulnerable," Luppen says. "It's OK to share your message. It's OK to have emotions. I think vulnerability is just so important right now."
Luppen's insistence on taking a more internalized route writing Bambi was shaped in part by the rise of the #MeToo movement, as was the album altogether. Especially in the last year, Hippo Campus have made strides in serving as allies in a tumultuous music industry. In a sense, Landmark closer "Buttercup" even became an unintentional activist anthem. Its empowering lyrics and titular flower often serve as tattoo inspiration for their predominantly female fan base, and the track's catchy hooks were blasted over speakers to a million March For Our Lives goers in Washington, DC last spring. But the band's political involvement extends beyond those singalong verses.
"We partnered with the Women's Foundation of Minnesota probably two tours ago on merch sales," Luppen says. "They invited us to this talk where the topic was toxic masculinity. We went to that talk right before we started the record, and there was a man speaking in depth about how males' lack of being in touch with their emotions leads them to be physically violent. It was inspirational in terms of us being able to get in touch with what we're feeling. At the end of the day, it's what's causing a lot of these problems. We're not educating boys that it's OK for them to feel, and it's OK for them to not subscribe to norms of manhood that are like, 'you need to go out and be super manly all the time. You need to go sleep with all these girls.' It's super f–ked up."
In light of countless sexual assault allegations surfacing against men in the industry, Luppen and his bandmates have taken the initiative to actively set a positive example for both fellow bands and their male listeners.
"We have so many young female fans who look up to us and are so important to us," he continues. "We have to represent them and we have to set an example for young men. Other bands our age are full of guys who are disrespecting women… We can be one of the few bands who can provide a safe space for these young girls. I think that's the greatest thing we can do."
But Hippo Campus also know actions speak louder than words. During their spring tour earlier this year, the band partnered with Planned Parenthood, giving concert attendees the opportunity to learn more about the organization and get involved firsthand. For this trek through the U.S., they're doing the same with Everytown for Gun Safety. However, they weren't always so comfortable with being so politically transparent.
"I think at the beginning, we wanted our shows to be an escape from politics," Luppen explains. "It was this thing that just dominated everything you were consuming. You turn on the TV, you look at Facebook, it was all politics. We wanted our shows to kind of be an escape from that, where people could come and not think about Donald Trump and just enjoy music, you know? But there became a time very shortly after Trump was elected where we were like, 'OK, this is kind of inevitable now. All of this is interconnected. We have to start using this platform to try to make a difference in the world.'"
Stream: "Golden" – Hippo Campus
---
Where Landmark often spoke broadly, Bambi brings it home. Luppen hopes this new slew of music from the band can help bridge the gap between reality and society's expectation of constant perfection that erases the mental tribulations just about everyone endures.
"Social media doesn't humanize people," he insists. "You have complete control over how people perceive you. I think it's really important in this day and age to serve as a refuge where we can be emotional and let people in and say that it's not all perfect. We don't look good all the time! We get sad! We're struggling just like everyone else! So I think it's really important for people to feel a human connection in art and feel something that's real."
To call this new era of Hippo Campus "real" is an understatement. As they turn the leaf to usher in Bambi, the band finds peace in being an open book lyrically, and hope the updated setlists on their national Bambi tour inspires fans to do the same — despite the fears that come along with a fresh album cycle.
"Playing new songs is always exciting," Luppen adds. "There's that feeling of risk. I'm so excited about this feeling of risk. The idea of risk is very exciting to me right now."
— —
— — — —
Hippo Campus © Pooneh Ghana
:: Hippo Campus ::
---
:: Hippo Campus Tour Dates ::
^ w/ Districts
10/05 – Milwaukee, WI @ Pabst Theater ^
10/06 – Chicago, IL @ Riviera
10/08 – Pontiac, MI @ The Crofoot
10/09 – St. Louis, MO @ Pageant ^
10/10 – Covington, KY @ Madison Theater ^
10/12 – Nashville, TN @ Marathon Music Works ^
10/13 – Atlanta, GA @ Masquerade ^
10/15 – Asheville, NC @ Orange Peel ^
10/16 – Columbus, OH @ Newport Music Hall ^
10/18 – Philadelphia, PA @ Union Transfer
10/19 – New York, NY @ Terminal 5 ^
10/21 – Buffalo, NY @ Town Ballroom ^
10/22 – Pittsburgh, PA @ Stage AE ^
10/24 – Washington, DC @ 9:30 Club ^
10/27 – Boston, MA @ House of Blues ^
10/28 – New Haven, CT @ College Street Music Hall ^
10/30 – Carrboro, NC @ Cat's Cradle ^
10/31 – Carrboro, NC @ Cat's Cradle ^
11/02 – Birmingham, AL @ Iron City Music Hall ^
11/03 – New Orleans, LA @ House of Blues ^
11/05 – Oklahoma City, OK @ Jones Assembly ^
11/06 – San Antonio, TX @ Paper Tiger ^
11/07 – Dallas, TX @ Canton Hall ^
11/09 – Austin, TX @ Stubb's ^
11/10 – Houston, TX @ White Oak Music Hall ^
11/23 – Minneapolis, MN @ Palace Theatre
11/24 – Minneapolis, MN @ Palace Theatre
01/25 – Kansas City, MO @ The Truman
01/26 – Denver, CO @ Ogden
01/28 – Santa Fe, NM @ Sunshine Theater
01/29 – Phoenix, AZ @ The Van Buren
02/01 – LA, CA @ Novo
02/02 – San Francisco, CA @ Fox Theatre
02/04 – Portland, OR @ Crystal Ballroom
02/06 – Seattle, WA @ Neptune Theater
02/07 – Seattle, WA @ Neptune Theater
02/08 – Vancouver, BC @ Imperial
UK & EUROPEAN DATES
02/14 – Manchester, UK @ 02 Ritz
02/15 – Glasgow, UK @ The Garage
02/16 – Newcastle, UK @ The Riverside
02/18 – Birmingham, UK @ Institute
02/19 – Dublin, IE @ Dublin Academy Green Room
02/21 – London, UK @ O2 Shepherd's Bush Empire
02/23 – Bristol, UK @ SWX
02/24 – Brighton, UK @ Concorde 2
02/26 – Brussels, BE @ Botanique / Rotonde
02/27 – Cologne, DE @ Luxor
02/28 – Paris, FR @ La Maroquinerie
03/1 – Amsterdam, AN @ Tolhuis (Paradiso Noord)
03/3 – Berlin, DE @ Lido
03/4 – Hamburg, DE @ Molotow
03/5 – Copenhagen, DK @ Hotel Cecil