This Black History Month, Atwood Magazine has invited artists to participate in a series of essays, interviews, reviews, poetry, playlists, and more features in recognition of, and out of respect for the symbolism and significance of this month.
---
Today, refreshing alt-R&B singer/songwriter Tai Verdes dives into his first three singles "Stuck in the Middle," "DRUGS," and "BAD BAD News" as a part of Atwood Magazine's Black History Month series. Hailing from Los Angeles and now signed to major label Arista Records, 24-year-old Tai Verdes has made a big splash in the music scene over the past eleven months; his debut breakout single "Stuck in the Middle" hit #1 on Spotify's US viral chart, and has garnered over 60 million global streams, more than 2.3 million TikTok video creations, and over 1 billion TikTok views.
Blending R&B, pop, blues, rock, and more influences into a pool of compelling and genreless music, Verdes gives his all to make his art authentic and sincere to him. "I just do what feels good," he explains. "I don't care what producer I'm working with or their style. As long as I feel good about the whole thing, I'm all in." The upbeat "Stuck in the Middle" introduced the artist as a heart-on-sleeve storytelling singer/songwriter ready to share himself with the world.
Released in October, the buoyant, groovy "DRUGS" followed as a sweet, effervescent, and fun song with considerable… substance. The track acts as a sort of effortless confessional to one's parents about doing drugs – but "not hard ones; just ones that change my mind up," as Verdes so radiantly sings in the chorus. "I love how vulnerable it is," he says. "I love being very blatant and simple with harsh realities."
A tender and bluesy ballad Released at the top of February 2021, "BAD BAD News" is an expressive outpouring and the third single off Verdes' forthcoming debut EP. Dramatic guitars wielding electric energy help make for a captivating performance full of love and pain as Verdes pours himself out in song. "It's another chapter for people who listen to my music to read into," the artist observes. "That's all I'm doing really, is telling stories. Some just have 808s and others have guitars. Some have both." "BAD BAD News" goes above and beyond to showcase the guttural and soaring aspects of Verdes' voice as he injects visceral emotions into a passionate moment of truth and 
Whether we are dwelling in heartache or reveling in euphoria, Tai Verdes is here to be the soundtrack to our highs, lows, and in-betweens. Dive a little deeper into Verdes' first three songs, and get to know him better in our in-depth interview below!
•• ••
I've got some bad, bad news
I can't get over you
I tried 'til my face turned blue
Baby, you've got me held down by a string
'Cause you're the only one I see my future with
Buy a happy home and have at least two kids
Stay together longer than my parents did
Is that a stupid wish?
Try to give you a little time
Try to give you a little space
But blastin' off into space
Is takin' up all of my breath away
Do you love somebody else or not?
I need the answer quick
The water is runnin' too cold
Under the bridge to go swimmin' in, mmm
•• ••
A CONVERSATION WITH TAI VERDES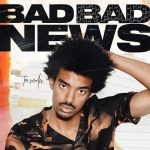 Atwood Magazine: Tai, it's great to meet you! Thank you for taking the time to chat. How long have you been playing and writing music?
Tai Verdes: I've been playing music since I was 11 or 12.  My mom told me to pick an instrument and I thought piano would be the easiest. Writing music, I've only taken seriously for this last two years.
"Bad Bad News" is just your third single since you introduced yourself last year. Why did you debut with "Stuck in the Middle"?
Tai Verdes: It was one of the two songs that I had made in my first session back in a recording studio after doing about 6 months of working on my voice for an hour and a half a day. I had no real plan other than to release a song every month until something caught. It just happened to go 1/1 right away.
I hear so many influences when I listen to your music. How do you describe your sound and style?
Tai Verdes: I just do what feels good. I don't care what producer I'm working with or their style. As long as I feel good about the whole thing, I'm all in.  Genreless, baby.
You've talked about Dominic Fike, Harry Styles and Brent Faiyaz as being some of your biggest influences. What is it about their music that you're inspired by?
Tai Verdes: I think the through line to all of these artists is their vulnerable and honest songwriting.  My best work so far has been writing from personal experience.  I want people to learn about my life with every single track that I drop. There has to be a purpose. A direction. And the voices of these artists are just crazy and unique.  One of the reasons I started singing was because I used to watch live performances of Harry Styles And Dominic Fike all the time. Then I realized that they are just people and I do that shit to.
I know you went viral on TikTok – do you use the app much and have you yourself discovered any great music, whether on purpose or by accident on TikTok?
Tai Verdes: The screen time on my phone would give you a heart attack.  I got my ear on the ground to TikTok so hard that my head is literally under the ground.  I see everyone.  Every artist that is trying to promote their music pops up on my feed. The best so far has been Claire Rosencranz, 347aiden, Jack Kays, Dempsey Hope, just to name a few so many more!
"Drugs" is a really sweet, fun song with some deeper meanings – it's definitely a song with substance (pardon the pun). Can you talk about how this track came about and what it means to you?
Tai Verdes: My producer was talking about smoking weed on a walk to CVS because he didn't want his parents to know he was smoking weed. I jokingly said, "Why don't you just tell your mom sometimes you do drugs."  Boom. Let's make a whole song. I love how vulnerable it is. I love being very blatant and simple with harsh realities. The whole process of making the song was so easy and fun we had 80 percent of it done in about 3 hours. That shit is the best when you can get into a flow.
"Drugs", and now "Bad Bad News", showcase what I would consider a certain depth of lyrical honesty in your writing. Do you find you often use songwriting like a diary?
Tai Verdes: Hell ya. I didn't realize I was bad at processing my emotions until I tried songwriting and figured that this was is soooo much easier.  Honest lyrics just butter my biscuit.
How do you feel "Bad Bad News" fits into your repertoire?
Tai Verdes: Fits perfectly. It's another chapter for people who listen to my music to read into. That's all I'm doing really, is telling stories. Some just have 808s and others have guitars. Some have both.
I love the references you refer to here - from staying together longer than your parents did, to the ups and downs, fights and reconciliations of relationships... it all feels very relatable. What did you take out of writing this song, and how do you hope others experience it?
Tai Verdes: I don't think about how others will experience my music.  Up to interpretation.  All I know is that I'm proud to have put it out.
Two undeniable aspects of this song are your guttural singing, and the bluesy guitar riffs that add so much depth to the chorus. How did that all come about? Is that also you on guitar?
Tai Verdes: My producer Pacome is actually the one who is playing! I can play the guitar but his solo on the track is unreal.  As for the singing, I just sang how I felt.  I go all by feeling.  The momentum of the song is really important to me.
I hear everything from soul to rock and more inspiration in this music. Who are some of your musical influences, and what bands or artists do you think about or strive to emulate in your own music?
Tai Verdes: I really don't try to think about other artists when I'm making my own songs. I just try the best I can on the track. But I've been super stuck on the Black Eyed Peas lately. Hit makers. Honest music. they through some comedy in there too? That's right in my lane.  I bet if you went and played monkey business right now you would know every chorus.
What more can we expect of your music? Any sneak peaks on subject matter and sounds to come?
Tai Verdes: I treat my life and music as a TV show.  So stay tuned for another episode soon.
What other artists, local or otherwise, are you listening to that you would recommend to our community?
Tai Verdes: STILL WOOZY. My man has got a vibe going that is hard to match. Chet Faker is always a top notch vibe.
— —
Stream: "BAD BAD News" – Tai Verdes
— — — —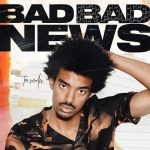 ? © 2021
:: Tai Verdes ::
---