Every Friday, Atwood Magazine's staff share what they've been listening to that week – a song, an album, an artist – whatever's been having an impact on them, in the moment. Here's this week's weekly roundup!
— — — —
— —
:: "TOOTIMETOOTIMETOOTIME" – The 1975 ::
I have to admit that it's taken me more time than usual to fall in love with The 1975's new music. "Give Yourself a Try" took me aback at first with its punk edge and frantic energy, and it took a few days for me to have it on heavy rotation. "Love It If We Made It" had an opposite vibe, it was a more dramatic and over the top take on today's society, and it just took time for the song to really resonate with me. I'm a big fan of The 1975, so having these reactions was odd for me.
Well, less than 15 seconds into "TOOTIMETOOTIMETOOTIME" I was already sold. The song is, again, a new direction for the band, sounding more like a Drake-inspired tropical house song made for afternoon summer parties than their usual introspective, intellectual, and synth-filled tunes. This song is the song of the summer that came around a little too late, but will let summer live on for a few extra months through it. Matty Healy admits that there's a certain frivolous nature to the song which they don't really touch upon in their music, and it's the song's carefree nature that makes it an absolutely perfect third taste of The 1975's upcoming album A Brief Enquiry Into Online Relationships. It's a complete reinvention of the band, different to anything they've ever done, which seems to be a common theme with The 1975, one of the only big bands today that seems to successfully and frequently expand their sonic sphere and is always up to challenge themselves and their audience.
"TOOTIMETOOTIMETOOTIME" seems like a certain chart-topping hit, but what's magical about it is that if it had been done by any band other than The 1975, it would probably just be a generic-sounding, meaningless song. But The 1975 achieve the perfect balance of commercial and authentic, not allowing the clear hit-potential of the song get in the way of the band's identity. I've listened to it for hours on end, and will probably continue to for a long time.
­­­­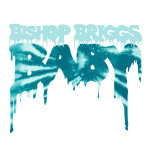 This week has found me utterly engrossed by two vastly different songs. The first, Broods' "Peach" (released last Friday), is a bold, juicy anthem full of fiery emotion and a lust for life. I'm overwhelmed by what Georgia and Caleb Nott had to say about their new single, and definitely recommend a deep dive into the song's meaning and emotional importance.
If I haven't been playing "Peaches," then I've been listening to Bishop Briggs' "Baby," which just released today. Briggs' first single since releasing her debut album in April, "Baby" is an intoxicatingly catchy singalong. Whereas she is no stranger to matters of the heart, the song's lighter sound and playful energy are completely new territory for Briggs, who has made her name on dark, tense, and passion-driven surrenderings of the soul.
"Baby" is fresh – a euphoric love song that finds Bishop Briggs basking in the warm glow of the moment. It's the next step in Briggs' evolution as a self-aware and self-expressive songwriter. Passionate, vulnerable, and utterly irresistible, it's got all the makings of another memorable and meaningful hit. Again, I highly recommend a deeper dive into this song – I'm honored to have interviewed Briggs about it, and humbled by her commitment to personal and artistic growth.
My baby's got a fucked up head
Doesn't matter cause he's so damn good in bed
Yeah he's still my baby
Yeah he's fucking crazy but he's still my baby
My baby's misunderstood
How could something so bad look so damn good
Yeah he's still my baby
Yeah he's fucking crazy but he's still my baby
­­­­
:: "Decay" – Akenya ::
Back in May, Chicago musician Akenya released this haunting single. The singer, pianist, and composer is carving out a space for herself in the realm of Chicago R&B and beyond, and a it's a powerful one. For the past couple years, she's acted as Chicago rapper Noname's music director and opening act, but she's stepping into a spotlight of her own. "Decay" details Akenya's struggle with lyme disease, a chronic inflammatory disease that can wreak havoc on a person's health. (The powerful cover art was taken by fellow Chicagoan and photographer Sam Fuehring, who also has lyme disease.) The song is a dark and catchy mix of R&B and jazz, occasionally seeming to take influence from early 2000s groups like Destiny's Child. Akenya personifies her disease in the poetic verses:
You keep my feet high above my head
And my spine is tucked between my knees
I thought I would only know decay when I was dead
You make wilting something of ease
She turns her struggle into a beautiful piece of art. Her nuanced and soulful voice soars on the bridge and whispers invitingly in the chorus. Her jazz influence is clear in the chord progression and her vocal runs are increasingly intricate and impressive every time one comes around. I somehow missed this song when she first released it, but once I found it about a month ago, I listened on repeat for a week. The song pulses with a captivating energy. It's dark and intense, yet lowkey and smooth. I love Akenya, and I love this song. Proceeds from purchases and streams will go to the organization LymeLight, which helps those with lyme disease! Purchase here!
­­­­
:: "Give A Little" – Maggie Rogers ::
Meredith Nardino, New York City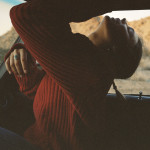 Since discovering that now-iconic NYU / Pharrell Williams masterclass video, I've been completely enamored by Maggie Rogers' ingenuity and generosity.  Now That the Light is Fading was an incredibly strong debut EP, but Rogers' two latest singles show the newly discovered confidence of a young artists growing into her sound. Though she's stepping away from that natural imagery and connection I loved so much in "Alaska," her newest song "Give a Little" feels revolutionary in the simplicity of its message.
In a statement on release day, Rogers wrote: "'Give a Little' was the last thing I wrote for this record and there's always been a special magic to these 11th hour songs…This is a song about empathy. In the midst of all this fear and hate, what if we got the chance to re-introduce ourselves? What if somebody listened?"
The inspiration for this song is so deeply human, so deeply youthful and innocent. It's uniquely political, without being confrontational.
­­­­
:: In Rounds – Campdogzz ::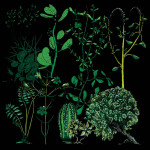 Discovering Campdogzz's new album In Rounds (out 8/3/18 via 15 Passenger) effectively interrupted my listening cycle of Fleetwood Mac and Elton John for a few days, which is a feat in itself. (While we're at it, a shout-out to Hanif Abdurraqib for taking a deep dive into Rumours on social media and rekindling that Fleetwood Mac love.) Maybe it's the Chicago group's sonic similarities to the former that stopped me in my tracks…but whatever it was, In Rounds is worth a listen.
The opening "Bobbing on the Plains" interlude (and its siblings interspersed throughout the album) is quietly ethereal in its tranquility, necessary for the more contemplative moments that will come out of nowhere once we move into fall. From each of these instrumental interludes, we're thrown into bass-heavy folkish, country-tinged rock. Guitarist/vocalist Jess Price's haunting vocals take precedence, fading in and out, windlike, yet heavy and hard-hitting on songs like the smashing standout "Souvenir."
As its title hints, the album mirrors a musical round, circling in and out, contrasting deep introspective moments with organic, strings-heavy lyric songs.In more ways than one, In Rounds reflects its album artwork: as the foliage on the cover looks  as if it was harvested from a forest floor, the songs within the album hold the same qualities: handpicked, varied, and natural in their beauty.
:: "Toy Soldier" – The Menzingers ::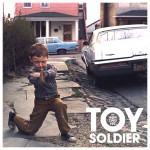 This week has been mostly me alternating between artists to hype me up and calm me down, but either way I've been leaning toward familiar.  The Menzinger's most recent single, released in May, is like a perfect marriage of On The Impossible Past and After the Party. As I've been getting hyped up for the first comedy show that I'm producing and hosting, I've felt the need to get hyped up, but also I want a band that I already love.  "Toy Soldier" does that so incredibly well.  The Lolita referencing lyrics also reflect well on my current situation:
I have only words to play with
Sing-alongs in broken English
Of my medieval Middle Ages
I lost my accent in the plague.
It's a perfect weekend kick off jam that I'll have on repeat to get psyched on.
­­­­
:: "Losing My Mind" – Beacon ::
"Losing My Mind" was an extreme departure for Beacon. Normally encompassing electronic beats and melodies into their music, the Brooklyn duo of Thomas Mullarney III and Jacob Gossett opted for a simpler approach to their latest track. The song started off with only the piano, slowly growing into a larger production and a more robust sound. However, the stripped down version remained the most honest, and as Gosset explains, "I came back from a trip and Tom had a new edit that was completely stripped back. Sometimes it just takes those infinite iterations to finally crack the code."
There's an open doorway to where I wanna be
And I let the world in and it's closing on me
And if I tell you only, would you ever believe?
If I'm the one calling, are you answering?
The decision to revert back was a wonderful choice. There is a heaviness with the track that shows just how much heart has been poured into each note hit. The listener can hear an almost perfect synchronization with each stroke of the piano and the intensity of the vocal performance, as if with each passing moment more and more of themselves are being poured out. The somberness that surrounds the ballad of love and loss is absolutely gorgeous and showcases the sonic diversity that Beacon can incorporate and master with their music. There is a beauty to the sadness that this track produces, and with each new listen I find more reasons to continue playing it. This is one of their most honest tracks they've released and I hope to see more of this style from them in the future.
­­­­
:: "Ralphie" – Post Animal ::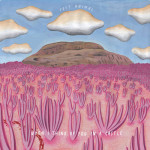 Thus far, Chicago rock band Post Animal's music videos have had seemingly nothing to do with the songs themselves. Psych-rock epic "Gelatin Mode" got a silly western-style chase, and "Tire Eyes" had a cartoonish occult theme. For their third video release from April's When I Think of You In a Castle, "Ralphie" also eschews typical narrative and opts for a gritty galactic adventure that's as ridiculous as it is fun. The video, directed by Alec Basse and Max Moore, opens on a black screen with red text, reading, "On the foreign lands of a distant world, our intergalactic traveler seeks the key to the oasis…"
The video follows the band through a desert landscape as drummer Wesley Toledo searches for said "key." He's taken captive and pursued by other band members (Dalton Allison, Javi Reyes, Matt Williams, and Jake Hirshland), using what appear to be water guns as stand-ins for laser guns. The video becomes hallucinogenic and strange (as if it wasn't already), as the desert landscape begins to twist and cause visions. The penultimate moments of the video find the group on a beach where they reunite with sixth bandmate Joe Keery (who splits lead vocals with Allison on the song), who hasn't been on tour with the group due to his packed filming schedule for Stranger Things. He holds the key to the oasis as he dances on a rock in the water, and the group explodes in joy upon seeing him. At the very end, they all walk together into the water.
Post Animal have referred to themselves as "a band of brothers," and the video portrays their friendship hilariously, as well as their willingness to not take themselves too seriously. I love Post Animal and their silliness, and I can't wait to see more inventive videos from this wonderful band.
Watch the video on Apple Music!
­­­­
:: "Crystalline" – Jome ::
Kelsey Fitzgerald, New York City
I just discovered Jome this week and I can't stop listening to "Crystalline" off their last album! One way that I've found myself discovering new tracks is looking at "Fans also like" on a Spotify artist page that I like. Jome popped up as an artist similar to EXES, who are one my my favorites. I'd thought I'd give Jome a try and I'm sure glad that I did.
It's one of those songs that gives you the most surreal feeling when driving with all the windows down. I don't really know how to describe it. With dreamy sounding vocals with minimal production it's one of my favorite songs for the summer. The lyrics explain the longing of a love and how their patience will be worth it and soon everything will be clear to why things were the way they are and the way that they will be. The best things come with time.
Love, stay patient
Baby, everything takes time
The ending will be worth the waiting
Soon it will be crystalline
The rest of this album is filled with more of the calming melodies and thought through lyricism. Jome has released 4 single tracks in 2018, so I'm excited to see if a new album will be released this year!
­­­­
:: "Blackout" – Dogwood Lung ::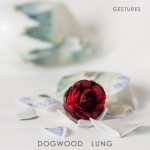 Dogwood Lung are near and dear to my heart; a group of hometown heroes. This indie/dream pop group bleeds beauty to the realm of decaying youthhood. The song "Blackout" is a tribute to the stories and intimate human connection between others. Only to couple those joyous moments with damaging and numbing decisions that come from closeness made over time. All that is expressed is a soft and calm voice layered sweetly over echoing guitar. This is a song of patience.
You told us a story of waking up
With bugs on your skin as a little boy
You didn't speak to your mom for weeks
You just thought you have to save us
I'll wait to go home
Until you blackout
I'll wait to go home
Until you're fast asleep
The song is a slow and steady burn, sandwiched between some of the louder and more upbeat tracks off band's emotional debut EP, Gestures.
­­­­
:: "Call the Dogs Out" – The Garden ::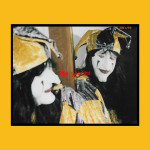 As I suppose many non-punk aficionados would, I wasn't sure how I felt about indie-experimental duo The Garden upon first listen. Identical twins Wyatt and Fletcher Shears are so dedicated to diverging from the norm that they choose to identify as their own genre (and mindset): "Vada Vada," a term they coined to basically mean doing whatever the heck you want. Whether "Vada Vada" is genius or pretentious is up to you, but the more I gave The Garden's single "Call The Dogs Out" a chance, the more it has become perhaps one of my favorite songs of 2018 so far, albeit unlikely. It's arguably the strongest track from their LP release in March, Mirror Might Steal Your Charm (via Epitaph), and essentially showcases all the best quirks The Garden have to offer wrapped up into two and a half minutes.
I have a special place that I've always trusted
It's been with me for some time, we are well adjusted
If someone knocks at your door and they are uninvited
You can call the dogs out and show them how to bite it
The Shears twins evidently don't appreciate uninvited guests into their safe space, but "Call The Dogs Out" serves as a perfect welcome into their rowdy, innovative, stereotype-smashing world. I'd love to introduce them to Atwood's readership.
­­­­
:: "Alcohol" – FIDLAR ::
Nick Baron, New York City
There's an idea floating out there that once an artist quits being the celebrity junkie they were so famously known as, they are finished, kaput, as if their reservoir of creativity is exclusively fueled by pills, a bad attitude, and suicidal thoughts. Zac Carper of FIDLAR is one of those musicians embracing a straight-edge lifestyle, but whatever senseless opinions you have heard about the recently cleaned-up singer, don't pay any mind to them. It's been three years since the release of their sophomore album Too, and for a high-energy LA-skate punk band like FIDLAR, that can seem like an eon. Yet their latest release "Alcohol" is a reminder that Carper's road to sobriety hasn't slowed FIDLAR down at all.
I'm tired of walking away to lose you
I take my Adderall with milk and sugar
I'm gonna be okay, get the fuck out of my way
'Cause all it is is just a bunch of Kool-Aid.
I wanna lose my mind and lose track of time
Won't somebody please just give me some alcohol?
Alcohol!!
"Alcohol" is what we've come to expect from the band's knucklehead charisma: the music is ferocious and insistent, like a brutal hangover. Throbbing with pounding drums and ballistic missiles of buzzsaw guitar riffs, the single is a sonic carnival of debauchery. Yet the lyrics inhabit even darker corners of Carper's troubled past––they are a raw onslaught of drug confessions and emotional depravity basked in the misery that comes with addiction and ruined relationships. While we should be celebrating return of FIDLAR, there is perhaps another, more serious reason that "Alcohol" should put us in a good mood: Zac Carper is somehow still alive, cranking out party anthems for our depraved pleasure.
­­­­
:: Hard Road –  2nd South Carolina String Band ::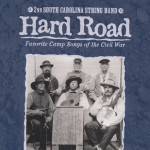 I just spent the week doing my long-in-planning "Civil War Tour," a trip where I visited a bunch of the Civil War sites in one go. It was great to get out on the road and visit some of the most notable battlefields and other landmarks from that era. Along the way, I made sure to stay in character by listening to many of the songs associated with that conflict. The album Hard Road: Favorite Camp Songs of the Civil War, by the 2nd South Carolina String Band, served as much of the soundtrack for my trip. I especially enjoyed their rendition of "When Johnny Comes Marching Home" ("The Ants Go Marching," anyone?) and "Battle Cry of Freedom." Along with the Lincoln soundtrack, I will remember this as the album that best defined and enhanced my Civil War Tour.
— — — —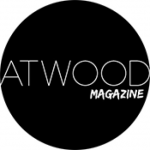 ---
:: This Week's Features ::