This Black History Month, Atwood Magazine has invited artists to participate in a series of essays, interviews, reviews, poetry, playlists, and more features in recognition of, and out of respect for the symbolism and significance of this month.
---
Today, critically acclaimed multi-dimensional artist AUGUST 08 shares his intimate coming-of-age short film, EMOTIONAL CUH, as a part of Atwood Magazine's Black History Month series. Soundtracked by his 2020 EP of the same name, EMOTIONAL CUH "unflinchingly and unapologetically narrates AUGUST 08's story growing up in disenfranchised neighborhoods of LA and how it chipped away at his youthful innocence." Beautifully artistic and compellingly nuanced, it's a twenty-minute dive into the depths of the artist's "coming-of-age thoughts, feelings, and experiences" – his life through his eyes, as best as he can share it. He proudly calls it a direct extension of the truths that have made him the person he is now.
"We create to inspire our youth and show them that there's more here for us than we have been led to believe," AUGUST 08 tells Atwood Magazine about his short film, going on to call this project a "Black boy joy freedom of expression."
I'm trying to remember, if it made sense
I saw these people in, all kinds of, different workwear
And Chuck Taylor's, and ski masks
It was something like I've never seen before
The odd thing is that, all the people around me
Maintain this camaraderie that I've never seen amongst men before
Are they criminals or are they heroes?
I can't really tell
Good guys and bad guys kinda look the samе from a distance
Especially when thеir faces are covered up
And there was one person in particular that they called Emotional Cuh
And he was a sad motherfucker
– "Theatrical Hood N****," AUGUST 08
Signed to 88Rising, AUGUST 08 – the moniker for Los Angeles-based August Grant – is a singular and stunning rising force in the music industry. Following his 2018 debut EP FATHER and 2019's Happy Endings with an Asterix, December 2020's EMOTIONAL CUH arrived at the end of last year as the third and (perhaps) most powerful record in a series of releases that have showcased the versatility, intensity, vulnerability, and overall talent housed within AUGUST 08's multi-faceted artistry. The seven-track, 20-minute experience fluidly blends vulnerability with strength, connection with disconnect, R&B, soul, hip-hop, rap, and more in a way reminiscent of Kanye West's groundbreaking masterpiece, My Beautiful Dark Twisted Fantasy.
Broke my sister's heart
Drove my mother's car
Into the ground (Into the ground, into the ground)
Drove my friends away
Pray my mother's safe
On the Eastside (Eastside)
Where n**** die
They said I'd never make it to twenty-one
Now I'm twenty-somethin'
And I'm alive, I'm alive
They said I'll lose myself with no one safe
Play with the law, you'll catch a case
But I'm alive, I'm alive
– "21," AUGUST 08
Out of everything, AUGUST 08 evokes a sense of perseverance and survival: Of finding and embracing reasons not just to live, but to thrive. "Every hood has an emotional cuh, an emotional thug, an emotional gangster, kids who are forced to do things they don't want to do. This is for them," AUGUST 08 says about his EMOTIONAL CUH EP. "This is a story for those who had to be numb, who don't have the space to express themselves freely. I hope this project lets them feel like they don't have to hold back."
From his record's spoken-word entrance to the intense upheaval of "Bussdown Your Soul," to the breathtakingly visceral heart-on-sleeve confessional "Sleepless Nights" and its follow-up "Hobosexual," to the ode-to-survival finale "21," AUGUST 08 injects in his music an alluring, deeply human and relatable energy that makes every moment pop off the page – like we're experiencing his trauma and his spirited staying power in real time. Through his short film EMOTIONAL CUH, AUGUST 08 brings us even closer to him and his inner sanctum, opening himself up more so than ever before as he gives his songs a new space to live, breathe, and connect with audiences.
"It's tough to celebrate [Black History Month] when they are still depriving us of our humanity. It's tough to celebrate when they use their power to put their boots of oppression against our hearts and spirits. IT'S TOUGH TO CELEBRATE when I see my community hospital struck by disaster from COVID-19 due to budget cuts and lack of the state government's care of Black and Latinx people. 'Til then, the only thing I'll celebrate is God's will and understanding." – AUGUST 08
Empty bottles, drugged up parties
Life's too fast to be this close
You do me just like nobody
Refill me whenever I'm low
Alcohol to dull my cravings
I won't change, I'm in my ways
My pride won't let me say, "Sorry"
But I can't let you get away
Oh, my eyes are closed, the battle's almost over
I'm broken, wound still open
Oh, a sea of shinin' stars
But my sins won't let me hold you
Like I don't know you
– "Day Trip," AUGUST 08
•• ••
— —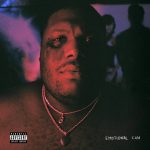 ? © Jason Ano
:: Stream AUGUST 08 ::
---