This Black History Month, Atwood Magazine has invited artists to participate in a series of essays, interviews, reviews, poetry, playlists, and more features in recognition of, and out of respect for the symbolism and significance of this month.
---
Today, Los Angeles alternative R&B artist Leon Waldo goes track-by-track through the smoldering sounds and stunning depths of his sophomore album Secrets of the Melanin Monk. as a part of Atwood Magazine's Black History Month series. A beautifully buoyant and powerfully expressive record, Secrets of the Melanin Monk. (released December 11, 2020) is an expansive and resounding artistic statement: The massive 20-track, 60-minute affair showcases the breadth and depth Waldo's vocal prowess, arresting presence, and lyrical talents, in addition to his multi-dimensional genre-bending musicality. Experience the full record via our below stream, and peek inside Leon Waldo Secrets of the Melanin Monk with Atwood Magazine as the artist goes track-by-track through the music and lyrics of his album!
"Secrets of the Melanin Monk is an album released by Leon Waldo on December 11, 2020. The majority of the album was written between 2017 – 19. It signifies the struggles of a Queer Black musician, finding his self identity while battling his own mental health. The 20-track collection of songs were recorded in various cities and contains many musical influences of Leon Waldo's life." – Leon Waldo
•• ••
Stream: 'Secrets of the Melanin Monk' – Leon Waldo
:: Inside Secrets of the Melanin Monk ::
— —
A Man Like Ü
Looking in the mirror, I saw someone I'd never seen before: Myself. Staring back at me, wasn't the troubled and afraid youth I had grown up with. Instead, it was a man who was sure of himself. A man sure of this feeling of self-love. For the moment, I never wanted to let that feeling go.
"And I never loved a man like you."
Letters from London
I've always lived the life of a nomad. I found my home in new places. This song foreshadowed the year I spent living in the United Kingdom. It was one of the most freeing times of my life. I had a new purpose, a new sense of self and carried the whimsical nature to feel happiness. In a sense, this song represents my blissful utopia.
"Wherever my heart goes, my love shall follow. Drifting through the storm in a Monte Carlo."
Walk Like That
I found a new solace in the midst of ballroom culture. I remember being 11 or 12, watching clips of Leiomy Maldonado and voguing battles on Youtube. They were all someone I wanted to be. Fearless and bold. I interpolated MC Debra into this song. It's my nod to a culture that helped embrace and shape me.
"Shouldn't be allowed when you look like me. Queer, black, everything soft and free."
Nappy Headed Boy
Growing up, I moved a lot. In that time, I really struggled with my identity. My mother set the example to become more than what I sought for myself. It would eventually be the push to not only accept who I was, but  be proud of myself, too.
"Mama said, 'boy your life won't be easy, but I promise it's worth it."
We Are the Culture
I don't need to detail the brutal violence amongst people of color in this modern age. While lives are stolen from us, so is our culture. Most entertainment came from the lifestyles of black and queer communities, that history has tried to erase. For me, this song is an aggressive reminder of the roots we all benefit from.
"They don't want us, they just want our culture."
The Other Side
In the mind of a creative, you have to learn to accept the lows as much as the highs. Some days are great, other nights are the worst of all. A part of being proud of who I was included opening up about the times I simply wished to not be here. Singing about it keeps it all from being inside my head.
"A soul is dead as darkness takes me, to the other side."
Would It Be Enough
Losing someone is one of the hardest crosses to bear. Whether it's the ending of a relationship or the ending of a life, you start wondering if you could do something to change the outcome. But in the end, you realize it's wishful thinking. That was then, and this is now.
"They say i'll finally move on, but I ain't done much moving today."
Ain't No Apologies
I've always been inspired by James Brown. Ain't No Apologies is a dance of solidarity to be unapologetically yourself, in any and every situation. We sometimes push the narrative to befriend the oppressor in order to make amends of the past. It can leave marginalized people feeling pressured to create the solution to a problem that they were the victims of. Ain't No Apologies is a reminder to be free and proud at all times.
"Ain't no apologies coming from me. You better apologies to your damn self."
Make Ü Say Ooh
Have you ever seen someone who's out of your league, but you just know you'd give them the world? Make Ü Say Ooh is that love song. I've never had the best luck with the lovers. So it talks of the things I'd do, if I was with you. And when no words can describe it, sometimes you just simply got to make them say, 'ooh.'
"If you want to, I can show you how real love's supposed to feel."
Witchcraft
This song embodies a woman who has complete control over herself and her identity. And in using her spiritual power, she demands the respect she deserves. She uses her own energy to get the things she wants. And that is the true meaning of freedom. I grew up with a lot of strong women. And this was an ode to the strength that showed me.
"She's not dancing for the money. She just loves the way her mind is over you."
My Body
I envisioned a place where I could roam free with my ancestors and past lives. But in order for me to get there I would have to let go of this physical world. And the more I cling on to my body, the more they want me to let go.
"And I can hear them calling out to me, I can feel the souls in my body."
Our Love
It's important to cherish the moments of pure happiness. This song is about two people simply in love. I was inspired by Earth Wind & Fire and classic soul bands from the 70s that I grew up listening to. I felt like I was running away with the one I loved.
"Nothing really matters no more. It's both of us against the world."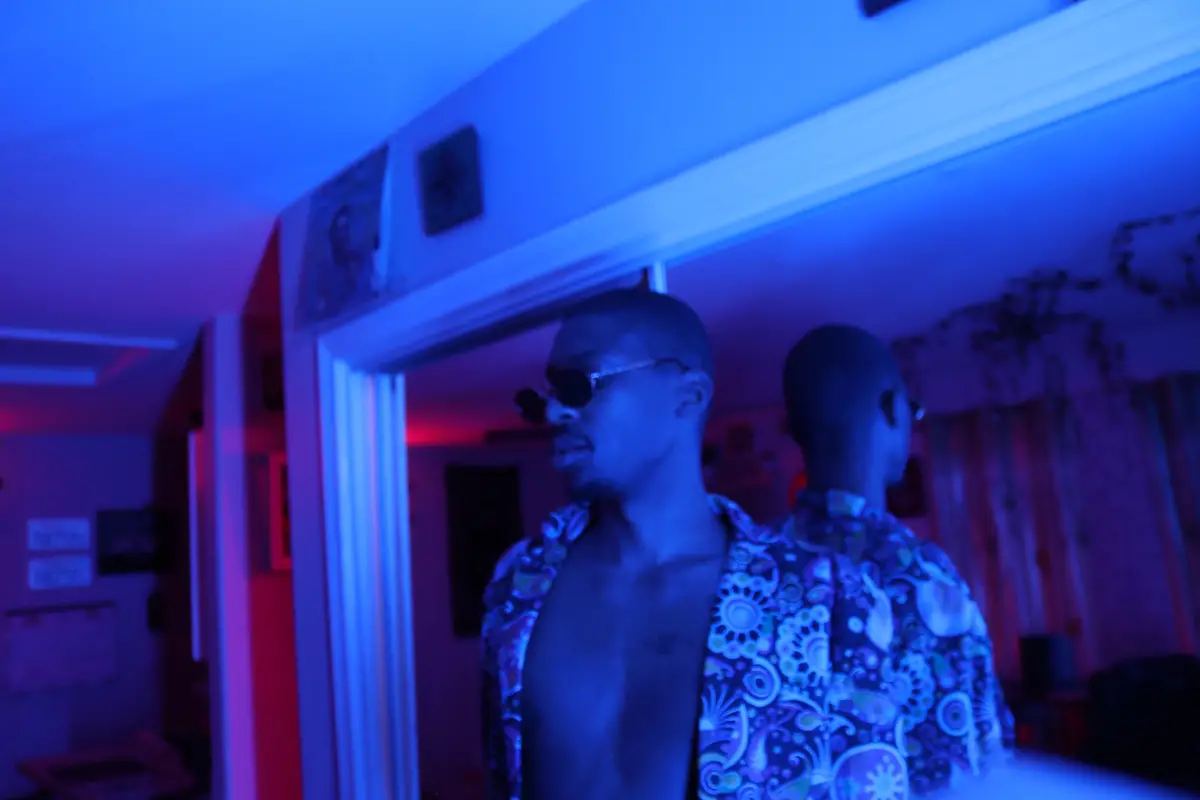 Nights Like This
I wrote this song in the space that I wanted to live in the moment. A place where nothing else matters but the stars and the one I loved. So many moments in life get passed by. I find at times we can live for the social media posts or the instagram likes. But when there's just a moment shared between two people, that's the most special of all.
"Lost up in the air tonight with you. Something only shared between us two."
Nostalgia
One of the most personal songs came in the second half of this record. Nostalgia talks about struggling to hold on to the memories, when the reality is much different. I find that we look at nostalgia with rose-colored glasses. And sometimes when we try to recreate that magic, we remember all the pain that came with it.
"Nostalgia playing tricks on my head. Forgetting how it hurts to feel your lips again."
What About Me
This song paints a stark image of how I imagined my last moments on earth. It revolves around the thought that all dogs go to Heaven. The idea that no matter how bad or good an animal was, they would still receive automatic entrance into the holy afterlife. But would the deeds of which I committed, receive the same treatment?
"Blood dripping from my fingertips. The knife still in my hand."
Float Down Here
One of my favorite songs on the record, Float Down Here was inspired by the movie, "It."  The line comes from the missing children saying, "We all float down here." I wrote the song, asking the question if I too would fit in with the others, that lived the way I did.
"Tell me will I float down here, in the home of the young and broken-hearted?"
Pour My Love
Pour My Love was inspired by the Temptations' song "The Way You Do the Things You Do." Recorded in a hotel room in Paris, it describes a sensation of doing anything to give affection to someone you deeply care for. It's a moment of showing the lengths you will go to make someone know how much you truly love them.
"And even at the bottom of the sea I will go. Higher than the mountains and atmospheric snow."
Pluto
Growing up, I felt I saw myself in the planet Pluto. A quiet distance figure far from the sun. I sing about holding onto a love merely because you know of nothing else. How, holding on to something even when it's not meant for you, can leave you cold and blue.
"I loved you when that's all I knew. Now my heart is turning blue, like Pluto."
Skin x Skin
There's something so freeing about loving who you love openly. Skin x Skin is a testament to feeling the closest you can to another person. It's about sharing every part of you, creating a tranquil connection that can never be broken. It's the epitome of real love.
"Skin to skin, blood to ire, you're my heart's desire."
Black Heart
Through the entire journey I learned to love the best parts of me, and the scary ones too. And yet I'm still here. Black Heart is the promise of a better tomorrow. It's a feeling I've strived to be for myself and for others. Every time I'm knocked down, my legs get stronger. Every time I'm punched in the chest, my lungs breath deeper. And every day that I'm here, is another day I won.
"And we are unbreakable, nothing brings us down. I got a Black heart baby."
— —
— —
? © 2021
:: Leon Waldo ::
---