Marrying vivid imagery and subtle nuance with a tempered orchestral flare, The Brothers Landau's 'Haven't Got a Name' EP is a grounded, serene, and soulful breath of folk light.
for fans of Darlingside, Milk Carton Kids, Punch Brothers
Stream: 'Haven't Got a Name' – The Brothers Landau
---
There's no denying the organic beauty of The Brothers Landau and their new EP. The band of brothers David Landau (cello, vocals) and Daniel Landau (guitar, vocals, multi-instrumentals) shine bright on Haven't Got a Name, their first recorded collection of songs in nearly a decade. Marrying vivid imagery and subtle nuance with a tempered orchestral flare, Haven't Got a Name is a grounded, serene and soulful breath of folk light.
Have we got it right
or have not held it to the light
theories all aside have we seen
are we caged and freed
(it's not enough)
Wither wills or wither won'ts
(never enough)
I'll be the one to turn the boat
I can spy the land
Atwood Magazine is proud to be premiering The Brothers Landau's Haven't Got a Name EP, independently out August 28, 2020. Following 2010's debut album Parallax and 2017's standalone "The Holiday Song," Haven't Got a Name truly is the first time we've heard from the Los Angeles duo in a long, long time – and it's a welcome return to form. Embracing vulnerable lyrics and acoustic textures, the five-track EP dwells in notions of purpose, time, being, and so on; the Brothers tackle a select corner of life's big existential bearings, asking aloud if we're putting our chips in the right place and wondering if we're on the right or wrong paths.
Living in a city like Los Angeles can do that to you – make you so dizzy, that you end up questioning yourself and everything around.
"If you give in to that unmotivated feeling, you might end up abandoning the very pursuits that give your life meaning," the band recently told Vents Magazine. Thankfully the pair held on tight; their new EP is proof of a certain learned perseverance and wholehearted dedication.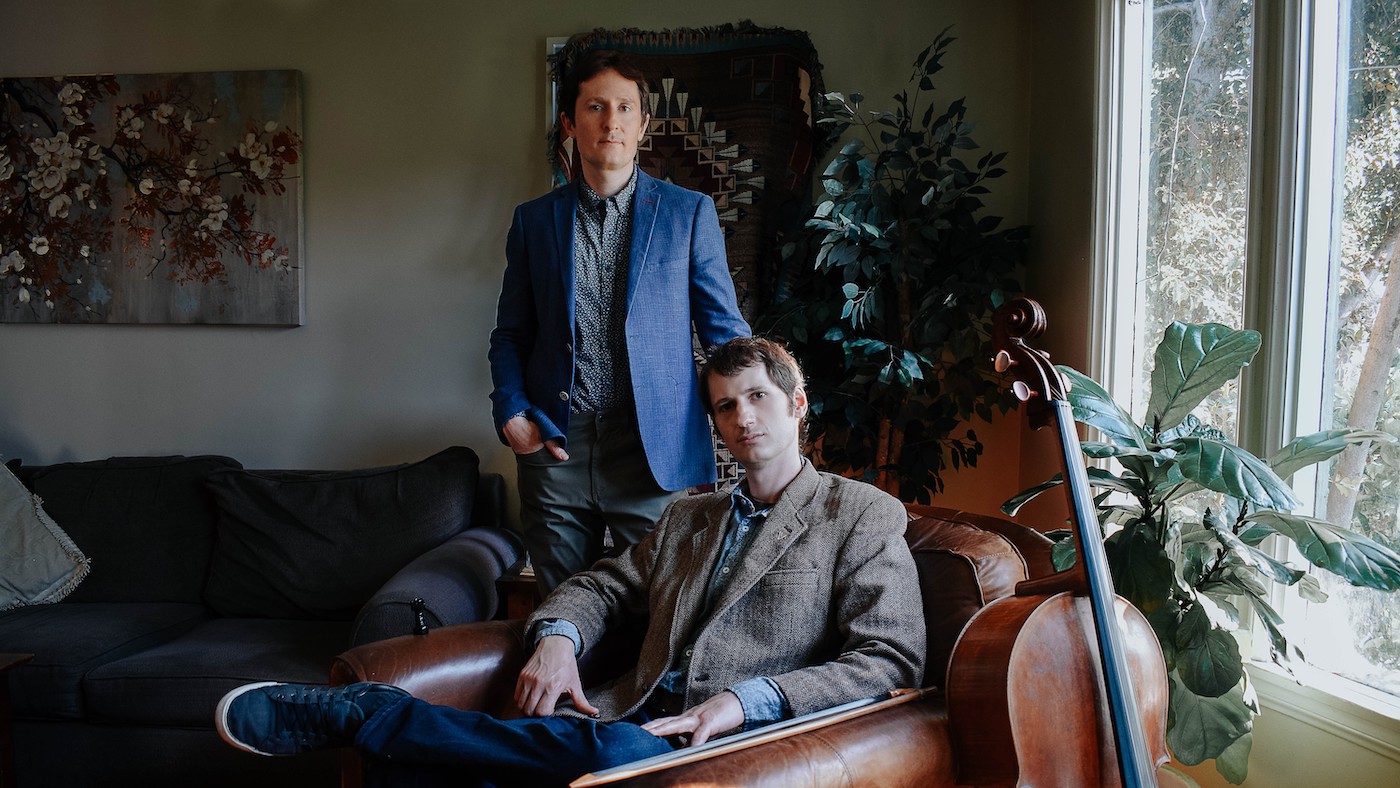 "The whole Haven't Got A Name EP represents an examination of our modern culture and how it's putting us off balance, turning us away from what truly matters in life," the band tell Atwood Magazine. "[The song] "Monday" reflects on how our current digital and work cultures leave us isolated and yearning for meaning. "Haven't Got A Name" steps back and wonders if we're focusing on the right things. "A Way Down" is an appreciation for those in our lives that help us stay grounded during tough times. "A Major Jerk" speaks from the perspective of a hyper-individualistic person who actively doesn't care about others. And "Steady Joy" explores how we can best show love to one another. We didn't set out to have an overarching theme, but these were the songs that came out."
Even non-concept records tend to capture a certain moment in time for their respect artist. Haven't Got a Name depicts one of indecision and uncertainty, its songs reflecting a familiar search for balance and understanding in our often turbulent, confusing lives. But these songs are not just about wandering; they are about self-discovery and ownership – of landing on your values and, in staying true to them, staying true to yourself.
In the band's words, "Our global community is in a precarious place right now, and we have the opportunity to determine what kind of world we want."
Opening with strong vocals, a lilting acoustic guitar, and hearty cello work, title track "Haven't Got a Name" sets the tone with a stirring sweetness. The Brothers Landau make the introspective journey one of color and joy, despite how difficult and daunting it may be. "Steady Joy" is humble and hopeful in its expression of community and togetherness:
It's a wondrous thing
that our selves changing
will help each other grow
today together for tomorrow
the risky bet's been made
on far future escapades
how to keep the sparks from fade
here's one of a thousand ways
Sometimes you'll come home from the day
ordinary you, ordinary me
A welcoming smile will say
your "ordinary me" is just fine.
All throughout Haven't Got A Name, The Brothers Landau lead by example. Their songs loosely follow verse-chorus structures, tending to stray as needed in order to tell their stories. This easy flowing atmosphere is freeing and fun, making each song a little world unto itself where anything might happen. By the time the band are bidding us farewell on the hotly observant "Monday," they've left in their wake a gorgeous tapestry whose messaging and intimacy give us hope for so many hopeless situations.
Sure, this record may have been born out of frustration and anxiety, self-doubt, etc. The Brothers Landau took these feelings, and turned them into a gentle, grounding experience full of light and grace. Whether you too are lost in your head, or simply looking for some good-natured exploratory folk, Haven't Got a Name is a worthwhile listen that will brighten your day and send your heart soaring.
Stream The Brother's Landau's new EP exclusively on Atwood Magazine – and here's to hoping we don't have to wait another ten years for their next collection!
— —
Stream: 'Haven't Got a Name' – The Brothers Landau
— — — —
? © 2020
:: The Brothers Landau ::
---