Atwood Magazine catches up with Bad Suns' Christo Bowman to discuss the band's cinematic fourth album 'Apocalypse Whenever,' a radiant record are filled passion, wonder, and renewed vigor.
Stream: 'Apocalypse Whenever' – Bad Suns
---
Fresh out of the studio, Bad Suns' frontman Christo Bowman sits in his car to chat via Zoom. "We're getting everything ready for tour," Bowman says. Bad Suns kicked off their tour on January 26 the release date of their highly anticipated fourth album, Apocalypse Whenever. "I am just excited to have the opportunity to tour again. You know, it's something that we don't take for granted, less so than ever before."
Out now via Epitaph Records, Apocalypse Whenever is Bad Suns' first album since 2019's Mystic Truth. The bulk of the record came together during the pandemic. "It was written between 2019 and 2020," Bowman begins. "We got off the road touring after touring our album Mystic Truth, and I think we were really, really fired up to go get the ball rolling and get the creativity flowing and start writing."
Just like that, Bad Suns began working on their fourth LP. Apocalypse Whenever is a concept album – "a soundtrack for a movie that hasn't been made yet," Bowman describes. The band – consisting of Bowman, Gavin Bennett, Miles Morris and Ray Libby – went as far as to create a mood board composed of movies like Blade Runner and Terminator 2, but a major inspiration was Bowman's trip to Tokyo. "I'm looking at my Time Hop and it's like, 'I was there like two years ago today and I want to go back,'" he laughs. Bowman says it felt like something out of a movie. "It's really pretty surreal and it's crazy," he explains. "I listened to a lot of Japanese City Pop music, which informed the sonic aesthetics of this record and the visual aesthetics of this record."
Along with these Japanese influence, Bowman describes the album as "'80s new wave dream pop." Buoyant and energized, Apocalypse Whenever very much feels like a summertime coming-of-age album, a sentiment he shares – noting how the album was initially set to release in the summer. "To be honest with you, I thought this album was gonna come out last summer," he says. However, the pandemic caused a delay in vinyl production, something that's important to the band. "For us, it's always sort of important to have the physical vinyl be available for fans once the record comes out. So once we figured out that was gonna be a factor, we decided to push the album's released back until this January."
---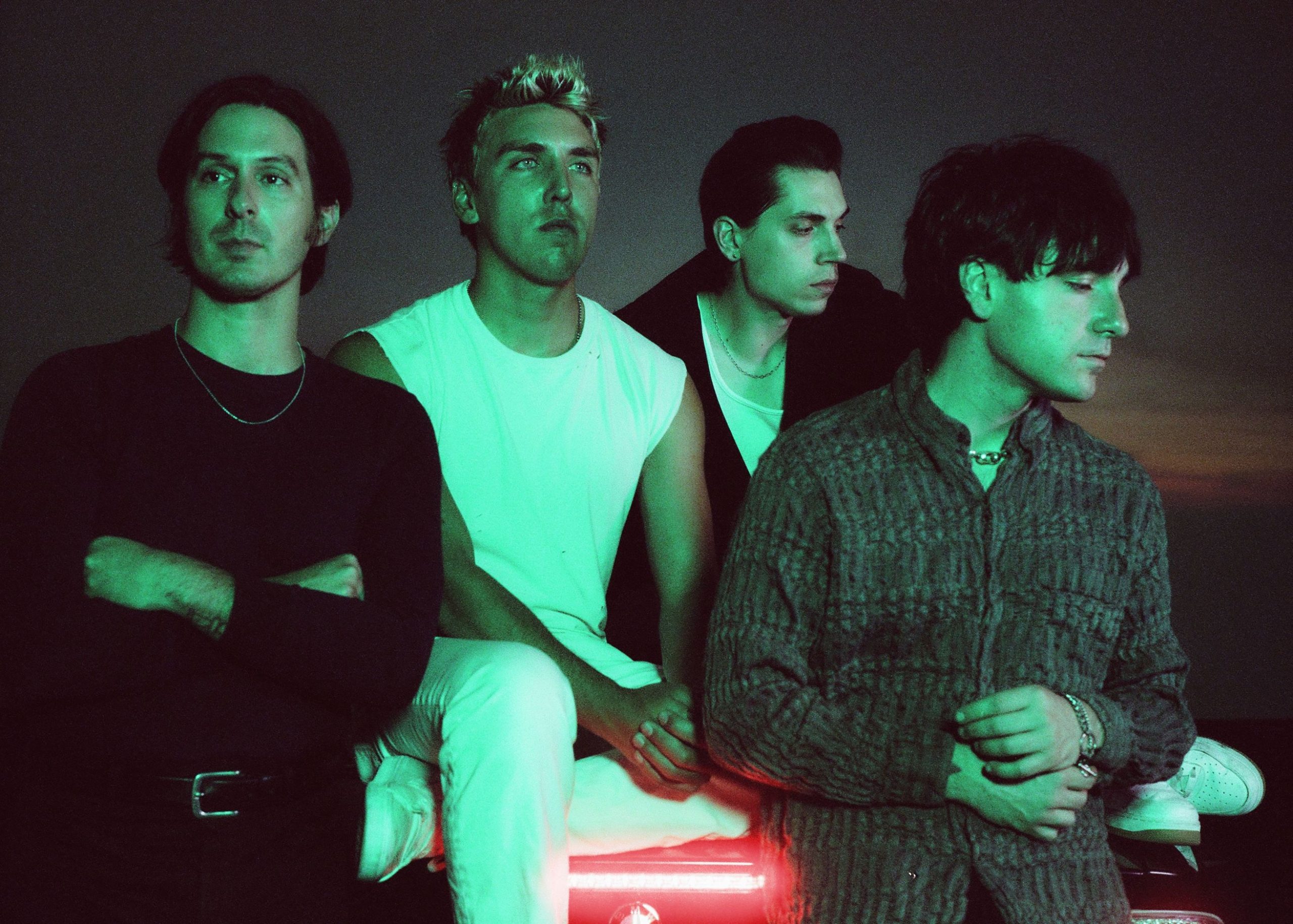 Still, Apocalypse Whenever feels like a pre-game to the summer season.
As a concept record, the LP follows the idea of what comes after a near-death experience. "It puts things in perspective for you: It's like trailing back and you see your life flash before your eyes in that moment," Bowman says. "That's kind of what this record is, all of that stuff along the way that was kind of messy." This is evident in the album's cinematic title track, in which Bowman emphasizes the chorus line, "Life's not been pretty, but I'm still not ready to die, I've never felt more alive."
I sailed the seas of apathy
In search of someone far from me
I used to call you after school
I'm always crawling back to you
Love is so hard to find and to lose
Apocalypse, whenever
I can't live in fear forever, can I?
Life tried to make me somebody I'm not
Can't separate from me, I'm all I've got
Life's not been pretty, but I'm still not ready to die
I've never felt so alive
Alright
---
When seeing your life flash before your eyes, Bowman put an emphasis on relationships, along with their endings. "Baby Blue Shades" is a prime example. The idea of blue shades came from a meeting with Warner Chapel's Greg Sowder. "He was wearing these like baby blue, tinted sunglasses. I remember I came home from that meeting and I was all fired up and his glasses popped into my head for some reason," Bowman recalls. said. For him, those baby blue shades were the opposite of rose-colored glasses. "There's a line, 'I can see the moon from my kitchen, but I cannot see through this decision,' meaning it's just hard to make that leap and to close that chapter," he notes. "Basically, the idea that the person you're with is somebody who's sort of looking at life through blue tinted glasses as opposed to rose colored glasses, and just trying to break free of that."
The track "Silently Screaming" is an extension of that narrative, and a song Bowman is particularly excited for fans to hear. "It's about this sort of Stockholm Syndrome and this inability to walk away from something which is clearly bad for you," he said quoting the line "This unbearable feeling feels like home." Bowman cited "Electric Circus" as another song he was excited for fans to hear saying, "It definitely has a classic Bad Suns sound, but I feel like it's a little bit different. There's some unexpected moments in there that I think people are hopefully gonna really love."
Apocalypse Whenever's stirring final track "Symphony of Lights" encapsulates the album's whole narrative with the line, "When you're in a bed of roses and when your light turns blue, I'll be there for you," coming full circle musically by ending on the same melody with which the album's first track starts.
Coming up on a full decade together with his band, Bowman hopes Apocalypse Whenever resonates with Bad Suns fans new and old.
"The album's just about love, and it's about life and loving yourself and taking the time to stop and smell the roses and appreciate the beauty available to us, despite all of the things that might be a little bit closer up and uglier, which are kind of easy to become consumed by, but not to be all-consumed by that stuff."
Apocalypse Whenever is out now. Catch Bad Suns on tour through March 4.
— —
— — — —
Connect to Bad Suns on
Facebook, Twitter, Instagram
? © Elizabeth Miranda
:: Stream Bad Suns ::
---