Grateful Dead bassist Phil Lesh celebrated his 83rd birthday and hundredth show at the Capitol Theatre in Port Chester, New York, last week with a four-night run of shows.
by guest writer Max Kalnitz
•• •• •• ••
---
Grateful Dead bassist Phil Lesh celebrated his 83rd birthday and hundredth show at the Capitol Theatre in Port Chester, New York, last week with a four-night run of shows on March 15 and 17 through 19.
To celebrate Lesh's 83rd birthday on March 15, venue owner Peter Shapiro presented the bassist with a cake and lead the audience in a "Happy Birthday" singalong before the band's encore. And in recognition of Lesh's hundredth show at the venue, Shapiro raised a commemorative banner behind the band before the last night of the run.
Although, technically the show was Lesh's 118th show at the venue. The Grateful Dead played 18 shows at the Cap throughout 1970 and 1971. But no member would return for over 40 years until Phil Lesh played his first show at the theatre after its reopening in 2012. In the years since, Lesh has made the Cap his home away from home, selling out "Philloween" and birthday shows almost annually.
To see Lesh on stage at 83 is bewildering for one simple reason — he does not act his age.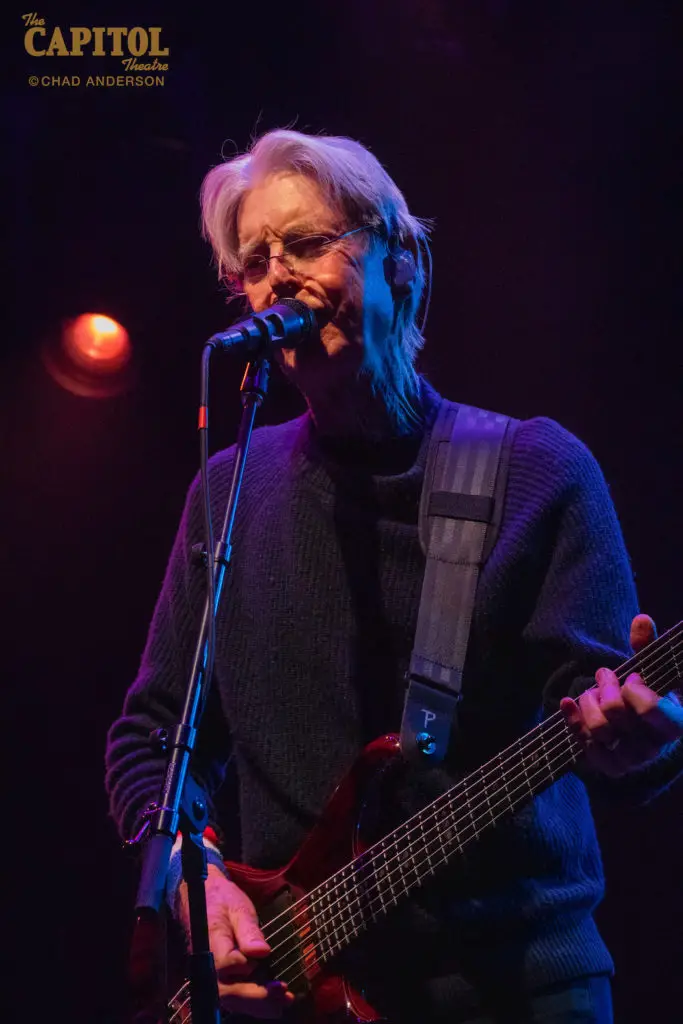 Sure, there are some elder rockers in their mid-to-late-eighties who are still delighting fans with their music — 89-year-old Willie Nelson comes to mind. Fellow Grateful Dead bandmates Bob Weir, Bill Kreutzmann, and Mickey Hart are 75, 76, and 79, respectively, and are gearing up to perform with Dead and Company for one final tour this summer.
But at 83, not only does Phil Lesh play faster than any other current iteration of the Grateful Dead, but Lesh also pushes the jams to new heights at nearly every show.
This is because Lesh has a rolodex of musicians from which he creates unique and exploratory rosters to play the storied music of the Dead. The joy of seeing Phil Lesh and Friends perform is seeing how the songs from around the musicians bringing them to life. By forgoing a solidified group, Lesh is keeping the spirit of the Dead alive in its truest form — getting a bunch of friends together on stage and seeing what happens.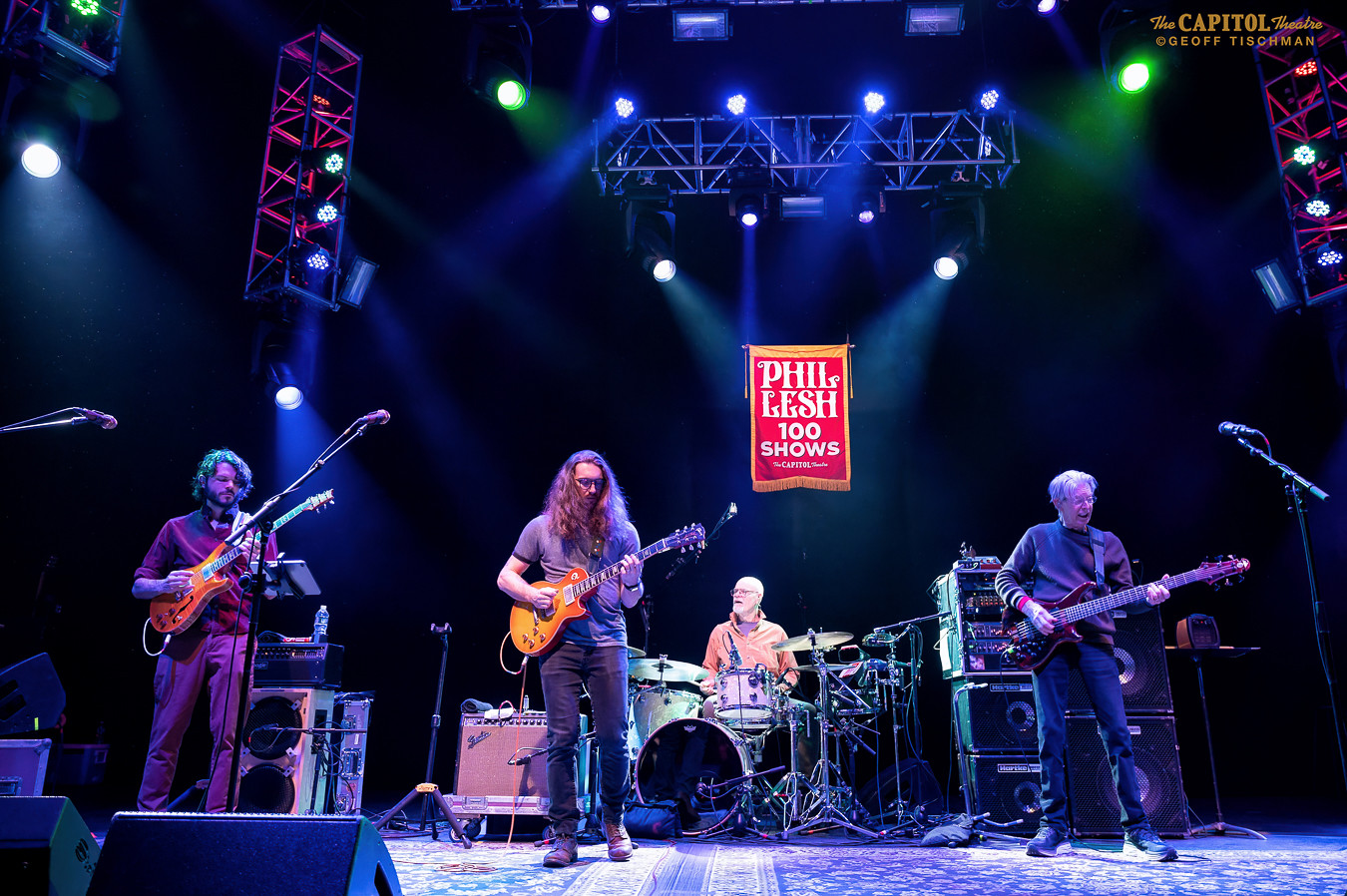 Lesh didn't hold back when crafting his band to help celebrate his latest milestones. Backed by Rick Mitarontonda, Grahame Lesh, James Casey, Natalie Cressman (3/17), Jennifer Hartswick (3/17), John Medeski, Katie Jacoby (3/17 to 3/19), Nicki Bluhm (3/17 to 3/19), and John Molo, fans were delighted to four nights of incredible jams.
A monstrous setlist featuring some of the most popular songs from the Grateful Dead songbook set the bar high on night one. Set one alone boasted powerful versions of "Help on the Way" "Slipknot," "Scarlet Begonias," "Fire on the Mountain," and "Franklin's Tower." An excellent "Not Fade Away" set two opener brought the energy right back up while "St. Stephen" and "The Other One" offered the deepest jams of the night. The true highlight was a cover of Crosby, Stills & Nash's "Long Time Gone," still heavy with emotion after the passing of David Crosby on January 18.
Night two was filled with feel-good singalongs like "Friend of the Devil," Truckin'," and "U.S. Blues." Nicki Bluhm's grizzled vocals shined on bust outs of "Easy Wind" and "Passenger" but James Casey stole the show with a soulful reimagining of The Beatles' "Dear Prudence." The addition of Katie Jacoby on electric fiddle was welcomed by the crowd. At times, she seemed like the best soloist on stage, shredding effortlessly throughout the show.
An energetic "Deal" kicked off night three followed by a nearly 15-minute "Jack Straw." An "Eyes of the World" set two opener featuring James Casey on saxophone immediately brought the seminal March 29, 1990, version with Branford Marsalis to mind. Other fan favorites like "Uncle John's Band" "Lucy in the Sky with Diamonds" and "Sugar Magnolia" got the crowd singing along, while "The Eleven" and "Dark Star" conjured some of the spaciest jams of the run.
---
The crowd finally got a "Phil song" on night four with a beautiful rendition of "Box of Rain" to close the first set. The fan-favorite "Terrapin Station" kicked off the second set and flowed seamlessly into a cover of Robert Hunter's "Jack O' Roses."
For the nerdy Dead Heads in the crowd, this was perhaps the greatest treat of all. The seventh song in the "Terrapin Station" suite, it was never played live by the Grateful Dead and Lesh has only played it a handful of times since 2017. Finally, a magnificent "Sugaree" closed out the second set before an encore of "Brown-eyed Women" brought the run to its end.
---
You can buy a Phil Lesh and Friends ticket in confidence that whoever the bassist taps to join him on stage will bring their A game. But it has to be said, Goose guitarist Mitarontonda is the real deal. After selling out five nights at the Cap just days before with his own band, Mitarontonda switched gears effortlessly into Dead mode and delivered imaginative and attention-grabbing solos all four nights. Here's hoping he's in the lineup again soon.
Perhaps more than anything, the most enjoyable part of then run was watching Lesh constantly smile on stage. Nearly 58 years since the start of the Grateful Dead, it looks like he's having more fun than ever. After an especially tasty line during a solo or evocative vocal, Lesh grinned from ear to ear, evidently happy that the music never stopped.
— —
— —
Max Kalnitz is an award-winning multimedia journalist and social media strategist based in Brooklyn, NY, whose work has appeared in Billboard, The Nation, and Insider, among other outlets. You can read his work at maxkalnitz.com and find him on Twitter @Max_Kalnitz.
— — — —
 © 2023
:: Stream Phil Lesh ::
---