Jackie McLean of the indie band Roan Yellowthorn grants us an inside look at the making of an album from start to finish in her 'Breaking The Record' column.
Stream: 'Rediscovered' – Roan Yellowthorn
---
Writing is an important part of my life. During these weird times, I'm realizing just how important it really is.
Just jumping into the Breaking The Record series documenting the making of our album from start to finish? Read part 1 here!
I went to a writing-focused college and got my degree in Language and Literature. I think that I got into college at all because of my love for writing. It's something I've always felt called to do. For many years of my life, I kept a journal. I have a big box of journals in my house that holds the thoughts and feelings, the daily musings, of a girl from ages 12 to 23. When I graduated from college, I kind of let the journal writing practice fall away. Life seemed to take over somehow. That daily meditation went by the wayside.
In its place, I started writing songs. Songs were a short-form meditation on specific feelings; concentrated therapy sessions. Intensive bursts of catharsis.
I use songwriting for a purpose. I write songs to work through feelings that feel too overwhelming to process or hold inside of my body. The song is a vehicle to transform the feeling into something manageable. The song is a vehicle to get the feeling outside of myself, where I can get some distance from it, where it feels further from the core of my being.
Because of this, I don't often write about things that make me happy. Most of my songs are excavations of old pains; irrigations of old wounds. I don't write songs to write songs. I write songs to heal and process pain.
When I start writing a song, I meditate on the inspiration for the song – an emotion or an image or a feeling. Once I've honed in on the thing that I want to write about, I start writing. The process of meditating on the feeling is the part that takes the longest and the part that takes the most energy. It's often painful. It's often almost scary to go that deep, to go that close to something that maybe I've been pushing down and ignoring for years. It takes emotional energy.
And then there's the writing. That part is almost like doing a crossword puzzle. The poem comes first, written to a rhythm. The first verse is usually what emerges initially, although sometimes it's the chorus. It takes a while to know what's what. Once the verse and chorus are written, the second chorus is the hardest. It must be its own thing and yet match the intention of the first chorus and yet illuminate another aspect of the central inspiration. And once that's there, there's the bridge. The bridge is always fun to build. It's a bit of a departure. A riff on the theme. It can take a slightly elevated perspective. It's short and sweet. By this point there's usually some kind of rough melody that's naturally evolved. It's not until all the words are written that I take the tattered papers, full of scribbles and strikethroughs, to the keyboard to write a melody. I usually let the lyrics guide me and there's always a measure of chance – trial and error and exploration.
I haven't been doing as much songwriting these days. These days, I find myself returning to journal writing. In my journal, there's no separation at all between the words and me. I do not consider a possible witness when I'm writing in my journal. My journal is a place to converse with myself. It's scary in a different kind of way, but exhilarating too, because I never quite know what I'm going to find. When I'm done writing I feel lighter. Every time.
Because journal writing has been especially valuable to me during this quarantine time, I'm starting a little interactive email prompt series and I'd love for you to join me. Since I like alliteration, it's called Write with Roan. If you sign up (go to www.roanyellowthorn.com and click the yellow feather quill button on the right side), I'll email you a creative prompt each week starting next Wednesday. I'm going to write from the prompt each week, too.
Your writing can be private, just for you, or you can email me back to share your writing. I'd love to talk about what you write with you. I crave meaningful social interaction especially these days. If you feel like sharing your writing on socials, tag #WriteWithRoan so that I can find you.
I'll be sharing my writing on my website each week and, if you share your writing with me, I might include yours as well with your permission.
I've also been listening to music.
This past week, I've really been enjoying nostalgic (for me) rock and pop music. Here's 'Teenage Dirtbag' by Wheatus (did you know that he completely re-recorded the song, completely cloning the original so that he would own the master?! The new one is virtually undistinguishable from the original. It's super impressive).
And here's one of my all-time favorites, 'Stacy's Mom' by Fountains of Wayne
Stay sane, stay healthy, and listen to music.
— —
— — — —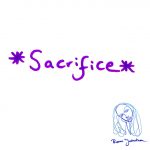 ? © Jackie McLean
:: Breaking the Record ::
---