Jackie McLean of the indie band Roan Yellowthorn grants us an inside look at the making of an album from start to finish in her 'Breaking The Record' column.
Stream: "Acid Trip" – Roan Yellowthorn
---
Today is April 15th. In one month, my new album is coming out. I can hardly believe it. And I can hardly wait.
So much work has gone into the process. The other day, our label sent us a special package. It contained pressings of the new CD. Real copies. It felt surreal at first to see them. Immediately, I went to the other room and grabbed copies of our previous two records – Indigo and Rediscovered. I lined them all up together and took in the image. It's taken so much work and time to create those three albums. They're like a physical representation of hard work and time and growth. Each one like a horcrux, containing a piece of my soul. In the attempt to gain some form of immortality.
Just jumping into the Breaking The Record series documenting the making of our album from start to finish? Read part 1 here!
Maybe it's no accident that each one of the albums has my face on the cover, as if imploring 'remember me.'
Of course, there's no such thing as immortality. Everyone dies. Everything ends. The best we can hope for is to live a good life. Ironically, I'm often drawn away from my own life in the pursuit of making music, in the work of building castles in the air; structures that are ephemeral and just barely there, no matter how frantically I work to fortify them.
An album is something physical. In the world of music lately (and, I guess, the wider world, as well), physical objects feel short supply. So much creative work is stored and viewed virtually – able to be dismissed with a click or swipe.
There is power in the physical.
Seeing my album for the first time felt special – like maybe, just maybe, I'd created something on solid ground. Something that would stay.
You can preorder my album and get a full download starting on Friday. I hope you'll listen to it and love it as much as I enjoyed creating it. Sending you all of the love.
— —
Stream: "Acid Trip" – Roan Yellowthorn
— — — —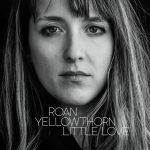 ? © Jackie McLean
:: Breaking the Record ::
---