Intimate upheaval gets a sun-soaked treatment on Peach Luffe's 'Beyond' EP, a radiant record glowing with sweetly seductive tender turmoil.
Stream: "Beyond" – Peach Luffe
---
I wish we made it beyond the horizon…
Peach Luffe's new EP is here and gone in 11 minutes flat, but the emotions he imparts stick with us long after the music's over. Intimate upheaval gets a sun-soaked treatment on Beyond, a radiant record glowing with sweetly seductive tender turmoil.
Cruising down, a boulevard we made in our dreams
Playing back, memories, made in the summer heat
Watching the sky, kiss the moon goodnight, now it's our time
I wish we made it beyond the horizon
Leave the stars and honeymoon daze to the youth
because the flame that lit our hearts
burnt out while we were apart
I wish we made it beyond the horizon
Released January 28, 2022, Beyond is an achingly evocative four-song set finding Peach Luffe do what he's always done best: Transforming our pain into undeniably and irresistible beauty. The musical moniker for South Korea-born, Buffalo-bred, and now Toronto-based singer/songwriter Jong Lee, Peach Luffe came into this world with the August 2019 release of "On My Side." Prior to that, Lee had been writing and releasing music under the name Jong SL. "The singer/songwriter displays his personal strife between Eastern and Western cultural identities, understanding who he is in relation to both himself and to those around him, through his vibrant, beautifully melodic and bittersweet songs," Atwood Magazine wrote back in a 2018 premiere of Jong SL's song "Old Times Sake."
Peach Luffe has taken on a life and identity of his own since then, dazzling listeners' ears and enchanting our souls with songs full of wonder, passion, and compassion.
Each of his four EPs – Shimmer, Bloom, Evergreen, and now Beyond – finds Lee wearing his heart on his sleeve, capturing slice after slice of life's magical moments with glistening guitar licks, groovy melodies, vulnerable lyrics, and charming disarming vocal performances marrying soulful energy and sincere emotion.
When I first heard your words
You told me that i'm yours
But I know one day we'll hurt
Saying goodbye cuts deeper every time
Our days were numbered, I knew this from the start
Deep down below I held on to the thought
We're eternal souls meant for each other to hold
Now we're watching disaster unfold
Knowing we have to let go
Our story's coming to a close
knowing, we have to let go
– "Disaster," Peach Luffe
Born out of considerable tumult in Lee's personal life, Beyond reckons with heartbreak's sting, inner burnout and self-doubt, and the process of post-breakup self-discovery. Peach Luffe packs a lot into those eleven minutes, starting with the wistful and sultry title track "Beyond" and its elegantly alluring cinematic reverie. "Leave the stars and honeymoon daze to the youth," Lee advises, "because the flame that lit our hearts burnt out while we were apart. I wish we made it beyond the horizon." He sings with the kind of heartwarming nostalgia one might expect from Paul McCartney; it doesn't hurt that his brand of lush, lilting pop recalls the works of Wings and The Beatles.
As strong a songwriter as he is a vocalist, Lee pays special attention to his lyrics in making a true story of out his songs. "Disaster" breaks down the end of his relationship in vivid, visceral detail. "True Love" melts over the ears like a beachy daydream, and the poignant, gently grooving finale "Lights" dives inward to dwell in feelings of fracture, acceptance, and tranquility. At the end of it all, as he slowly and steadily moves on, Peach Luffe leaves us with an inspiring ray of hope for all that lies beyond.
i'm hating everything i love lately
i hate the taste of my favourite phrases
But I still see you at our places
I wish that I could erase your traces
lights, i'll fix myself i'm not a doctor
can't have the things that i desire
our time is up and i can't buy her
i'll be alright just take my time
the sky is navy to my eyes
can't waste my life i'm not inspired
all of the things that i ran by her
Nights they fill my mind with endless wonder
How things would be if we were stronger
How life would be with us together
I'm doing fine I've been alright
The sky is pastel to my eyes
Can't waste my time romanticizing
That somehow you would be my ending
---
And just like that, one chapter closes and a new one begins. It may have started with grief and trauma, but it ends with a loving smile. Experience the full record via our below stream, and peek inside Peach Luffe's Beyond EP with Atwood Magazine as Jong Lee goes track-by-track through the music and lyrics of his new record!
— —
Stream: 'Beyond' EP – Peach Luffe
:: Inside Beyond ::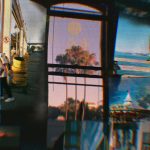 — —
Beyond
October 2021. I went through a burnout that made me question if I should continue making music. I turned off my phone for 3 days and didn't talk to anyone. On the 4th day, I opened Instagram where I found this guy sitting on his apartment floor and playing a city pop song. I messaged him, and we immediately got on the same wavelength. Henry got me out of my creative rut.
Fast forward one week later, my girlfriend of 5 years dumped me. I was devastated. I told Henry about it and I told him that I needed to get away. Me and her lived together so it hurt being in the same place. He invited me to stay with him for a couple weeks despite having known me only for a week. We both told our friends and they said to be careful. "What if he's dangerous?" Well, I met him in San Jose and we made an EP within that time. Remember that IG post that I found him on? This is that song he was playing. This is our modern city pop.
Disaster
When she was ending it with me outside her place, everything looked beautiful. The sky was clear blue with a breeze that softly swayed the trees. It was fall and red-orange leaves covered the sidewalk. We were laughing and crying as we talked about our time together, but my mind was blank. Walking back home, I replayed the scene over and over in my head, thinking I could stop it if I thought hard enough, thinking that this wasn't the end. When I opened my door to my empty apartment, I just lost it. That's when I realized: our journey from Buffalo, USA to Toronto, Canada ended in Liberty Village.
True Love
In San Jose, Henry showed me a beachy demo that he made. We jammed out to it, and he offered the song to me after I told how much I liked it. At first, I said I couldn't take it because I didn't write it, but eventually I caved in because I liked it so much. We reworked the original a bit so it became more peach like. The lyrics made me think back on my relationship. I questioned if we were really in love or when she fell out of love. Moving countries, settling, and doing grown ups things at a young age affected our relationship. Instead of love, were we only with each other for comfort and safety? I'll never know.
Lights
I was shell shocked from the break up.  All I did was watch videos on how to win back your ex, signs she's still interested. I even took an online quiz. Just to focus on something else, I set up an evening songwriting session with my friends Gerry and Eddie. At first, I was annoyed at myself because my flight to San Jose was at 4am the next morning. We stayed up until 1am and wrote about half of the song, which was just gloomy and sad.
2 weeks later in San Jose, I started recording the vocals while Henry listened from his hammock. After I finished my first take, he sat up suddenly and said, "the song isn't done yet! Since you've been here, you've been doing so much better. The story isn't over yet!" That day at midnight we started writing again.  I never felt so much joy, happiness, acceptance, and peace as when we were finishing the second half of the song. I just knew that things would work out and everything had its reason. Whether it was the sun peeking through the palm trees into his apartment, the stars shimmering over the pacific waters, I just had to keep looking for the light.
— —
— — — —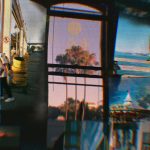 ? © Emmanuel Teji
:: Stream Peach Luffe ::
---