Her seventh studio album, 'Love Sux,' finds Avril Lavigne channeling her younger rocker self while making occasional room for some mature perspective on her life and career. 
Stream: 'Love Sux' – Avril Lavigne
---
If you, like 112.3 million other people, watched the Super Bowl last month, there's a good chance that the halftime show gave you a dose of nostalgia for the early 2000's musical landscape. How could that not be so, after hearing "Lose Yourself," "In Da Club," "Family Affair," and a string of other turn-of-the century smash hits performed in one go?
If you seek to keep those fleeting feelings of nostalgia for that era alive, then quickly throw on the new Avril Lavigne album, Love Sux. In doing so, the 17-year-old rebel pop starlet the world came to embrace in 2002 will surface to your ears once again— even if it's now up to a 37-year-old woman, who's experienced plenty of the trials of the adult world, to embody that role vicariously.
Love Sux represents Lavigne's seventh album overall and first to be released on DTA Records, founded by blink-182 drummer Travis Barker. Among those to join her for the production of the album were Barker's blink-mate, Mark Hoppus; her current partner and hip-hop producer, MOD SUN; and a handful of guest vocalists, including Blackbear and Machine Gun Kelly. "I felt like I was back in high school hanging out with the type of people I grew up with, and it was just effortless," Lavigne says of working in the studio with this crew. "We're just a bunch of band kids — this is what we've been doing since we were all in high school, and we're still doing it now because we love music."
Given that description, it makes sense that Love Sux is full of the raucous energy that Lavigne displayed when she was of high school age herself on her debut record, Let Go. Layered atop of all that is plenty more of the foul-mouthed flair that she first offered up in full on 2007's The Best Damn Thing. No matter which of those two early records you may prefer, it's still mightily impressive that a grown-up Lavigne can channel her youthful self so effortlessly across an entire LP.
---
Not too surprisingly, given the participation of both Barker and Hoppus, Love Sux is structured as series of two-to-thee-minute fast-paced kinetic outbursts, much in the style of many blink-182 records. "Ticking time bomb, I come on strong. I'll come in hot like a cannonball," she promises in the opening moments of the record. That same same sort of confrontational free spirit is maintained throughout the ensuing half-hour.
As you could probably guess from its title— not to mention a massive chunk of Lavigne's entire catalogue— Love Sux is mainly above the highs and lows of romantic life. On the happier side of things is "Kiss Me Like The World Is Endings," which documents her current pleasant state of affairs with MOD SUN on her arm. It's very gratifying to know that she's found someone to whom she can express that: "On my last day, all I wanna do is look you in the eyes and fall asleep right next to you."
On the other hand, as her fans know well, the picture hasn't always been so pretty for Ms. Avril. "You're not romantic, you for sure are hopeless," she sings to a less MOD SUN-ny chap on "Déjà Vu." "When in doubt, I'll take a picture of us and I'll cut you out." (Ouch!) On the pop-punk-drenched lead single, "Bite Me," the sting only gets more severe. "Shoulda held on, shoulda treated me right," she sings. "I gave you one chance, you don't get it twice. And we'll be together never, so baby, you can bite me." So much for our happy ending, indeed.
---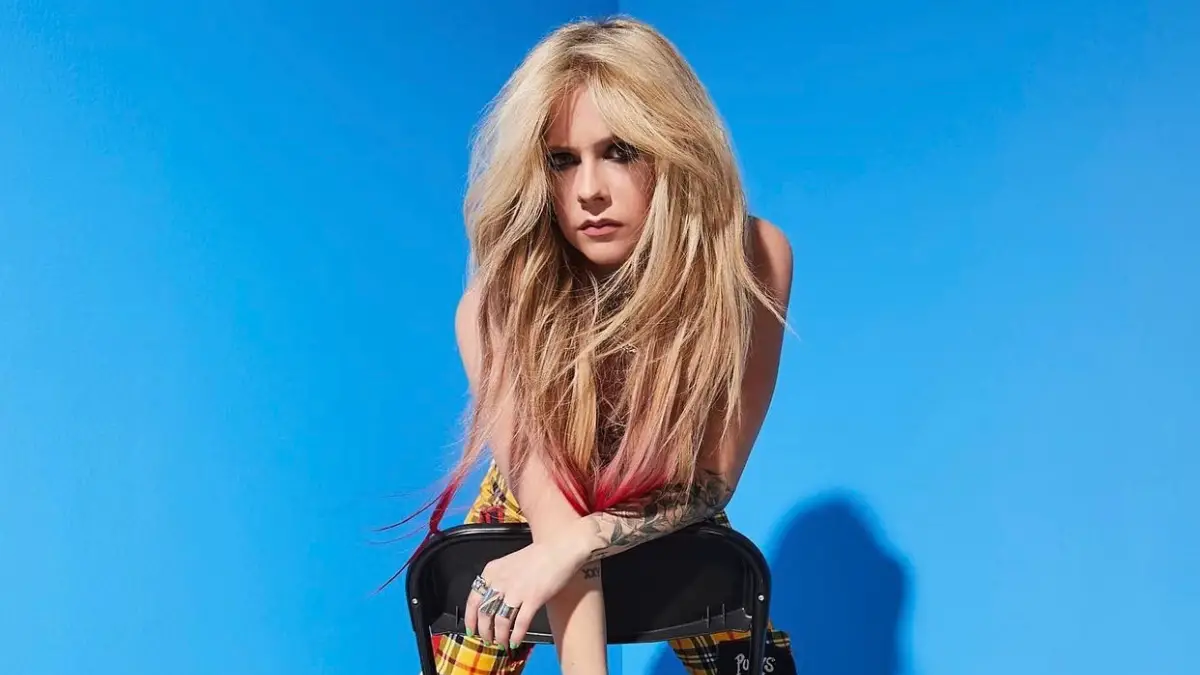 One of the few instances in which Lavigne ever turns down the volume is towards the end of Love Sux, on the song "Dare to Love Me." While she's clearly had blast raising a musical middle finger to her ex'es across much of the record, this track allows her to make a much more mature and somber evaluation as to how all of those previous heartbreaks continue to wound her personally. "I know it's a slippery slope but I don't wanna give up hope," she sings. "Damn, why's it gotta be this hard just to open up my heart?" This track also stands out from the rest of the record with its mellow piano playing, which evokes less of "Sk8er Boi" and more of her underrated last album, 2019's Head Above Water. Thanks to "Dare to Love Me," Lavigne has made an album that pays tribute to the sounds and themes of her complete discography, right up to her most recent material.
The bottom line is that Love Sux is 33 minutes of pure, exciting fun, and it's hard to quibble too much when you've just been serviced that much.
— —
— — — —
? © 2022
:: Stream Avril Lavigne ::
---