Close your eyes, and drift away. Certain music is tailor-made for relaxation and catharsis: For driving us deeper into ourselves. North Atlantic Drift provoke thought without ever saying a word on their new album, Departures, Vol. 1, crafting beautifully expansive, layered soundscapes that are perfect for escape and introspection.
Listen: Departures, Vol. 1 – North Atlantic Drift
[soundcloud url="https://api.soundcloud.com/playlists/299732107?secret_token=s-7YT8g" params="color=ff5500&auto_play=true&hide_related=false&show_comments=true&show_user=true&show_reposts=false" width="100%" height="400″ iframe="true" /]
---
Atwood Magazine is proud to be premiering Departures, Vol. 1, the fifth full-length record from North Atlantic Drift (out March 17 via Polar Seas Recordings). Consisting of Mike Abercrombie and Brad Deschamps, the Toronto duo describe their sound as "ambient, experimental, and drone… Though we would also say it has the potential to be relaxing or soothing. It's minimalist, but often has many layers."
The magic of North Atlantic Drift is the band's ability to mesh those layers together into one aural surface: Each song is its own singular listening experience, developing at its own pace and leaving us with a different wondrous sense. Album opener "Temperance" introduces North Atlantic Drift's ethereal wonderland with a series of washed-over synths that rise and fall with an otherworldly, but very natural grace. Research over the past decade has proved a link between musical stimuli and heartbeat: Our cardiovascular system literally syncs itself to the rhythm of the music, pumping blood faster to higher tempos and slower to lower tempos. What results is a direct effect on our nervous system – so in the case with "Temperance," our bodies attune themselves to the slower, lighter, relaxed stream of sound engulfing our consciousness. We physically relax ourselves to gain the maximum physical, emotional, and psychological impact that we can from the ambient, wordless music.
"This sound of this record was a gradual evolution from our previous material," explains North Atlantic Drift. "With the previous album, (2016's) Visitor, we stripped away a lot of the extra instrumentation and somewhat more conventional song structures to reveal a more minimalist sound. I think with Departures, Vol. 1 we took this even further, and we made a record that we've been wanting to make for a long time, culminating in the closing piece, 'Older Not Wiser,' that has subtle shifts in tone and texture over the course of the track's 12 minute running time." "Older Not Wiser" certainly feels like a cumulative piece, transforming over time through the slow introduction and integration of new, compelling stimuli to paint a richly multicolored canvas of sound and feeling.
Accompanying Departures, Vol. 1  are two videos filmed by Kiarash Sadigh. Providing imagery for "Dream Sequence" and "Pretense," the videos offer "black and white [and] sepia tones that are somewhat eerie and move at a glacial pace." Not all ambient music is necessarily 'calming', but North Atlantic Drift's ambient music is inherently (and deeply) expressive: Even the strange, somewhat frightening moments on the album offer a certain solace.
Abercrombie and Deschamps provide further insights into how they developed sounds and structures for this record: "The songs on the album are mostly built around synth loops, mostly Roland Juno synths and an old string synth, and were gradually fleshed out with additional synthesizers, guitar and multiple effects pedals. Where most of our previous records included a fair amount of percussion, we decided to get keep this one very minimal and focus on slowly evolving melodies and textures, and string-like timbres. This record really highlights the influences that Mike and I have in common, Brian Eno, Stars of the Lid, Tangerine Dream and other 70's ambient music, and a lot of referencing to Badalamenti's Twin Peaks score."
"Brad and I are really trying to get at a certain sound we adore – a simplified ambient drone garnished with static and texture, stretched and given tension with string-like timbres," explains Abercrombie. "It's a way to escape the overly hyped, mass produced pop productions currently dominating music. I like to joke that we make sounds like a tortured orchestra, which by complete coincidence, almost perfectly describes one of the videos made." North Atlantic Drift's music is an invitation to enhance our experience of life – to vivify flavors and textures through internalizing external stimuli. The record is deceptively simple and gleaming with vibrance: Close your eyes, and drift away.
North Atlantic Drift's Departures, Vol. 1 is available for pre-order via BandCamp. The album is out everywhere March 17, 2017 via the duo's independent label, Polar Seas Recordings.
— — — —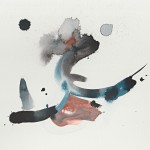 Connect to North Atlantic Drift on
Facebook, Twitter
cover © 2017