One thing that everybody who knows about Viola Beach, a four-piece rock band from Warrington, UK, seems to say is that they were going places. Going big places, and fast. Formed in 2013, the up-and-coming band featuring Kris Leonard (guitar, vocals), River Reeves (guitar), Tomas Lowe (bass), and Jack Dakin (drums) worked their way up from playing gigs in Manchester to earning coveted spots at several big-name festivals (including last year's SXSW, T in the Park, and Reading and Leeds) and getting airplay from BBC's most-popular Radio 1. Their upbeat Brit-rock continued to turn heads, and the band released two singles ("Boys That Sing" and "Like A Fool" earlier this year) that hinted at a future LP.
However, everything changed on February 13, 2016. While in Sweden for a festival, all four members of Viola Beach along with their manager, Craig Tarry, were killed in a car accident. All thought of an album disappeared as family, friends, and fans grappled with the fact that four of British music's brightest up-and-coming musicians were gone, as was the manager for several of Britain's major up-and-coming bands.
The stunned silence that usually accompanies a tragedy like this lasted for only a few minutes. In a show of indie rock at its very best, bands and musicians – from touring partners Blossoms to Billy Bragg to Coldplay – across Great Britain and the world voiced their sympathy and support via Twitter, covered Viola Beach songs (Coldplay even did a sing-along tribute at Glastonbury, while Blossoms and others did likewise several weeks ago at Reading), and even helped organize a full-on BBC-sponsored tribute concert. 
Several months following the accident, news regarding the seemingly-forgotten LP Viola Beach had been planning began to pop up on the band's social media accounts. According to an announcement from the band's family members on Facebook (posted June 17 on Viola Beach's page), Viola Beach's album was to be released on July 29. Family members stated that "the best way to celebrate [their] sons' lives is to release an album of their songs. This, [their music], is [Viola Beach's] legacy" – not the way they died. For a group who "poured everything into" their music, the only fitting tribute was to release the nine songs that "were written with every intention to be shared, heard and, most of all, enjoyed."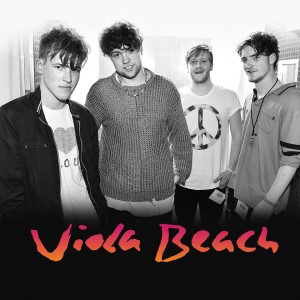 And were they ever right. Viola Beach's eponymous album was officially released on July 29 and immediately hit Number One on the UK's Official Albums chart. Not one song on the album has less than 100,000 plays on Spotify. And lest anyone think this is just fan hype or pity listens, Viola Beach gained shining reviews from both NME and BBC Radio 1's Huw Stephens.
Viola Beach's infectious spirit lives on in their eponymous album. Their unique brand of British rock – upbeat, with some of the most developed internal rhyme around – shines through the darkness, transforming Viola Beach's legacy. Any band deserves more than to be forever associated with the way it all ended – be it a bad breakup, death, etc. Viola Beach's album does just that – gives an alternate legacy that, to quote from NME, "against all odds, leaves you with a smile on your face."
Listen: "Swings and Waterslides" – Viola Beach
---
"Swings and Waterslides," the single that serves as the album's first track, is satisfyingly dance-worthy. Its complete, catchy rhymes are more than worthy of the next Volkswagen commercial, à la Saint Motel or The 1975. This is a perfect introduction to Viola Beach's signature indie rock – punchy and upbeat, without sacrificing too much to pop. As Leonard belts "eyes wide, bright light, time flies, feels right," and segues into the chorus, it's not hard to believe that "Swings and Waterslides" has perfected the feel-good summer rock anthem in one go.
It's summer all the time with you, you make me feel alright,
All swings and waterslides, we're summery and pretty high
"Like A Fool" kicks off with a synth backing so catchy it's reminiscent of Peace's early hit "Bloodshake." But that's where the similarities end. More Britrock than synthrock, Leonard's quick, rhythmic vocals speed "Like A Fool" along, catapulting us headfirst into the chorus, begging us to shout "I don't need your love!" with him. The following track, "Go Outside," matches "Like A Fool"s speed, complete with Leonard and Reeves' mile-per-minute, hum-along guitar riffs.
Viola Beach's knack for synthy intros that melt away into fast-paced indie rock stands out especially in following tracks "Cherry Vimto" and "Drunk." Both songs track feelings for that one person that it's always hard not to call – "Cherry Vimto" by asking "Do you know how hard, don't you know how hard, I've tried to leave you behind/But there's a new story every time I look in your eyes," and "Drunk" by playing up that near-universal sentiment of needing to get drunk and battling picking up the phone.
I need to get drunk…if you will
It's pretty much unconditional
Is it your love you're giving up, you're giving up, you're giving up
The following tracks "Really Wanna Call" and "Call You Up" play sides of a similar coin as well. The optimistic "Really Wanna Call" kicks off with what may be one of the best opening lines ever – "The boy that you're with makes a Freudian slip" – and goes wittily on in the I'd-be-better-at-showing-you-love vein. "Call You Up"s dreamier guitar and slower intro sink into something deeper – a relationship that could so easily fall apart. The raw, simply-stated emotion in Leonard's vocals breaks through in carefully-crafted internal rhymes like
…You seem to be the air that I breathe and the last thing I think of as I fall asleep,
Recently I've started to feel like I'll be,
Slipping away at the end of the day into dreams of the two of us running away,
It's okay, I'll just say I was drunk yesterday and just hope that you still want to stay.
"Call You Up" is sentimental without drifting into ballad territory, honest to the point that it realizes that the person on the other end might be beyond reaching "I'd call you up with the thought that you'd like it).
The album's last two songs – "Get To Dancing" and "Boys That Sing" show Viola Beach at their energetic, upbeat best. As a live BBC session recording, "Get To Dancing" is rough around the edges in the way that rock was always meant to be. Leonard's grittier vocals take and Lowe's rougher bass lines do exactly what the lyrics say – they get you up and dancing.
The fact that Viola Beach's album culminates with their most popular single, "Boys That Sing," speaks to both their tremendous talent and the sadness of the reality that the band can't ever produce more music. At the same time, it's a good thing the album finishes with "Boys That Sing" – it's quintessential Viola Beach and could even put a smile on the face of the girl in the song who's ditched Leonard for "a boy who knows how to sing." The clever, humorous internal rhymes carve out a girl who's completely unique – and completely over a guy who can't sing. No matter – the song's sheer optimism presents this as a minor issue. You can almost hear Leonard smiling as he belts out, "So I'll learn how to sing."
And she said that together we could take on the world,
And she told me that I'd never find another girl like her,
And she said that together we could do anything,
And she told me that she loves a boy who knows how to sing,
So I'll learn how to sing.
While it's unfair and beyond bittersweet that this album was released posthumously, Viola Beach does more than allow Viola Beach to share their music once more or redefine the band's legacy. It gives the indie world the dose of optimism that it sometimes severely lacks – and by doing such (to paraphrase The Smiths), reminds us that in music, there still can be a light that never goes out.
Viola Beach – Viola Beach