And I just want to be someone other than me…
Leah Capelle is comfortable in herself and confident about who she is, and she wants the world to know – but just like everyone else, she had to learn it through trial and error. "Docs," the latest power-pop/rock single from the young artist, struggles to find meaning and comfort in material goods.
Going through my closet, trying on my clothes
Thinking if I can find something stylish I'll feel better
I think I'll get a haircut, find a fresh new look
Maybe if I just chop all my hair off I'll feel better
Listen: "Docs" – Leah Capelle
---
Atwood Magazine is proud to be premiering "Docs," the latest single off from Leah Capelle's forthcoming EP, Joshua. The Chicago-cum-Los Angeles singer/songwriter bursts with alternative glory in her new release as she searches through labels and coutures to find something that already exists, within. Grammy-award winning producer Jeff Bova (Celine Dion, Meatloaf, Blondie) takes the concept to great heights, capturing the artist's explosive energy and channeling that into something palpable and real.
I move around my furniture,
trying to find some flow
Maybe if I make all these changes,
this could feel like home
Well I think I'm getting restless,
like I want to start again
But I'm just fine-tuning my messes
and that's no way to live
"Docs is a song about searching for happiness in material and surface things," Capelle shares. "It's a true story of bizarre activities I was doing to do to make myself feel better, like buying clothes, rearranging my furniture, and going out pretending to be somebody I'm not…"
She continues: "In reality, all my false attempts at being "okay" made the matter worse. When I was younger, I had many male figures, whether significant others or mentors, tell me that "men don't like short hair." So I kept my hair long because I was insecure. And finally, summer of 2016 I said "fuck it" and chopped it all off- that was a huge catalyst for me, and has actually brought me a lot of happiness in the weightlessness I feel now."
I bought these new Doc Martens 'cause I thought that they were cool
And I sure didn't have the money, but I feel better
And I went and got that haircut, I think it looks alright
People've been telling me that I look pretty so I should feel better
Leah Capelle may not find comfort or happiness in materiality, but that's all a part of the process of learning to love yourself for yourself. Time and again, we all look to self-identity through the clothes we wear or the way we shape our hair – but it's all a facade, compared to what's inside. Cheerfully ironic and ruthlessly driving, "Docs" is a reminder of what really matters most – and it isn't those new shoes.
– — — —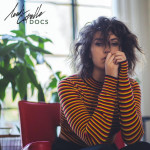 photo © 2017
:: Listen to Leah Capelle ::