In their latest LP 'Strangers No More', Drew Holcomb and The Neighbors give introspection on both division and community – and bring people together through the common desire for understanding and camaraderie.
Stream: 'Strangers No More' – Drew Holcomb & the Neighbors
---
We got to make the most of the life we have and fill it with people we love and acts of kindness… Music has been my offering in that sense. This particular offering in this record is one that I'm very proud of because I feel like I did it unshackled by my own expectations.
There are certain moments where everything seems to harmonize. You're with the right people, at the right time, in the right place. Where time seems to slow down but also feels like it's moving too fast. Moments that you wish you could bottle up, keep in a cellar, and save for later. There is always an umbrella of gratitude in these moments. A feeling that can be reflected on and carried with you the rest of your life.
Starting in Tennessee, Drew Holcomb and the Neighbors became a band when they found themselves as talented individuals all in the same zip code. Now almost 20 years later, the band has produced eight studio albums, with Strangers No More becoming their ninth studio album release on June 7. Since their last release Dragons in 2019, Strangers No More shows a different side of Drew Holcomb and the Neighbors. There are conversations about life and death, coming together and falling apart. It is commentary on time before and after the global pandemic and finding joy in the midst of it all.
With multiple co-writers like Ketch Sector of Old Crow Medicine, and the likes of K.S. Rhoads, Natalie Hemby, and Cooley—the album reflects this built fellowship through both the lyrics and the collaborations. Not only that, but it is a picture of what it means to build community from the ground up. The band has experienced different seasons of growth and loss together. Seasons that we can relate to and have gone through as well.
Strangers No More speaks to the musical community and its connection with the listeners. Drew describes it as "the freedom that grows in the soil…this comes from 40 years of failure and tragedy and chaos. That's what we all experience on a regular basis—like losing friends, losing family, or going through difficult medical situations."  It is the musicians' commentary on their life and relationships—giving a moment to almost laugh about it. It is up to the listeners to decide how they connect to it when they listen.
In an interview with Atwood Magazine, Drew Holcomb breaks down the latest LP and the message that it speaks through all walks of life.
Strangers No More is out June 7, 2023 via Magnolia Music
— —
A CONVERSATION WITH DREW HOLCOMB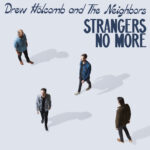 Atwood Magazine: Hey Drew! How has your day been?
Drew Holcomb: I've been good, I've been great. You know it's a beautiful day outside. I'm right here where I got my windows, and I can see everything.
Oh yeah, that's good. Get some sense of it! Well, I know we're on a time-crunch, so let's get right into it. I want to start by saying congratulations on your tour announcement and upcoming LP release which is super exciting. I know your guys' last full album was released in 2019.
Drew Holcomb: That's right.
Well, I'm sure it's been an interesting but fun last four years. I know you just released a sneak peek EP, That's on You, That's on Me, so how has everything been in anticipation of this LP and the start of your tour?
Drew Holcomb: Yeah, it's been great. I mean this is the longest we've had between albums, but obviously the world has gone through a lot of hard things within the last couple of years. It feels right, we've been on a slow, steady creative path. We're really proud of this record, it reflects all sorts of good things about my band and the songwriting that we did on this record. The recording that we've done, and all other touring that we've been doing leading up to this have been really fun and satisfying. We've been having as much fun on stage and in the studio than we've ever had. The way that albums come out nowadays – we've already put out five of these songs and people are responding really well which bodes well for the rest of the record and the rest of the tour. I'm just really proud of what we've done and excited to share it with the rest of the world.
"Find Your People" has already had great traction, and "Dance With Everybody" has been performed live for a while. As your 9th studio album release, and since it's been four years since Dragons' release, was there a certain vision or inspiration that kickstarted this album? What did that creative process and timeline look like?
Drew Holcomb: We did something really new for us. Starting in early '21 when we were starting to play some shows coming out of the pandemic – I would have my band come over once a month and play through every song I had written that month—let them play through it, talk through it, add some tracks, multiply, arrange—and it was just a really fun, creative time for us. In the meantime, we were starting to play shows again and those shows felt really special. I think being away from music, touring-wise, for over a year and a half put a healthy perspective to how much we love what we do. That was reflected in the writing and the making of the record. It's a record about the tension of isolation in community. It's a record about the audience, like "Dance with Everybody," which is where the title came from – "Strangers No More" is a lyric in that song. It's a record about how grateful we are to get to share our music with the world. We live in a strange time. There's a lot of isolation, there's a lot of division – this album is us aspiring to something different than that.
I really like how you guys touch on both sides of the coin – not only with division and learning to let go of things, but also the unity and joy that you can find out of that. Reading about how you guys cover a wider range of topics like introspection into life, death, division, and unity as you said. How have these themes applied to the broader message of Strangers No More and how it differs from Dragons?
Drew Holcomb: Dragons was a very personal record. There were songs about my grandfather, my son, and about Ellie. My song "Family" was written about my very large immediate family. This album is very introspective – it's about bigger themes of friendship. The song "Free" is about fear of death, and the song "Troubles" is a song about wanting to escape from the tragedies we see every day. Particularly, I wrote that song the day after the Uvalde shooting. As a parent, it was very intense to think about how tired we are of all the bad news. Then, songs like "That's on You, That's on Me" is a funny, ironic take on the narratives that we tell ourselves. About the mythologies that we breed and write about our own lives–and just laughing at myself in a way for that because we all do that.
One of my favorites is the one that I didn't write which was "On a Roll" with Nathan Dugger writing about this classic theme of when life feels crazy and chaotic–and having to hit the road, windows down, and see where the road takes you into the great unknown.
Then sonically, we took a lot more chances than usual. "All the Money in the World" is more of a throwback, soul kind of song. "On a Roll" is this big, epic arena rock. Then we have these very quiet moments like "Fly" and "Free" and kind of let ourselves do whatever we want. The glue is that it's the same band, playing in the same room, with the same songwriter. There's a lot of freedom on this album.
I really like that idea of letting go — you're able to get everyone dancing while still touching that songwriter side that people enjoy. That's a really cool combination. Then you throw 'All the Money in the World' in there which I know was written a few years back--but it showcases another side of your guys' musicality. From my understanding, it was a piece that you thought would be shelved but now looks like a frontrunner for the new album. How does it feel to showcase this side of your musicality and be able to interact differently with your band through it?
Drew Holcomb: That song's evolution is really all about the band's input. It's a song that I had written and really loved but didn't feel like it worked for me. At one session at my house, I had a month where I was not very prolific and didn't have many new songs to prepare. I pulled out some older stuff and played it for them. I said "This is probably not us, but I just thought I'd play it for y'all and see what you'd think". They heard it and they were like "Hold on, let's speed it up, what if you played this or tried this"—all of a sudden, this song came together.
It's a piece of my voice that I don't usually use so that was really fun for me. Then, we thought we'd try it out live a couple of times and it just went awesome. The crowd loved it and it was a very clear sign that we needed to record this song and put it on the record. It is one of the more fun ones that we've ever released so we're really excited especially on tour this summer. We're going out and playing with Darius Rucker and he's playing all of these big summery amphitheaters. Summertime is where people are ready to have a good time and enjoy the weather and escape life. We are very excited to try that song out in front of these new audiences.
That will be really fun. Especially with these songs getting people more on their feet like "Dance with Everybody" and "Find Your People." Could you talk to me about that idea of instilling that carefree character not just with performances but with the crowd as well?
Drew Holcomb: I think there's room for both introspection and melodrama in a live show, but also for the participation of a "we're in this together" kind of thing. I've thought a lot in the last few years, in the wake of not doing shows. When you think about it, in the broad spectrum of history–going to see live musical performances is this really cool strange hobby. Like why do people love it? I mean I love it. I've been a huge live music fan since I was a kid. There's something that happens in the room–it can happen in a quiet song or in a song like "Dance with Everybody." It doesn't really matter what kind of song as long as the song connects with the audience with the "we're in this together" kind of thing.
I've enjoyed, in the latter part of my career of the last five to seven years, having these bigger songs like "Family" off Dragons or "Ring the Bells," which I did with Johnnyswim, or "End of the World." Seeing the crowd sing and be "in it together" has brought me a lot of joy so it's made me want to write more songs like that so there's a bunch of them on this album. I think it's going to be really fun hearing the crowd sing "Find Your People," and we're already seeing it even with "Dance with Everybody."
It's disarming for people. Maybe they came in that day, and they had the worst day of the month, and it's the worst day of their year, maybe it's the worst day of their life… and they somehow ended up at a concert that night. You can change that narrative for them by giving them a look around to "I'm not the only one in the world who needs this or wants this." Those songs are a lot more fun for the band because you can just let loose. Especially like "That's on You, 'That's On Me," which is just loose and slinky and fun. It doesn't take itself too seriously, which is what the song is about anyways, so it fits.
I like that no matter what day it might be whether it's a really great day or a really bad day – people can leave that experience not feeling as alone as they felt when they came there. When looking at 'Find Your People' we can appreciate how you give a truthful and genuine portrayal of what it means to have friendship and camaraderie. How does this showcase not only your relationship between your band and your family, but also the musical camaraderie you've built over the course of your career?
Drew Holcomb: The way that really showcases itself on this album is both with the band and the songwriters. I co-wrote about half this album, and all the people I wrote with are old friends and people that I know and trust and love—and 'Find Your People' is a great example. I wrote that song with Kevin Rhodes who I've been friends with for 10 years and we've never created anything together. I finally said "I got a new piano. Why don't you come over and we can write a song." He's a great piano player. We were talking about friendships and how we both have children—how once you have kids and how important it is because you have less time to have people that you know and trust. I just said passively "Yeah, I'm really grateful that Ellie and I feel like we really found our people and he goes "Find your people"—that's the song!
There's a lot of great truisms in the song— people that get the joke, people that put the needle in the groove. I love the metaphors that we picked up on there. They're universal, I think everybody relates to that. Then of course, we draw to—well why is it important? Well, because the world is full of strangers and people that people are afraid and they're alone. Everybody needs help, and we're not preaching—we're preaching to ourselves more than anything. I think people resonate with that song, because whether you have found your people or you haven't, you know that you need it.
I like that message you guys are communicating, I think that a lot of people need to hear it, but also understanding that it's a message for yourself that can apply to other people personally. I also think it's really cool that you co-wrote, 'Dance with Everybody' with Old Crow Medicine's Ketch Sector. Can you talk a little bit about that collaboration and what it looked like?
Drew Holcomb: Ketch's kids and my kids go to the same elementary school. We were dropping our kids off at school and we were just talking, catching up. He's basically like, "What are you doing today? You want to write a song?" I was like "Yeah, sure. Let's do it." It was like eight o'clock, we went and got some coffee, met up here at my writing space at 8:30 – and by 10:30, we'd written "Dance with Everybody."
That started with us talking about how much we we had missed the live show and live audiences. We were both so grateful to get back in the room with our fans. It was very organic. I mean at eight o'clock that morning when I was dropping my kids off at school, I had no idea I was going to have that song written by 11. Kind of a magical morning.
I think that's best when you can come together naturally and create something you weren't even expecting. Going back to the beginning of the album to "Fly," you said you talk about the fear of death but then you end with "Free (Not Afraid to Die)." Can you talk about that transgression from talking about that fear to going to an almost carefree outlook on death, and an acceptance of it in the last song?
Drew Holcomb: I hit the famous milestone last year of turning 40 – where everybody tells you that you've got all this introspection about growing older. I mean, obviously I consider myself very young…I don't think my 10-year-old agrees. I feel as content as I've ever felt in my life creatively—and somehow out of that, I also feel the most ambitious. Which is why I think this record feels really fun and exciting for me and the band. We are pretty comfortable in our own skin at this point, but we also know who we are. We want to keep trying new things and continue to get better at what we do. That's the freedom that sort of grows in the soil that has grown this. This comes from 40 years of failure and tragedy and chaos. That's what we all experience on a regular basis—like losing friends, losing family, or going through difficult medical situations. "Free (Not Afraid to Die)" was written in the wake of being in the hospital for nine days with meningitis, and I thought I was dying.
That's why 'Troubles' is in the middle of the record, right? That's what it feels like when life is really awful. You want to escape, and just want to leave it all behind and you can't really which is sad, but it's also a reality. That's one thing that happens which is really neat with music – kind of like writing a novel. I don't know the story yet until I've already got all the chapters – you build a story out with the chapters. That's how the record played out was bookending it with those two songs and telling that narrative like you're saying.
I really like how it doesn't just skim the surface. You could just be giving a joyful and hopeful message, which you are, but you touch on that other side of understanding… I've been alone, or I've been at a low point, or I've been at a point where I've been afraid to die, and I am not understanding anything right now.
To be able to touch on both sides of that, gives people a full perspective, which you can really see throughout each song in the album. When looking at 'Troubles,' and 'That's on You, That's on Me,' we see the other side of the coin with division and learning to let go. You sing about "posterity" and then going from "dust to dust."
Can you talk to me more about how you went from that commentary into the last few pieces like 'Strange Feeling,' 'Possibility,' and 'Gratitude'
Drew Holcomb: I think "Gratitude" is the lens of the whole project in a way. I really love the line, "All that's been taken, and all that remains"— we've all experienced loss, we've all experienced heartbreak—and yet, people are pretty resilient. We build our lives out of broken pieces so that's a cool thing. In some ways, this back half of the record is about what does it look like. I love the "We're not chasing heaven, we're just chasing time" and to get back to this, idea that we're all trying to beat the clock. That's the pathology piece—like can we beat the clock? No, you can't.
There's also lots of opportunity. 'Possibility' is a song about—"in the ruins of the castle, the belly of the prison"— there's all these spots where you feel stuck, but there's always a light in there somewhere. You know, there's a line "In the wake of a tornado, a garden can grow". We live in a neighborhood that got hit with a really bad tornado in March of 2020. Our next-door neighbor behind us, the house is gone. Our house got hit pretty bad. We were out of power 14 days, and lots of our friends' houses were basically ruined. It was awful.
"In the wake of a tornado, a garden can grow" – Ellie has always been looking for a hobby. In the wake of COVID, she started gardening. It's like so much beauty in that reality—going through the strangest time ever in our lives, a tornado hits the neighborhood, then we're on lockdown and she starts gardening. It's like, wow that's the human spirit— that you can't change your life circumstances, but you can change what your next step is. That's what that song is really about. It again, sort of enjoyed this introspective season, and to be able to take that introspection and then, blow it out musically into these big, wide-open songs is very satisfying.
It's cool just reading a story about how you guys came together and how you lived in the same zip code and were 'neighbors'. To be able to build that with your band and your family and your wife too. It is just really enjoyable to read about because you can see that umbrella of gratitude over everything. The last three songs 'Possibility,' 'Strange Feeling' and 'Free (Not Afraid to Die)' you can see those undertones of gospel or even Biblical themes. If you're okay with talking about it, I was wondering what this means for you to share and what it could mean for listeners of this LP?
Drew Holcomb: I think we all carry – whether someone is a sort of church going person or not – our culture, lives, literature and our films all have these narratives that come out of Biblical literature. Ideas of redemption, ideas of being "lost and now found, blind but now I see" so many songs follow the "lost/found narrative." It's a beautiful theme. "Strange Feeling" talks about "we're not chasing heaven and we're just chasing time". In some ways that's like, "I don't know about all this post life religious stuff, I'm just doing the best I can with the time I've got".
Then the next song talks about how I want to "Be there when the Jordan is rising" and this idea that who knows what happens? I'm not afraid to die anymore. I'm okay with it. I have my own hopes and understandings and theological points of view. But I don't make music to try to proselytize. I do want to share this common reality that nobody really knows what's going on after this life and into the next. We got to make the most of the life we have and fill it with people we love and acts of kindness – trying to find our place in it and help others find their place in it. Music has been my offering in that sense. This particular offering in this record is one that I'm just very proud of because I feel like I did it unshackled by my own expectations.
You should be proud – you can clearly see that through the album. You've had many great albums before, and you've talked about many personal things. But this is definitely different. Not only are you talking about those personal things, but you are able to help other people understand their stories, and maybe even how to tell them and how to build community with other people and tell them. I think you're accomplishing that with the band.
It's super exciting to see what it will look like once you guys start performing.
If you have anything else that you'd like to share about it, or tell the listeners about the LP the band, that'd be great, but I covered pretty much all the questions I wanted to.
Drew Holcomb: I think you've covered a lot of ground. That was very thoughtful, and I appreciate the time. I don't think I have anything else to add.
Yeah, well, I'm excited for you guys. I can't wait for everybody to hear it. It's super great.
Drew Holcomb: Thank you. I appreciate it.
— —
— — — —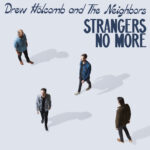 © Ashtin Paige
:: Stream Drew Holcomb and the Neighbors ::
---