Heartfelt and hard-hitting, Frames' debut album 'Every Room' is an alt-rock fever dream: The kind that wakes you up, only to knock you back into your own intimate reverie.
Stream: "Every Room" – Frames
---
I wanna be desired, I wanna be on fire…
Heartfelt and hard-hitting, Frames' debut album is an alt-rock fever dream: The kind that wakes you up, only to knock you back into your own personal reverie. A nostalgic and charged record full of reflection and reckoning, turmoil and tenacity, Every Room comes alive with intense intimate emo drive and a fiery, captivating passion.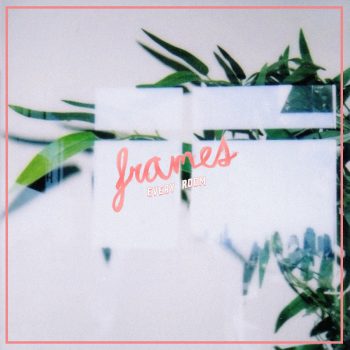 Show me how you do all the things that you do
In a parking lot, in your living room
Teach me how to love like I feel good enough
On your carpet floor, on a tabletop
I wanna be cool to you, I want you to want me too
Looking for you around every corner, in every room
Looking for you even though you don't want me to
– "Tabletop," Frames
Released September 24, 2021 via Know Hope Records, Every Room is raw, feverish, and finessed: An unapologetic introduction that is sure to leave listeners thirsty for more Frames. Produced by Will Beasley, this unrelenting record reintroduces Sarah Phung's alternative artistry through a freshly transformed full band effort, with Carter Wahl, Blake Layman, and Alex Wilson joining on guitar, bass, and drums respectively.
The result of this lineup is an enhanced fulfillment of Richmond, Virginia-based Frames' potential – one that naturally builds off of what Phung first accomplished on her 2019 debut EP, Cursed. At the time, Atwood Magazine praised Frames' dynamic alternative artistry: "A little bit emo and a little bit pop, her songs are lyrically and melodically driven, with evocative guitars and tight rhythm sections supporting her seamless, stirring vocals. She describes her debut EP as 'a short and sweet selection of songs written about fleeting crushes and broken relationships'; in seventeen minutes, the artist lays herself bare through a series of lyrical confessions and musical overhauls that break her down, only to build her back up again."
It's not your fault you came from a life
So rough that it made you sharp as a knife
But you didn't have to be so full of rage
And yet, I still would succumb to your blade
I wanna go to the scene of the crime
Where you held her for the last time
You are the reason I dive and I drown
In love all the time, I'm still figuring out
If I feel bad, if I feel anything
I know you're sad, but I don't give a shit
When I was young, I wanted you
My kind of love, your point of view
But you're not real, what's the use
– "Ryan," Frames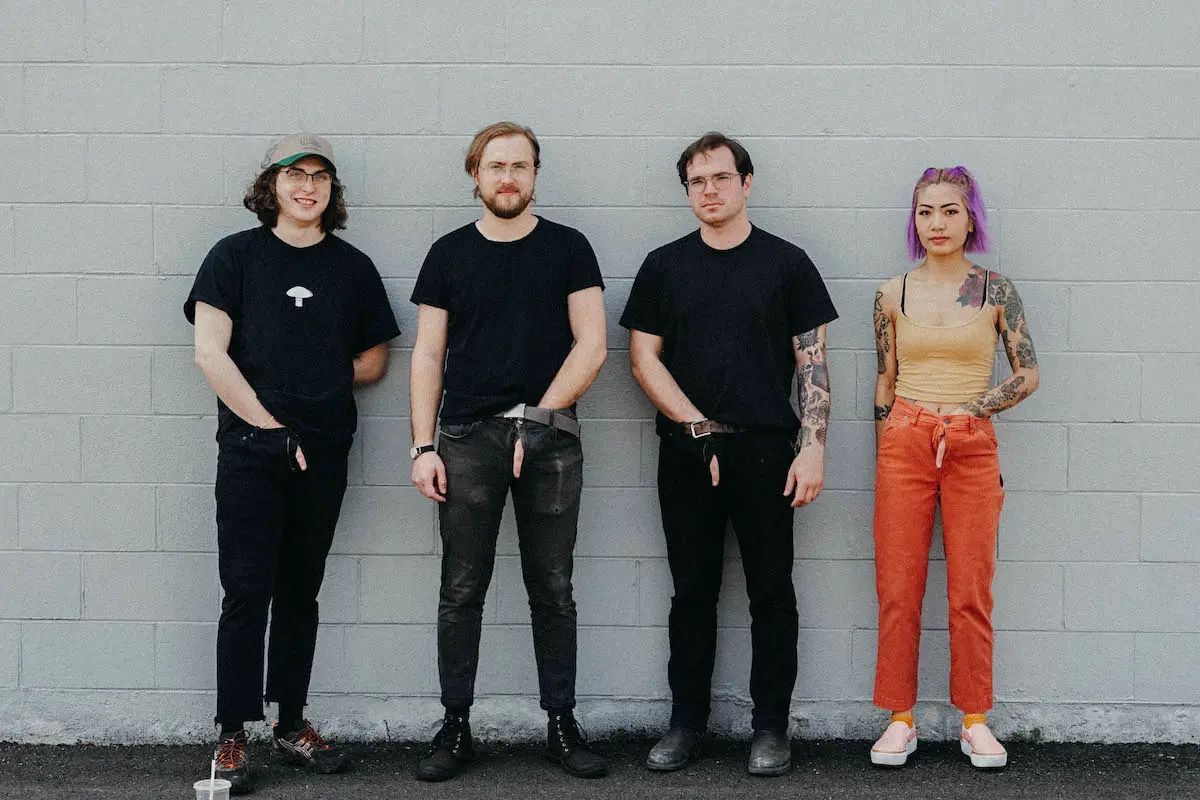 Every Room is markedly bigger and bolder than its predecessor, while once again tapping into that irresistible vein of 2000s pop punk / emo pop sound that has defined Phung's youth and artistry alike.
"What I think is great about this record, and what I think reflects who I am as a person and artist, is the flexible genre," Phung tells Atwood Magazine. "I have a lot of diverse influences and I don't think I have one predictable sound. I fall under a few umbrellas, like pop, or even folk-rock, but I don't see myself or this record belonging to any one brand."
While there isn't any one story necessarily "defining" Frames' LP, Phung cites other kinds of through-lines that speak to the band's growth, refined identity, and sonic vision. "It was just a collection of songs that I felt like had lived on my phone and in my head for long enough, I needed to stitch them together," she says. "'Two Phones' was the first song Carter and I wrote together, and that was around the time Cursed came out and well before Alex and Blake joined. 'Brewery', 'Cold Hard Criminal', and 'Tabletop' were also written with Carter and various other friends. I think 'Overthinking' was the first song the four of us wrote together, then 'This Year', and 'Body Kicks' was the last to be written, a few months after 'Ryan' and 'Lightweight'. I had written most of all the songs – lyrically and structurally – and then the rest of the band cowrote and added so much shape and color to the whole collection."
"I think that my main priority was to see how we all worked together, to see how the guys could add to songs that were very personal to me," she adds. "It was important to me to keep a clear path for the lyrics but without compromising any of the music itself. They really made that happen and I feel like we're all very connected in our co-writing process now. Once it came time to decide the track order, at first I panicked because I thought there wasn't a story because I didn't wrote the songs in any linear way – they're all stand alone songs. But when I looked at all of them at once, I could recall what each of them were about and what each song meant to me, so I was able to string them according to sound and in a somewhat a biographical order. So it started out being more about me just getting to showcase our songs, but then it became an actual cohesive body of work that I want people to spend time exploring and finding their own meanings in."
The album's title comes from a line in the chorus of lead single "Tabletop": "Looking for you, around every corner, in every room." It's a phrase that's long stuck out to Phung, and one she found could speak to Frames' music with an expanded sense of clarity and vulnerability. "Within the context of the song, it's about frequently anticipating running into someone, but when it doesn't happen as predicted, I end up actively seeking them out, and I felt like the imagery and emotions evoked by that really encapsulated the underlying theme of the album," she says. "A lot of the songs deal with mixed or complex emotions, not really knowing how to process good and bad feelings happening simultaneously, sometimes not even knowing how to identify them so you have to kind of hunt them down. Eventually, you just start kicking down the door of every room along the way trying to find your truth."
---
From the first driving drum beats of album opener "Lightweight" straight through to the last cathartic crash on finale "This Year" (featuring Can't Swim's Chris LoPorto), Every Room makes for an exhilarating, invigorating listen. Highlights abound, from the catchy two and a half minute banger "Cold Hard Criminal" to the intimate and effervescent alt-rock outpouring "Brewery" – a heartfelt confessional and emotional jam all in one.
"If I had to pick, 'Ryan' and 'This Year' would be my favorites – for the lyrics and the music," Phung says, quickly adding, "'Tabletop' and 'Body Kicks' are up there, too." She goes on to cite some of her personal favorite lyrics in the songs:
Tabletop – "Tell me why you said all the things that you said, with a heavy heart or an empty chest"
Ryan – "You are the reason I dive and I drown in love all the time"
This Year – "You're sticking needles in a cactus, I'm picking thorns out of my skin" and "'You're the life of the party!'; show my teeth to be polite"
"Those are some of the most honest lines I have ever written," she explains. "They might not seem all that deep and personal, but they convey feelings and admissions that took me many years to realize and reconcile with. I've gotten to a place where I no longer allow people to be halfway with me; I just want the whole truth and I don't care how it's served. I also no longer allow people to put me in uncomfortable situations and feel obligated to smile and nod through it. I will absolutely remove myself from anything that is harming me."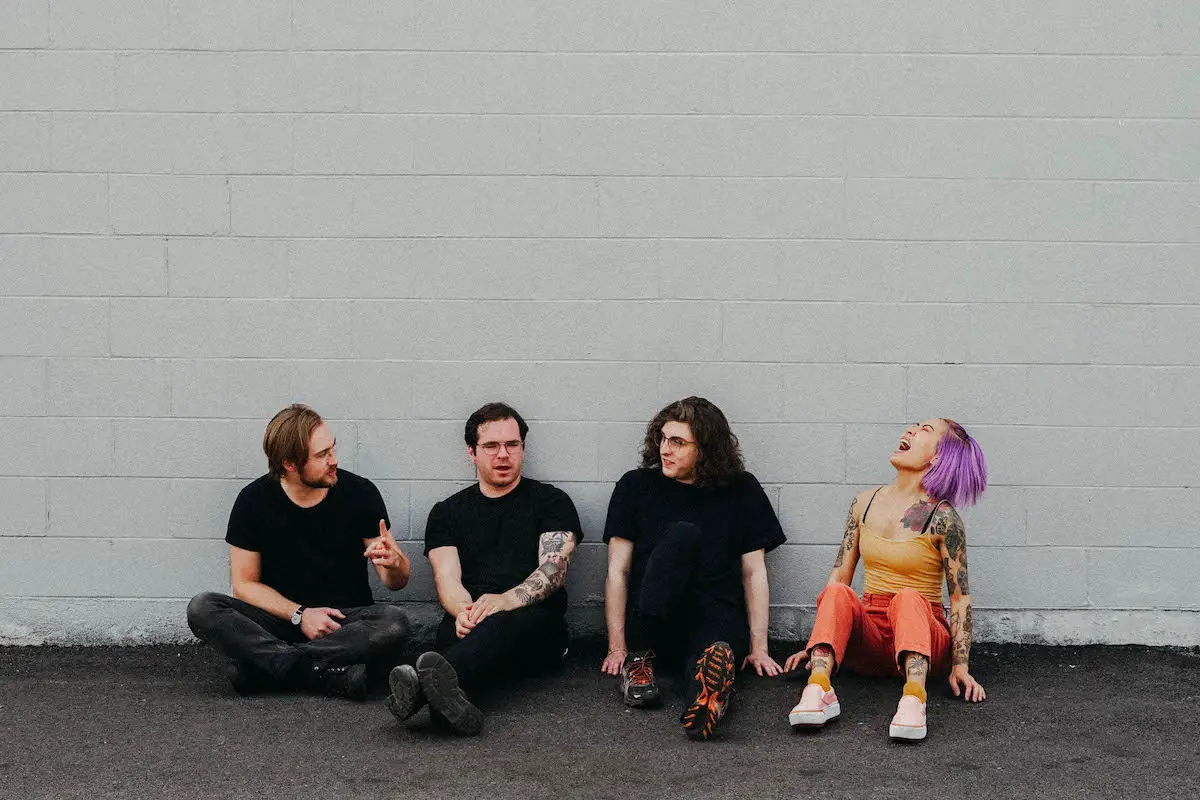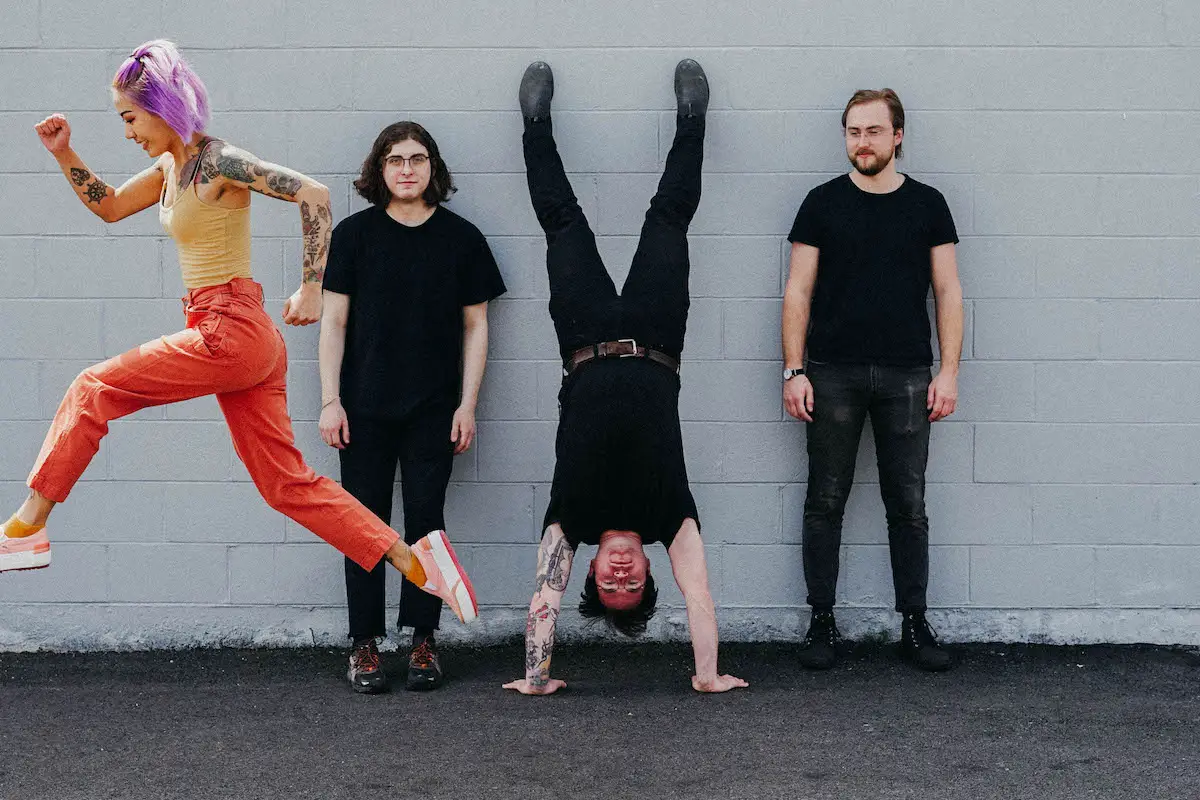 I've gotten to a place where I no longer allow people to be halfway with me; I just want the whole truth and I don't care how it's served.
Ultimately, "this record is for everyone who misses early aughts culture, watching music videos after school or on Yahoo, wearing skinny jeans and canvas shoes without socks, Hilary Duff, kids who dreamed of playing Warped Tour, etc," Phung concludes. "We had an intimate writing and recording process, really getting closer with each other, ourselves, our music. We hope that shines through in the songs. No individual song is made of anything groundbreaking, but our overall artistry is special to us; we get to relive simpler, happier times of our lives through our music."
It's so hard being a stranger to myself
It's so hard reaching out for help
I'm done being a stranger to myself
Maybe I'll start reaching out for help
I got two phones, I still feel alone
I still feel alone
I got too stoned, I'm not coming home
I'm not coming home
– "Two Phones," Frames
Every Room invites listeners to let go while letting loose; to feel connected to something greater than themselves, while reveling in a safe space where we can be ourselves, dwell in the deep stuff and sweat out the small stuff.
"I hope that listeners embrace the confusion and frustration that I delve into with my songs, and learn to sit through the discomfort and realize that that's the only way through to the other side," Phung shares.
"Most writers could say that they learned more about themselves through their work, but I think I learned things I wasn't even looking for. I expected to come out of it with a sense of greater clarity and resolve, and I did. What I didn't expect was a sudden optimism. Usually when I put festering emotions to rest, it can be melancholic or cathartic. After listening back to all of these songs, I felt a sense of excitement for the future that I'm unfamiliar with. I would call it renewed, but I don't think it could have existed before. Any excitement for the future I had in the past was out of naivety, lack of life experiences, blind trust; the excitement I feel now feels educated, calculated, I know how to manage my expectations, I know how to establish and enforce boundaries to protect myself as well as others. Sounds bittersweet but I think it's mostly just sweet."
Experience the full record via our below stream, and peek inside Frames' Every Room with Atwood Magazine as Sarah Phung goes track-by-track through the music and lyrics of her band's debut album!
— —
Stream: 'Every Room' – Frames
:: Inside Every Room ::
— —
Lightweight
this is just a pure pop love song and in the beginning i didn't love it as much as the guys but it's grown on me a lot. There's a lot of energy and it feels fun. I wrote it when I was starting a relationship with someone that made me feel like "wow you could punch me in the face and i'd like it"
Brewery
This was about a friend I briefly dated. We weren't right for each other long term but we had a lot of compassion and love for each other so it burned bright and went out fast. We're still good friends. On a more relatable note, the lyrics are pretty linear throughout the song; it's just about caring for someone so much you want to fight all their demons for them so they can open up for you but that's not something you realistically get to demand.
Tabletop
one of my favorite songs i've written – i don't even care how short it is, it's perfect that way. It has a moody and sexual undertone but i hope the rest of it isn't lost on people. The song is much like me: short and angsty.
Cold Hard Criminal
this song, i'm told, sticks out from the others. I don't really know why but it makes sense because it's the only song that started with one of carter's riffs and not mine, and everyone loves it. I say it's about different things all the time but the truth is it isn't really about anything. Even though the lyrics do have a storyline and paint a picture, i really just grabbed words.
Ryan
I can't wait to spend all day talking about this song. It's about Ryan Atwood from the OC, played by Benjamin Mackenzie. The catalyst for my inexplicable gravitation towards the classic bad boy trope. Like, oh you're "different"?? Sign me up. When in reality they're just privileged suburban boys with mommy issues.
Overthinking
this song is the most dancey-feeling one to me. I think maybe because the drums have a pep rally beat and the main riff has lots of slides and bends. I wrote it right before getting into a relationship. It's actually an ode to some people i casually dated while i was single for 2 years. They were all great people and helped me retain my ability to feel a spark. Thanks guys.
Two Phones
This started as a Kevin gates joke and then turned into a theme song for depression. But i do say i'd start asking for help, so it has a happy ending. The gist of the lyrics is that i have turbulent emotions that i struggle to manage and no matter what vices i turn to, it's never really that satisfying and definitely doesn't bring me closer to myself.
Body Kicks
this whole thing is about anxiety, front to back. Shaking under a table, petrified by social events. You can criticize me because i have nowhere to go anyway. I repeat how i don't want to be here. The second chorus has a reference to the movie Moonlight. The last chorus, i'm talking about my experience as a stripper, soaking up gazes that are heavy and cold. And the final line just says, whatever, don't pity me.
This Year
Another song I could say a lot about. Musically, it's a sequel to "Last Year." Lyrically, it's yet another song boiling over with confusion and loneliness. I talk about aging, my ex, my anxiety, etc. "You're sticking needles in a cactus" is an image of someone trying to inflict pain for joy, either on themself or others. "I'm picking thorns out of my skin" is, obviously, me continuously working through my baggage but it never really ends. There's not really a good or bad ending, or any at all. It's just a series of flashing imagery related to personal experiences.
— —
— — — —
? © 2021
:: Stream Frames ::
---