Modern folk master Henry Jamison delves deep into himself, the role of the songwriter, life on tour, isolation, America, and more in a conversation about his breathtakingly beautiful new EP, 'Tourism.'
"I Forget Myself" – Henry Jamison ft. Darlingside
---
Last year we called Henry Jamison "one of America's modern folk masters," and in staying true to himself, he has kept true to that title: The stoic Vermont singer/songwriter delves deep into his psyche, his relationships, and life on tour in his breathtakingly beautiful new EP Tourism, a stunning five-track folk journey through isolation, transience, connection, and self-discovery.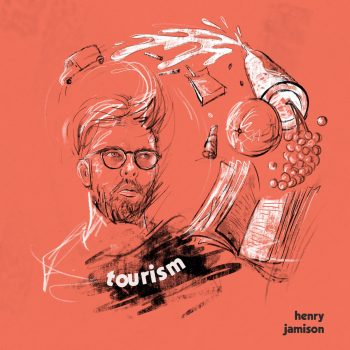 Oh what if I remembered all the time
Would it go backwards forwards
Past as future?
Well the odds were low but she was there
She and nobody else
And we fell in love an unlikely pair
I can't remember now
I forget myself
And the little mind that runs its course
From heaven down into hell
If I whine and wait and equivocate
I'm sorry I forget myself
Full of room to breathe, space to feel, and some familiar voices along the way, Tourism is undoubtedly one of Jamison's most moving and relatable collections.
The EP is a study of identity, restlessness, personal turbulence, and more – bringing us closer to the artist's inner sanctum than we've ever been before. Written with Darlingside's Harris Paseltiner and engineered by Dan Cardinal, these songs present Jamison as a fragile soul searching for himself – straining to understand his purpose and place in a world where he's got one foot in today, and the other in tomorrow. Fresh off a breakup and having just returned from the most transient of existences – life on tour – Jamison pours himself out in song.
We feel his sense of loss and uncertainty from start to finish, beginning with the majestic opener "Still Life" and running through to the end's refreshing, hopeful closer "Orchardist." Previously featured on Atwood's Editor's Picks, "Still Life"captures one of those universally relatable facets of human experience with majesty, humility, and grace – the artist humanizes himself in glorious, exemplary fashion, leaving us to ponder the decisions we make and why we make them as he puts to rest a once-brimming, now-vacant relationship.
I was tryin' to find someone to love me
Then I did and she was dancin'
Across the room with the lights
on her half-closed eyes
So then I took another drink and stumbled
Across to her and said somethin' ridiculous
Like a man who'd refuse to shine
See I was looking for a still life
Now it is stillborn
In the endless glow, on a river of road
I drove out of the eye of the storm
Yet Jamison is not alone in this vulnerable state: Tourism enlists a bevy of noteworthy friends in the folk, rock, and pop worlds who lend not only their voices, but also their artistry to Jamison's stirring music. Every song has its own featured artist, with sister trio Joseph joining on "Still Life," Grizzly Bear's Ed Droste on "Green Room," Fenne Lily on "Tourism," Darlingside on "Forget Myself," and Lady Lamb on "Orchardist."
It's as easy to get lost in Tourism's seventeen dazzling minutes as it is to listen to the five-track adventure on repeat. Jamison may dwell in his feelings, but he makes it an engaging, cathartic experience for those who choose to join in and listen. Whether it's the ethereal warmth of "Green Room" or the raw, plaintive heart-on-sleeve overhaul in the title track "Tourism," Jamison weaves together a spellbinding, truly wondrous world for all.
Out May 15th via Color Study, Tourism follows in the footsteps of last February's acclaimed sophomore album Gloria Duplex. An ambitious project exploring toxic masculinity and what it means to "be a man", the record was celebrated as one of Atwood's top albums of the year and acted as a springboard for success – resulting in headline North American and European tours, among numerous accolades. It's these very "achievements" (for after all, so few artists get to the point Jamison is at now) that led to the disconnected, delicate emotional imbalance Jamison shares with us on his new EP – and while we acknowledge that everyone has their own definition of "success," it's certainly important to recognize the toll our dreams may have on our mental and physical health.
But while Tourism may be a result of (and named after) touring, that is by no means the only impetus or driving force on this record; we cannot look at this music through a one-angle lens. Henry Jamison's songs are as complex as he is himself; in exploring them, Jamison rarely has one explanation or answer to give, and will often interrupt one thought for another, mid-sentence. It's a testament to his love for music and passion for his craft that he so willingly opens himself up, often uncovering new things about his songs as he thinks them aloud for the very first time.
In conversation with Atwood Magazine, Jamison has the alluring eloquence of an English professor and the humility of someone still not used to talking about himself.
When he speaks, he speaks with the candor and confidence of someone who is wholeheartedly and unapologetically true – there is no façade or charade; he doesn't play games or mince words. Rather, he is Henry, plain and simple.
Tourism was born out of turmoil and emotional unrest; it came from a period of turbulence in Jamison's life that has since settled, and now exists, memorialized (at least, in part) on record. Vivid, breathtakingly beautiful, and deeply relatable, it is not only a musical highlight of 2020, but also a vessel of relief, escape, and understanding for those of us going through our own surrealities right now.
Dive headfirst into Henry Jamison's Tourism in our unabridged interview below, and be sure to listen to Tourism upon its May 15th release.
— —
A CONVERSATION WITH HENRY JAMISON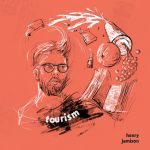 Atwood Magazine: Hey Henry! How are you doing these days?
Henry Jamison: Just strange, but I'm doing well, I think. As well as can be hoped, I think. I dunno, I adjusted to it and then I think I was assuming it wouldn't last even this long, and now I feel like it may last a long, long time – to the point where everything will have changed.
I mean I'm already having trouble remembering the "before time."
Jamison: I know, I'll go back through photos and see a photo of me in the "before time," and it's like… Yep, I didn't know anything about my future. You know, my daily existence has not changed as much as a lot of people's.
For you, there's sort of the dichotomy that you're either on the road or you're, you know, in your own world, right?
Jamison: Yeah, so for the past while I've basically been doing what I'm still doing, which is just taking walks and writing songs.
If there were one artist I could describe as an English professor, I think you'd be my guy. I hope that's a compliment!
Jamison: I do take it as a compliment, but it is something that I may need to consider shifting slightly.
Obviously we couldn't have known you'd end up releasing this EP during a global pandemic; has the situation given you pause, or changed your perspective on these five songs?
Jamison: I think that my perspective had already changed on them pretty radically, because I was going into this period of not touring. I basically was going to play three release shows – the biggest shows I had ever booked, but still only three. It would have taken a month, all of June, because they were a week apart and in LA, New York, and London – all cancelled – but when I was writing these songs, most of them I wrote with Harris from Darlingside. I was in a state of not feeling like I had had a moment to breathe and look back on years of experience. So I was writing them in the very states they're about, which is weird – and I think that's why I needed Harris' help, because it's hard to reflect on something that isn't over. Since then I've had time to reflect on them; the songs, in a way, seem like a really good statement not to the reflections, so much as the actual experiences that they're talking about.
Like, I wrote the lyric about the strip mall when I was actually still on tour… The other thing about it is that, there was already a "boo-hoo" quality to it, which I understood. That experience of not having anything proper to eat – like, having to eat at Chipotle all the time, in a way you could turn it into a political, pseudo-dystopian statement of like, there are these food deserts, corporate America, blah blah blah – but I'm not really saying that; it's really, there's a sort of feeling sorry for myself thing that I was already getting over, and now I feel like I am over it, because… there's a pandemic.
I'm just thinking more about the world at large again and less about myself, but there's a funny turn to all of it too, because, like what I was saying about not wanting to come across as an English professor, there's a sort of civic responsibility of the songwriter to talk about themselves, because there's a universality – it's kind of like paradoxical, where there's a universality in talking about yourself, and to write something that's too much or too topical about the world without placing myself in it would also [not work] – it's not like I'm trying to go all the way, the other way. I would just like to find a balance, which I think I found before – but these songs are definitely about me and being sad.
Talk to me about the overarching theme of Tourism; obviously it's a collaborative EP featuring a different artist on each song. Is there more to it than that?
Jamison: If there's any sort of philosophical angle on it, or a thesis, it's about just losing a sense of self. "Tourism" is this kind of ironic name – well I don't know if I've explained this properly at all – the reason I chose the name tourism, is that on tour I would write "#tourism" on posts sometimes. There's this double thing where it's amazing that I'm driving through wherever it is – the French countryside or mountains in Washington, and there are all these moments where it's like ,"I'm in the Redwoods" – so in a way I am a tourist, and I'm taking in the sights – but also with this "ism" quality that has this slight affliction feeling to it, where I feel this imperative, a need for my career to go around the country and Europe constantly, as well as this fatalistic draw towards that constant movement that meant that my home life was in complete turmoil, and then completely upended in the same way an addiction might do.
I don't know; maybe I haven't said that too much because it's a little too heavy. For an English professor moment, there's a Kierkegaard quote talking about how "losing yourself is easier than losing $5"; you notice it less than you would if you lost $5, because it just will sort of slip away; your centered sense of who you are, what you're doing, and why. The song "I Forget Myself" is saying that, and just trying to regain that centered-ness through memory. That's basically it.
I really enjoyed listening to this EP because I felt like it was some of your most personal work yet. Can you tell me more about the actual acts of writing these songs and bring them to life?
Jamison: Part of it, I don't even really remember. There are snapshots of it – generally I have a really good memory, but… There are snapshots of being in the 930 Club green room, alone in the green room on tour opening for Guster – and I just started playing what turned into the guitar riff on "Still Life." I thought of it as a very Nick Drake-y, intimate folk song.
And so I actually had that guitar part floating from song-to-song; I think it was even over some of the material that turned into "Green Room" and some of the other stuff. It was a very free floating thing – it was as if all these different parts of songs were appearing and then not knowing where to go, because there wasn't really any time, and I didn't have the wherewithal to sit down and really construct something – so when I got back from Europe, I know I went to Harris' house, outside of Boston. I guess I flew from probably London to Boston, and I played him the riff from "Still Life," and I had written the verse melody that ended up on the song. And then he was playing these big chords under it, and he was like, "I think this might be like a kind of like, Kenny Loggins situation." And then we had this whole fantasy where we would spend a year just recording this one song – which is actually sort of what happened – it wasn't a year, but we worked insanely hard on that like it was like an '80s radio hit attempt!
And then some of the other songs more just poured out, like the song "Tourism," I wasn't sure if I was writing a record, but I knew that the collection as it stood needed a piano ballad. I went into my dad's little writing room at their house, and I think I was home for maybe three days in the middle of a tour. I wrote that with the bridge and everything very quickly – it's the only song on the whole thing that was written that way, besides "Orchardist," which I think was the last one I wrote for this, and that was also supposed to be just a folky number… The initial idea was to just do two guitars and some synths, like really keep it very bedroom-y, but then it just grew and grew, sound-wise.
It's so interesting to hear you talk in this fuzzy way. It sounds like touring really drained you, and Tourism was something you had to unknowingly create in order to sort of "bring yourself back to life."
Jamison: Yeah, I mean the other thing about it though is that, let's say I had these five songs and I was trying to tell the rest of the story, I would have to tell a lot more. One thing is that I'm back together with my girlfriend, so I would probably have some reconciliation song. The other thing that really helped me, which I started doing in the exact same period during those three days on my headline tour – we were back in Burlington, we had some gap before the New York show. I wrote that song "Tourism," and then I went to the park –  it's like woods and cliffs right on the lake, and there's this place there called Red Rocks off the path, and I used to play there as a kid. I just went there every day for those days and just felt like… sometimes there's this full, real sensation when you're truck stop to truck stop, just staying in hotels and never being in nature at all… I remember, my keyboard player, guitar player, and I went to an arboretum at the University of North Carolina. We just took our shoes off, and I could feel the fumes of America, just seeping through my feet and into the grass. It was like the trees and the grass were like extracting the toxins from me. That's how I felt in the woods – and then once I got back from tour, I started going every day to that same spot. So, yeah, it did drain me, and I have found my way back to some kind of mental health and physical health through those methods.
It sounds very cathartic. I've always felt that folk music shares a bond with the outdoors. Have you always felt a strong connection to nature?
Jamison: I have a weird relationship to it. Living in Vermont, there are a lot of people – including my mom and my girlfriend – who will just relate to it on a more hands-on way. Like, my girlfriend during quarantine has been listening to this audiobook series of lectures by John Young, and it's all about bird language. So she gets up really early and goes to the cemetery and sits there and hears different birds, knows what they are, and can tell whether they're disturbed by a crow, or a cat, or whatever it is. It's heady in a way, but it's also living in nature as a part of it and understanding what's going on – whereas my relationship to it is more like, I exist in a pretty much purely human world, but I regard nature very highly but with zero knowledge of it.
You're more an onlooker, than a participant.
Jamison: Yeah but in a poetic way, I feel like there is use to it, for me and for everyone in a way. Mary Oliver, Rilke, whoever – people who wrote about nature in compelling ways, it's not that they're… I dunno, I could look at a leaf probably and not know what sort of leaf it is, but still have a moment of seeing its beauty, and maybe I could describe it. It's not total onlooker – there is a participation, but there's no expertise.
You did it again, you know.
Jamison: Oh, the Rilke thing? [laughs]
Don't change. I don't think you need to change. The world will adapt. Back to the music: What is your personal favorite thing about this Tourism record?
Jamison: I really like the way that the guest appearances work. I really love all of those artists, and then also what I'm especially happy about is that there's kind of like a perfect song for each one of them. Each song feels like it is part of their world a little bit more than the others. Like "Green Room" with Ed Droste, I wrote that song with Harris and there are longer melodic lines than I would ever have included, except that then it works for Droste. The song was written and I sent it to him, but we hadn't produced it out fully, and both Harris and I are huge fans of Grizzly Bear, so as soon as we knew that he would be on it, it just injected a kind of energy in a particular direction. Like, Joseph makes very polished pop music, and that's what "Still Life" is, and then Fenne Lily is much more close-miked and intimate and sad, and that's what "Tourism" is, and then Lady Lamb makes slightly electric guitar and rockier, raw music – each song just felt like it fit really well. And then it was also pretty perfect, because each of them are touring musicians, so I just felt like all the themes were kind of amplified by their performances.
You're right, every track really does have its place on this record. I must have listened to this EP 20 times over in the first month alone. It feels like an extension of the music we heard on Gloria Duplex, although I'd also argue that each of these songs makes for a stellar standalone single.
Jamison: There is the concept, like everything we've been talking about; I dunno, there is something about it that feels like it is basically like five singles, and also that they all hang together in a nice way. Gloria Duplex was an idea I was muttering to myself, and pushing through so many different parts of that, but always as part of a giant whole. It's much more conceptually-driven, so there are songs on there that you can listen to on their own, but they're there to sort of bolster other parts of it, and it's all a unified thing.
You've not really been a "singles artist" to date, but do you feel like you're dipping your toes deeper into the melodic and catchy areas of the modern songbook?
Jamison: Pretty intentionally, I think I have to. I've had some moments of humility in which I'm like, "Oh, this person is better at this than I am," or something. And then trying to emulate people – it's like, the way I was when I was much younger, I want to be like this artist I respect, and then I really discovered my voice –believed that I was capable of doing every bit of it. But, most recently, I'm writing most of my new record on my own, but I also am like, "Okay, I have worked with people now, and I know that when go into my basic mode of writing a verse just get across my meaning and the mood that I want, there's not really enough attention to the melody – so, what little tricks can I do to make sure that the melody is an actual melody that sounds on its own?" – which is not really what I was doing. I mean, there are plenty of melodies on Gloria Duplex, but there's also this sort of slightly more art song spoken quality to some of it, too –
– which is why it's a record: There are songs on there that stand alone, and there are songs on there that are transitional, experiential moments.
I actually really like that about your music in general. I think the best records, even if we're not in a "records or album world" anymore – I think the best albums are those that do that – that have a little bit of both. A lot of people disagree with me, and they're the ones who are making more money, but it's fine.
Jamison: Yeah, I mean… same.
Here we are, in our own bubble. Speaking of, I absolutely love the wall of sound you and Joseph developed on "Still Life." Why did you introduce the set through this song?
Jamison: I'm just at a point in my career where I can't be as indulgent maybe as I would like to be. So, I can't just put whatever out. Given that that song had this super bombastic, grab-you-by-the-throat entrance, that's why it was treated as the first single and why it has music video. I don't know; there's nothing that I would change about that really. I think maybe someday I'll be at a point where I can hopefully do whatever I want, I guess, but it was like, "Okay, this is kind of a banger, so let's put the banger out, and the rest of the songs can kind of float along behind it."
"And I grew up slow in starts and storms, I can't remember now – I forget myself," You sing in "I Forget Myself." This song has what might be my favorite lyric from the EP: "If I whine and wait and equivocate, I'm sorry I forget myself." Can we discuss that lyric and its importance on this record?
Jamison: Let's see… I guess what was happening in my relationship in that time, and in a number of my relationships across the board, was that because I was feeling loose ends, it was like each conversation I had, I didn't really want the dial to move; I just wanted things to stay the way they were, so I didn't have to change – most markedly with my girlfriend, but… It's like, "I don't know who I am, so how do you expect me to say something definitive about what I want, or need, or what I'm going to do next?" That's basically it. Whining and waiting and equivocating… yeah, I guess it almost is emblematic of the whole EP. There's not much of an idea in it, except that there isn't an idea. It's like, "I don't have any ideas, so wait for it if you want; but I'm sorry, I don't really have anything else to say."
Do you have any favorite lyrics or especially powerful moments that resonate for you?
Jamison: I would say my favorite lyric is on "Orchardist": "She always said I held my candle in some kind of shelter." The reason I put that song last was not at all to bury it. First of all, Aly Spaltro (Lady Lamb) is one of my oldest friends, and she was also the last one to do her vocal. When I heard that, I was sort of like, "Okay the sentiments in this song are the way out of the sentiments of the rest of them." It's an actual moment of like, having all this trouble with this person, seeing what she means, and then saying, "It's not just me – I'm not going to think only of myself anymore." It's like, something else in me – like a higher self – and also like "you," this other person, and the metaphor of the orchard and tending to something over time… The sentiment of that song just basically has to be my favorite, because it's the only hopeful one.
I understand. It's a really nice song; I love the lyric, "It's not just living large, it's history and knowing what the season means." Why is the song the last one on the EP?
Jamison: Just for that reason. "Knowing what the season means," too, is also what I was talking about – like the people around me, who relate to the natural world in a different way than I do. It's like, now it's spring, here are these chickadees that I'm watching and they're in the tree, and there are little bugs on the tree. If I were a farmer or an orchardist, then I would know what to do in relation to the seasons changing, and that's a pretty good metaphor, I feel, also for human relationships – where you just have an intuitive sense, and also an experience with people where, if someone is expressing any number of emotions, then you don't react emotionally or angrily or just in paralysis; you have a kind of calm, attentive quality.
Something that's important and often overlooked in music, I think, is collaboration – it's an umbrella term that doesn't quite do the act justice, so I was hoping we could spend some time talking about the ways in which you worked with some of the artists on the record?
Jamison: The closest collaboration was with Harris Paseltiner from Darlingside, who produced it – and then the engineer, Dan Cardinal. That was the most person-to-person collaboration. I played bass on Lady Lamb's first record, and she had also sung on a song of mine way back, so that was pretty familiar… Through the collaboration with Darlingside, there was this idea in the air that maybe each song should have a guest, and so I just sort of took a shot at it. I had met Joseph at a festival in Vermont long ago, and then I was out in Washington and I drove down to Portland and met up with them, and just had a drink, and then they were in LA and they did the vocals – and we chopped the vocals up a bit, but it's basically what is there now. Ed, I had also met in LA through a friend!
What was so exciting about how it all ended up was that each song had the stamp of the singer, beyond just the fact that they were on it; it felt like the song had responded to their being on it, or something. It's like looking at time backwards a little bit, the way I do in "I Forget Myself" (or try to); it's almost like the song was written for them to sing on it, without getting too sentimental or mystical about it. I think it is true that we made certain decisions later on to place the vocal in the right way. We shifted the mix so that it all feels, in the end, like exactly how it was supposed to go… which, ideally, is how any collaboration should be. I think it's totally natural that it would be that way. If I write a song and I don't have a harmony in mind, but I think this person might know what to do, and it turns out to be the right thing… I mean, it doesn't need to be mystical; it's just pretty normal.
"Green Room" features Grizzly Bear's Ed Droste. Can you tell me a little more about this song?
Jamison: A lot of life on tour specifically happens in the green room. Nerves, and coming into yourself, getting ready to perform. There's a little bit of a prayerful moment that I always have to have, if I'm going to perform alright. And there's also just an actual physical survival; eating, figuring out logistics –so much stuff happens there. It's basically like, the van, the green room, and the hotel. And so, the green room deserved its own song. It was a little bit of a cobbling together of different memories to concoct a particular scene.
Because there's like, watching Spirited Away which is my girlfriend's favorite movie…The main thing about that song, I think, is that it's a sad song like the rest, but it's a little bit more of a bop. It's more actually kind of an aesthetic, I feel like; like, big gang vocals, big reverbs, and like a '60s kind of LA feeling. So it was really fun to make!
What came first: Tourism the name, or "Tourism" the song?
Jamison: I guess the name, because I had been ironically writing tourism on Instagram and stuff, but I didn't know that I was going to call the whole thing tourism, or that it was a broader idea. The name tourism was just something that was floating around; it became a song, and then out of the song, the concept for the whole thing grew.
Can you tell me more about that song too? While I definitely feel like "I Forget Myself" is more of a thesis statement, "Tourism" is certainly the summary; it really captures the cause for what we have to have in the eventual effect.
Jamison: Part of me just feels like that song almost doesn't exist. It's weird – it's very wispy. Like, I know how it goes clearly, and it's also 3 ½ minutes somehow, but not a lot is said in it. There aren't actually very many words, but they kind of pack a punch a bit more, because there aren't too many words. On the most ground level, it's like, "I'm not helping in the garden. I'm kind of dissipated from being out in the fluorescent America, and I can't relate to the home life anymore." But then there's the "not helping" line, which I liked.
When I was originally singing it – and that actually didn't totally make the final cut – but like, I was singing, "I'm not helping, it's not helping, not helping." Like there are all these sorts of shades of meaning in saying "not helping\," because it's like I'm not helping, and also it's not helping that I'm thinking in circles – it's not helping my relationships that I'm not able to do what needs to be done.
If somebody wants a good cry, I'm sending them that song. It gets the job done.
Jamison: There's a very sentimental banjo.
I love the very classic Henry Jamison lyrics, "Strip malls can really bring you down; where I go to pick my poison." If that doesn't speak to the loss of the American middle class, I don't know what does – and this song isn't even supposed to be about that!
If somebody had to kind of ask, "How does Henry Jamison encapsulate his music?" You observe so much in these songs, and I think what's really interesting about this one in particular is that there are all these external observations, but they're balanced out with your more internal musings and reflections on yourself.
Jamison: I would agree.
I like it; I think it's a continuation, as I said earlier, of the songwriter you showed us last time around, coming back again.
Jamison: Yeah, I had been sitting on that strip malls thing for a long time. It kind of like, from my first record, "The Jacket," where I'm talking about being on my phone and like the flat screen TVs and stuff: Being alienated by your surroundings, and actually recognizing that your surroundings do have an effect on you. It's a pretty simple idea, but also I think that there is something more profound about it, because very often now I feel like we're supposed to think of ourselves as the result of our upbringing, and there's a fair amount of like, it's a chemical imbalance or it's my fault or it's my parents fault, but it's like, "Wait a second, I'm sitting in a Chili's. Maybe I should leave Chili's, and then try to find out about what's causing my sadness."
Now that you're a bit removed from this EP, do you feel as though you're beginning to have a more healthy relationship with these themes?
Jamison: I think I might well be destined or a life of emotional ups and downs, as many, many, many people are. Right now I feel good. And if I'm not upset about my personal life, I'm probably going to be upset about something else going on – not in a crippling way, but enough to address it. I've definitely moved on from the theme of touring – especially given that there's no more touring. But I mean, I'm working on this other collection of music with my friend. It will probably not just be a Henry Jamison record, but another collaboration thing, and it's the same stuff in a lot of ways – because it's always this individual in the world, and what are places that bring out the best in me… and just feeling that fatigue, I don't know. Some of the themes will continue – wouldn't be specifically tour. I also would like to leave the ground a little bit again, and not necessarily say things so specifically, but maybe create some more dream world songs.
The record is out very soon. What are you most looking forward to about having this collection out in the world?
Jamison: I don't know. The weird thing about is that I don't even know…Especially with an EP with 3 singles, it basically just feels like the day of the release is like releasing two more singles, and then the whole thing's out and there it is! So it doesn't feel like a huge event, but there is also this sort of… aftermath ,like of it actually being released, and then seeing what it does over time, and how people connect to it. I'm happy with how it's going; I think that people enjoy it, and I don't really think it's like some sort of wildly groundbreaking work, but it's very nice and good. So I'm proud of it, but I'm not like, "And now my work is done!"
What are you doing to keep busy outside of music?
Jamison: Just about a minute ago it was snowing, so… it's been very weird weather, but I have been taking walks! My brother and parents live across town, and we've all driven in separate cars and met places… done a social distancing kind of walk. Other than that… Well, today I'm actually doing a photo shoot for "Green Room," but some of my friends I haven't seen in over a month.
I've basically been in a pretty good cycle; like, I have my little studio room, and I've been waking up early and cooking a lot, making coffee and reading this 800-page book. It's called In the Image of Orpheus, and it's about my favorite poet, RILKE. It's kind of like this psychological biography. I've been meaning to read that forever and, frankly I think that if this hadn't happened, I might never have read it, so it's definitely a silver lining. Other than that, I've been writing songs and FaceTiming with people sometimes. That's basically it; then I go to bed and then I wake up!
It sounds very normal; I like that!
Jamison: It's not too strange (laughs). Well pretty soon, there's a backyard, and my downstairs neighbors are professional farmers, and because of quarantine, they're expanding the garden to basically be a small farm – like, five different big garden beds and a big compost pile. I have no real gardening ability, but I'm going to try, like maybe approach it, kind of… you know how Henry David Thoreau was like obsessed with beans?
Mmhm
Jamison: So I'm going to try to grow some beans.
It sounds like you're going to finally get that hands on experience you were hoping for.
Jamison: Mmhm, yup!
Well listen, Henry, thank you so much for your time. This was fun!
Jamison: I love these; I'll put another record out, and then we'll do it again!
— —
— — — —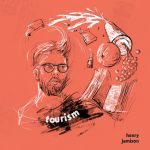 ? © Shervin Lainez
:: Henry Jamison ::
---
---