Buoyant, enchantingly radiant indie pop comes to life in Honest Men's emotive and intimate sophomore album 'Field of Vision', a record of twelve heartfelt and vulnerable songs dwelling the depths, processing life's lows and finding balance and control in times of chaos and strife.
for fans of Aquilo, Vancouver Sleep Clinic, Oh Wonder, Walk the Moon
Stream: "A Spectrum" – Honest Men
---
We went into 2020 with one goal in mind: Write and record the album of our dreams.
Honest Men set out to give their second LP a timeless and classic quality, and in many ways, the indie band from Austin, Texas succeeded: Emotive and intimate, Field of Vision will surely maintain relevance long after 2021 or '22 not only for all who discover it, but also for the band members themselves. Buoyant, enchantingly radiant indie pop comes to life in twelve heartfelt and vulnerable songs dwelling the depths, processing life's lows and finding balance and control in times of chaos.
Pulse flat, I'm running out of life
Should I check on my heart when I'm on the other side
Got your foot on my neck, but I kinda like view this time
When I'm on the other side
Catherine is running out of breath
When she talks about faith in the God that she just left
Then I hear a sound, all of my friends erupt in grand applause
I'm learning
…Only as good as my bad days
Only as sure as my doubt
Life is a spectrum, I give my objections
And fall on each side of the line
Skeptic on weekdays, it blinds me
Then on the weekends I'm fine
I have opinions if anyone's listening
I'm lost on the other side
Independently out November 12, 2021, Field of Vision is a captivating record brimming with palpable tension and sweet emotional release. An album exploring "the deeper side of humanity, love, loss, fear, and questioning," the follow-up to May 2020's I'm Okay finds Texas' Honest Men (frontman Seth Findley, guitarist Brooks Whitehurst, and drummer Zach Solomon) in a place of renewal and refinement. Blending the alternative worlds of indie rock and indie pop through cinematic drums, driving guitars, glistening keys and expansive synths, and intensely emotive vocal performances, Field of Vision is cool, confident, and unapologetic in its portrayal of raw humanity. The band describe it as a "warm, intentional, and sad" record; fans of Aquilo, Vancouver Sleep Clinic, Oh Wonder, and Walk the Moon are sure to find favor in the song's color, grooves, depth, and energy.
"We went into 2020 with one goal in mind: Write and record the album of our dreams," Honest Men tell Atwood Magazine. "We didn't want to tour, post on social media, interact with fans, ANYTHING that year. We just wanted to "go dark" and make the best album we could possibly make. COVID ended up shutting the rest of the world down, so we didn't feel like we missed out on too much of the touring scene and were able to point all our creative energy into these 12 songs. It was a very write-as-we-go record. We didn't have a season of writing a bunch of songs and then picking and choosing which from the bunch would go on the record. We literally wrote a song, decided if it made us excited to listen to or not, and if so, we went into the studio and recorded that song. Only about four or five songs we wrote in 2020 didn't make it onto the album. It made this very stream-of-consciousness end product where the lyrical and sonic direction of each song is different yet ties together really well into the grander narrative."
"We wanted to make a timeless record. You can immediately hear it in the intricate but familiar sounds and the emotional lyrics. We wrote our first record in college and sometimes feel like it shows. The songs are "easier" on that record. These songs are a little more complicated and emotional. We had SO MUCH GUITAR on the first record. We were very intentional about "less is more." If you can't really hear it, it doesn't need to be in the song. That meant stripping down the production of the tracks to only what was necessary. That didn't mean the songs felt small or minimal; that just allowed each instrument room to breathe. For example, the chorus of 'Helpless' feels huge, but it's literally just 1 guitar, 1 bass, drums, and vocals. Our vision stayed pretty clear throughout the entire recording process and the end result feels pretty cohesive, with each track still feeling unique and true to itself."
---
For Honest Men, Field of Vision is a dazzling and beautiful reintroduction.
The band sound better than ever on songs that somehow manage to feel quiet and dynamic, blustering and elegant, raw and refined.
"We weren't afraid to slow it down for this record," frontman Seth Findley explains. "There are still plenty of upbeat bangers on Field of Vision, but the overall tone is mellow and introspective. It's a very vulnerable album that redefines us both sonically and lyrically."
"If I'm Okay was a warm summer day, Field of Vision is a cool fall evening. It's very much a continuation of the story from where I'm Okay, but the fact of the matter is life was good when we wrote I'm Okay, and life kind of sucked when we wrote Field of Vision. As much of a shift as it is thematically, it also is sonically, with the slower songs, less guitar, more bass, and unique drum and vocal sounds."
"A lot of life has happened between our first record and Field of Vision," he adds. "These are the songs that came out of us during that time. Our music and songwriting became less of a celebration of what CAN we do and say and more of an introspective look into what SHOULD we do and say. They're us processing love gained, love lost, beliefs redefined, the all-consuming feelings of solitude, and everything in between. Life happens! But we're only in control of what's in our immediate field of vision."
---
Highlights abound throughout Field of Vision – from the vibrant album opener "On My Own" and the achingly visceral "Weight of the World," to dynamic lead single "A Spectrum," the dazzlingly dramatic "Blurry Eyes," the moving ballad "The Ropes," the searing "Stuck!" and the hypnotic finale "What If We're Wrong?" there's a lot to love in Honest Men's second helping.
"Honestly, it's hard for us to pick a favorite," the band says. "We believe in all twelve songs equally, so it was hard to even choose the four that were singles leading up to the release. Our hope is that listeners give each song its own special attention and realize how intentional we were with every sound and every lyric. We're hesitant to even pick a favorite or share highlights because that almost reduces the significance of the other songs. Every song matters. This is a single work telling a full story. Not 12 random songs thrown together. So stream them all?!"
While Honest Men may struggle to single out any one favorite song, Seth Findley is quick to share his favorite lyric: Specifically, verse three of "Love in The Falls."
"I wrote these months before even knowing I was for sure going to get a divorce, and it kind of foreshadowed the events perfectly," he reflects. "It's been wild a year, later reading back through some of these lyrics and connecting with them in such a different way."
Another life
Another soul that's given to me
Take a look inside, to find the meaning
Happiness and love are not the same thing
Pour a little wine to numb the feeling
I'll admit she's never gonna save me
Life will blur the line
It's like another day without the sun again
A gathering of severance
---
Cathartic and wondrous, Field of Vision is well worth listeners' time and patience.
Honest Men's catchy and meaningful approach music makes for an endlessly rewarding experience – one we can't wait to embark on time and again. If that doesn't make music timeless, we're not sure what does.
"We hope listeners can find comfort in these songs, knowing they're not alone in whatever stage or season of life they've found themselves in," the band shares. "While the words are so unique to our own personal situations, we've already gotten such positive responses from the singles leading up to the album of listeners having powerful experiences and takeaways from these songs, some of which we would've never imagined. As "sad" as the record is, it's still tinged with hope, knowing that brighter days are ahead for us all. It's been over a year working on these songs, and it's such a rewarding feeling being able to put them out into the world. We've grown so much over the last year and are excited for fans to hear our natural progression as artists."
Experience the full record via our exclusive stream, and peek inside Honest Men's Honest Men with Atwood Magazine as the band goes track-by-track through the music and lyrics of their sophomore album!
— —
Stream: 'Field of Vision' – Honest Men
:: Inside Field of Vision ::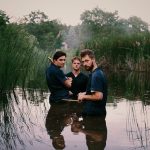 — —
ON MY OWN
This was the first song we wrote for Field of Vision. At the time we had no idea it would be part of a 12 song record, let alone the first track. We had recently lost our bassist who was also our studio engineer and were scrambling to figure out what was next for us as a band. Brooks had written and demoed On My Own and Zach and I were hooked at first listen. We decided to attempt to fully produce and engineer the track ourselves to see if it was even possible to create something decent sounding without at least another engineer in the room. Turns out, it was! Bootstrapping this song together on our own was the catalyst that gave us the confidence to fully self-produce our music moving forward, and to craft a full length record. While we did end up bringing in an engineer (Michael Guillot, who also played bass on the record), On My Own made sense as the first track of the album, almost proclaiming "We're back! We did this on our own and we're proud of it."
HELPLESS
We had 3 goals with Helpless. 1) Unconventional song structure, 2) A very hooky/singable repeated section, and 3) a "classic" Honest Men vibe. By classic, we mean GUITARS. I think we accomplished all 3 goals pretty well with what ended up being one of the most melodic, singable, and timeless sounding songs on the record. It's also the album's introduction to Brooks on lead vocals!
DIZZY
In the midst of writing for Field of Vision, I (Seth) had also been writing for a side project I started in 2020 called moony. Dizzy was originally intended for moony but after I showed Brooks the demo on our way to the studio one afternoon, we kind of had this moment where we looked at each other after the song finished and immediately knew – this needed to be an Honest Men song. Fat drums, fuzzy bass, and a 6/4 chorus groove made this track shine.
WEIGHT OF THE WORLD
Isolation and solitude are common themes throughout Field of Vision. Quarantine, divorce (we'll get to that later), and transition periods tend to bring those feelings to the surface. When Brooks first showed me Weight of the World after having written and demoed it the night before, the lyrics were so impactful it felt like he had been reading straight from my journal. While we were going through completely different seasons, there were a lot of overlapping feelings of loneliness. This song says it about as plainly as possible: "How lonely and sad, can't get this feeling off of my mind… The weight of the world is hanging on my shoulders." Can anyone relate?
A SPECTRUM
Life is a dichotomy, a constant pull in two directions for every facet that makes us human. Existence is defined by our relationships, emotions, decision making, lusts, desires, needs, spirituality, and set of beliefs. The very fabric of who we are lies on these numerous spectrums. On one side, there's fulfilment and wellbeing. On the other there's thrill but no satisfaction. We battle ourselves, we toe the line. We make mistakes, we burn bridges, we rise and we fall. We observe others do the same while all along telling ourselves and the people we love that in the end everything's going to be okay. 'A Spectrum' is a 20,000 foot view of life itself. It's an attempt to take a step back, cut ourselves slack for the mistakes and hardships we endure, and extend grace to others on the journey.
LOVE IN THE FALLS
As "sad" as this album is, I want to cry the most when I listen back through Love in The Falls. This is a very spiritual, personal song, exploring the depths of my faith and what I believe in. A lot of my spiritual worldview has changed over the last 4 years in ways that I feel like have been good and healthy for me, but I still often struggle with doubt and questions about the things I was raised to believe. To be honest, half the time I don't know what I believe and am on the precipice of complete nihilism but am either too afraid to jump or feel beckoned back from the edge of the cliff by who I feel like is God. This song is a reminder to myself that no matter what I go through or how much I question/doubt, I will always find truth, love, and acceptance in God. I hope? Haha.
FACADE
Facade's the sleeper hit of Field of Vision, I'm calling it now. It's been so surprising to us how many people who have listened to the album prior to its release have called out Facade as being their favorite song. We'll see how that equates to streaming numbers once this album is out in the wild? Facade is THE definitive 6/8 Honest Men song, an exploration of learning how to understand and identify my own feelings throughout a relationship littered with gaslighting.
THE ROPES
Where do I begin with this one? The Ropes is essentially a follow up to our most popular song, Rose. Rose was about falling in love with the girl I ended up marrying. The Ropes is about the inner turmoil I experienced in the weeks leading up to divorcing said girl. It was hell. While I'm very healed and thriving today, The Ropes captured the isolation, confusion, and self-hatred I so deeply felt during those months in 2020.
STUCK!
Stuck! was one of the easiest songs to write on the record. It's another one of those "classic" sounding Honest Men songs with big guitars and drums, accompanied by a very melodic topline and memorable lyrics. The song was built around the phrase and melody of "feels like someone beat the hell out of me" which came to me while mowing my lawn, but I had to figure out who was beating the hell out of me and why. I ended up writing this song about addictions. Feeling stuck in patterns, addicted to bad habits, and pointing fingers at others to blame for your own issues. At the end of the day, you have to own up to your own mistakes and can't play the blame game.
PULLSTRING JACKET
A lot of this album was written before I knew for sure if the divorce was happening, with many songs alluding to a pending demise, but not realizing it was actually inbound. Pullstring Jacket was one of two songs (The Ropes being the other) that were written after the divorce was finalized. It's almost like a scenario I played out in my head during those months afterward on what things could be like if we had made it work, but knowing that would never have been possible.
BLURRY EYES
We needed a song on the record that established a vibe from the start and stuck with it the entire rest of the runtime. Blurry Eyes checked that box – it essentially does the same thing the whole time, with production elements being added and removed along the way. It's a late night drive song, with pulsating synth bass, shimmering acoustic guitars, wide pads, and the most epic electric guitar solo on the album.
WHAT IF WE'RE WRONG?
What if We're Wrong is about the struggles of being in a band, not knowing for sure if the dream we've been working toward will ever be fully realized… As in, if we'll ever be able to fully financially sustain ourselves from the success of this band. It's not a "sexy" subject to talk about, but the fact of the matter is being in a band is hard and you don't make a lot of money unless you really take off. We believe wholeheartedly in what we do and think we create the best art that the 3 of us could possibly create. This song is a reminder that no matter the outcome, we loved the journey and we believe in what we're creating. We went all out with this song, lyrically, musically, and even with the total run time being over 6 minutes. A perfect ending for the album we've always dreamed of making.
— —
— — — —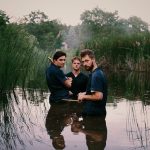 ? © Sam Leviton
:: Stream Honest Men ::
---