Boston duo High Tea foster a space of connection and catharsis on their tender tempest 'Old Cowboy,' an enchanting acoustic folk EP full of raw emotions, soulful harmonies, grit, heart, and gusto.
Stream: "Old Cowboy" – High Tea
---
Our music is all introspective, as we attempt to hold a mirror to our own experiences, fears, desires, worries, love, pain, and everything else under the sun.
Folk music, at its core, is an exercise not just in storytelling, but in raw human connection.
A folk band at their core, High Tea's music aches with the weight of lived experience and an innate desire to connect. The Boston duo's latest EP opens with a lone acoustic guitar and an invitation: "Welcome friend, come take a seat," Isaac Eliot sings, leveling the playing field between artist and audience in an effort to bring listeners as close as possible. What follows is twenty minutes of unbridled, brutal honesty, soulful harmonies, and stinging vulnerability manifest in five soft and sweetly stirring songs. A tender tempest, High Tea's enchanting Old Cowboy is a passionate acoustic folk record full of warmth, grit, heart, and gusto.
From lessons learned the hard way and falling short of our own expectations, to musings on love, insecurity and self-doubt, our sense of belonging, and the upheaval and turbulence of young adulthood, High Tea have thrown their hearts and souls into this work, creating a space that feels safe and familiar for all.
Come take a seat and listen in.
Welcome friend, come take a seat
Let this old soul buy you a drink
This place don't see too many strangers
We're not the friendly type to meet
But I can share with you my stories
I can share with you my grief
Independently released in December 2021, Old Cowboy is as about as raw as it gets – and often that's exactly what we want in our folk music. Comprised of Isabella DeHerdt (of Kalliope Jones) and Isaac Eliot, High Tea hail from Boston and Western Massachusetts, and began their journey in the uncertain lockdown state of mid-2020. They released a debut album, Hell of a Ride, in late November of that year, packing in a provocative blend of rock and folk sounds together with resounding pop sensibilities. Even at this early stage, their combined vocals proved the driving force behind all their songs – and thus while Old Cowboy is in some ways a far cry from its preceding album, their bones are one and the same.
For High Tea, this EP is the clearest representation yet of who they are at their core: A group dedicated to diving deep into themselves and facilitating connection through music.
"We wanted to create a record supported solely by acoustic instrumentation and layered harmonies!" Isabella DeHerdt tells Atwood Magazine. "We are a band that formed during the pandemic summer of 2020, and we recorded our debut album during that summer as well. Since we couldn't do live shows, we poured all of our energy into making a record that had songs with many different instrumental and electronic elements. While that was a fun challenge, we quickly realized through our live performances that we were bringing a more acoustic and indie-folk sound to the forefront of our writing and playing. We wanted to make a record which better demonstrated that sound! It was also our first time working with another person as the mixing and mastering engineer, which was a unique experience as all of our communication happened over email (AKA the pandemic style of life). We had gotten lovely feedback about these songs when we performed them over the summer and were super excited to get to officially record and release them."
Going into this record process, High Tea knew they wanted to keep the instrumentation and build simple – focusing on highlighting the stories and emotion within each song.
"The narratives we worked to weave in each tune are near and dear to home for us, so our main goal was to simply stay true to the messages we hoped to convey," Isaac Eliot explains. "Of course, like any artistic venture, basically everything evolved and changed as we worked. We would realize we wanted to cut this section of a song, add this guitar part, double the harmonies, sing this word instead of that. I'd like to think the songs just grew with us as we walked through the steps of recording them. From my experience, it's always better to go where the music is pushing you and try to settle into the unrest that comes with new ideas or new paths of thought!"
Tell me more about your future
About the addict in your head
About the friends I know you're missing
Things you regret you ever said
Tell me more about your parents
And the time they threw you out
'Bout the scar you got from falling
Out of windows of your house
You are invincible at least that's what you say
But something in the setting sun is giving you away
I hoped maybe you could keep me honest
But I don't think I've ever lied to you
So maybe you could start telling the truth
– "Invincible," Old Cowboy
With its musical richness and lyrical depth, Old Cowboy truly is High Tea's formal introduction to the world.
"We were striving for a well designed example of how we sound live, and I think we achieved that!" DeHerdt says. "However, there was much more we wanted to convey with these songs while showcasing and introducing the kind of band High Tea is. Our music is all introspective, as we attempt to hold a mirror to our own experiences, fears, desires, worries, love, pain, and everything else under the sun. We want to write and play music that, through our own lived or imagined stories, can connect with anyone and everyone who hears it. As we say often, we want to write in a way that makes every listener feel seen. We can never know if we've been completely successful in this, but it was one of our biggest motivators when making this EP."
"We had songs that centered around the scariness of growing up – something that seems so simple and universal but can manifest in different ways for everyone. We knew our friends were feeling the same fear. After a few shows where we played 'O'er My Skin,' different audience members came up to us and would say they'd been feeling exactly like that but had no idea quite how to say it. Though 'Old Cowboy' is rooted more in a storytelling imaginative world of saloon bars and cheap whiskey, it still strives to share the weight we all carry through life because of hard decisions or pain experienced. Everyone can understand that in their own way. 'Invincible' is all about being true to yourself and others, sharing the scary parts of your life and knowing that people want to understand and love the real you."
"Basically, all the songs on the EP are built to be a mirror in one way or another. We want to show audience members we see them, we understand them, and we want to give life to their stories as much as we tell our own. Instrumentally, this EP shows that High Tea is a band that takes ingredients from blues, folk, indie, singer/songwriter, rock, and many more genres – stirring up a new kind of Gen Z indie-folk sound!"
Highlights abound throughout this EP, starting with the aforementioned title track, "Old Cowboy," which immediately evokes the dust and unapologetic environs of the American West. The lead guitar at the song's center rises and falls in tandem with Eliot and DeHerdt's voices, creating empty spaces ripe for reflection and chilling apexes that inspire a feeling of catharsis and reckoning.
And they say "Go old cowboy, let it go
Let it flow with the river to the coast
Let your blood wash clean all the misery you've seen
They say go old cowboy, let it go"
Well sir, I've walked in that same dark
These hands like yours have done their part
But I don't carry with me sadness
For the lives I've torn apart
See my heart hardened from the breaking
My old feet they quit their aching
Now the fight's what keeps me hungry from the start
"This is one of the most fun to perform and was a blast to write," the pair share. "We felt it encapsulated the entire feeling of the EP. It was also the perfect opening track, as the beginning line is a firm but woeful 'Welcome friend, come take a seat.' It's a story about an old western cowboy recounting their sins to a stranger in a bar. A story woven from the weight we all carry in our own personal ways through life, it begs the question – how do we move on?"
High Tea ask several such formidable questions – many rhetorical, others existential, and some flat-out philosophical – over the course these five songs. They describe this EP as one of "simple untamed wanderlust," and indeed those words fit all too well: Their music, like their stories, is filled with a sense of adventure, discovery, and walking bravely into the unknown. "My future through the mist, I see all my little lists telling me to find my way," they harmonize in the EP's gentle, poetic second track, "O'er My Skin." "But I don't know where that means I'm 'sposed to go. I've always been the last one in the pack, and the changing of the leaves bends its weight down onto me."
---
"We both definitely have a few favorite moments from this EP," DeHerdt says. "I know one of mine is the bridge of 'Rosey.' I love any part of a song where you feel like you're screaming from a mountain top, finally letting go of any pent up emotions that tighten in your chest. That bridge feels like one of those moments to me. However, recording it in an apartment building and being respectful of neighbors was definitely a struggle!"
"Another favorite moment for me is honestly any time Isaac sings. What can I say, I get to make music with a vocalist I myself am a huge fan of! A specific moment would definitely be the verses in 'Let's Make a List.' They bring that song to life in a way I could have never imagined when I first wrote it. Isaac themself loves the parts where the instrumentation fades to the background and the vocals take over with layered harmonies, and they love any moment where the drums get to assist in driving the rhythmic sense of the song. They specifically enjoy the bridge of 'O'er My Skin' and the wailing chorus of 'Old Cowboy' when we both get to sing and use our voices to grow the intensity of the story."
Rosey's father wouldn't speak her name
The way the townsfolk looked at her,
it made her feel insane
Witching in her words, they said
All those little secrets 'bout her buried in the earth
Go, go" they said
"We're happy here, with our little heads buried in the sand"
"Go, go" they said
"We're just fine here, no living means no death"
Something isn't right here, I feel it in the wind
The leaves are coming down, but heavy is my doubt
Something isn't right here, it's all staying the same
No ticking of the clocks, a curse upon the crops
Something isn't right
– "Rosey," High Tea
---
High Tea go on to share some of their personal favorite lines from their music. "Many of these songs came out lyrics-first with music to follow as support," they note, "and though the words went through many changes over time, we do have a few that still stick out."
"I've seen war and I've seen loss / Backs broken carrying their cross / Buried an old friend on my own / I marked her life with riverstones / And at the end of this long road / Honey, we all gone turn to bone" – "Old Cowboy"
"Rosey's father wouldn't speak her name / The way the townsfolk looked at her, it made her feel insane / "Witching in her words" they said / All those little secrets 'bout her buried in the earth" – "Rosey"
"But I don't know where that means I'm 'sposed to go / I've always been the slowest of the flock / And the bending of the grass tells me nothing ever lasts / but I believe that every storm rolls on / Yes, I believe the roots I've grown are strong" – "O'er My Skin"
Wherever you are in your own life's journey, Old Cowboy is here to be a source of strength, inspiration, and re-centering.
"The journey is all about learning how to live with the storms that the world throws at you," High Tea share, and that's exactly what they've done with the EP: They've found, or made, anchors and buoys of their very own to prop us up when we're down and stabilize us when chaos comes to town. From the smooth, bluesy grooves of "Invincible" to the freeing cries of "Rosey" and the achingly raw love expressed on "Let's Make a List," Old Cowboy is an utterly smile-inducing affair.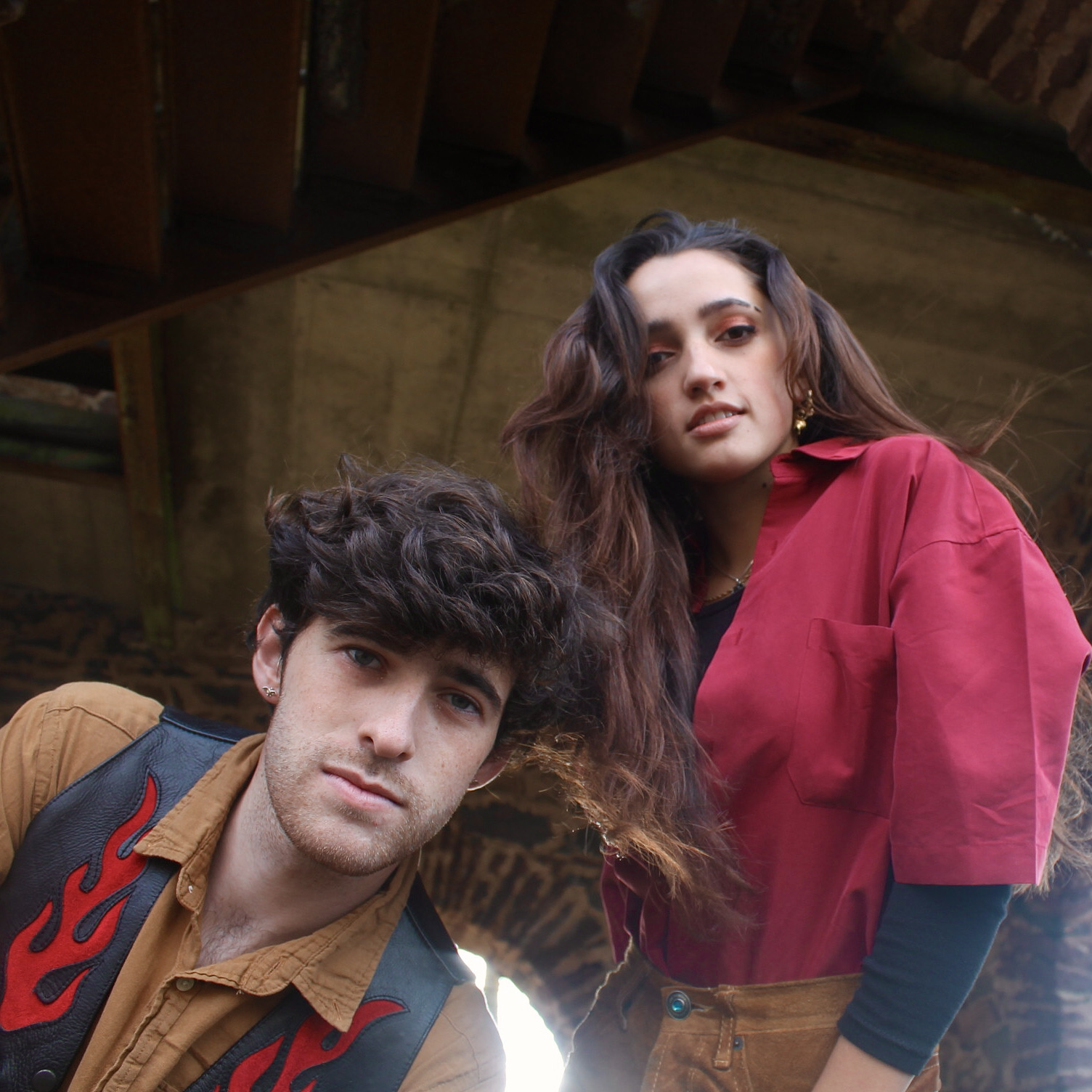 "We hope each listener gets a little something out of this record that says, 'We see you!! we get it!! And it will be ok, one way or another!!' We're all walking different paths, with different dreams and many different roadblocks – but hopefully something in these songs can make you feel seen," High Tea share. "We also hope there are moments that make you want to shout and move and cry! Basically we hope they help articulate any emotion that is hard to put into words on its own."
"Meanwhile, we have taken away so much in the creation of this – from the beginnings of writing these songs, to the final moments of uploading them," the pair add. "We have grown as a band and as individual musicians, and these songs have almost been therapeutic for us as well. Sometimes it's hard to convey that you're feeling scared to grow up or burdened down by anxiety. Writing a song about it, and getting to share that song, and having people say "you are not alone" is one of the most fulfilling things about being a musician. "
Experience the full record via our below stream, and peek inside High Tea's Old Cowboy with Atwood Magazine as Isabella DeHerdt and Isaac Eliot take us track-by-track through the music and lyrics of their last EP!
— —
Stream: 'Old Cowboy' EP – High Tea
:: Inside Old Cowboy ::
— —
Old Cowboy
This first track, and the title tune of the EP, is a story about an old western cowboy recounting their sins to a stranger in a bar. A story woven from the weight we all carry in our own personal ways through life, it begs the question – how do we move on? Whether it's from the guilt of hard decisions, the hurt we inflict on others, running from fear, dealing with loss, and all the other burdens of living, we don't have to be hardened cowboys to understand the difficulty that comes from making peace with the impact of our actions as human beings. Especially right now in our political climate – how do you hold yourself accountable, work to better the world in whatever small way you can, stay educated, and learn to let go of that which you can't fix?
O'er My Skin
Everybody is growing, right? No matter how old you are, what phase of life you're in, we're always growing! And that journey is scary so we tried to encapsulate it in a song. "O'er My Skin" is all about the unsurety of the path ahead and the insecurity that comes with feeling like you are in no way ready to forge out on your own (whether you feel like you're the "last one in the pack" or the "slowest of the flock"). We've been feeling that kind of imposter syndrome lately as we've been moving into apartments for the first time, graduating colleges, starting jobs, and branching out on our own. These are hard and scary times where it's easy to feel overwhelmed by the weight of expectations. However, as the chorus says, you can't control everything and the journey is all about learning how to live with the storms that the world throws at you: "Oh, I can't help it, I can't change these heavy winds / Oh, I can only lift my feather o'er my skin / To keep me dry when rain comes pouring in."
Invincible
We always thought of "Invincible" as a kind of love song, as it centers around someone pleading with the person they have feelings for to share their thoughts, insecurities, and real emotions. However, some listeners pointed out to us that it is also a kind of mirror, asking the singer themselves, "Who really are you? And why may you be scared to show it?" We all have pieces of ourselves that we hide, or may be ashamed of, and this song tries to convey that there will always be people ready to love us and support us even with our faults or secrets. We don't have to be invincible, and we don't have to be on our own.
Rosey
"Rosey" is about a witchy girl running away from a town that won't try to understand her! This song is for anyone who has ever felt like the people they are surrounded by don't accept them, don't believe in them, or simply don't hold the same ideals. A little spooky and a little powerful, "Rosey" tells the story of growing up and breaking out of archaic and preconceived notions of who you should be.
Let's Make a List
This is simply a love song, there's not much more to say. It's the oldest song on this EP (I wrote it about three or four years ago). I (Isabella) control and attempt to contain my anxiety by writing little lists all the time, whether a grocery list, a to-do list, a future goals list, or anything in between (there's also a mention of this in the "O'er My Skin" lyrics). I wanted to make a love song that started with the idea of writing a list about the hardships of a relationship, the things you'd done that had hurt your partner, the moments you'd missed with them – but that moved to the future you saw, the almost pleading-like need for them to want that future too. The last line really sums it up: "I'm trying to tell you my dear / With little words or none / My list, my plan / Was never made for one."
— —
— — — —
? © Robin Siddall
:: Stream High Tea ::
---