A spirited, seductive rush of gorgeous harmony-laden folk, Ida Lune's self-titled debut album is an entrancing indulgence inviting us to relax, sit back, and sink into a moment of serenity.
Stream: 'Ida Lune' – Ida Lune
---
Like a warm, familiar hug, Ida Lune's first full album gently wraps itself around the listener and holds them tight, eliciting a strong emotional response in the process.
Theirs is an alluring siren's song that heals and soothes, allaying our worries and invigorating our spirits. A spirited, seductive rush of gorgeous harmony-laden folk, Ida Lune's self-titled debut album Ida Lune is an entrancing indulgence inviting us to relax, sit back, and sink into a moment of serenity.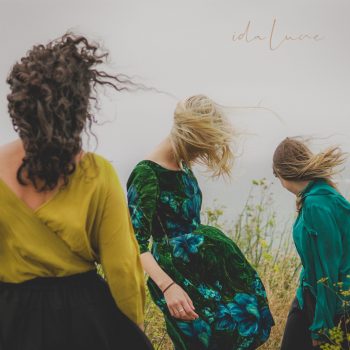 And we'll all go down the river again
Only lonely
And I know I said I'd come with you
Only lonely
But the water got so
cold and I lost my nerve
And I would tell you tomorrow
but it wouldn't sound the same
And do you care when I'm not there?
– "River Song," Ida Lune
Atwood Magazine is proud to be premiering Ida Lune's debut album, out 18th November 2020 via local label Home Alone Music. The Wellington, New Zealand based trio of Anna Wooles, Deanne Krieg, and Rose Blake, Ida Lune have been weaving wonders for a few years now – though given their incredibly synced up performance, one might expect they've been together all their lives. It's been an exciting eleven months since the group "officially" debuted with last December's lush song "No Harm in Hope" (though they had previously released music on YouTube); in that short time, the trio have seen their music written up in spaces all over the world, by writers and avid listeners excited by their evergreen sound.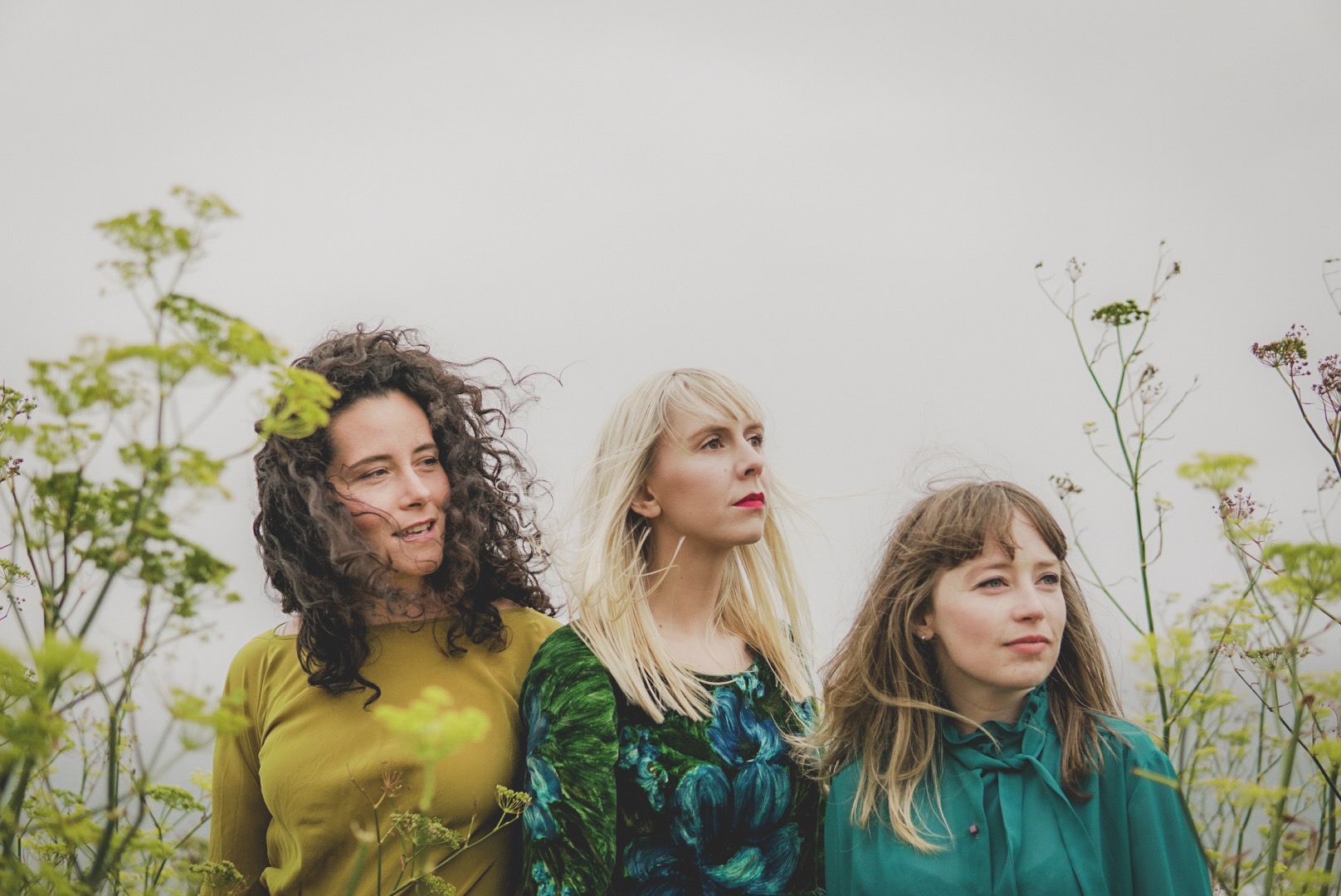 Classical yet avant all at once, Ida Lune's folk music sweeps the years with stirring three-part harmonies and bright, resonating acoustic guitar chords. Described by one outlet as "audibly reminiscent of a singing crystal glass and the saintly echoing of a Renaissance church choir that lingers in its path," (folk radio UK) their sound is instantly reminiscent of British sister trio The Staves, albeit with its own experimental spin. Inspired by jazz, electronic, classical music and more, Ida Lune's members bring an eclectic set of influences to the fore throughout their debut. In their own words, Ida Lune's approach is "to treat their voices as instruments and use them in an unconventional way to convey emotion alongside the lyrics."
They do all that and more from Ida Lune's offset, enveloping their audience with the breathtaking tapestry of opener "The Well":
Listen here oh mighty one
Quick before my time is done
Show me what I knew so well
Show me how I used to tell
River wash my thoughts ashore
I can't sell my life no more
Take me to the sea of dreams
Never ending abundant streams
– "The Well," Ida Lune
---
"These songs represent the band's experiences with navigating relationships – spanning from fiery snapshots, to deeper reflections of early womanhood," Ida Lune shared recently. "The album was recorded in an old family home which brings an intimacy and warmth to these songs."
From the drama within "Apart" or "Bittersweet," to the tenderness of songs like "Transparent" and the mesmerizing "One Last Touch," Ida Lune pack their music with intense, tangible feelings. Their recent single "Apart" offers a particularly vivid, up-close display of the trio's sonic strength and emotional acuity:
---
Ida Lune's debut is defined by soaring sounds and heartfelt intimacy: Two qualities that contribute to an entrancing listen from the album's sweet start, to its humble and heartfelt finish. There's no telling how Ida Lune may branch out from here, but on their first LP, they have crafted a uniquely delicate, woodsy folk sound that resonates throughout and within.
Experience the full record via our exclusive stream, and peek inside Ida Lune's Ida Lune with Atwood Magazine as the trio take us track-by-track through the music and lyrics of their debut album!
— —
Stream: 'Ida Lune' – Ida Lune
:: Inside Ida Lune ::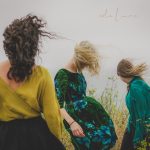 — —
The Well 
We chose this song to open the album with because it was one of the first songs we workshopped and sang together when jamming for the first time. The full vocal arrangement was an homage to Fleet foxes – one of our mutual musical influences. Lyrically, the song is a call out to the universe asking for creative freedom, inspiration and expansiveness during times of feeling stifled.
Bittersweet
This track is definitely an example of us playing around with the voice as an instrument to communicate our ideas, you'll hear playful  percussive lines underneath the main melody, and then we'll come together to create smooth harmonies accompanied by the cello. Our very first harmony at the start of the song on the word "sweetly" is jarring and unexpected, it's meant to wake you up and make you think, maybe this song isn't so sweet after all?
Transparent
Transparent was borne from the growing pains of early adulthood. Navigating what it means to have a relationship with someone who you admire but you know isn't fully committed. The Meditative / trance-like phrases "I need something more" act as a note-to-self to stay rational during times of infatuation, which is much easier said than done!
Lazy Liar

This song came about very quickly. There are two primary melodies or versus accompanied by a simple banjo bluegrass picking pattern. The start of the song is in unison but pretty quickly we break into harmony and before you know it the two main melodies are overlapping competing directly with each other. It's kind of like when you are having an argument and no one is listening to each other – you jump in with your opinions regardless of what the other person is saying. After this moment regret follows for the things you have said without thinking: "give me a minute I lost the chance to say let's not fight just stay in the lamplight".
Jeremy

Jeremy is a song of contradiction – it uses the form of sweet little acapella ditty to tell the story of an oppressive power dynamic in a relationship. The repetitive chirpy phrase that sits behind the melody is a nod to the gender role of women, smiling and batting eyelashes. Lyrically, the comfort and mundaneness of domestic life is juxtaposed with the dark undertone of the song – a powerless woman clinging on to an unhealthy relationship: "Won't you chew on my ear and I'll fix you a beer We'll pick up where we left off and pretend like nothing happened at all". The song uses humour to mask the pain of a situation.
Apart
The arrangement for this song has naturally developed over time for us, the addition of bowed bass and tremolo in the cello arrangement really adds to the unsettled and uneasy feeling throughout. Essentially this song explores themes of isolation versus connection and how it can be hard to articulate how we feel in day to day life. The dissonant and crunchy harmony we use emphasises this and we want the listener to get caught up in this feeling with us.
One Last Touch

One last touch reflects upon a suburban childhood and the transition of moving to a big city where there's music, art, and new relationships to form with like-minded folk. The songs' long form takes the listener on a dynamic journey; sweeping into full lush harmonies in the chorus, and intimate moment's of unison where the voices become one.
Song From Me
Song from Me is a fiery cannonball in reaction to rejection. The ironic tone is set in the opening line: "you don't deserve a song from me". The voices are front and centre, using clustered harmonies to confront the audience. It's great to perform live to a rowdy crowd to bring the room to attention!
River Song
It really feels like you are being swept along by a river when you're singing this song! Once again, of course, the voice is at the forefront of this arrangement. When we initially sat down to work on this song before we knew it we were singing in three part harmony and it feels like it has always existed this way. The plucked rhythmic banjo drives this song forward and within the lyrics you'll find a vulnerability breaking through with lines like: "do you care when I'm not there?"
No Harm In Hope
No harm in hope is about letting go of a relationship that never eventuated. About realising you're not on the same page as someone you feel close to and grieving the possibility of what could have been. The track builds instrumentally and vocally, with the addition of cello and double bass in the bridge, creating an at times unnerving bed of harmony under the melody, and adding suspense in the music that makes the resolve extra sweet.
— —
— — — —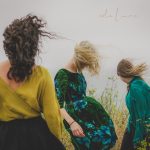 ? © 2020
:: Stream Ida Lune ::
---