Sun-soaked and sweet, Joe Bourdet's debut album 'Meadow Rock' is a beautiful outpouring of radiant folk rock reminiscent of '70s classics, with a heartwarming vintage Laurel Canyon sound.
for fans of CSNY, Allman Brothers Band, George Harrison, Neil Young
Stream: "Unwritten Story" – Joe Bourdet
---
Sun-soaked and sweet, Joe Bourdet's debut album is a beautiful outpouring of radiant folk rock reminiscent of '70s classics, with a heartwarming vintage Laurel Canyon sound ebbing and flowing throughout. Inspired by nature and driven by inner self-reflection, Meadow Rock comes to life with refreshing energy and knowing, wide-eyed wonder: Bourdet gives his 2020s twist to a familiar, timeless aesthetic, delivering in the process a record that rises and falls with grace, majesty, and charming resilience.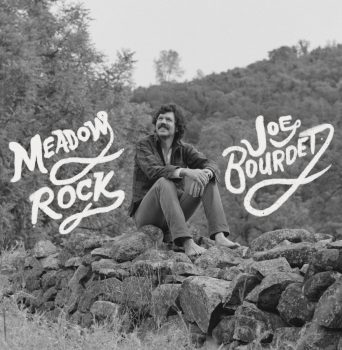 Some wait for whatever is coming
Some dream of what may never be
You can see them running all over,
They'll run fast but they'll never be free
I just want to live in the moment
Time is not worrying me
Make every moment a home
and let everything be
We all have to do what we have to
Working our days, one by one
Hoping we can throw off our burden
On a day that may never come
– "Unwritten Story," Joe Bourdet
Released on June 18, 2021 via his own Mountain Sounds Recorders, Joe Bourdet's Meadow Rock is, in more ways than one, an album that stands true to its name. Organic acoustic and electric guitars (with the occasional Rhodes piano, Hammond organ, mandolin, or pedal steel) lay strong foundations alongside a dynamic bass and drums rhythm section; atop this well-tempered assortment of instruments shines a voice full of emotion, passion, love, and sincerity.
Recording and mixed primarily by Bourdet himself in his home studio outside of Los Angeles (with additional engineering by collaborator Jason Soda), Meadow Rock features little to no limiting on the mixes and masters – meaning what the artists played on record is, by and large, what we hear through our speakers. As a result, Bourdet's debut captures the "micro dynamics" of the instruments far better than most contemporary albums do – substituting the constant highs of compressed modern pop and rock records for an LP brimming with character, composition, and its own unique and ever-changing colors.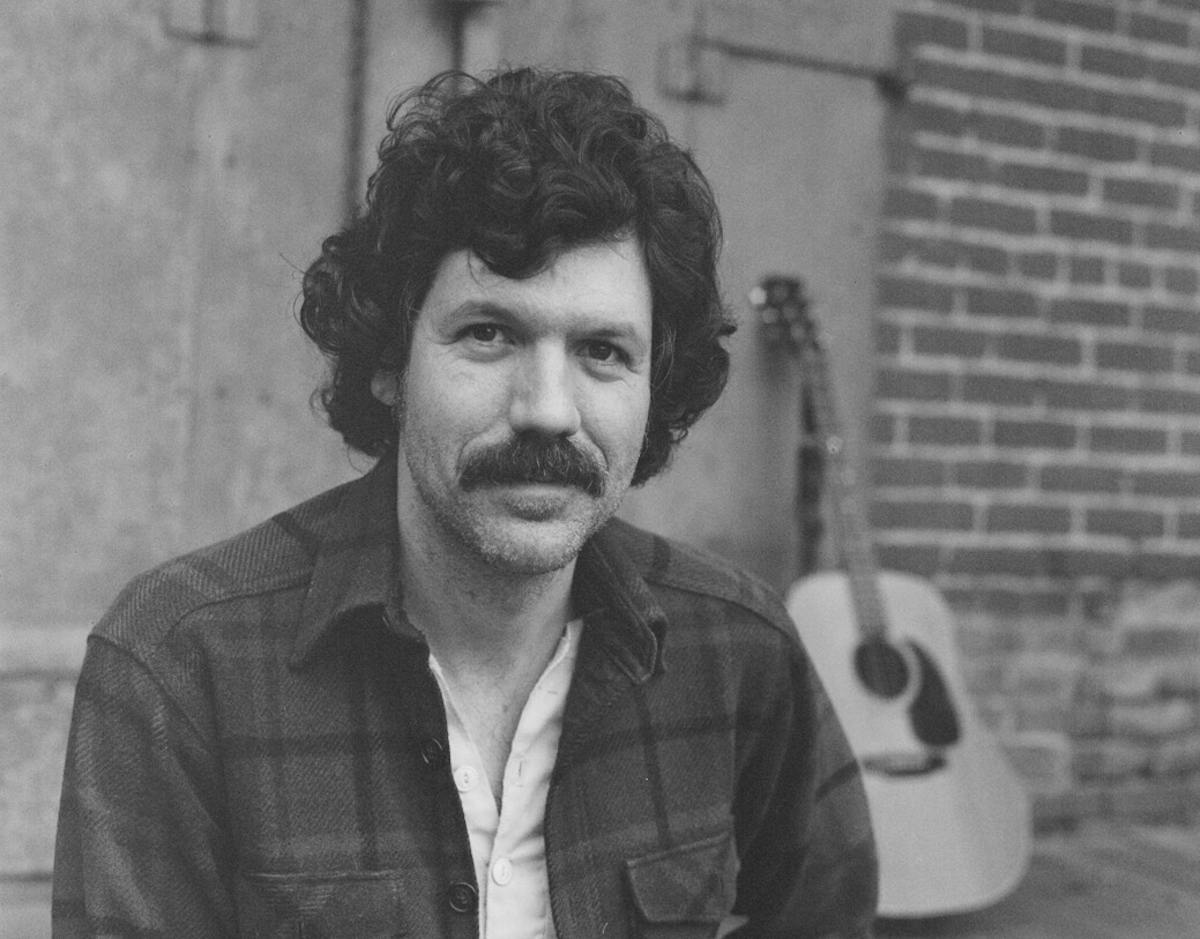 Meadow Rock is truly a wondrous tapestry of sound and feeling waiting to be discovered.
:The record is something I've been building towards for several years," Joe Bourdet tells Atwood Magazine. "It's the culmination of getting to a comfortable place with songwriting, with my home studio, with my playing and recording chops, and with finding an all important "vibe". This vibe is culled from my deep love of "dollar bin" rock records, and through the help of my crew of like-minded collaborators who were essential to its creation. [The term] 'meadow rock' is a derogatory term that Randy Newman invented to describe a certain tendency of pastoral '70s folk/pop rock that was maybe a little light on content, and I guess a little too pervasive at that time. I loved the term, and I love Randy Newman. It seemed humorous and apropos to call my record that!"
My songbird, my sweet songbird
What shall we play today
You find me, In sweet peace and time
And welcome me to stay
You come to my window, sing for me
And oh to touch you,
But I'd better just leave you be
Though I know you're really not mine I will always think of you this way
Because everybody loves my songbird, and the song she plays
– "Songbird Revisited," Joe Bourdet
Bourdet considers Meadow Rock to be more than just his introduction; it's a piece of his heart and soul. "It pretty much puts my cards on the table," he explains. "I'm not interested in 'industry standard' contemporary production, modes, and even melodies. I want to offer a convincing alternative to some of the trendy stuff, and, hopefully, show that music like this can survive and thrive in whatever niche audience there exists who want to hear it."
As far as what he's captured, Bourdet's content engages with his surrounding environment, our universal human drive, and most everything in between: His songs touch on love, loss, friendship and understanding, connection and yearning. Sonically, it feels as though the artist carved out a piece of California and channeled the West Coast's ethos – its warmth, beauty, and candor.
From the melodious, dulcet opener "Songbird Revisited" through to the album's captivating closer "Mantra," Meadow Rock proves a hypnotizing, effervescent, energizing affair. Highlights abound, from the philosophical intimacy and soft, heated harmonies of "Unwritten Story," to the heartfelt lyrics and hypnotic guitars glistening on "Call You Friend," to the dreamy, rich lines and tones of "El Capitan" and beyond. Joe Bourdet's songs coalesce and thrive together; his album is cohesive, yet each track remains its own distinct, creative story and song.
All along the levee, the water is lapping up
Tired earth, about ready to give it up
Red earth, giving birth, to a valley again
Out on the water, or tripping to Xanadu
Now the earth, will surround you
Sheltered from, the coming storm
Now that peace has found you
Are you feeling no pain, feel no wind, feel no rain
But ain't it a shame, for we who remain,
to go on without you 'til the end
I called you friend, I called you friend
– "Call You Friend," Joe Bourdet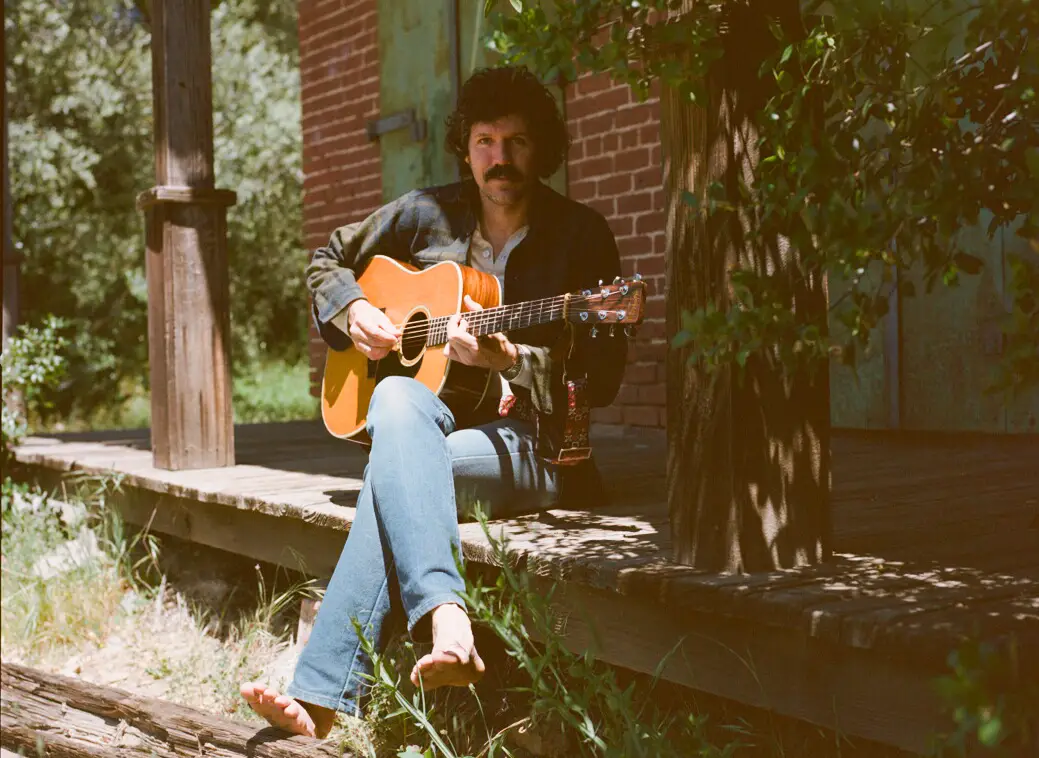 "Regarding the release of the album, I like to remember this quote from Grace Slick," Bourdet shares with regard to listeners' reception and takeaway. "If I've enjoyed the process of creation and I'm at peace, then what happens next is just entertainment."
This is a special collection: A debut that takes from, while building up out of the now-classic folk rock canon. Hopefully it's the first of many more long-form serenades to come from the California artist. Experience the full record via our below stream, and peek inside Joe Bourdet's Meadow Rock with Atwood Magazine as the singer/songwriter goes track-by-track through the music and lyrics of his debut album!
— —
Stream: 'Meadow Rock' – Joe Bourdet
:: Inside Meadow Rock ::
— —
SONGBIRD REVISITED
Like a deer still rubbing the felt off his antlers, the song is youthful, grandiose, and perhaps even a little naive. It's a sort-of unrequited love theme where the protagonist feels a certain liberation from the realization of his lack of control over the natural world. Written in my early 20s, it's most certainly a song from the perspective of youth. I don't think a romantic metaphor such as this would occur to someone older, or in the same language as used here. Easily the oldest composition on the Meadow Rock album, it was written in the iso-booth of the great Matchless Guitar Amplifier workshop in Westwood, CA. where I worked at the time. The centerpiece of the arrangement is a dual slide guitar solo played by guitarist/co-engineer Jason Soda and myself with both guitars going through a big Leslie speaker. I don't particularly like the acoustic guitar sound I recorded, but it became a case of the quality of the performance being more important than that of the recording.
UNWRITTEN STORY
Like Krishna speaking to Arjuna in the Bagavad Gita, the protagonist of this song describes the trap of attachment to the fruits of ones labors and instead desires to simply "live in the moment." The song's title, Unwritten Story, is meant to mean the story of one's life in progress, witnessed with a sort of bemused resignation.
My Bavarian friend, singer-songwriter Thomas Hien was on one of his frequent visits to Los Angeles and suggested we get together and attempt this co-write. Based on a progression and chorus idea that Thomas brought, we fleshed out verses and bridge, then recorded a demo. Although not done to a click track, the ebb and flow of the demo we made was nice enough to serve as a guide for the final track. Later, quarantine necessitated that I play all the parts on this one as I invented the arrangement, as I often do, via trial and error. Will Scott was brought in to nail the drum performance. This track was done exclusively at my Mountain Sounds Recorders. Special thanks to Sammi for the gift of the upright piano.
AMONGST THE PINES
A little country-folk-rock number invented on an evening drive up to Mount Baldy in the San Gabriel Mountains. The arrangement is somewhat in tribute to a Gordon Lightfoot or Ozark Mountain Daredevils style production. The "foggy mountain way" line is a little nod to Foggy Mountain Music, a wonderful music shop in Grass Valley, CA. The main acoustic guitar is in a "D-modal" tuning and this is also a successful example of my favorite three mic recording technique for acoustic instruments. One of my great friends, Dave Baine, is on mandolin here, and the music video that accompanies this video is comprised of footage shot by myself and Dave on a 9 day backpacking trip on the High Sierra Trail. Fun times.
CALL YOU FRIEND
The song was written in response to the untimely passing of two of my bandmates in the band PAINTED HILLS. I choose to vari-speed this recording on my OTARI half-track tape machine during mix down. The effect of which is that the tempo is increased slightly, giving it a bit more urgency, a side-effect is that the entire song is pitched up slightly, giving the tom toms a particularly pleasing sound. The arrangement was worked and reworked many times before landing on this spacious, guitar-centric style which leaves lots of room for the rhythm section of Will Scott on drums and myself on a picked bass with amid range-y DiMarzio pickup. The electric guitar is processed again through a Leslie spinning speaker, one of my favorite and oft-used guitar effects. Mimi Michel lifts this track with her excellent harmony vocals.
SEAMIST
A song written somewhat tongue-in-cheek about my inability to surf, but with a deeper theme of alienation in what is ostensibly a Southern Californian paradise. The vaguely Hawaiian sounding slides are just conventional slide guitar lines playing in harmony, probably played on the mini-humbuckers of my Les Paul Deluxe. George Sluppick provides the distinctive groove on drums. The Rhodes electric piano is "swirled" via a Uni-vibe pitch shift and a Leslie speaker (Again!).
EL CAPITAN
A song about Yosemite Valley and the Sierras, where the protagonist senses deeper metaphysical vibrations amid memories of past visits with loved ones. Tim Walker plays the great steel guitar lines. The rhythm section of Brian Filosa and George Sluppick drive the song like a velvet hammer. I think it was at this session that George nicknamed Brian "Feely". Drums tracked at the original, the modest but funky, Palomino Sound Studio location.
MORNING LIGHT
Written by my friend and bandmate Josh Schwartz, who succumbed to ALS in 2017. We played this song many times as the band Painted Hills, and an original version recorded by Beachwood Sparks has just been recently released as well. My version of the song has an acoustic folk-rock arrangement. Justin Smith, also a Josh Schwartz band alumni, put the distinctive drum parts down. Rob Douglas plays the rich acoustic bass. The song was originally recorded as a gift for Josh on the occasion of his birthday, special thanks must go to Rob for prompting me to work on this song again and consider it for this album, It has become a personal highlight. Even more special thanks must go to Josh's loved ones who gave their blessings, Denise and Allison.
LOST ALONG THE WAY
A co-write with Alana Amram, who, by the power of her sheer creativity, dragged this semi-biographical story out of me. It's loosely based on breaking down in my Datsun 240z on Pacific Coast Highway very late at night near El Capitan State Beach. Initial tracking was done in New York City by Dave Lindsay at Country Club Studios. Later, extensive overdubs and mixing was done at my Mountain Sounds Recorders. Alana played the great reverbed Wurlitzer piano parts in NYC. I worked with Will Scott to get the dead 70's pop ballad style drums and big fills. My reference points were Nigel Olsson drumming with Elton John, and the Ken Scott engineered Supertramp albums.
MANTRA
Simply a song about meditation. I've practiced TM since a was 18 years old, and this tune is about that ongoing experience, which as the song says is "lifetimes developing". Honorable mention also to Swami Yogananda's Self-Realization Fellowship who I also enjoy very much.
— —
— — — —
? © Sara Ross Samko
:: Stream Joe Bourdet ::
---