A sunny daydream down memory lane, Jay Johnson's soulful song "Enough to Eat" is a heartfelt musical scrapbook exploring how the artist's past defines his present.
Stream: "Enough To Eat" – Jay Johnson
---
As a kid, people may tell you how important your childhood or your youth is, but you never truly recognize its importance or understand why it matters so much in the moment. It takes looking back, years later, to fully appreciate the lasting impact of our younger years, which is exactly what makes Jay Johnson's new single so special. A sunny daydream down memory lane, "Enough to Eat" is a heartfelt musical scrapbook exploring how the artist's past has come to define his present.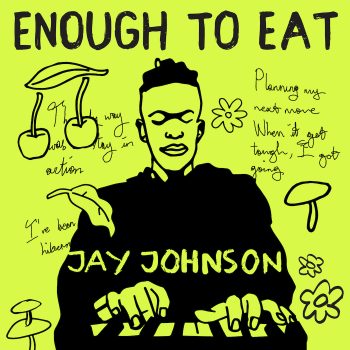 I've been waiting
I've been hibernating
Planning my next move
Over one of these grooves
I'm steady deliberating
Thought I was dumb but dedicated
When really I was young and educated
Now I'm waiting for my bank balance
To reflect all of my talents
But till then, while I'm in this den
With this pen, I'll write out
All of my doubt about this route
That I'm taking
With every action it's the future that we're staking
Atwood Magazine is proud to be premiering "Enough to Eat," Jay Johnson's first single of 2022 (out everywhere March 11). Hailing from London, Johnson has been spellbinding artists with achingly honest songwriting and heart-on-sleeve performances for five years now. Following 2021's standalone singles "The Same" and "Medication," "Enough to Eat" sees Johnson spilling his soul, singing sweetly over a lilting, easy-flowing guitar pattern and cool drums. His lyrics, intimate and vulnerable, dive into the depths of his own identity – who he was, how he lived, and ultimately, why his former self is a true direct link to his current self.
It all comes down to Jay Johnson the music maker – and in his downtempo, hypnotic chorus, Johnson explains how and why he ended up on the artist path:
I've been sold so many dreams
I don't know who to believe
Thought I could have enough to eat
If I kept singing and making beats
"For me personally, this track's a musical form of a photobook," Johnson tells Atwood Magazine, "as I remember the times in my early adolescence, when the experiences I had on a daily basis were building my character in major ways. I look back on that moment in the past and have now come to accept both the positive and negative aspects and see them as moments that were instrumental to me becoming who I am today."
When it got tough
I got going
Never slowing down
The only way
Was to stay in action
Till life turned around
And all I ate
Would fall on my plate
When I was done making sounds
And then I saw
No longer on the floor
My feet were off the ground
For Johnson, this song is all about owning your story: Embracing the full spectrum of life experiences and making peace with the past. This action is far easier said than done, but he accomplishes it with an infectiously uplifting mindset that can't help but rub off on the listener. We are the sum of our histories, and at the end of the day, we can either accept that fact, or push against it. Johnson accepts, knowing that the reason he does what he does today, and the reason he is who he is today, lies in long-gone moments and increasingly distant memories.
With a warm, welcoming sonic palette and a soothing, mesmeric groove throughout, "Enough to Eat" goes down smooth. Stream Jay Johnson's new single exclusively on Atwood Magazine!
I've been sold so many dreams
I don't know who to believe
Thought I could have enough to eat
If I kept singing and making beats
— —
Stream: "Enough To Eat" – Jay Johnson
— — — —
? © Diego Martinez
:: Stream Jay Johnson ::
---