Indie pop band meets indie rom-com as Boston's Little Fuss deliver a dreamy and energetic "20 Questions."
Stream: "20 Questions" – Little Fuss
---
When you meet someone and the chemistry is instant, it can be difficult to wade through the small talk before getting to the good stuff. So, why do it? Why not cut to the chase and see if the connection could be love by asking the real questions right away; the questions you need to know the answers to before letting yourself fall in love. And what better place to ask these questions than an intimate house party that facilitates a certain level of confidence that everyday life does not. Olivia Martinez and Cody Von Lehmden, the duo who make Boston art-pop band Little Fuss, invite us to their house party in the music video for "20 Questions" (directed by Little Fuss and Remington Strecker) where they delve into one question amongst twenty others, can strangers fall in love?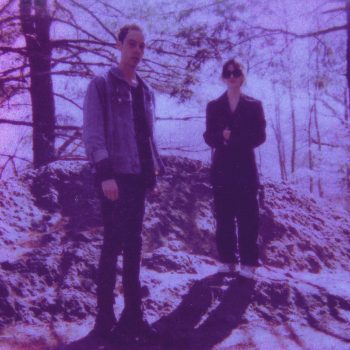 Atwood Magazine is proud to be premiering the music video for "20 Questions," Little Fuss' first single of the year (independently released June 10, 2022). "The lyrics to '20 Questions' were inspired by a New York Times column – 'Modern Love' – which discussed a psychological experiment done in the 1990s by Arthur Aron, Ph.D., Elaine Aron, Ph.D., and other researchers," say Little Fuss. "The experiment used 36 increasingly personal questions to determine whether complete strangers could fall in love. As someone who prefers getting to know people intimately (Breakfast Club-style) as opposed to partaking in the formality of dates, Olivia found this very interesting and combined it with the game 20 Questions, applying the experimental idea to a pop song setting."
"20 Questions" is inviting from the first strum of the bright and plucky guitar chord.
The scene opens with Little Fuss as the band for a house party as Martinez's crisp and confident vocals sing out,
We don't have to dance if you don't want
Think I saw a lovely little corner of the room
We can skip ahead past the small talk
You can tell me all about your favorite Langston Hughes
The rock feel subtly and seamlessly transitions into a dreamy-pop moment, echoing the tone of the film as Martinez sings the chorus,
So instead of going nowhere
I am gonna ask you twenty questions
And before the starting over
Introduce yourself just like a best friend
The song catches its groove, along with the rest of the party as verse two begins to play,
It's okay to be curious now
You can ask me all about my fragile younger days
Sometimes when you're making a phone call
Do you ever stop and practice what you're gonna say
All of this and more, we're walking down the side street
Aren't we just a hypothetical what could be
Go ahead and let it linger 'til our hands meet
Rather start right now
The band continues to play as the house party continues to grow. The video is so organic, you almost feel like you're there watching them live. Although it's organic in nature, it also has a dreamy tone that emits the possibility that somewhere in that crowd could be two people are getting closer and asking each other those tough questions.
"This song and video represent our DIY approach to being a band more than any other release," Little Fuss note. "We spent almost a year working on the song itself and threw our first house show to shoot the video. Overall, we have decided to keep everything as DIY and independent as possible while still treating our music with the seriousness and conceptual creativity of a signed band with more resources than we currently have. With the right team of supportive friends, it's amazing what you can create yourselves."
As the song comes to its close, you're left feeling that the possibility of falling in love with a stranger is just a little bit higher, but only if you ask the right questions. Little Fuss' debut album is set for a Fall 2022 self-release, and we cannot wait to hear it.
For now, watch Little Fuss' "20 Questions" music video exclusively on Atwood Magazine!
— —
Stream: "20 Questions" – Little Fuss
— — — —
? © Tori Spadaro
:: Stream Little Fuss ::
---