Summer has finally arrived in a ten-minute package of sweet, uninhibited expression: Loviet's debut EP 'Everyone Knows the Thrill When It's Over' introduces the Toronto indie pop artist with a buoyant, effervescent ten-minute indulgence.
'Everyone Knows the Thrill When It's Over' – Loviet
---
Loviet's debut EP is a three-track rollercoaster ride through the highs and lows of love. A burst of buoyant indie pop brimming with light and tender feeling, Everyone Knows The Thrill When It's Over is the perfect introduction to an exciting new face we already can't get enough of – not to mention a stunning soundtrack in its own right.
This is the kind of bright, buoyant sound we've been waiting for all year: Summer has finally arrived in a ten-minute package of sweet, uninhibited expression.
Atwood Magazine is proud to be premiering Loviet's debut EP Everyone Knows The Thrill When It's Over, a sublime compilation of three songs ("Everyone Knows," "The Thrill," and "When It's Over") that promise to get stuck in your head and your heart for months to come. It's a spellbinding introduction to Nova Scotia-born, Toronto-based artist Natalie Lynn – aka Loviet (pronounced like 'Soviet'), whose debut single "Symbol of Love" rushed into our world only nine months ago. Heavily influenced by '80s dance pop and citing everyone from HAIM and The 1975 to The Killers, Pale Waves, and Paramore as influences, Loviet's music shines with limitless warmth and authenticity. Self-describing her work as "polished but chipped pop/rock," her sound fits seamlessly into the worlds of fellow Canadian Carly Rae Jepsen and pop superstar Taylor Swift: Feverish and immersive, Loviet uplifts and inspires with effortless grace.
You know he talks like that
Making all of his friends think he's brooding
They said he just got back
From a backpacking trip through Europe
They say he's spiritually lifted
In bed they say he's so gifted
'Cause he's been spiritually lifted
Do you know?
You should know
When you look in his eyes
And feel him looking back
You could just die from catching one quick glance
Everyone knows he's a killer
I'm never falling for a heartbreaker
– "Everyone Knows," Loviet
"I love the narrative that these three songs tell when they are played from beginning to end; falling in love, the high while you are in it, and the crash at the end when it's over," Loviet tells Atwood Magazine. "We never set out to make a concept record, but the story got told by the time we were finished. It felt really special and unique for us that this happened, which was why we decided to put this spin on the song and EP titles. The phrase summarizes the story and also represents a lot of the things I was feeling during the period that we wrote these tracks, like moving from one city to another and leaving lots behind. I really hope that when people listen they can envision their own story through Everyone Knows The Thrill When It's Over."
Written during a heatwave in New York City, Everyone Knows The Thrill When It's Over feels fresh and inspiring: Without a doubt, it's smile-inducing music. "Everyone Knows" opens the EP with its raw fervor: A breathtaking anthem, it sets the bar at an all-time high. "The Thrill" feels immersive; its relentless beat keeps us moving while Loviet's impassioned vocals surge with intimacy and intent. The excitement then concludes with the sobering, vulnerable "When It's Over" – which, in spite of itself, remains an absolute bop. The artist spills her heart out in a soulful, emphatic chorus:
Oh, either you want me or you don't
Either you'll love me or you won't no
Oh, either you stay or you go
I know you want to take me home
You were no good in my head
Mom said you're too young for him
Oh
(On the cusp of seventeen)
I never wanted nothing
Got more than I was asking
For
(On the cusp of seventeen)
It's easy to compare Loviet and her music to such household names like Halsey, Betty Who, Taylor Swift, or Carly Rae Jepsen, but it's important to remember that unlike these established acts, Natalie Lynn has made all of this on budget: Working with far more restrictions, Loviet has created an inimitable work of art that radiates with limitless energy and emotion.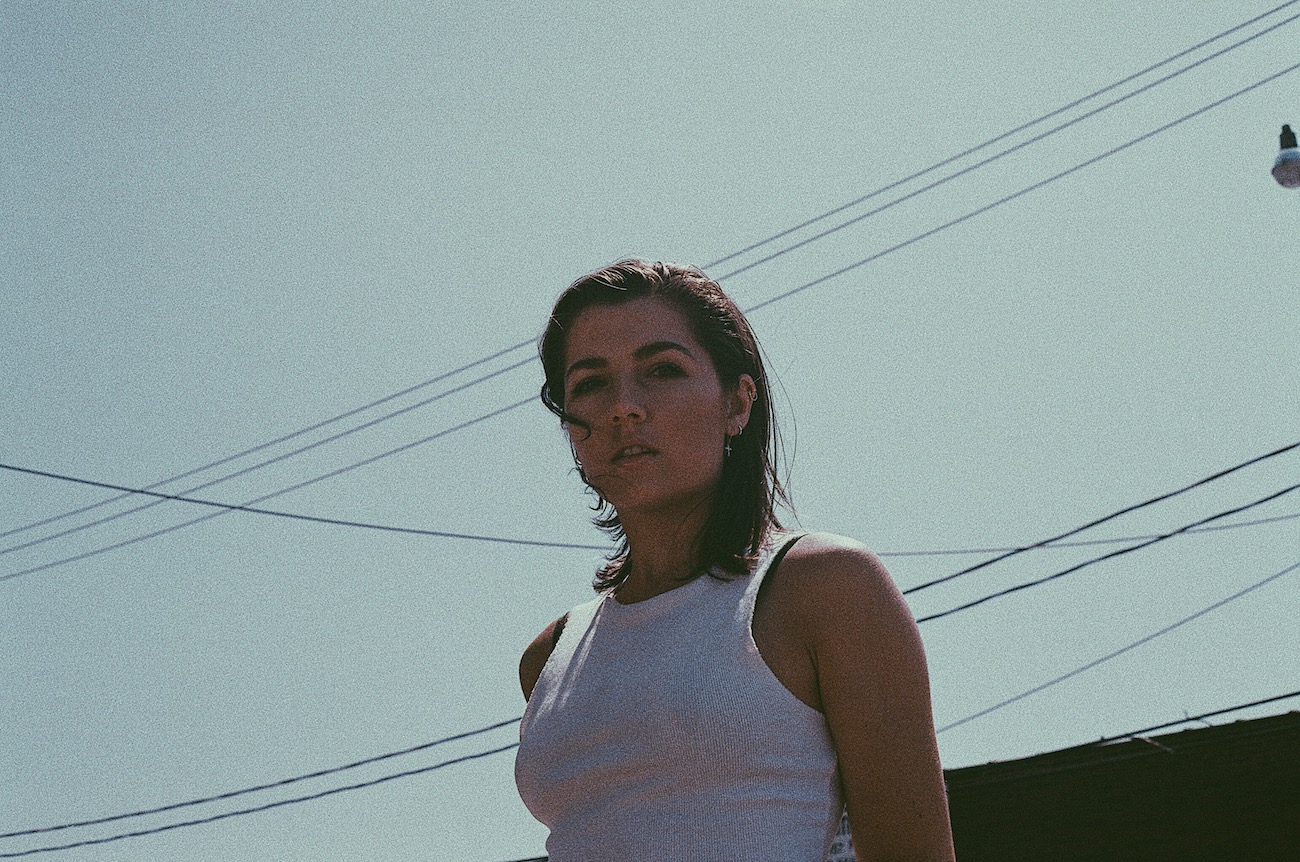 Feeling it now but when the night comes baby
Will we find out it's just a free fall
Maybe it's typical
But I wanna take you home
If you reach out I'll be right here baby
I won't let you down turn the lights out
Maybe it's typical
But baby you're not alone
– "The Thrill," Loviet
Her EP, presented today in backwards order through three videos, bring us up-close and personal with the artist. "I've had a lot of fun making these videos to share with you the journey it's been releasing my first EP," she explains. "From writing to recording to releasing, it's meant so much to me having everyone invested and following along with me making this even more special! It's been a lot of first times with this one, that I'm so thankful to have had the opportunities to experience. From flying to NYC (for my first time ever) to write and then to Vancouver (ALSO for my first time ever haha) to record and building this amazing team (more like family) that have put their love, support and energy around my small but mighty EP that is now out in the world because of them…I am so thankful. This might be the first, but we have big plans in store for the future!"
Loviet has shared more of her personal story and musical journey in the aptly-titled Journey Part III/III video, which Atwood Magazine is also premiering today. Diving into some of her own experiences, the pandemic, the Black Lives Matter movement and more, it's a way of meeting the artist face-to-face at a time where we sadly can't be together – but have plenty of tools to bring us as close as virtually possible:
---
There you have it: Her wellspring of creativity is anything but dry, and our time with Loviet is only just beginning. Savor this moment: There are certain musical discoveries we never forget, and for this writer, Loviet is one of them. Musical magic in a bottle, this artist is destined to do great things; in fact, she already has.
Whether you experience her first offering with waves of nostalgia, revitalizing energy, or pure inspiration, Loviet will get you up, on your feet, and dancing. Unequivocally upbeat, her songs seem to demand audience participation in the very best of ways. Experience the full record via our exclusive stream, and peek inside Loviet's Everyone Knows the Thrill When It's Over with Atwood Magazine as the artist goes track-by-track through the music and lyrics of her debut EP!
— —
Stream: 'Everyone Knows the Thrill When It's Over' – Loviet
:: Inside Everyone Knows the Thrill When It's Over ::
— —
EVERYONE KNOWS
I wrote Everyone Knows in the middle of a heatwave in New York City, with producer/artist Florio. I had so much fun writing this song and instantly felt it was something I needed to share, like 'this is me' which was a challenge I was facing. I think it's the fun and serious perspective of this track that does it for me.
THE THRILL
The Thrill is a fast driving track that lines up how falling in love can either feel like speeding down a highway with someone or driving off a cliff. When I was writing this song with Ryan Worsley at Echoplant Studios, we had everything but the chorus, and there was this sick moment when we sat down at a piano and played the chords one time through, and the words just fell out, like it was already written waiting for us, which doesn't happen very often.
WHEN IT'S OVER
When we were writing When It's Over, I made a list of the things I was feeling on the cusp of 17. It's the most honest track on the record, where I'm not hiding behind anything lyrically – it's exactly how it is. We were hoping by the time it came out that maybe COVID-19 would ALSO be over…at least we can give you this track though haha.
— —
— — — —
? © Ryan Perry
:: Stream Loviet ::
---