The story of young love can be told one thousand times, but few artists are capable of transcending this narrative and creating something truly meaningful and unforgettable – Lindsey Jordan of Snail Mail can, and with Lush, she did.
— —
If Snail Mail's debut effort Lush (released 6/8/2018 via Matador Records) was a movie, it would mix the intimacy and vibrant youth of John Hughes' suburban stories with the darker undertones and inevitable disappointment of indie romances like Like Crazy.
Lindsey Jordan, the woman behind Snail Mail, is a warm, complex protagonist. She navigates her emotions with an uncharacteristic boldness, diving headfirst into love and giving in to the deepest of feelings. She loves selflessly and unapologetically, but is also not one to hold her tongue or avoid conflict. She's the perfectly imperfect leading lady for this story. 
Listen: Lush – Snail Mail
"Intro" is the perfect encapsulation of the journey the album takes you in, trapped in a little over a hazy minute. It's the introductory credit sequence to Jordan's coming of age romantic movie, showing us snapshots of the places she will take us to while telling her story, hinting at where it will end, and presenting us with our main character's voice.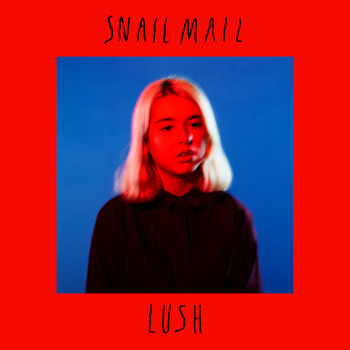 Chapter one is "Pristine", the high energy, sunny start to a love affair, Jordan's unapologetically honest lyrics criticising party culture and declaring her endless love give this song an overwhelming sentimentality and honesty. The chorus is an explosion typical of your first love, when you think things cannot and will not ever be better than what you're experiencing at that moment:
Don't you like me for me?
Is there any better feeling
than coming clean?
And I know myself,
and I'll never love anyone else
I won't love anyone else
I'll never love anyone else
Jordan's vocals are at the forefront of the song, and the guitar and drums almost blend together to provide the bed for her voice to fall and lean on. The bridge is the song's climax, and tension starts to build as Jordan questions and confronts her lover. Jordan doesn't idealise situations, instead opting towards giving us a taste of this story's bitter ending right at its start – she's relentless in professing her feelings and a professional at wearing her heart on her sleeve, and yet doesn't get to save what seems to be doomed from the start.
Watch: "Pristine" – Snail Mail
---
The start of "Speaking Terms" sounds like the sun setting on a cozy and lazy afternoon. Things were rocky at the end of "Pristine" but at this moment in time it seems like everything might just turn out alright. Jordan's delivery is softer, more fragile, begging her lover to not give up. – "The city can be so loud," but she wants to be trapped in the quiet paradise of love.
Say what you gotta
Sleep in somehow
Leave things on speaking terms
And I'll see you around
On the last line of the chorus, her voice shifts from sad to angry. The riff that announces the end of the song is stronger, slightly more forceful. The loving naivety is starting to wear off, and the mixture of frustration, anger, and disappointment begins to rise to the surface.
Despite its slow burning start, "Heat Wave" is angry and brittle. Jordan latches on to the feeling at the end of "Speaking Terms" and perfectly articulates the sadness and anger of the end of a relationship, converting all of these convoluted emotions into a frustrated and beautiful song. The angry and attitude-filled distorted guitar riff pokes through the song's soft surface, begging to be heard. We get to know more about her lover, whose "green eyes" entice her and who seems to be looking for novelty. And while Jordan hopes that both her and her partner's innocence is never lost, she realises this is not possible and gives in, admitting that this seems to be the end of their relationship. Jordan is tired of not being enough, of being with someone who is never satisfied, and this wears on her, as the song concludes with her simple but straightforward statement: "I'm feeling low".
Watch: "Heat Wave" – Snail Mail
---
In "Stick" we see the mature Jordan of today in conversation with the young and naive 16-year-old who released Habit. Her re-working of the song off her debut EP shows her development as an artist. With her vocals much more prominent than on Habit and a whole band backing her, the song is finally in full form, and Jordan has breathed new life into it.  She looks at her younger self with love, and clearly shows how she's grown into her voice and gained confidence in herself. Compared to its previous incarnation, this version of "Stick" is more poignant and polished, and takes its time to grow. She preserves her younger self's idealistic world view, but adds layers upon layers of experience to it, turning it into something more colourful and mature.
"Let's Find an Out" is a quiet and intimate moment on the album, changing the pace dramatically from the tracks that came before it. It's the product of self-reflection, but also a conversation and her last stab at salvaging the relationship that is slipping through her fingers. She begs for a fresh start, and while the song is simpler and more fragile than those that came before it, there's an overwhelming strength in her voice as she finds the courage to be this open.
Then comes the final, and biggest, fight. "Full Control" shows a Jordan who is unwavering and angry. She's sick of all this wasted time, and is provoked further and further until she lashes out in the chorus, which is reminiscent of an early Paramore. There's an angst that overwhelms the song, turning the undying love we've seen until now into a full-blown war. Jordan proves she's not one to back down from a fight and clearly shows contempt at the situation, pointing out that regardless of what happens, she was already over it anyway.
And hold your breath
when you hold the door
I never think about it anymore
Now when I lay back
It goes to nothing and it goes to black
She wants to regain the power she feels she has lost and move on to a new chapter, but not without crumpling up and tearing the pages of the book. And in the one hint of vulnerability, she comes down from the conflict only to realise that the relationship that's at the heart of the argument was never love anyways.
A heartbreaking and selfless declaration of love, "Anytime" is Jordan's eulogy for the love she lived and lost. Everything moves in slow motion as she mourns a feeling that still burns bright inside of her. There is a tenderness in her words, as she realises that after the storm she's still in love with the person she now has no choice but to let go of. Her overwhelming sentimentality is back, but a little quieter and more discrete. We are given the perfect ending as Jordan sums up the album in the three words that drag us right back to where we started:
 For you anytime
And just like that, Lush is over. We're finally given a moment to breathe. And in this moment you realise that Lush is still inside you – Jordan's infatuation was your infatuation, her outpour of devotion begged you to give for you to give yourself away too, her anger was your anger, and you couldn't help but share in the pain of her heartbreak. Jordan thread an invisible line between listener and artist, one that can't be broken because of the universality of her experience and the transparency with which she told her story. The story of young love can be told one thousand times over, but few artists are capable of transcending this narrative and creating something truly meaningful and unforgettable – Jordan can, and with Lush, she did.
— —
— — — —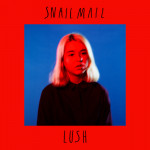 ? © Matador Records
:: Stream Snail Mail ::
---