Brett Morgen's 2022 film 'Moonage Daydream' captures the transcendent meaning and impact of David Bowie in revelatory ways –deeply considering the remarkable gift Bowie has created across generations in defying time itself through his extraordinary dream.
Watch: "Moonage Daydream" film trailer
---
David Bowie's perspective entirely informs this exceptional film, and it can best be framed when he states in Moonage Daydream:
I hate the center of the social strata.
This comes as no surprise, since we all know Bowie's music always revolved around dimensions of isolation and alienation.
With that in mind, it's a strange thing, as I was simultaneously immensely exhilarated and apprehensive to view Brett Morgen's film on David Bowie, Moonage Daydream, which was released on 16 September 2022. I was exhilarated since Morgen had been given access to the Bowie archives, and who knows what lurked in those depths in giving us access to think about the eternal legacy of the Duke in immensely different ways. After the theatrical release, I read review upon review – many triumphant, and others speaking to its bewildering mess and cacophony. Yet, amidst all those countless reviews, I could not find one that truly captured the spellbinding cinematic innovation and intimacy that Morgen encapsulates of Bowie across the immense dimensions of his sound and vision.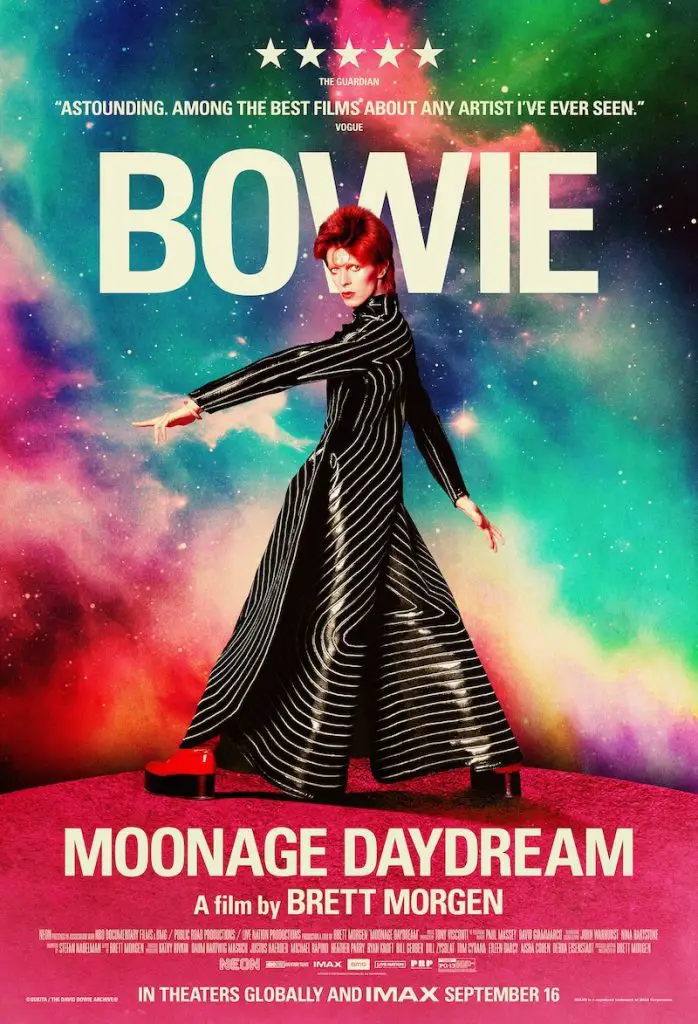 There is a defined method to the madness that Morgen is capturing as to how he is portraying Bowie's life and music,
and even more so what it means to think about the expansive impact of Bowie amidst cultural and artistic production in sound and on stage and screen. Throughout the trajectory of his life he was continually influenced by all forms of art and literature; as for instance, Fellini, Nietzsche, and David Bowie really do coexist in the same moment as to how they are excavating and representing the dilemmas of human existence. Watch the film carefully for these references, and a myriad of other artists and writers are equally embedded in Bowie's oeuvre in addition to the influence of Freud on Bowie's LP Heathen – that would not be apparent today unless you happen to have the physical gatefold CD version.
On that day of viewing Moonage Daydream, I went to the IMAX theater with low expectations as according to some of the reviews, the film was rather like a glorified music video experience. I arrived only several minutes before the screening began, and I was only immediately absolutely riveted unlike any other cinematic experience. A marvelous journey began to unfold before my eyes with the voice of Bowie as my only guide. At the end of screening, I felt like his entire life had passed before my eyes, and I reflected to his song "Lazarus" from his final album Blackstar before his death, as he sang:
Look up here, I'm in heaven
I've got scars that can't be seen
I've got drama, can't be stolen
Everybody knows me now
This way or no way
You know, I'll be free
Just like that bluebird
Now, ain't that just like me?
Oh, I'll be free
Just like that bluebird
Oh, I'll be free
Ain't that just like me?
– David Bowie, "Lazarus"
---
This film is a remarkable achievement that places Bowie's life and legacy on a different platform of thinking
and contemplation as to his impact on art and what it means to be human. As he stated at one point in the film, "I hate the center of the social strata," and that indeed he was only drawn to the borders. The absolutely fascinating aspect about Bowie's music is how he was indeed able to compress the culture of a few years in the world into one album in representing life and experience through sound while always remaining culturally far ahead of any other artist. These are the kind of facets that this film illustrate in a more tangible and magical moment, as to that uncanny ability of reading and interpreting culture. There really is no artist in music that has possessed that capacity in sound and vision.
I quite simply loved the balance in this film which celebrated his endeavors in the countless styles of music which Morgen chose to explore in defying Bowie purists which reject his Let's Dance phase or only select the Berlin trilogy as the true locus of creativity. "Modern Love" does indeed need to be seriously considered alongside such a song as "Ashes to Ashes."
This film also very positively heightens the immensely overlooked album 1. Outside, a tremendous LP that was years ahead of its time. I recall the exact moment on 25 September 1995, album release day in the music store at the Schine Student Center when Sabina gifted me this remarkable work of art. With that fascinating gift in hand we retreated to our small cocoon at Stadium Apartments where we always dreamed our lives, and in that night we immersed ourselves in the otherworldly outside vision of Bowie's album. A black and white photo of Bowie from The Man Who to Fell to Earth framed the room, and we realized that throughout the years of our lives we only inhabited the margins in coming up that centering of the social strata.
In Moonage Daydream the track "Hallo Spaceboy" from 1. Outside is candidly featured as a centerpiece in providing traction on this timely album. Undeniably, Bowie provided the pathway to the breakthrough of New Wave music which has been fully documented, and the figuring of this song in the film provides further awareness of his visionary music during the 90s. 1. Outside breaks further new unfound territory in music through such tracks as the delicate resonance within "The Motel," and the unique vision of setting the panorama in "Outside."
---
The beauty of this film candidly samples interviews that magnify Bowie's simplistic brilliance, as he states, "I'm a generalist."
In elaborating on this he suggests that we only create our lives and culture on a daily basis, and so in essence he is only a surveyor or a collector of ideas, sounds, personalities, and meanings. We are in dire need of more generalists in this world. The important caveat within this approach is that Bowie does articulate that one needs to continually work through inner complexes to come towards a vision and that does take bravado and drive. His own work ethic on this throughout his life was relentless amidst continuous forms of artistic production in music, screen, stage, and painting — as he told us in this film, "I hate to waste days," and that "I'm pretty keen on everything."
There is only one Bowie, one life, one dream — a generalist that explored the depths of the human experience in revealing our most intimate desires, fears, and questions. Brett Morgen's 2022 film Moonage Daydream captures the transcendent meaning and impact of Bowie in revelatory ways in deeply considering the remarkable gift that Bowie has created across generations in defying time itself through his extraordinary dream.
The music is always outside, but within Bowie's life and vision we can bring his eternal gift to music into what is happening right now into our lives in ways that transform reality itself. Morgen's film is a brilliant love letter and ode to an artistic genius unlike any other, and as well in fondly recalling an ordinary David Jones all those years ago. Let us all be so daring in interpreting such a ordinary and remarkable person and life, and take that sense of wonder into our own lives against the centering of the social strata. You are your own wonder.
— —
— — — —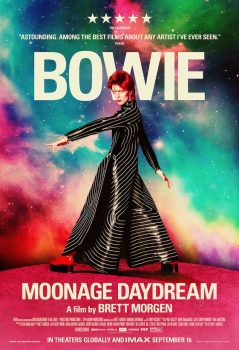 ? © 2022