Radiant, intimate, and roaring, Wilderado's self-titled debut album lights a fire within as the Tulsa indie rockers dive into the depths of life, unleashing a charged and charming set of catchy songs that stir both the heart and mind.
Stream: "Surefire" – Wilderado
---
A charged n' charming rock record through and through, Wilderado's long-awaited debut LP is a definitive introduction: An album built off wonder and fervor, passion and purpose, vulnerability and love. Radiant, intimate, and roaring, the self-titled Wilderado lights a fire within as the Tulsa indie rockers dive into the depths of life, sharing stories of personal growth and resilience, pain, loss, and more through catchy songs that stir both the heart and mind.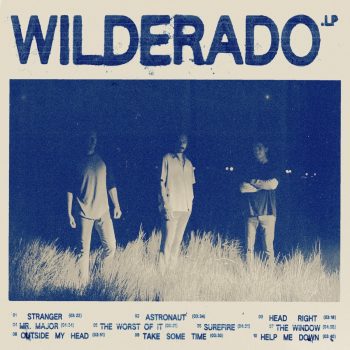 I can feel it in the future
I can see it in the culture
I see the moon as a sunrise
See the stars with my morning eyes
Like a bear in the forest
Like the heat in the conscience
I take a walk through the treeline
Gettin' on with Father Time
When do I begin? (When do I)
Oh my, oh my
Surefire, yeah,
the setting sun is gonna set on me
Released October 15, 2021 via Bright Antenna Records, Wilderado is a very long time coming – a hearty introduction years in the making that showcases the many facets and features of Tulsa, Oklahoma-born, Los Angeles-based band Wilderado. Arriving six years after the group's formation and following four EPs and a variety singles, their debut finds Maxim Rainer, Tyler Wimpee, and Justin Kila working alongside producers James McAlister (Sufjan Stevens, Taylor Swift), Chad Copelin (Broncho, LANY) and Angelo Petraglia (Kings of Leon). The result is an ambitious and undeniably successful ten-song journey that soars to great heights and dwells in low depths; that embellishes on the grit of modern indie rock acts like Mt. Joy and Houndmouth, while also embracing the band's southern heritage. Wilderado's music emanates nostalgia and hope, warmth and unapologetic drive, and in less than forty minutes, they leave us spellbound and shaken awake.
"This record is the story of our band," Wilderado's Maxim Rainer tells Atwood Magazine. "A wild amount has happened to us as a collective and as people, at the end of the day, all of these songs represent what all we've gone through in order to release our first LP. Our biggest goal as a band has always been to have an LP that we feel represents us in the way we want to be represented. It took us five years to all get on the same page. To be honest, it's a little hard to admit that, but at the end of the day, we had to just keep adjusting and doing the next right thing in order to get ourselves to a place where we could put out a record and all feel the same pride and sense of accomplishment. Once we were finally in that place and able to look around a bit, the whole thing fell together seamlessly."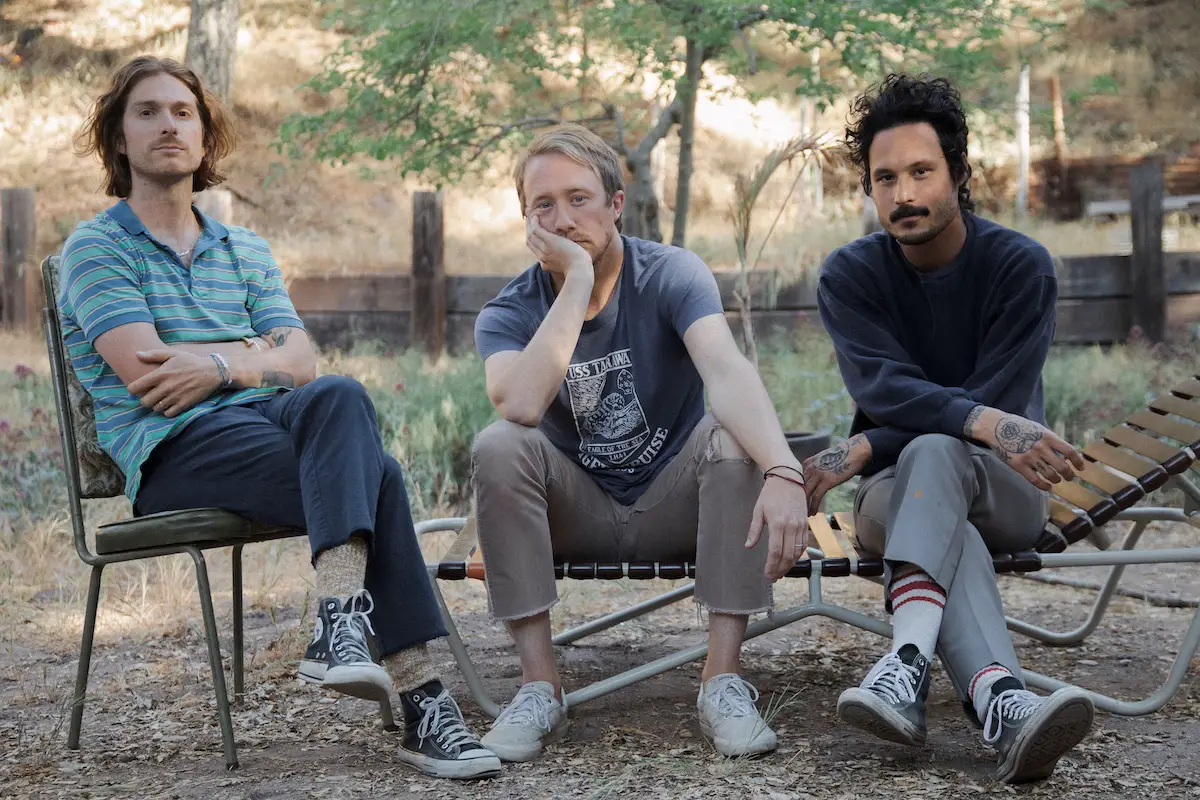 The story of this album itself is vast and nuanced – a testament to the band's desire to make something they could all share in and be proud of. Wilderado's songs span an intense three-year period full of change for the band members; its songs tell their personal stories in relatable ways, taking from each experience a bevy of lessons learned, reflections made, and hopes and dreams for the future. It's a collection of unabridged snapshots of a coming-of-age, part two – the latter half of one's young adulthood, where you come into yourself and discover who you really are.
Rainer explains, "While I was back in Tulsa, I ran into a friend and he told me he had an old church in my neighborhood that wasn't being used and if I wanted to pay for the power we could write and rehearse in there. One day in that church I wrote "Surefire." It was December 16th, 2018. Something about that song opened me back up and I ended up writing the majority of the lyrics on this record in that church. I found freedom in the fact that no one could hear me and I could sing and say whatever I wanted, so I wrote about everything. Meeting Natalia, struggling with the monotony of touring, starting to become depressed, addressing unfair expectations, having children, being forced to realize life is something that begins and ends, seeing the world through a better lens, stepping outside my head, slowing down and then learning that although everything goes down it, comes back up again."
"One of my biggest goals was to represent all the different songwriting styles we have established over the years," he adds. "I have always loved writing in this band because there have never been any rules when it comes to our sound. All we have ever done is play with things until we all look up and say, "that's cool." If we were going to put out an LP this late in our career, it was important to me to figure out a way to evolve while maintaining a sense of where we came from. I am pretty proud of having accomplished that. I can go through this record song by song and reference moods and themes from tunes in our catalogue."
"We're a mixture of intentional and accidental. So many of these songs just sort of happened, but we allowed enough time and intentionality to create the chance for that to happen. At the end of the day, I never want someone to assume I think I have any idea what I'm doing. I think my artistry is just observing the things around me and explaining or describing them back to myself. This record is a good representation of that.
This record represents not only where we are, but how we got here.
---
From the expressive, forward-moving pulse of album opener "Stranger" to the longing and heartfelt yearning of "Take Some Time" and the tender acoustic closer "Help Me Down," Wilderado is chock full of adventure. Highlights abound on a spirited record that is ultimately as hard-hitting as it is sweet: And while songs like the uncompromising and irresistible "Surefire" (originally released as a single in 2019, whose music video features a cameo by the one and only DE'WAYNE) and "Take Some Time" have taken hold on streaming services and found favor with fans, tracks like the feverish "Head Right," the emotional "The Worst of It," and the groovy "Mr. Major" accentuate the band's musical and lyrical talents.
For Wilderado's band members, there is no singular or defining Wilderado song because each one contains something special and exciting. "'Stranger,' 'Astronaut,' 'The Worst of It' and 'Outside My Head' are probably my favorite tunes," Rainer says. "I love the bridge in 'The Window,' the beginning of 'Stranger,' when the guitars hit on the word 'minutes' at the end of the bridge in 'Outside My Head,' and the minor chord in the bridge of 'Take Some Time."
As the band's principal songwriter, Rainer also has considerable affection for this album's lyrics, citing a few of his favorite lines:
i can't remember if you asked or not, but I've been feeling like an astronaut ("astronaut")
i've been hearing that the west is won, the worlds been lost, but the west is won ("astronaut")
before i met you i was all profound, elements of what gets lost in sound ("the window")
now every single thing I've missed has led me straight to this ("outside my head")
all the world and its minutes are for everybody in it ("outside my head")
help me down, don't pick me up ("help me down")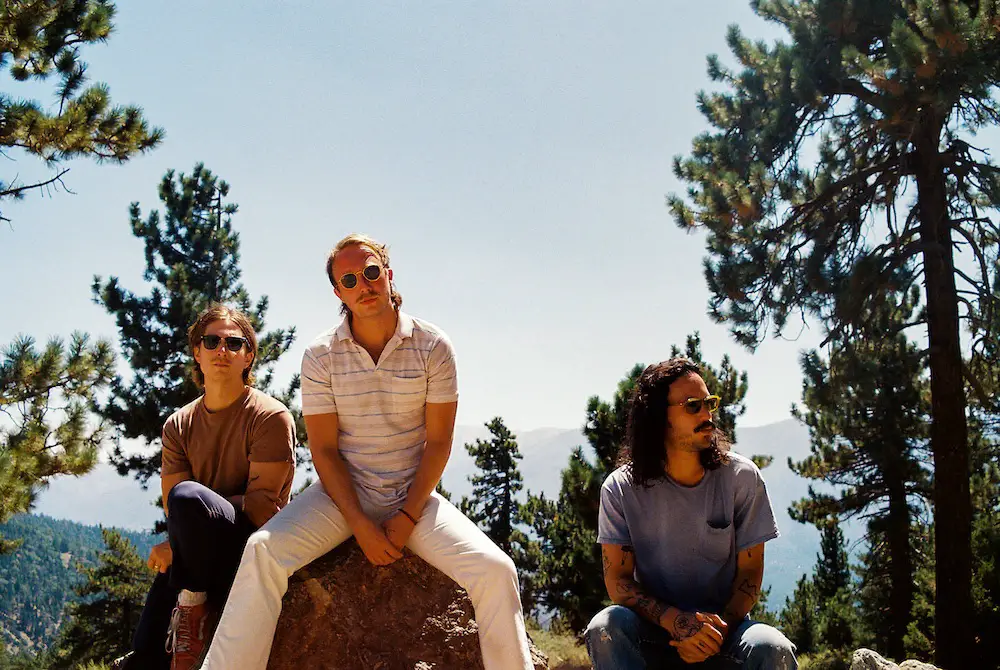 From the aching canyons of pain and depression, to the revelrous, freeing peaks of connection and inspiration, Wilderado is an album of many tastes, all bundled into an impressively cohesive and consistently engaging set. Whatever you're going through at the moment, these songs are sure to keep you warm and bring some peace.
"I always just hope to provide some relief or companionship for someone listening to our music," Rainer shares. "The thing I feel most when it comes to releasing this record is pride over having done the thing we set out to do."
Experience the full record via our below stream, and peek inside Wilderado's self-titled album with Atwood Magazine as the band goes track-by-track through the music and lyrics of their debut LP!
— —
Stream: 'Wilderado' – Wilderado
:: Inside Wilderado ::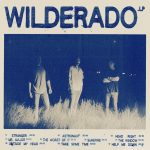 — —
Stranger
The opening track, stranger, started out as a waltz we had been playing for a while. one night in the church, we played it faster and with down beats and that's when the melody came and that line, "i wish you were a stranger". a lot of these songs happen that way: an accidental line that i like followed by the task of writing the rest of the song around it. the shape of the song came together fast and naturally, but the lyrics took me a while. that initial phrase felt cruel and i didn't really know what to do with that emotion. the drummer, justin kila, and i talked all around it and something he said gave me the idea to wish someone were a stranger in order to have the opportunity to meet them again. i ended up telling the story of my wife and i meeting right as we were starting the band in an apartment close to the ocean in santa monica and went from there.
Astronaut
This was one of my favorite songs to write. the opening riff was the first thing added and it never really got old to me. same as with stranger, after the first couple times listening through the chord progression the melody came along with the line, "i can't remember if you asked or not, but I've been feeling like an astronaut". however, unlike stranger, i was actually feeling that way. i felt far away and was having a hard to time benefiting from company, so the rest of the song came out with a pretty straightforward thought process. james mcallister, who coproduced the record, and i were working on another song that had a long jam at the end that we ended up making the end of astronaut. its always great when that works out.
Head Right
This was the only song on the record that we wrote standing up, playing our instruments like we would at a show. which isn't very hard to tell. the structure fell together fast and simple and we wrote the chorus that same night while all standing around the kitchen island at a friend's house in nashville. this song was an exercise in letting the first thought be best and just going with it. i ended up juxtaposing that idea with the lyrics, though. i wrote the rest of the lines around the same time as astronaut, while struggling with letting my first thoughts roll right through me.
Mr Major
Justin and i were playing around with those four major chords at the beginning of this song at a bbq tyler was having. i think that must have had something to do with the phrase mr major, but I don't really remember that being much of a conversation. the truth is i just liked the way the phrase mr major sang and kept coming back to it. it ended up personifying expectations and the difficulty of keeping people happy. mr major became this thing that was easy to be upset with. the ending of that song is one of my favorite parts on the record. we went back and forth on whether or not it should return to the chorus or just go away. I'm glad we let it just roll.
The Worst of It
I found the chorus to this song in a voice memo. we started playing around with some options for a verse and chad copelin (producer) started playing that bass line, which changed the whole trajectory of the tune. at first the chorus felt a bit wet noodle to me, but coming from this driving, minor progression it really opened up. this was a fun song to write. i remember being up in the airbnb we stay at when we are in norman, ok, where we made the record, and the owner had this candle on the window with a depiction of belle starr. i was trying to figure out what to say in the verses and belle starr's picture reminded me of my daughter. i looked her up and turns out she was "queen of the oklahoma outlaws", which reminded me even more of my daughter. i ended up putting her in the song and made the whole thing about what its like to be a parent, which in short, is a constant state of both good and bad.
Surefire
 "Surefire" started the whole record. i had just been given the keys to this old, empty church in our neighborhood for the price of paying the electric bill. there was no water and it was halfway remodeled. the building was small and made of stone, so no sound got out. this made it easy to be loud and comfortable. surefire was the first song written in there. it was just an easy process and kicked up some confidence in me, which i needed to get writing again. more or less, its about excepting the fact that this life has an ending. i have always thought life is a series of goodbyes, which provides us with the opportunity to get good at saying it. i don't feel that negative towards the idea, either, thats why the setting sun wanting company aspect of the song makes sense to me.
The Window
We've run into an issue several times as a band where we have a song written on guitar that is eventually replaced by a piano. This happened with "the window," and we went back and forth for several weeks debating which version to put on the record. the piano won because it's hard to beat and we didn't have a song featuring keys yet. however, i wrote all the lyrics over the acoustic demo. one way or the other, the song became about my wife, who opened my mind and taught me to see differently.
Outside My Head
The shape of this track came together fast and i wrote the lyrics with somewhat of a fantasy world in mind. i described where i might go if i was able to fall out of my own stressors and into a better place. I've never done that before, and wasn't really meaning to, but i ended up enjoying the idea and the music was perfect for it. if i had to choose a song to represent the imaginary land of Wilderado, it would be outside my head.
Take Some Time
I wrote the take some time riff in the church. i looped the riff and wrote the whole song over those two chords. i can't pretend that's because of anything other than i didn't know what else to do. once we got in the studio we were able to add a change in the bridge, which, in my opinion, saved the tune. somewhere between writing the music and the lyrics we lost the church and moved to a warehouse. it was big and loud in there which led to the big verb-y harmonies. in a nutshell, the song is about losing a friend.
Help Me Down
One of the reasons i love this song is because most of the parts came from the demo. it was freezing in the warehouse i was writing in so i was surrounded by space heaters. the song came from a voice memo i made almost ten years ago, but the content was relatable and current. i remember standing up, pacing back and forth searching for the lyrics of the second verse, then the moment they all rushed in and the quiet satisfaction of finishing something that had been waiting a long time.
— —
— — — —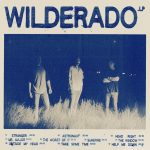 ? © Grant Spanier
:: Stream Wilderado ::
---