Portland, Oregon's Phosphene channel life's darkest emotions and experiences into a world of connection and catharsis on 'Transmute,' their achingly visceral, vulnerable, and raw third studio album.
Stream: "Black Sheep" – Phosphene
---
There's an undeniable, inescapable intensity about Phosphene's third studio album.
From illness and loss to depression and fear, disconnect and disinformation, we as individuals and as a society learned many of life's toughest lessons the hard way these past few years. Transmute claims to be neither comprehensive nor complete, but the themes it does touch on resonate in our guts, because at this point we've all seen them play out, or lived them firsthand. Phosphene channel life's darkest emotions and experiences into a world of connection and catharsis on Transmute, their achingly visceral, vulnerable, and raw third studio album.
Another black sheep
Someone for you to mourn
At night
I could feel your bite
Draining once more
Another wound I'm lickin'
Every summer that dog bit
I was a waste, another grey
It was a cage to keep me lean
It couldn't slake
– "Black Sheep," Phosphene
Independently released September 15, 2023, Transmute is a charming and churning indie rock fever dream. Arriving three impenetrably long years after 2020's sophomore album Lotus Eaters, Phosphene's third studio album finds the Portland, Oregon-based duo of Rachel Frankel (guitarist, keyboardist and vocalist) and Matt Hemmerich (drummer and guitarist) delving into the darkest reaches of human experience, and pulling out threads of light – all that connective tissues that reminds us that, no matter how hopeless our hardship may seem, we're never alone.
Active throughout the past decade, Phosphene have carved their own niche in the alternative world, finding their voice in  deeply intimate, gently atmospheric worlds of hypnotic wonder. Their latest record blends brooding guitars and syncopated drums with lilting strings and entrancing vocal performances that, as one, invite us deep into an intimate world of unfiltered humanity, inner reckoning, and self-discovery.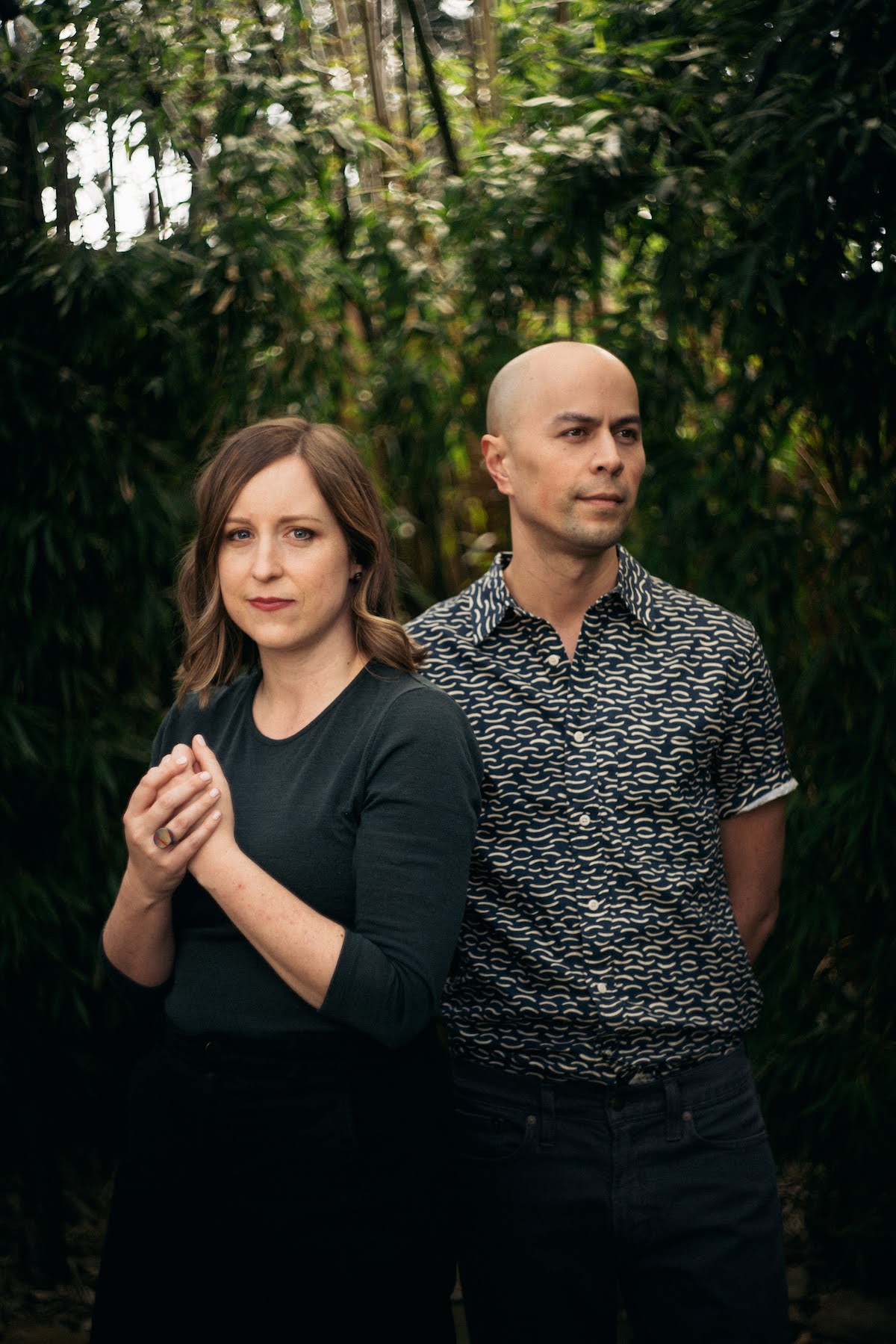 "We wrote and recorded much of the record during various stages of the COVID-19 pandemic, an event that spoiled the release plans of our previous album, Lotus Eaters," Phosphene tell Atwood Magazine. "The two of us began writing new material almost immediately, since there was no way to pour all this pent-up creative energy into typical outlets like live shows. This time together also allowed us to sift through scores of demos that we previously didn't have the time or attention to develop further. You'll never hear either of us claim that the pandemic was a blessing, but it did encourage us as artists to keep moving forward and continue creating during that period."
The result of that perseverance and dedication is Phosphene's most ambitious album so far, finding them at their most intimate, their most emotive, and their most expansive.
"Transmute is our most confident album to date," the pair glow. "It's a kaleidoscopic LP that reflects our varied influences. We also took a step forward with our songwriting and production, so it's also the sharpest record we've produced. We didn't settle for the easy route on any track here, which led to more intricate song structures and approaches we hadn't explored on prior records. Lyrically, we've become more personal over the years, and that vulnerability has led to us baring our souls more on this record."
"Our vision was to write a record that embodied our versatility as a band," they add. "The two of us constantly swap instruments during the songwriting process and lean into our harmony and chemistry. We also love eclectic albums that keep you on your toes, and the last thing we wanted was to produce a monolith of a particular sound."
---
Phosphene describe Transmute as a technicolor hug.
The album's title speaks to the very nature of these songs and what they're doing. Per Oxford Dictionary, to "transmute" means to change in form, nature, or substance, and through their music, Phosphene are channeling darkness into light.
"Roughly a year into the creation of this album, we noticed certain patterns and motifs coalescing within the songs and lyrics," Frankel and Hemmerich explain. "Subjects like depression, war, disinformation, and the pandemic were oscillating in our minds, and our goal was to transform this raw and heavy material into evocative stories. This led us to the concept of transmuting pain into human connection, where empathy is found."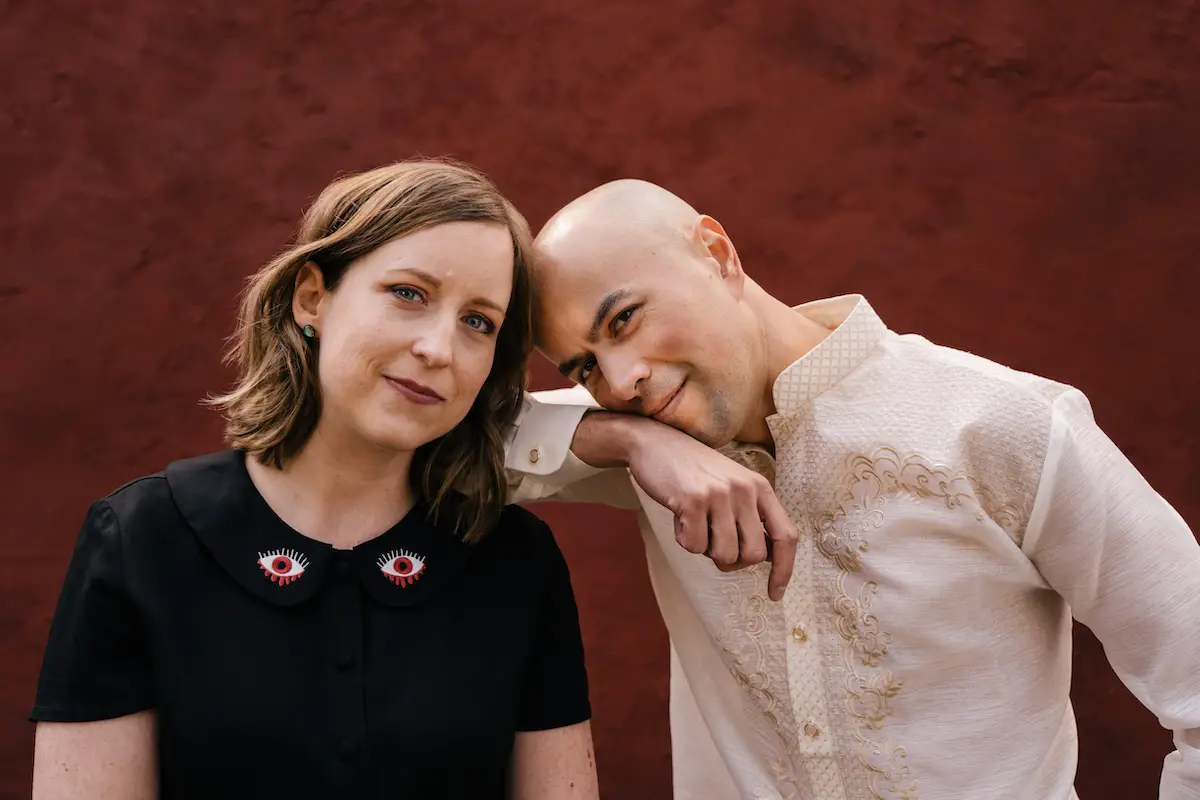 From the visceral, multifaceted fever dream "Umbra" to the spellbinding standout "Black Sheep," the tender, aching "Jigsaw," the churning, emotionally charged title track, and beyond, Transmute proves a deeply moving, enchanting listening journey from start to finish.
Atwood Magazine had the privilege of premiering the album's finale "Wandering" earlier this year, praising it as an intense reflection on our shared humanity: "That temporality we so often try to ignore, rather than recognize and embrace as a key piece of the experience. It's a gentle giant carrying a heavy weight; a song that, while existential in nature, comes to us like a familiar friend: Ready to comfort, pacify, and ease our worried minds," we wrote at the time."
Phosphene have several of their own highlights as well. "'Umbra' is the most ambitious song we've ever written, and quite possibly our most layered," they share. Despite it being a slog to create, it inspired us to push ourselves and what we're capable of. The nature of the subject matter also motivated us to treat this song carefully with the gravity and detail it deserves. 'Black Sheep' is another favorite. It captures the most potent elements of our sound and sharpens them further. This is the kind of song we've wanted to make since forming a decade ago, so it holds a special place in our hearts. 'Wandering' is another high watermark for us as a band. This song, along with 'Jigsaw,' marked our first exploration into string arrangements and led to some of our favorite moments on the album."
The pair also cite several lyrical highlights – lines that continue to resonate with them long after they were written.
"I'll watch you go
Ruin someone else's life
Cutting right through
A trap door trigger
Oscillating
In isolation"
— "Wisp"
"That chorus contains the most brutal lyrics I've ever penned, and it's likely no surprise that these reference a very real someone from my past," Rachel Frankel says. "Their emotional abuse and manipulation of me and others often felt like a trap door that people would repeatedly fall through, and it took years for me to extricate myself from that toxic pattern."
"Dress on up in black, I'll bring you a parade"
— "Wandering"
"Those are some of the most charming lyrics I've read from Matt to date. He was deep in his romance bag."
"Never wanted more than what you sold me
Fed me all the lore until it spread
Laying on the floor, I felt it hold me
Never had control of this old friend"
— "Black Sheep"
"As someone who's battled depression for most of their life, these lyrics are precious to me," Matt Hemmerich explains. "It felt cathartic to write about this struggle and its complex, indelible relationship with my own mental health."
"And still we wait here for
A break of jasmine
A break of gold"
— "Jigsaw"
"These lyrics from "Jigsaw" capture the shards of hope and optimism we were clinging to in those early pandemic months, when no one knew what the future held in store," Frankel concludes. "During those times of uncertainty, it can be calming and meditative to think of perennial things like blooming flowers, or a beautiful sunrise."
As individual tracks, each of these songs shines with its own warm light. Taken together, they make Transmute an intensely intimate and deeply human collection that promises to captivate, soothe, and stir all who listen.
"We hope listeners can find immense joy and solace in this album," Phosphene share. "Resonance is paramount to us as songwriters. That connection with the listener is a unique bond we cherish, and has kept us going over the years. Both of us individually pushed ourselves to execute this record as best we could, and to hear that translate so fully with the help of our close friends and collaborators has been extremely rewarding. We feel more capable than ever and are excited to see where our sound will pivot to next."
Experience the full record via our below stream, and peek inside Phosphene's Transmute with Atwood Magazine as Rachel Frankel and Matt Hemmerich take us track-by-track through the music and lyrics of their third LP!
— —
Stream: 'Transmute' – Phosphene
:: Inside Transmute ::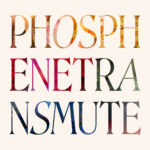 — —
Umbra
This song, thematically speaking, is the heaviest one on the album. Matt and I both came of age during the War on Terror, so watching recent docuseries like Turning Point struck a chord. With "Umbra," Matt sought to reflect on that era by exploring three different stories: someone inside the World Trade Center, a soldier on the ground, and a widow. We know the subject has been covered ad nauseam in art, so we didn't want the song to be preachy or didactic. Instead, our goal was to spotlight humanity and the fear, loss, and lasting damage endured from this conflict.
Black Sheep
This is the first song we wrote after moving to Portland, OR. My guitar riff was initially fingerpicked on an acoustic, which had a folk-like sound. Once we channeled the riff through an electric guitar, it gave the song a different dimension that went in a more post-punk and shoegaze direction. Lyrically, "Black Sheep" examines a life where depression is ever-present, like a dog trailing at your feet.
Levitation
This is one of the more playful and openly empowered songs on Transmute. "Levitation" actually dates all the way back to our 2014 self-titled album, then titled "Go to Sleep." We added new lyrics, expanded melodies, and recorded vocal variations in the second verse based on how I would sing it live. It was thrilling and satisfying to reimagine this song and finally hear its ferocity unleashed.
Jigsaw
"Jigsaw" was a tune we made during the initial lockdown back in April 2020. Matt wrote the song on acoustic guitar while I was drafting vocal melodies. Matt also penned the lyrics to this song, drawing from stories of loss and distance exacerbated by COVID-19. The perspective is from someone journaling alone, thinking of a loved one's safety. We tapped our friend, Ryan Huff, who is an amazing composer and sound designer, for a digital string arrangement to accompany "Jigsaw."
Wisp
"Wisp" stems from a band practice where Matt and I were both on guitar. He wrote this lead melody for the verse that I layered with some rhythm underneath. Matt and I collaborated on lyrics, though I took the lead here and wrote an anecdote based on someone from my past. It details their toxic patterns of emotional abuse and the damage done to those surrounding them.
Transmute
We had the main parts of this song written a decade ago, but it idled for some time since I couldn't land on a vocal melody. Matt lobbied year after year for us to revisit it, and it took the pandemic for that to happen. We were inspired by artists like Broadcast for the chorus, but the final leg of the tune was inspired by New Order, and I had a field day writing the bass line for that portion of the song. Matt also used a wild reverb setting in Reason to produce the ethereal ending that acts as a dreamy coda.
Everyone is Gone
Elliott Smith has been a continual influence on me for almost 20 years, and the jangly sound of this song is a subtle tribute to him. It's rare that a vocal melody comes so effortlessly for me, but this one had a way of writing itself. Lyrically, Matt covers disinformation and the chaotic state of social media. We utilized my Korg Prologue during the middle 8 to embrace a sonic detour that doubled as a nod to the dizzying state of affairs referenced in the lyrics.
Wandering
I've always been curious about arranging, and this song's bright and open atmosphere was conducive to lacing in some fun Wall of Sound strings. It led us to collaborate with Ryan Huff once more on arrangements. "Wandering" tells the story of a person who falls for someone they cross paths with on their way to the afterlife. In this anecdote, the narrator's fear of death actively prevents them from fully embracing their end. That fear of loneliness, especially in romance, can lead to acts of desperation.
— —
— — — —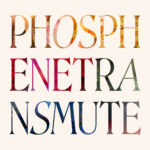 © Jeffrey Placencia
:: Stream Phosphene ::
---