Alternative singer/songwriter-turned-pop star Holly Humberstone aches from the inside out on her bold and breathtaking debut album 'Paint My Bedroom Black,' emerging from her own shadows with painstaking intimacy, vulnerability, and unfiltered, unapologetic passion.
'Paint My Bedroom Black' – Holly Humberstone
---
Holly Humberstone's unique brand of melancholia has never felt more rejuvenating than it does on her debut album.
"Here's to new horizons," she sings at the very top of Paint My Bedroom Black, cheers-ing to the dawn of a bold new era of self-empowerment, liberation, confidence, and catharsis. Already in the midst of a years-long transformation from alternative singer/songwriter to rising pop star, Humberstone does what she's long done best, letting her music – in particular, her brutally honest, irresistibly catchy, no-holds-barred songwriting – do the talking for her.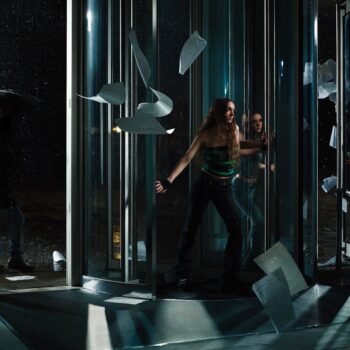 Here's to new horizons
Well, you kicked his lazy a out of your life
And, suddenly, you don't hate yourself
And now you're flying
Somehow, you don't hate yourself
And now you're flying
And is it everything you wanted?
Do you feel so weightless
When you're hanging up his call?
You gotta bottle up that feeling…
– "Paint My Bedroom Black," Holly Humberstone
Yet this time, everything feels turned up a notch. The music is louder; the tension more palpable; the melodies brighter; the inner reckonings more visceral. Aching from the inside out, Paint My Bedroom Black's thirteen songs emerge out of the shadows with painstaking intimacy, vulnerability, and unfiltered, unapologetic passion.
Ever since 2020's debut EP Falling Asleep at the Wheel first introduced her to the world, Humberstone – a longtime Atwood Magazine artist-to-watch and two-time Editor's Pick – has been known for spilling her heart out through poignant, often breathtaking poetry, baring her soul for all the see, hear, and feel. On her first proper full-length album, she sings about human connection, self-expression, and embracing life's little moments – all of which inevitably falls under the overarching umbrella of her own ongoing coming-of-age quest for purpose, understanding, and belonging in this large and lonely world.
At the core of this album is Humberstone's warm, seductive voice – a sonically and emotionally charged beacon of raw, radiant feeling that inevitably sends shivers down the spine, glowing with its own resonant inner light.
Moody, glistening guitars and pulsing drums add compelling contours and additional layers of evocative feeling along the way, keeping listeners properly hooked in as Humberstone rises to her highest of highs and sinks down to her lowest of lows.
The beautifully bold, bright album opener "Paint My Bedroom Black," mentioned above, sets the tone with a refreshing, newfound sense of freedom and self-discovery as Humberstone casts away the weight of her past and sets off to make a fresh start: "With the windows down I am reborn in the ever-fading light," she sings in a breath full of hope. "No, I don't feel that sinking feeling no more… I think it's gonna be alright." This resilient imagery recalls the very first lines of Humberstone's debut single "Deep End," released in early 2020: "Throw me in the deep end, I'm ready now to swim," she told the world at the time. "The air in my lungs may not last very long, but I'm in." Four years later, "Paint My Bedroom Black" reaffirms that sentiment: She is, in fact, in the deep end – this is her debut album, after all – and she's doing just fine.
The title track's chorus is a zealous, well-won celebration – the first of many intimate, impassioned, and utterly irresistible cathartic climaxes to come:
I'm gonna paint my bedroom black
I'm gonna paint my bedroom black
I'm gonna turn my music up
I'm gonna drown you out tonight
I'm gonna drown you out tonight
I'm gonna board my windows shut
I'm gonna tear my posters up
I'm gonna paint my bedroom black
I'm gonna drown you out tonight
I'm gonna drown you out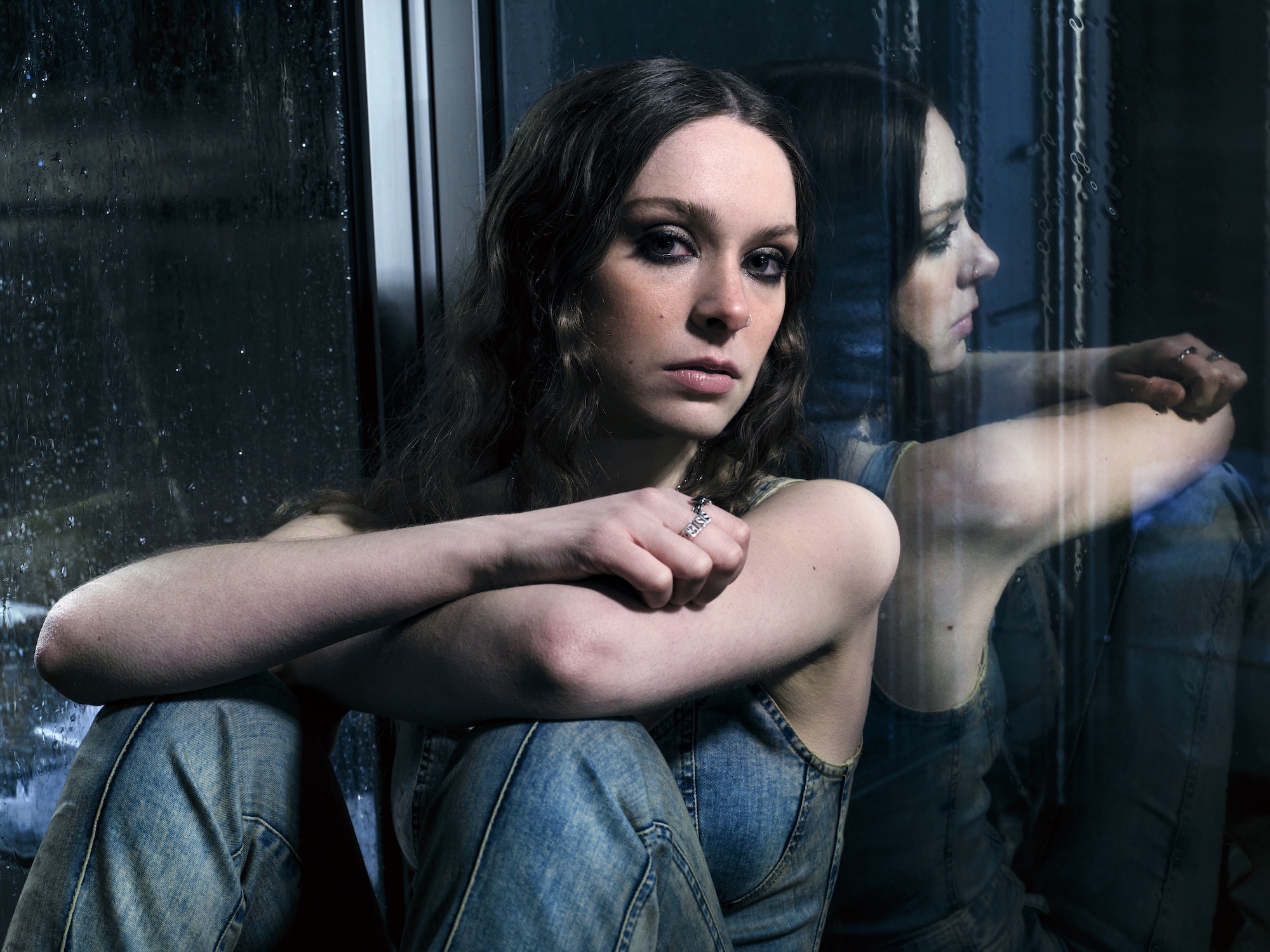 Holly Humberstone fills her record with moments of raw reflection, inner reckoning, and radiant release.
The high of the album's opening track comes crashing down as she tears her way through "Into Your Room," an achingly intimate eruption of passion and pain, heartache and nirvana that hits hard in a way that only love can do. A love-soaked anthem and lovesick ballad all in one, "Into Your Room" finds the artist exposed and vulnerable as she shares her innermost feelings alongside a buoyant and brooding sonic soundscape of warm, dramatic synths and cool, pulsing beats. Think "Human Nature"-style Michael Jackson and "Follow You Follow Me"-era Genesis: This song is a mood in itself – an escape and an indulgence, unapologetically uplifting and brutally heartbreaking at the same time, just like the love that seems to be slipping from Humberstone's grasp if she can't catch it now:
I will run after your moving car
And I will follow you
Hmm, you're my northern star
So don't drive away (don't you leave it like that, no)
You don't know how much I need you
Yeah I feel the weight (when you leave me so sad, no)
it's crushing me; I hate to think how bad I treated you
So maybe, take me into your room
Without you my soul is eternally doomed
You're the centre of this universe
My sorry revolves around you
No I can't do without you
– "Into Your Room," Holly Humberstone
---
"Into Your Room" sees Humberstone at her highest high and lowest low, all in the span of three minutes and thirty seconds. It's the soul-stirring soundtrack to one of those life-changing moments of truth that come so infrequently, that we barely register them when they hit – but what we do in those moments defines who we are. With the weight of the world crashing down, Holly Humberstone has declared herself a hopeless romantic: "My sorry ass revolves around you."
Are you free tonight to watch The O.C.?
This is protocol, I need you here beside me
I've been paralyzed for more than a week
But don't let it scare you this is fairly routine
Break out this cocoon and take the car out for a drive
We'll play cassettes, share cigarettes out in the half-light
Maybe I'll blossom into something you might like
Lie-da-die, lie-da-die, lie-da-die
I'm just going through something, uh-huh
I'm just going through something, uh-huh
– "Cocoon," Holly Humberstone
The rest of this album is just as immediate, unfiltered, and visceral: Humberstone's lyrics read like they were all torn from the pages of her coming-of-age diary, and she performs them with the delicate grace, emotional nuance, and respect that such deep sentiments deserve.
From the candid, all-consuming churn of "Cocoon" – an upbeat, dynamic anthem that finds her in a dark place, and calling out to a friend for help – to the achingly raw inner turmoil of "Antichrist," in which Humberstone owns up to, and apologizes for, her own actions and mistakes that led to a past relationship's demise ("Am I the Antichrist? How do I sleep at night?" she asks herself, going on to admit, "I madе a real mess of this, honey, so you should run for your life. I gave you bad love…"), and everything in-between, Paint My Bedroom Black earns its audience's undivided attention not through brute force, but through empathy and connection: That raw humanity at the heart of every Holly Humberstone song.
Further highlights include the romantic, heart-on-sleeve ballad "Kissing in Swimming Pools" ("We don't have to complicate it; I just wanna be alone with you"), the relentlessly intense, high energy fever dream "Ghost Me" ("The more I see, the less I know, and this feels like The Truman Show – everybody's up and left, and I can barely catch my breath"), the grooving, longing-fueled duet "Superbloodmoon" (which features fellow Darkroom-signed singer/songwriter d4vd), the melodramatic, soul-baring confessional "Elvis Impersonators" ("I miss your bones selfishly, I need you next to me, I'm spiraling, I can't be without you"), and the driving, guilt-ridden upheaval "Lauren" – essentially as an "open letter" to Humberstone's best friend ("I put my fist through the wall 'cause I've been falling too short, say the word and I'll call, say the word and I'm coming back to your house to get wasted – I've been playing dead for too long…")
---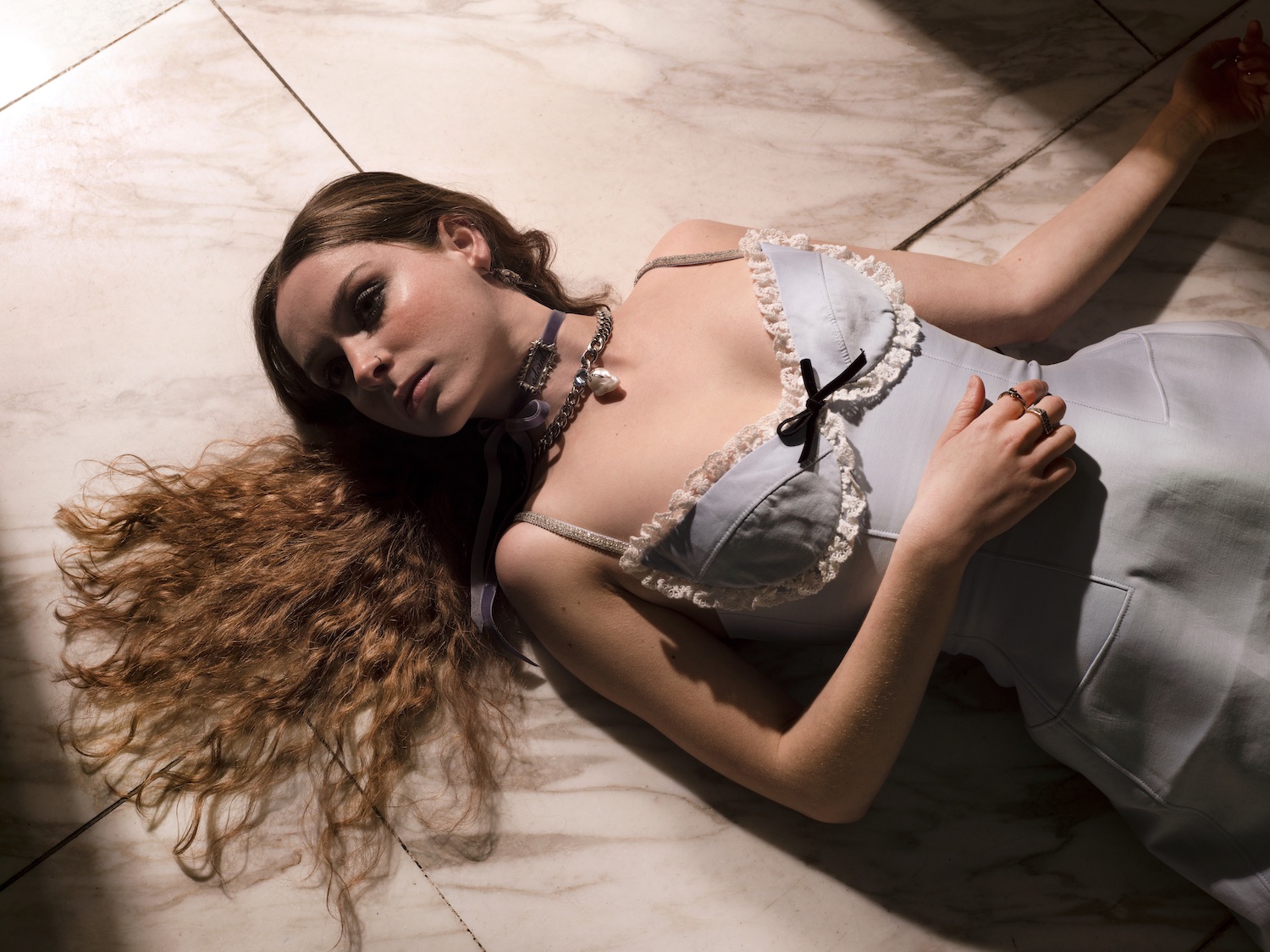 Aching openly and unapologetically, Humberstone basks in bittersweet nostalgia, longs for her family and friends, frolics and falls through what-ifs and regrets, and confronts head-on the anxiety and depression she's experienced first- and secondhand… only to come out the other side empowered, liberated, and ready "blow up the speakers," as she promises in her closing track, "Room Service."
Ultimately, this record is a celebration of Holly Humberstone's raw humanity – dwelling not so much in the darkness, but rather in the fullness of life itself.
As she sings in the album's title track: "Finally, I'm living, not surviving." There's no doubt in my mind that Holly Humberstone's Paint My Bedroom Black is the album of the year.
— —
— — — —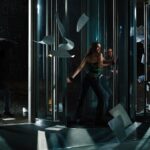 © Constantine Spence
:: Stream Holly Humberstone ::