Every other week, Anthony Kozlowski pens the Atwood Magazine column Tunes & Tumblers, pairing new and classic albums with cocktail recipes. He quickly found however that drinking alone is a sad business. So he invited his friends into a recording booth to aid in mixing delicious drinks and to discuss the music that they all love. Strap on your headphones and enjoy a cold one on us. 
 
Grab a cold one on us and join the Tunes & Tumblers regulars with special guest MisterWives to discuss their newest album, Nosebleeds, sip a sweet and bruised cocktail, and discuss the merits of a peanut butter and onion sandwich!
   
words by Lilly Eason
On this week's episode of the YouTuber-apology-worthy podcast Tunes & Tumblers, the regulars chill with MisterWives and spin their newest album, Nosebleeds. While we slowly uncover the knowledge that there are, in fact, many levels of hell, we get shown the cutest damn ID we've ever seen, discuss how to balance practicing gratitude with toxic positivity, and develop a craving for an Outback Steakhouse Blooming Onion. Meanwhile Kaylin unveils a drink that truly dives into the dichotomy of existence; side effects may include existential crises.
Check out our newest episode of Tunes & Tumblers on Spotify and Apple Podcasts. Cheers!
Wanna drink with us? Then you've gotta do it responsibly. Here's Kaitlyn's recipe for a "Sucker Punch"!
•• ••
Sucker Punch
INGREDIENTS
2 oz Absolut Apeach Vodka
2 Maraschino Cherries
1/2 Lime
1/2 oz Simple syrup
1-2 oz Clementine Cranberry Sparkling water
Angostura Orange Bitters
Smoked Salt
Fresh Rosemary
1 Thin slice of Pear
2 Blackberries
RECIPE
Coat rim of lowball glass with smoked salt
Muddle Maraschino Cherries with lime in bottom of glass
Add crushed ice
Add vodka and simple syrup
Top with sparkling water and a few drops of Angostura Bitters
Garnish with "bruised" pear slice and rosemary
Have your own idea for a Tunes & Tumblers pairing? Let us know in the comments, or hit us up on Twitter.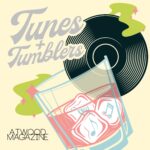 © Jamie Kahn
design by Jamie Kahn
---