Quiet yet vividly anecdotal, Racoon Racoon's new song "Deep Brown Eyes" is a profound acoustic piece filled with reflective imagery and hushed reality. 
Stream: "Deep Brown Eyes" – Racoon Racoon
---
Memories are a crucial part of the human race, especially when they're pieced together to show important moments of our lives-whether good or bad. They can fester in your mind like a horrible song, or remind you of why life is worth living. Either way, memories usually tell the greater story of who we are as human beings; the relationships we form, the family that surrounds us, etc. They function as a withdrawal from reality; a moment to reflect upon life's greatest occurrences.
Throughout the course of their short career, French chamber folk duo Racoon Racoon have been quietly translating their multi-dimensional thoughts to metaphorical recollections. Léa and Léonard Bremond normally thrive in their lane of orchestral folk/pop when they're vividly capturing human interaction through transparent feeling. Songs such as "Our Love's Funeral" and "Thunderbird" (which premiered on Atwood Magazine when it came out) are conversational in approach, and yet also relatable in their portrayals of love and heartbreak.
Take my heart
It is yours
From the second I saw you
In that coffee painted blue
Atwood Magazine is proud to be premiering "Deep Brown Eyes," the new single off Racoon Racoon's upcoming third EP. The group's first offering of 2020 is less distressing than their previous perspectives on love, but instrumentally much more stripped-back. The acoustic riff permeates through the background like birds calmly chirping on a bright spring day. Léa and Léonard softly croon about love's pleasantries; using physical characteristics as key descriptors for their own personal memories. Both songwriters sound like they are on top of a fluffy cloud, stuck in a euphoric daydream; genuinely in love.
Deep brown eyes
In your fairy company
You wanted me to play
Your little game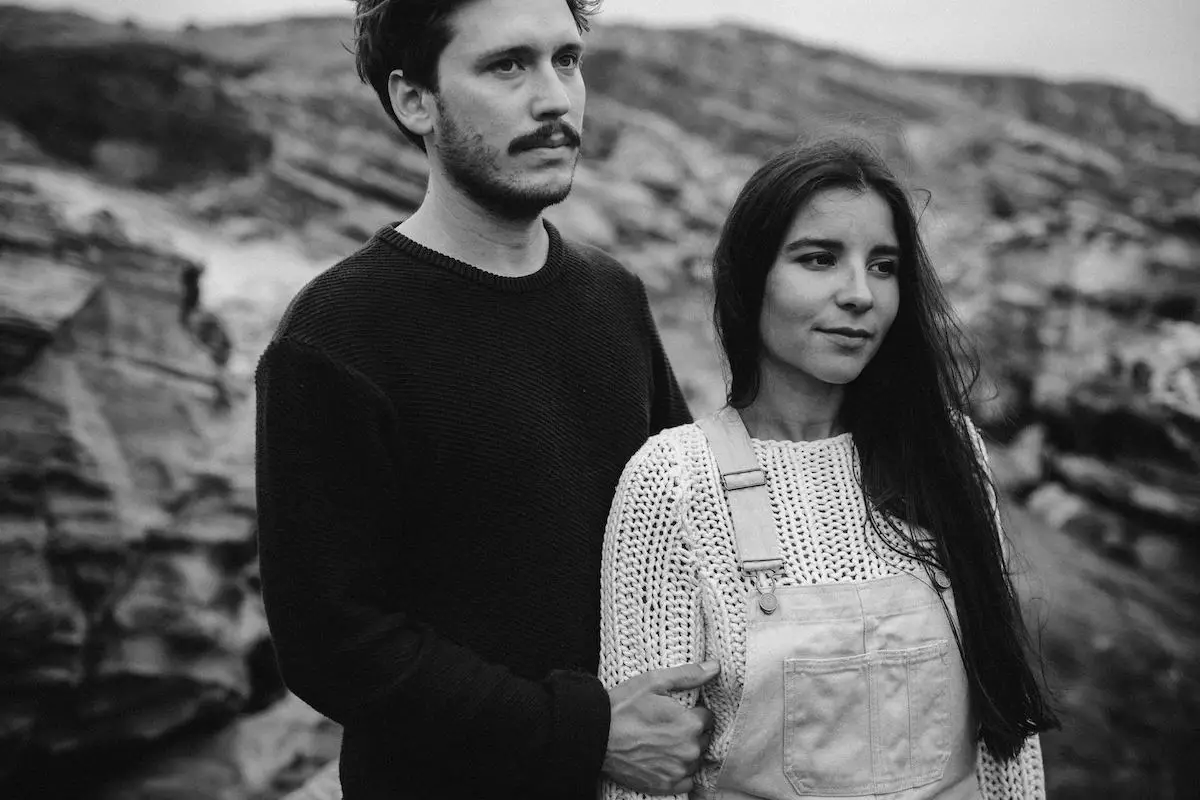 According to the talented duo, joyous love songs were a foreign concept for Racoon Racoon prior to "Deep Brown Eyes."
"'Deep Brown Eyes' is the first love song we wrote together that's not a break up song for a change," said Lea. It's actually funny because we wrote it while being in total break up with our previous lives; we had just moved from one country to another (Italy > France), back to our parents for a couple months, not knowing what tomorrow was gonna be made of, nor where we were gonna live. And as everybody knows, going back to your parents for more than just a few days can be quite challenging, so we escaped for a few days in my old family house we have in Spain, in a very small village nestled in the mountains of Catalonia, where there is basically nothing around but a few sheep and a lot of crickets."
Racoon Racoon effectively remind us about the power of music and relationships; how both concepts intertwine to help strengthen one's affection for their significant other. Léa and Léonard offer linear snapshots of delectable symbolism without sounding impractical. Every thought is laid out like an appetizing picnic on a cloudless summer afternoon. Love at first sight eventually leads to initial happiness, brief obstacles, and explicit reasons for why people fall for each other in the first place. We as humans tend to use positive recollections as modes for rationalization. When things go bad, we remember what connects us. Racoon Racoon accomplishes this setting on "Deep Brown Eyes."
That song we used to play
To make you feel okay
Pulling the strings of my heart
Whenever you fell apart
Stream the duo's latest song exclusively on Atwood Magazine, and stay tuned for their new EP set to drop sometime at the end of 2020. For fans of dreamy romantic folk, "Deep Brown Eyes" is the song for you.
Racoon Racoon will be playing live for Where the Music Meets, to raise funds for #ProjectOpenAir, who build ventilators for hospitals. The live show will take place on April 2nd at 17:30 Paris Time!
— —
— — — —
? © Yoris Photographer
:: Stream Racoon Racoon ::
---