Sticky Fingers' 'Yours to Keep' shows a band coming to grips with the lifestyle that has both bestowed stardom and cursed them with many inner demons.
— —
No one had any idea who the secret headliner was going to be. It was only days away from Bad Friday, one of Sydney, Australia's biggest music festivals of 2018, and music writers and radio show hosts were scrubbing the Internet for clues. Some speculated last year's headliners the DMA's to reassume the mantle. Others thought maybe Horrorshow – the hometown rap outfit. But Sticky Fingers? "Now this one's a shot in the dark for sure," wrote a local music magazine. "But imagine if you were there for the return of STIFI?"
Then on March 25th, just five days before the event, Sticky Fingers posted on Instagram: "Look who's back."
The post broke more than twelve months of radio silence from the Sydney five-piece after they announced that they were going on an "indefinite hiatus." When the band announced on December 4th, 2016, they ambiguously cited "internal issues" for why they were suspending their shows, but by the next day, their issues had a face. In a lengthy post on Facebook, Thelma Plum, a popular Australian singer-songwriter, alleged the band's frontman Dylan Frost of bullying and violence towards women, having once drunkenly tried to fight the singer at a Sydney bar. In the same post, she said that in an earlier occasion Frost had apparently hurled racist insults at Dispossessed, an indigenous Australian metal band, at a concert earlier that same year.
Shortly thereafter, Frost also took to Facebook. He admitted that in the past year he struggled with alcoholism coupled with a recent diagnosis of bipolar schizophrenia. "In recent times my behavior for a large part has been unacceptable – I'm writing here and now with a heavy heart admitting this, and wish I had faced my issues earlier." Then he added: "All people around me have been affected by my behavior during these episodes."
So when STIFI announced that they were going to headline Bad Friday more than a year later, the Internet lit up. Fans of the band were elated to know of their return, while others were livid at festival organizers for hiding someone they considered an abuser until the 11th hour. When Sticky Fingers took to the stage, they unveiled the song "Kick On" where Frost and the band cryptically addressed these concerns:
So how am I supposed to prove?
That I'm the one for you (So you can guess so)
I'm not like other lovers, I'm something new

Listen: Yours to Keep – Sticky Fingers
Released February 8, 2019, Sticky Fingers' newest album Yours to Keep is the embodiment of this sentiment. The album – recorded through Sureshaker Records with their longtime producer Dan Humm – serves as an introspective look at the past, the process of changing, and the ceremonial turning of a new leaf. This idea is immediately apparent with the album's opening track "Sleep Alone." Opening with simple guitar chords and piano melodies, Frost sings about the loss of a lover due to his alcoholism and mental health, culminating in him crying out that he'll give rehab another go:
In all this catastrophe, got lost in the shade
And you might've loved me alive
I'm out of your world tonight, I'm lettin' you go
I'll give it another chance 'cause I don't wanna be alone
The following track, "Loose Ends," is a counter-culture crowdpleaser were the band thumbs their noses at societal pressure to conform. The song's accompanying music video depicts four young teenagers getting arrested for no crime other than simply defying convention. "This is the government's world/ So you better get a job," chides Frost. The band returns to their roots in "Cool & Calm," where they hit you with the sun-kissed Britpop and reggae vibes that gained them such a loyal following. However, while their past albums talked living the good-vides, Frost sings about returning. "Can't you see that I am cool and calm?" he asks.
Watch: "Loose Ends" – Sticky Fingers
---
The band abruptly pivots from sunshine to darkness with the next track: "Another Episode." Opening to heavy electronic rumbling, Frost looks at his previous actions and the public outrage over his alcoholism and getting "run out of town." Then the song launches into grungy, reverb-heavy guitar chords were Frost talks about the personal blow this condemnation took on him. The most lengthy aside comes in the form of a surprise, and uncharacteristic, rap verse where he acknowledges the lifestyle that has nurtured his addictive tendencies: "We been playin' in the devil's backyard, let's be honest." The verse is chock-full of poignant lyricism; however, rapping is not Frost's strong suit and is executed rather jarringly.
Despite these dark thoughts, Frost affirms that they will not take him over the edge in "Not Done Yet." The song is one of the best of the album, opening with a set of hypnotic guitar chords that blend into Frost declaring:
But I won't see red
Despite what's within
Yes, I knew you always cared
But I'm not done yet
But I'm not done yet
The song's music video illustrates Frost's journey to sobriety. In it, he's completely removed from civilization and singing among isolated valleys and forests. He's gained weight – a product of his rehabilitation, no doubt – but he's still sporting his characteristic mop of black curls and mustache. Different, but still the same "Dizza" that he wants to be known as.
Watch: "Not Done Yet" – Sticky Fingers
---
The road to this point was long. Several months ago on April 6th, 2018, Frost published a lengthy recorded statement on the band's Facebook page. In it, he said that he had undergone rehabilitation for his alcoholism and continued to attend AA meetings. He also had received – and continues to receive – mental health treatment: "And I know that rehabilitation is an ongoing process, not a box to tick, but I can guarantee that I'm committed to looking after others and myself, and part of looking after others means keeping my temper under control." Frost's statement also addressed the various accusations that he was racist and committed violence against women: "It really upsets me to know that through a series of misinterpreted accounts of events, I'm now being seen as a symbol of something I detest — a racist woman-basher," he said.
Days after releasing this statement, the whole band appeared for a broadcasted interview with Tom Tilley on his radio show Hack run out of Triple J, a prominent national radio station. Tilley asked some pointed questions about the string of incidents that landed the band in public's crosshairs. The majority of these questions were fielded by bassist Paddy Cornwall and keyboardist Freddy Crabs, who talked about the alcoholism and rehabilitation that the entire band underwent during their year off: "I guess ten years being in a drunk, debaucherous rock n' roll band we've pissed a few people off." Frost, for the most part, was silent until Tilley called on him directly to address the controversies that have plagued him:
Tilley: Dylan, a lot of the accusations have been against you as an individual, but you're the one that isn't really talking in this interview. Can you explain to me why that is?
Frost: I guess I am not that good in interviews, you know? In the past… you know… my violence in my past under the influence, I guess boys will be boys, you know? But that's not what I am here to promote. I promote peace and love.
Tilley: What did you mean when you just said boys will be boys?
Frost: Shit happens, man.
Tilley: But aren't you here saying that you are sorry for what's happened?
Frost: Yeah, I am. I am sorry.
Tilley: "Shit happens" sounds like you don't really care.
Frost: I do, mate. I do. I really do. I just find it hard to talk about this stuff.
---
What Frost and the band fail to articulate in public, they attempt to make up in Yours To Keep, and the tail end of the album is arguably the strongest expression of such. "Sleeping Through The Flood" opens with some gorgeous guitar work – a series of layered melodies that come together with folksy hypnotism – blending into Frost grappling with his emotional turmoil and how it is affecting his relationship with a lover. This emotion carries to "Sunsick Moon" depicting a relapse, and subsequent goodbye, to said lover: "Why you gotta leave so soon?/Torn in a tie, and I'm gonna miss you too." With his paramour gone, the next song and the title track of the album, "Yours To Keep," acts as an "unsent letter" of apology:
She found lovin' in the wrong kind of place, yeah
She said she needed shelter but I don't have space
And it's all covered in molly, yeah, I made a mistake
Yeah, I let you know
The final song of the album, "Junk," is the most heart-wrenching. By this point, Frost and the Sticky Fingers have been chastised by the public, undergone rehabilitation, relapsed, and tried to change again. They failed to hold onto lovers, and at times, struggled to pieces together themselves. While rehabilitation and sobriety have given them another chance to embrace life ("Oh, the places we'll go/With all the life I hold"), at the end of the day they have undergone painful realizations (and even more painful transformations.) The album ends with Frost forlornly declaring "Heaven knows no place for junk like me."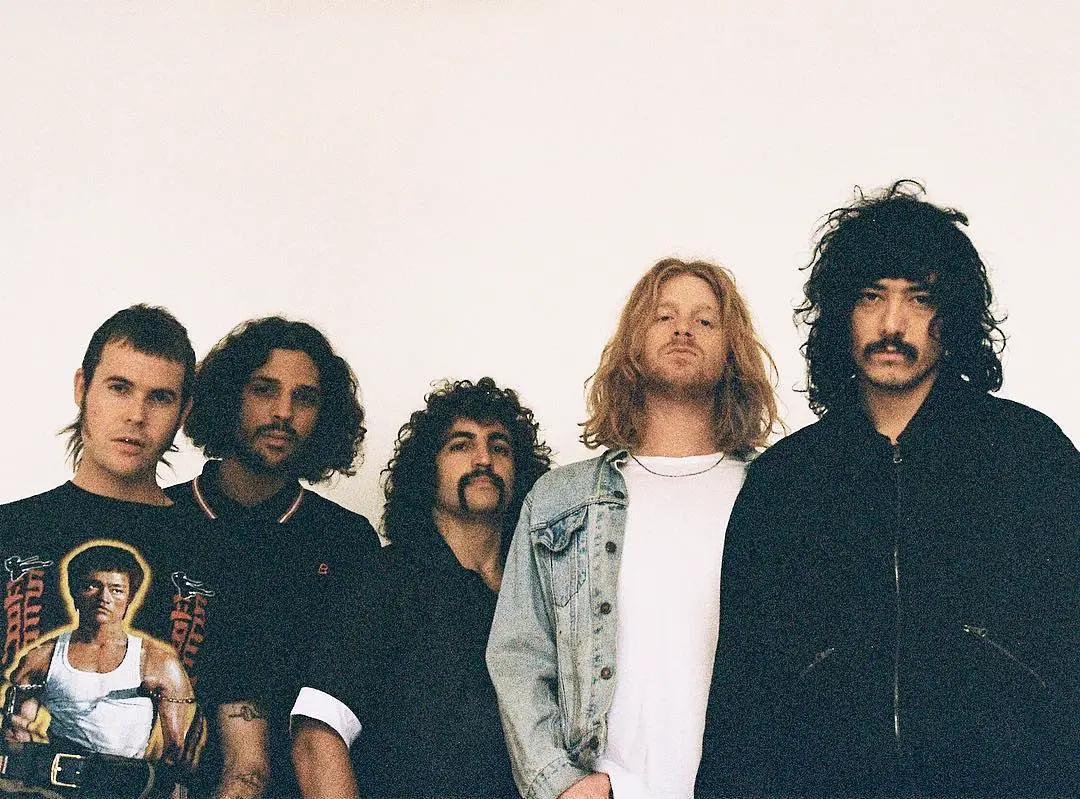 It is hard to say with any certainty if the many controversies that have plagued Sticky Fingers are indeed true. But what is true is that till the end of 2016, STIFI were one of the biggest music sensations to come out of Australia, until suddenly, that fame and adoration were whisked away in a cloud of public scrutiny. Yours To Keep shows a band coming to grips with the lifestyle that has both bestowed stardom and cursed them with many inner demons. While it is by no means an excuse for their previous actions – whatever they may be – it is the band's sincerest effort to illustrate what was going on behind the stage. The band does not show same fire and spiciness that they did in previous albums, but the lyricism is sensational and their sounds continue to be flecked with many different genres and sounds that only they can produce. But what really takes the album over the edge is its emotional vulnerability. They show that they are no longer reckless rockers, but older, more introspective musicians. Very few can cross that threshold unscathed. For that reason, this album can be considered a true triumph – something that we can keep. Hopefully, in the future, we can continue to keep the band as well.
— —
? © Sticky Fingers


:: Stream Sticky Fingers ::