Shannon Lauren Callihan dives into her dynamic debut EP 'One Sided', a radiant neo-soul experience brimming with groovy guitars, invigorating emotions, and pure, unbridled passion.
for fans of Lake Street Dive, MisterWives, Lianne La Havas, Tom Misch
Stream: "Used to Be My Love" – Shannon Lauren Callihan
---
We wanted this EP to be a listening experience, from start to finish.
Stepping into the spotlight with her heart on her sleeve and a golden voice full of sweet, searing soul, Shannon Lauren Callihan is as inspiring as she is spellbinding: An exciting newcomer on the neo-soul scene, complete with fresh perspectives on timeless themes of love, loss, and human connection. Dynamic and moody, her debut EP One Sided envelops listeners in a captivating experience brimming with moody guitars, invigorating emotions, and pure, unbridled passion.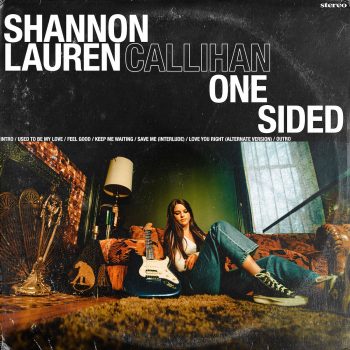 Can't ever think, baby
but when you are with me
loving you is easy
how could you do it to me?
watched you while i walked
but then you went and let me
fall in love with someone
and I'ma call you anyway,
and say, "You used to be my love"
– "Used to Be My Love," Shannon Lauren Callihan
Independently released September 24, 2021, One Sided is an utterly intoxicating and enchanting musical journey.
Shannon Lauren Callihan's debut EP is long in the making, coming two years since her formal first release set a high bar for the Kentucky-born, Nashville-based trailblazer. Working with guitar player and producer Curt Henderson, bassist Sam Fruend (Stoop Kids), and drummer Nate Felty, Callihan has cultivated not only a name for herself in Music City's bustling live scene, but also her own niche in the bustling neo-soul marketplace. One Sided finds the singer and guitarist – who has garnered a strong online presence and community in just a few short years (and notably, sans a debut album or EP) – finding her footing within the marriage of Prince and John Mayer, Stevie Wonder and D'Angelo, Lianne La Havas and St. Paul and the Broken Bones, and so on. Further citing artists like Tom Misch and Anita Baker as some (of her many) inspirations, Callihan soars mighty and true with a timeless, classic, and yet fearlessly updated sound that captures her youth, her drive, and her hunger: That effervescent energy that wants nothing more than to move, groove, and get lost in music's tantalizing rapture.
"I think we had been working towards this record all along," Callihan tells Atwood Magazine. "If you look at the timeline of events, we had only put out our first single at the beginning of 2019 and since then, we had released a few singles. We were just working on building a catalog of songs for a project. When COVID happened and we went into lockdown, having the extra free time gave us the opportunity to really focus on a body of work. The songs on this EP were songs that we were actively working on before going into lockdown so it just seemed right to put them on this project and surprisingly enough, they seem to flow nicely together."
"To be quite honest, there wasn't really a vision at first. I feel like that came later once we had picked out which songs would be on the record. I guess I tend to work backwards when it comes to things like this! The songs themselves created a vision, especially the addition of 'Save Me (Interlude).'"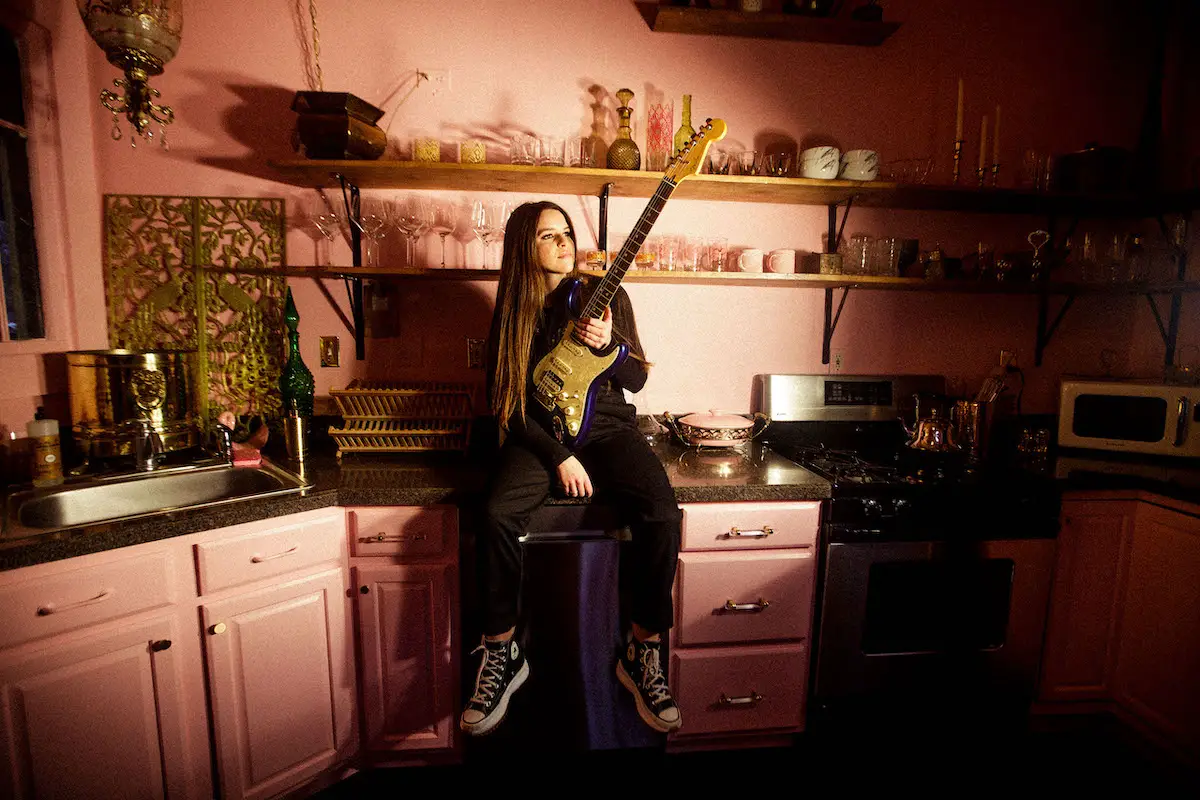 Callihan's first release intentionally comes with a scene-setting "Intro" and closure-providing "Outro," both of which act as bookends to the five-song adventure in-between. She explains wanting her first EP to be a listening experience from start to finish; even the title, packed with layers of intentional (and unintentional) meaning, aids in creating an immersive, irresistible adventure for the ears and heart.
"I wanted to be able to capture many different meanings from this title," Callihan explains. "One being that when I hear the phrase "one sided," I always think of relationships where feelings aren't mutual, which is very evident for the track "Used to Be My Love." But I also wanted to pinpoint the concept of feeling alone and isolated. This past year was hard for everyone. I was lacking the presence of my friends, lovers, my normal day-to-day life, and depth… making life seem incredibly one-dimensional."
"I think One Sided is a great introduction as to who I am as an artist," she adds. "The raw instrumentation and authenticity of this project is exactly what I wanted to capture, and I believe we did just that. This project is also a steppingstone for the band and myself. We each had a hand in the arrangement and production of these songs which makes it even more special that we did everything ourselves."
Blending R&B, pop, and improvised jazz instrumentals together, Callihan's sound is distinctive and dynamic, welcoming and expressive. From the smoldering heat of lead single "Used to Be My Love" to the dramatic, energizing wonder of "Keep Me Waiting" and the mesmerizing melodies and rich harmonies of "Love You Right," One Sided hits the ears as an intoxicating outpouring from the heart.
---
"Each song is special to me," Callihan says on the subject of her own favorites. "Working on 'Keep Me Waiting' was a lot of fun. Nate (drummer) and I literally spent every evening at Curt's for 7 days straight working on this song. We would stay up 'til about 2 AM each night just hanging out, making music, slinging back some beers. There is really nothing quite like making music with this crew. I feel incredibly lucky to be able to create with my best friends."
Lyrically, "These songs are pretty cut and dry," Callihan reflects. "I wish I could be more creative with how I write, but I am a "say it how it is" kinda gal! But out of all the songs, "Save Me (Interlude)" has some of my favorite lyrics – "It's always like this, get lost in my own decisions / what happened to feelings / feelings, I used to have feelings / Can somebody save me? Save me from myself."
Come for the smooth soul, and stay for the smoldering grooves: Shannon Lauren Callihan has proven herself a uniquely stellar artist on her first extended player, charging out of the gate with an incredible sound and stunning allure.
"I hope listeners enjoy our music and take away something new and refreshing!" she shares. "I'm extremely proud of this project and what we created. It was definitely a labor of love and now that it is finally out, I can't help but look forward to what is next. We just started working on our next single and I'm stoked to keep releasing/making music with my best friends."
Experience the full record via our below stream, and peek inside Shannon Lauren Callihan's One Sided EP with Atwood Magazine as the artist goes track-by-track through the music and lyrics of her debut EP!
— —
Stream: 'One Sided' – Shannon Lauren Callihan
:: Inside One Sided ::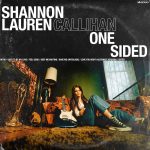 — —
Intro
We put a lot of time and effort into this record and there were many late nights spent at our producer Curt's cabin. We wanted this intro to paint a picture of what a typical night was like – driving over to Curt's, hearing music playing, the guys hanging out/chatting, just a typical night of us making music together. The song playing in the car is also a new tune we are working on so we thought it would be neat to *foreshadow* a bit.
Used to Be My Love
What more can I say, I wanted to write something that a large audience could relate to, and who can't relate to heartbreak? I took a deep dive into my past and felt inspired to write this song. It's not easy coping with the expiry of a relationship that you thought would last, but what's even worse is being left for someone else. When I started writing the song, I revisited the pain and sorrow, but approached those feelings musically in a more upbeat way.
Feel Good
This song initially stemmed from an Instagram guitar video I made with my good friend/writer, Jimi Greene. We loved the guitar riff and groove of this short Instagram clip we came up with so much that we felt inspired to write a full song. There is so much pressure to define relationships and what they are/mean – sometimes all you want to do is share an intimate moment with someone. No strings attached.
Keep Me Waiting
When we sat down to write this song, we weren't really sure what it was going to be. It's quite different from all of our other music we've released. It's definitely got that 80's pop vibe, which we love. We spent the most time on this song out of all the songs on the EP. The title speaks for itself – it's about waiting for someone that keeps giving you the runaround.
Save Me (Interlude)
This interlude was a last minute addition to the project. I was going through the quarantine blues at the time, which I'm sure many can relate. The songs on this EP were written, recorded and produced in bedrooms, while being in isolation. I got lost in that rabbit hole of introspection, experiencing life only in two dimensions, without the color of my friends/lovers/whatever presence I was denied from. I realized more than ever this year how much relationships mean to me, and how much I rely on them to stay sane. Now that things are starting to get back to normal, I feel I'm in a much better headspace now – part of me is glad I was struggling, because it inspired me to write this song, which is one of my favorites on the EP.
Love You Right (Alt. Version)
Curt and I wrote this song originally for Diana Ross as a request from her label, but when they decided to pass on it, we loved it so much that we wanted to release it ourselves. This alternate version has real bass/drums unlike the first version we put out along with some mixing tweaks, etc.
Outro
We wanted this EP to be a listening experience, from start to finish. If you listen closely, there is an effect that sounds like a motor powering down. We thought this was a cool effect symbolizing that this project was coming to an end.
— —
— — — —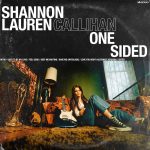 ? © Annie Noelker
:: Stream Shannon Lauren Callihan ::
---