Joshua Idehen dives into his energizing and inspiring spoken word dance album, 'Learn to Swim, A Mixtape,' a resounding and deeply human triumph into which he pours his heart, his soul, his body, and his mind.
Stream: "Learn to Swim" – Joshua Idehen
---
I sing, I kinda sorta rap, I do poetry. I tell stories, I'm occasionally fully and often dark, and none of these sides conflict.
Intimate, insightful, and exhilarating, Joshua Idehen's debut solo record is a breathtaking, soul-stirring journey.
In many ways, the 36-minute mixtape feels like a TED Talk due to the sheer depth and thought-provoking nature of Idehen's writing, but to call it that would be a disservice to his own performance, as well as to producer Ludvig Parment's incredible craft; together, the two artists create a captivating world of warmth and wonder, into which Idehen spills his heart, his soul, his body, and his mind. An energizing and inspiring spoken word dance album, Joshua Idehen's Learn to Swim, A Mixtape is a resounding and deeply human triumph.
Stay cool, learn to swim
I only started learning last year
and now I'm forty two
And if you already know how to swim?
Good for you
This is for all the people behind you
Stay cool, learn to swim
Nah, mate, you're not too heavy
Your bones are not too dense
Pennywise was right
In the end, everyone floats
Released April 21, 2023, Learn to Swim is an immersive experience that promises to move its audience in more ways than one. Joshua Idehen's debut solo mixtape is a stunning introduction to the British-born, Sweden-based spoken word artist and musician, whose decade-long oeuvre already precedes him: Active for over a decade now, Idehen has contributed poems to Mercury-nominated albums Channel The Spirits by The Comet Is Coming, Your Queen Is A Reptile and the MOBO Award winning Black Is The Future, both by British jazz group Sons of Kemet. Idehen has also been a founding member of multiple bands in Benin City, Nigeria – Hugh (whom Atwood Magazine featured in 2016) and Calabashed – and he collaborated with American producer Daedelus on the acclaimed 2021 album, Holy Water Over Sons.
While his collaborative discography is vast and extensive, Idehen's standalone solo artistry is still very much in its nascence: He released the EP Hold Up Your Chin in November 2022, blending poetry with soul and lo-fi house music over three soul-stirring original tracks and three more additional remixes. Learn to Swim, A Mixtape is Idehen's first longform artistic statement; he holds nothing back across its ten tracks, carving out his own breathtaking (and breath-giving) space over the course of thirty-six captivating minutes of poetry and musical magic.
The ways and hows of healing
Asked me how I'm feeling?
Said I'm fine, say I'm great, smiles in place
The mask is peeling, life's a game of cards
Everyone's dealing feet firm
Eyes to the ceiling
Keep it sealed in, no revealing
All concealed, how I learnt to act a man
Never ask for helping hand
Lonely soldier, world on shoulders
That's how this altas stands
And yet, and yet, and yet
Bad man is acting out
Lashing out, unanswered text
What's that all about?
More than a few lines crossed
More than a few grenades tossed
And just like that
Decade old bonds crumble into dust
But hold it there, my breh
Hands up, I've been a mare
Basket tried to hold his tears
My shame too much to bear
Responded to love with fear
But I swear…
I'm getting myself into gear
The signal is starting to clear
Your mate is still here beneath the layers
Don't you give up on me, don't you dare.
Don't you give up on me, don't you dare.
Still here beneath the layers, mate, swear
– "Don't You Give Up On Me," Joshua Idehen
---
The roots of this mixtape began to take hold shortly after Idehen completed his project with Daedalus. "That was a real milestone moment for me," he tells Atwood Magazine. "They are one of my creative heroes and it was an honor to work with them. I'd mined a lot of my personal and political angst to make that record, and at the end of it, I felt sort of exhausted. I think I was done feeling sad about myself and the world, writing songs that couldn't ever reach anyone outside my viewpoint."
"With the birth of my daughter, I began to see the lessons and the positives from all the previous trauma leading up to where I am now, and having made an album with my idol, I was like 'Well, if I could do this, I can make that spoken word/dance album I always wanted to. I can be as cringy as I want, nothing matters!'" he laughs.
To bring his words to life, Idehen collaborated with his longtime musical partner and close friend Ludvig Parment, whom he describes as "the beats equation – aka Josh Just Worry About The Words I know What I'm Doing."
"I told Ludvig I wanted to make a spoken word dance album, and Ludvig said, 'Yeah let's add some Motown influences and a few bits and bobs,' and we've never looked back!" Idehen recalls. "About halfway through writing, I realised a lot of the tracks – especially with the choir – reminded me of a lot of Nigerian tele-evangelists back when I was young. And I embraced that, and watched a lot of Stromae and Talking Heads."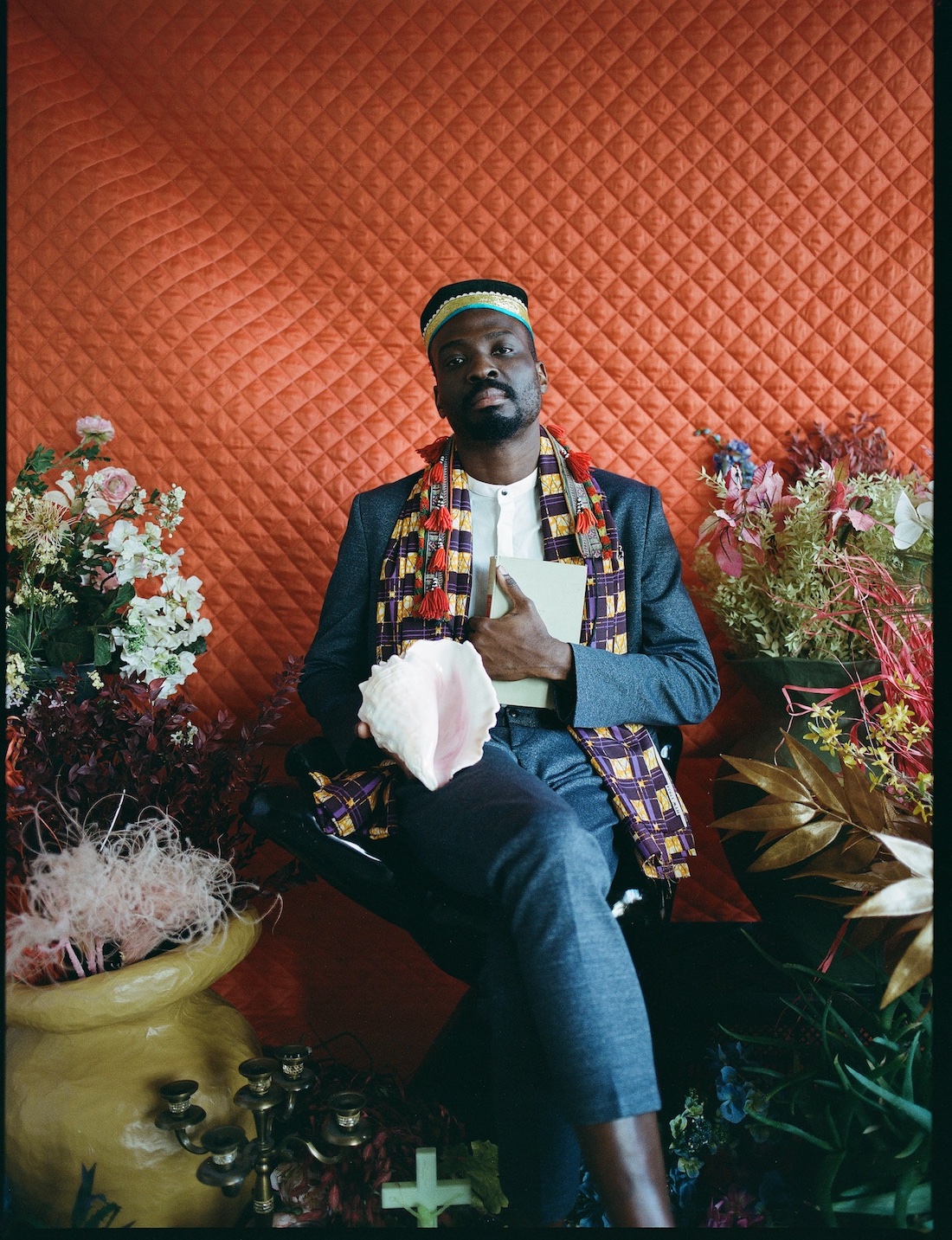 The resulting production proves a truly singular sonic and emotional journey – one that Idehen personally describes as redemptive, reminiscing, and full of love.
It's also Idehen's most definitive work to date – the closest we can get to meeting the man himself through music.
"As someone who's been in several bands existing in several different genres, Learn to Swim is a chance for everything I've learnt as an artist to exist in one space," he smiles. "I sing, I kinda sorta rap, I do poetry. I tell stories, I'm occasionally fully and often dark, and none of these sides conflict."
The title Learn to Swim is quite literal, as Idehen was learning to swim while making this record.
"Something about the denseness of my bones meant it's really hard for me to swim in one spot," he explains. "I'd convinced myself my bones were too dense to float, and actually, they are, so I'd given up for decades. My Swedish teacher, upon hearing that, spoke in broken English, 'Well, then, you shark. Keep moving or die.' This mixtape represents a journey for me."
"Still can't float, but I'm still learning."
Learn to Swim combines the three originals from Idehen's 2022 EP with seven more stunning songs that span a wide array of genres and styles, influences and inspirations. Highlights include the emotive, scene-setting opening track "Don't You Give Up On Me," the harmony-rich, soul-soaked "This World's a Madness," featuring British vocalist Sharlene Hector, and the propulsive, achingly visceral "Last Time," featuring London-based singer/songwriter Katie Dove Dixon. The breakneck "End of the Line" is a raw, rave-ready fever dream reminding us that life is precious, and to keep our loved ones close, "Best Kind Of Lost" is a vision of picturesque love (Idehen calls it "a perfect day with my partner"):
breadcrumbs littering the counter
lingering thought of her bedside manner
on the cliffs of my mind
Lemme make the tea, lemme make it back to you in time
evening sun turned grondal gold this
vision is a type of wealth
Your hands rummaging and sweating in mine
this feeling is the only type of wealth
I kiss the summer off your lips
and just like that the sorrow lifts
we're done with walking so we ride the single scooter
up above, the chubby clouds gobble up the moon
I have never been this wavy in my life
except for yesterday but yesterday was peak at the time
---
Arriving about halfway through the mixtape, title track "Learn to Swim Pt 2" is an indisputable highlight.
A gentle, muted, brooding piano (courtesy of producer Ludvig Parment) accompanies Idehen on his five-minute journey through insight and (comic) incitement; "Stay cool, learn to swim. I only started learning last year, and now I'm forty two," he admits. "And if you already know how to swim? Good for you. This is for all the people behind you." So begins a wondrous, inspirational soliloquy of sorts – one that is sure to result in a few laughs, a few smiles, and a few lyrics plastered on people's walls.
While most motivational quotes are corny and terrible, Joshua Idehen seemingly, in just one song, revives a dead art form. He has plenty of words of wisdom for those willing to listen: "There are no solutions at the bottom of a doomscroll." "Embrace your cringe." "If you love doing a thing, and you're not hurting anyone or yourself, do the thing." "Recognise the difference between alone and lonely." "Don't be afraid to dress like an idiot at least once in your life." And one of my personal favorites, "Don't swim in the River Thames." Yet even more powerful than each of these nuggets on their own, is their combined impact all together in one song. Idehen channels his inner "uncle giving unsolicited advice" persona on the beautifully intimate "Learn to Swim, Pt 2," blending humor with the heart to create a moment of raw human connection.
Stay cool, learn to swim
Your skin will thank you
Your mind will thank you
And if there's blood in the water
sharks will thank you
Don't swim in the River Thames
nobody asked you to do that
Some things will always be true
The sun always sets in the west
Right now will always be as good as it gets
Romeo and Juliet is tragic
Time is wasted on worry
And everyone is made of pure, unadulterated magic
except for Boris Johnson
Trans men are men
Trans women are women
Some things by now should be a given
It looks worse when it's online
Facebook is not research
no matter the hours you spent on it
There are no solutions at the bottom of a doomscroll
and you're never at your best when
you are looking at someone else's highlight reel
Time heals all wounds and makes new ones but
a hot shower will cure 99% of bad vibes, trust me
You should be nice to yourself
You should be nice to people except for Nazis.
No one should never be nice to Nazis.
---
"Learn to Swim" is a personal favorite for Idehen as well. "It was the easiest one to track, just me and Ludvig's beat," he recalls. "The response from this one track has been so real and immense, and… unexpected? We honestly just stuck it on because we were bullish about keeping a spoken word track on, only to have the first round of feedback pick that song one. It's my favourite to perform."
While "Learn to Swim" has any number of memorable quips and quotes, the mixtape's other songs contain plenty of great lyrics as well. Three of Idehen's personal favorites include:
Saturday night and we meet in the queue
friendly but far from the same crew
– "End of the Line"
She said she almost fell in love
and I swear I almost caught her
– "All the Same"
I kiss the summer off your lips
and just like that the sorrow lifts
– "Best Kind of Lost"
A compelling roller-coaster for the ears, mind, and heart alike, Learn to Swim, A Mixtape is a truly unparalleled masterpiece of unfiltered, intimate humanity.
"I hope listeners feel understood and seen," Idehen concludes. "I hope they see there's always a chance. I hope this records helps them see the love in their lives, as I see in mine."
"What I've taken from it?" he says of his own takeaways. "What the hell was I so scared of, not doing a thing like this earlier?"
Experience the full record via our below stream, and peek inside Joshua Idehen's phenomenal Learn to Swim, A Mixtape with Atwood Magazine as he goes track-by-track through the music and lyrics of his stunning new release!
— —
Stream: 'Learn to Swim, A Mixtape' – Joshua Idehen
:: Inside Learn to Swim, A Mixtape ::
— —
Don't You Give Up On Me
This was the very first track I wrote with Ludvig. I'd told him a week prior that I wanted to make a house and spoken word song and when he sent me this demo, my first thought was "this is it. This is exactly what I want." Thinking of themes: I knew I wanted to do some self reflection…  I kept coming back to this mate I used to have in London, who'd often disappear for ages for some reason or another. Last time I saw him, I teased him about it, calling him "stranger" and all that, and he said something like "I know bro, I swear we will link up properly soon, ay! don't give up on me" I built up from that line.
This World's A Madness
"How did you end up so far from your own blessings" I'm not religious but I grew up in that space; the imagery resonates with me. Here, the blessings represent all the important things in life: friendships, loves, family – all things I've personally sacrificed in some way or another at the altar of my art. I wrote this track trying to explore how a lifetime of trying to justify myself as an artist has kept me from all the things and people who could have provided the fulfillment I was looking for in life. Big bless to Sharlene Hector for absolutely one-take-ing the chorus.
Best Kind Of Lost
I  did this poem as a challenge, to write about a single day. In this case, it was an afternoon with my partner, Julia. We'd had a day of walking around Stockholm, ending at an illegal forest rave and realising the secret behind hard trance was molly: it's better with molly. I was such a nuisance at  that rave. I screamed "I love you beautiful strangers!" at a passing train, did the robot for what must have been thirty minutes, and then when the cops came I sobered up real fast and we bolted. The beat behind this was originally meant to be an interlude, but I suggested to Ludvig to stick a garage-y beat behind it and it clicked.
What We're Doing Tonight
I'm always writing sad love songs. It's a genre I want to spend my life in, lol: that place where things could go either way and emotions are murky, desires drenched. When Ludvig first made this beat it was waaaaay more funkier,and pop: it more of a ooompa ooompa bass line, and it made me think of a rom com montage where everything was heading towards a breakup. Ludvig didn't like it though, so it went through a few more changes.and it came out much better and fitting for the project.
Learn To Swim Part 2
Ylva, Ludvig's wife, and probably our best fan, was insistent we write a "poem-poem, something straight, no chorus, no rhyming or whatever." This was the last track we wrote, and I wanted it to be a list of all the things I wanted to say to my daughter. I got the idea watching her applauding as I made to the edge of the pool for the first time, Started with the line "I hope when you're my age, compassion is cool again" but then as I kept writing, I kept coming up with lines I'd immediately respond to,  like "Billionaires are boring, don't let their pr fool you" , "Your idols will let you down… except for Keanu Reeves" and "be nice to people, but not nazis". One 8 minute song later, we felt the first half had a more personal energy to it, and we decided to split it into two.
Last Time
When I was younger, I used to play Halo with some old bartender-friends of mine after work. Mad 3-am traditions that, when we all moved to uni and other jobs, we tried to keep going but life and London had other destinations. At the time, thinking back on it, it was the best times of my life: few cares, close friends, junk food and all my days ahead of me. I think I have one picture left of us on a sofa that I was really close to making the album cover. I'm not friends with any of them anymore.
Unfold
This one needed a tempo change, "make it faster!" I said. I'm really proud of the writing on this track, some of my fave writing is here: When in doubt say yes/friday night in your sunday best/moon sits high in a blue night's chest/wash you clean of all your stress/by hook or crook you will be blessed". Yeah I'm chuffed with that one. I wanted to capture the middle of a good night out. Nothing memorable or distinctive, just you and mates going for it and reaping the rewards. It's an experience I def want to explore in detail in future tracks.
End Of The Line
This is the second part to last time. Yeah, a bit of a sad one, here. We really struggled with the chorus for this: at one point I thought maybe it didn't need one. When I'm stuck, I sometimes take a chorus I like, break it down to its essence and build mine off the back off of that. With this song, when I wrote the chorus, it still sounded too similar to the song that inspired it, So Long by a friend of mine and the best singer/songwriter I know,  Jono McCleery. I called him up, told him what I did and asked for permission to sing it. He loved the song and offered to sing it himself. It's the biggest moment of kindness on the album
I Got You Every Step Of The Way (For Leone Ross)
This was the second song I wrote with Ludvig. I finished it in thirty minutes. The moment I realised I was writing a song about Leone Ross and how much she meant to me, the song followed. Leone – amazing writer, godmother to my daughter – was a constant at a very dark time in my life, and she used to joke that I'd never write a song about her. I mean, I still kinda haven't, but this is a start.
All The Same
This is actually the oldest song off the mixtape, a holdover that couldn't find a home from an old band. They're all tales from my time as a barman in the west end, all the sad love stories that would play out in front of me as the night closed down. Felt like a fitting last track.
— —
— — — —
 © Agatha Powa
:: Stream Joshua Idehen ::
---