Love is beautiful; love is fickle. Love is blindness; love is all you need. This Valentine's Day, our writers dove into their favorite love and anti-love songs. Pick your poison and indulge in some new music on this annual commercial celebration of romance and Saint Valentine!
❤?❤?❤?
---
"Holy Water" by SAKIMA
Alex Killian, San Francisco, California
"It's often hard to remember the things we deserve and the value of our own emotions when we're enamored with love, or lust. SAKIMA dives into the discovery of his own self worth and emotional value on his warm R&B track, "Holy Water." In many ways, it's a love song to himself as well as the lover who might just be worth his time.
I think I might give to you my whole damn heart
Take a chance on you 'cause I'm a bitch for art
But if you make me love you like I think you are
Then boy, I'm fucking sacred, better treat me like I'm…
Holy, holy water (oh)
SAKIMA reminds us that the love we have for others shouldn't overshadow the love we hold for ourselves, no matter how alluring someone may be. It's a realization that often takes experience to fully understand, and as such tends to be a liberating epiphany. When we love our own flaws and assign them worth, we learn to expect more from our lovers. It's an important message in reciprocity and emotional intelligence; equal parts empowering and sexy. "
"The Songwriter" by Father John Misty
Father John Misty's "The Songwriter" is an unabashedly honest approach to some sense of writer's guilt. There's a certain irony in writing about this song for a Valentine's Day playlist, because it makes me think of my girlfriend but in a funny kind of way. As Josh Tillman sings to his girlfriend, he wonders what it would be like if he was the object of songs she wrote instead of the other way around. If someone you're dating or married to is your muse for some sort of artwork, it's incredibly relatable when he sings, "What would it sound like if you were the songwriter/And you did your living around me?/Would you undress me repeatedly in public/To show how very nobel and naked you can be?" I'm a comic and tell jokes about my girlfriend, and while we have an understanding of what I do, I can't help but feel this way most of the time.
"Strangers in the Night" by FERGUS
Celebrating love doesn't necessarily mean indulgent, sugary sweetness and an injection of pure dopamine. FERGUS' breathtaking version of "Strangers in the Night" is a hauntingly bittersweet outpouring of longing, tenderness, love, and sadness – and it fills me with tears every time. I'm biased because the London-based artist recorded this song as a gift from me to my fiancée for our engagement last July, but I'm so glad he opted to release it as a single. FERGUS brings his heavy heart and poignant soul to Sinatra's iconic love song, turning a classic into a brand new story where the outcome is uncertain, yet still meaningful and important. This love is mournful. but hopeful – and if I'm being honest, some of my most powerful experiences of love have occurred in my darkest hours. That's when it's felt the strongest… and when it's meant the most. Read more about the song here, and bask in its utter intimacy. FERGUS is one of London's finest; I hope he takes your breath away, as he has mine.
"Addicted" by The WLDLFE
Love isn't all bouquets and fireworks. Being with another person puts you in a constant collision course with their quirks, hang-ups, and trauma. It's a handful. It's work. And it's ultimately worth it if you're willing to put in the effort for the right person. Still, it isn't without its frustrations. Indie pop quintet the WLDLFE bottle that clash of adoration and vexation on "Addicted." A casual listen drops you in a jangling pop landscape that's all hearts and chocolates but lead singer Jensen Hogan uses that as a canvas to air his dirty laundry. "And I don't even know why I'm still putting up/With your stupid games I swear I've had enough." But this isn't a good riddance song. No matter the issues, he's willing to give it a try. "No matter what I say I think of you like every day and every night/And all the time you're on my mind." That's not to say every relationship is worth the effort, but if you love someone, moving past the trifles gets easy.
"Infatuation" by SOPHIE
"Infatuation" takes the listener on an sonic journey. The whispered vocals and feather light instrumental lend intimacy to the beginning of the track, before blossoming into an electric second half, complete with a buzzing, distorted guitar. Eventually, the song comes full circle and recedes quietly, much like the way it started. It perfectly mirrors the real life feeling of being infatuated with someone, and the experience of getting to know someone new.
"Bad Love" by The Aces
"Bad Love" is a funky sparkling song about two people who decide to love each other despite the judgement from everyone else. Specifically it's about an LGBT couple, and asks the all-important question of what makes queer romance "bad love?" in the eyes of society. It's such an upbeat, euphoric track that perfectly captures the rush of sneaking around, the burning desire to be in someone's orbit all the time, and simply, what it feels like to be lovestruck. Lead singer Cristal Ramirez's smooth vocals give the 80's sounding pop track a sharp edge as she sings with a love-fuelled passion. "Baby, they don't get us, never had this love before/I wish they know just how I felt, think they'd be ready to adore you/ How could they call this bad love when all I want is more?" she asks. Love is love is the main message, making it an essential track for anyone wanting to be an ally while also rocking out to an expertly crafted banger.
"There Will Never Be Another You" by Various
Originally written for a mostly forgotten musical named Iceland, "There Will Never Be Another You" nonetheless holds its own ground as one of the sweetest songs out there for your sweetest heart. There's something about jazz – particularly from the 30s to the 40s – that lends itself to romance, whether it be sunny or pining. You might say that's because of all the crooners singing each other's' songs, but there's a texture and depth to jazz chords that pop love songs can't top.
At any rate, "There Will Never Be Another You" may be the jazz age's Sonnet 18. The tune is hopelessly starry-eyed, the lyrics beautifully poetic, and the chords heart gripping. I'm typically one for the small, silly side of romance, but "There will be other songs to sing/Another fall/another spring/But there will never be another you" is a wonderful ode to another human. It's not an ode to beauty or talent – just an ode to "you."
What version should you listen to, though? Chet Baker is the classic, though I personally love Joe Pass's instrumental version, and you've gotta give Ella Fitzgerald, Queen of Jazz, her shake.
"Cariño" by The Marías
Each track from The Marías never fails to create intoxicating soundscapes that transport listeners to dreamlike worlds. The vocals are this mixture of delicate and velvety, making for an intimate and hypnotic experience. These talents are in full-effect with their track "Cariño," and as the title might suggest, it's a sensual Spanish jazz-fusion track that reminds listeners why love is so powerful and beautiful. It acts as a love letter to our protagonist's cariño, a Spanish word that translates as a term of endearment (honey, sweetie, ect.). In this letter, our protagonist showers her love with compliment after compliment, reminding them just how much she adores them. It's a delicate and delightful track with a diverse arraignment of melodies that come together in a spectacular fashion. One would be hard-pressed to swoon over it.
"May as Well" by Angel Olsen
Besides being some of the most viscerally honest lyrics, Angel Olsen provides a fresh, succint persepctive on a welll versed topic. Can we ever truly fall out of love? As the track progresses, it seems as though she is an a loveless relationship, where both parties refuse to move forward or acknowledge their complacency. "I've tried my best to keep you smiling love/ Maybe it's been all in vain". Yet, despite all of the silent toxicity, she still wants to try. Even though she feels that her "heart is splttting open", she's willing to try. The track, stopping at a cool 2:40, reaches an emotional apex at the absolutely last four lines, Angel simply cooes "I'll never forget you all of my life". Simply, matter of factly, by just changing her inflectio four times, she reminds us that sometimes no matter how much trauma you've endured, no matter how much it feels liek everything is saying leave, you can't let your mind do that.
❤❤❤❤❤❤❤❤❤❤❤❤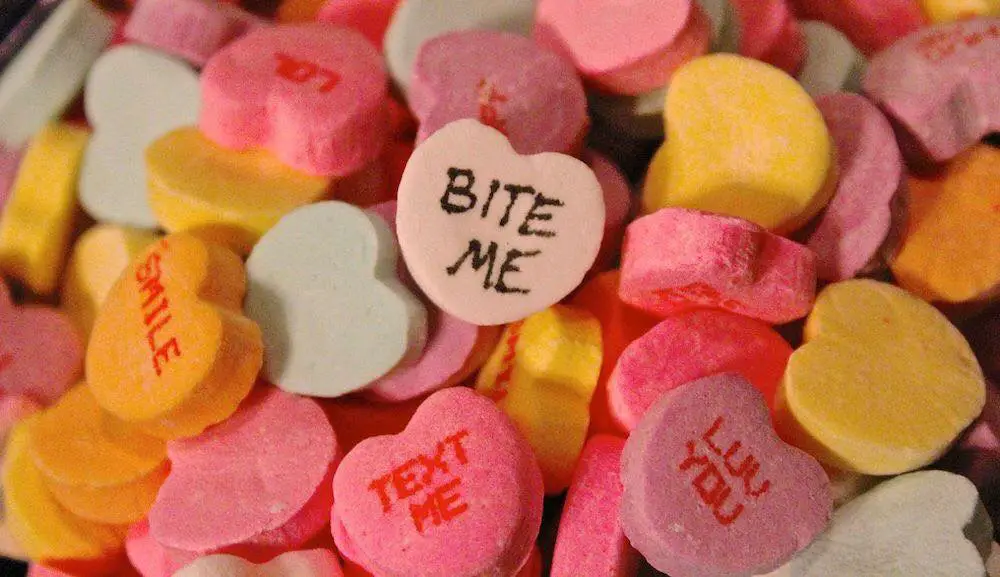 ---
"Talia" by King Princess
Alex Killian, San Francisco, California
The raw emotion and deep cuts delivered on "Talia" are almost too much to bear. It speaks to the hardest part of heartbreak – when you fully realize it's over but the pain hasn't begun to subside. Grief, pride and that feeling of emptiness are palpable as King Princess laments. Her lyrics surrounding alcohol as both relief and reminiscence tug at the deepest parts of anyone who's lost a lover. Her gut-wrenching vocal delivery is paired with precise, poignant production. Together, they create a delicate yet passionate song for anyone mourning love; something as beautiful as it is painful. There's always hope at the end of heartbreak, no matter how painful it may have been.
"thank u, next" by Ariana Grande
Ariana Grande's split from Pete Davidson was the breakup heard around the world. What followed was one of the catchiest songs of the year that became an anthem for the ages. Rather than making a song full of resentment, Grande chose to write a single that thanked all of her exes, expressed the growth she'd made from past heartbreaks, and praised self-love. With an accompanying music video that featured Grande playing the strong female characters in iconic romantic comedies such as Mean Girls, Legally Blonde, Bring It On, and 13 Going on 30, "thank u, next" became an irresistible track that everyone could applaud.
"I'm Good" by Wafia
Alex Killian, San Francisco, California
"I'm Good" pinpoints the feeling of waking up and suddenly realizing you're better than all that. And honestly? They were actually kind of a scrub now that you think about it. Wafia gives us a playful delivery and sharp lyrical cuts over a bright and bouncy beat. She reminds us that even if you loved them, nobody is worth making you feel like less than you deserve. Moving on can be enlightening, and the lessons we learn through heartbreak shape us into better lovers; for ourselves and future partners. But for now, relish how good you feel having dodged a loser with Wafia's excellent track.
"I Used To" by Oddnesse
The vulnerability one feels after a breakup is at times immeasurable, and Oddnesse's "I Used To" doesn't shy away from discussing its lingering pain. As the hazy melodies and smooth vocals begin to pour in, a complex wave of melancholy washes over listeners. Despite the hurt that is being sung, the repetition of the chorus and lyrics like "I used to think I loved you, now I'm not that worried about it" echo throughout, transforming it from deep sadness and hurt into feelings of happiness. It's a self-aware happiness, acting as an escape from these feelings of dread, almost like it's a release. Our protagonist is moving on, and each step she takes is one of personal growth and triumph. But malice isn't found here, it was simply a love that couldn't last. She has taken the bad with the good, finding joy in the beauty she experienced despite the outcome. It's a track that excels at showcasing what makes us human.
"Stardust" by Petal
Some breakups are tender. Petal's "Stardust" evaluates a devastated relationship the same way that "The Mess Inside" by the Mountain Goats does. As the chorus reminds us, Kiley Lotz sings, "I can't say I didn't love you." The hardest part of any breakup that means anything is realizing that you really did love the person. There are plenty of breakup songs where we say "Fuck that person," but this song is the reason we say that. It's painful to question yourself in saying, "Maybe we'd make good parents?" only to be left to wonder and say "Maybe not."
"Come Through" by The Regrettes
Is there anything more cathartic than telling a f*ckboy you're done with them? Los Angeles wunderkind punks The Regrettes don't mince words with this vicious piece of piss-off squall. "You think you've played me/For a fool (For a fool)/When really you've just made yourself/Look like a stupid tool." It's a middle finger to the "U up?" d-bag in everyone's contact list. You know the one. The Tinder fisherman always letting out a little bit of line to keep you hooked. Don't think you're the only one getting their late night texts and BS lines about how special you are. The only things they have less of than commitment are clean sheets and dishes. You don't have time for that nonsense and neither do the Regrettes. Shrug them off with roaring guitars and a snarl.
"I Would Hate You If I Could" by Turnover
It's not Valentine's Day if you're not having sex to Turnover or crying to Turnover. Peripheral Vision's bittersweet reminiscing is constructed so romantically and alluringly, it's just so irresistible that the bitter part kind of fades. Still in "I Would Hate You If I Could," the song begs, "Can I erase from my mind anything that you said or / Any time that we spent with each other?" and claims the person was merely a "meaningless lover," while it simultaneously shares carnal anecdotes with a sense of longing. "Forget the nights that we spent laughing / Till the morning on your bedroom floor," recalls vocalist Austin Getz, obviously not actually interested in ridding himself of this memory. It's the quintessential heartbreak song, permeated with pangs of resentment, nostalgia, and inexorable love, and surrounded by this atmosphere of intoxicated serenity. If you're looking to get wine drunk and wallow in heartache over every relationship you've ever been in, this song, as well as the entirety of Peripheral Vision, will make the perfect soundtrack.
"Washing Machine Heart" by Mitski
The lyrics of "Washing Machine Heart" start off hopeful enough, with the protagonist asking her love interest to kiss her already. But by the second verse, it's obvious that the track actually revolves around unrequited love, as Mitski repeatedly sings "Why not me?" in the chorus. The stabby synths and propulsive percussion lend a slightly manic edge to the track, adding to the persistent effect of Mitski's singing. It's not too far of a stretch to imagine the protagonist of the song wringing their hands and sobbing along to the chorus.
"Do Not Disturb" by Mahalia
"Do Not Disturb" is the perfect anthem to tell an ex to go screw themselves. Mahalia's sultry R&B anthem is the perfect powerful articulation of moving on. She tells her she's over and done with his nonsense by aserting she's putting herself on 'do not disturb.' Her witty lyrics pack the perfect sassy punch:
You done really messed me up like that
Came and stole my heart, oh, that's a fact
Boy, I think it's time I took it back
I don't wanna see you callin' me,
asking where I'm at
Sometimes the best thing for heartbreak can be seclusion. In order to move on we have to close ourselves off from the people holding us back. Mahalia reminds us to look out for ourselves and take back our hearts from those who don't deserve them.
"Oh Baby" by LCD Soundsystem
The opening track on their return, "oh baby" had to make an impression. It does, but in typical James Murphy style, "oh baby" leaves its mark by subverting expectations. It's one of the most tender songs released from the band known for tearing it up in Ibiza, playing at a sex club, and just general rowdiness. This is LCD Soundsystem's magic – to sing about "Drunk Girls" one second, and have you in tears the next.
"oh baby" offers few lyrics, instead allowing Murphy's expressive voice to deliver what the words don't. Fitting with the album that it opens, Murphy delivers "oh baby" in a dream, a night terror, a half-waking half-sleeping hot-sweat haze. In the dream, he pines for his love, begs for them to shake him awake. But they don't. They're elsewhere, having a bad dream of "ringing alarms," and Murphy's tenderness can't reach them.
"Valentine's Day" by LANY
Lead singer of LANY, Paul Klein, has a knack for expressing every emotion he feels into a song. 'Valentines Day', conveys his yearning to move on from the pain of an ended relationship. He's trying to mend his heart, but is also suffering with the feeling of emptiness. Klein sings, "I think it's time/To give my heart a chance/See if it's healed by now/I think it's time, I think it's time", describing he has the strength to try again with his broken heart. He narrates diving into a new relationship and realizing they are not like what he had before. "I'm hanging out with someone else/I think they like me too/ Will it last? It's hard to tell/ When everything feels so new/ Against her hips I find some help/But I know it's not the truth/ No matter what I tell myself/She's not as good, she's not as good/She's not as good as you, no". You have to really feel for Klein, and can empathize on his feelings. It has happened to all of us. There's the longing of getting someone back, even though they hurt you so deeply, because in that moment you are thinking that you will never have that kind of love again.
"Emerald Star" by Lord Huron
Although the majority of Lord Huron's discography is teeming with ambiguity, there are irrefutable acceptances amongst their work. One acceptance in particular has to be the palpable feeling of love. Whether it be through colorful metaphors or verbose allegories , Lord Huron utilizes everything to prove love's bedrock, or lack thereof. "Emerald Star" follows that notion..right into the ground. The song alludes to the idea you could literally cross a city, a town, even the galaxy for someone and they still don't feel the same way. Moreover , in true Lord Huron pessism, the chase cost you your life, and now you can drift throughout the cosmos pondering "Why not Me?". Don't forget the moody theremin backdrop of course
????????????
— —