Slow Runner's Michael Flynn tackles our shared struggle and existential crises with an aching heart on his 3rd solo album 'Survive with Me', a soundtrack to the human spirit, survival and perseverance, and in his own words, the "darker corners of the soul."
Stream: "Easy to Love" – Michael Flynn
---
Michael Flynn is bracing for the apocalypse with a tender, loving smile.
2020 has felt like the end of the world: A global pandemic and societal unrest have made turbulence the norm and turmoil a constant state for so many. Insecurity at home is reflected by chaos outside and on ever news station. It's overwhelming – the sort of nightmare you just can't seem to wake yourself from. Hence while it is no surprise that a seasoned singer/songwriter like Michael Flynn might turn his art's focus toward topics of devastation, decimation, and loss, what is so striking about his new album is its sheer beauty. Flynn tackles our shared struggle with an aching heart on his third solo album Survive with Me, a soundtrack to the human spirit, survival and perseverance, and in his own words, the "darker corners of the soul."
Come away with me in a pointless argument
Till we can't remember the thing that started it
Fall asleep
Your back against my back
Rest your dreams on that
But baby oh, I'm easy to love after the check clears
Oh I'm easy to love after a few beers
In the right light
In the right light
Oh I'm easy to love just as the end nears
Released October 13, 2020, Survive with Me is the best news we've heard from a man named Michael Flynn in quite some time. Currently living in the lush hills of Saluda, North Carolina, Flynn is no stranger to music: The founding member of Slow Runner has toured international stages with the likes of The Avett Brothers, Josh Ritter, Built to Spill – all to much applause – and released five full-length albums over the past two decades. Flynn released his first solo album Face in the Cloud back in 2014, and followed that with Pretend Like in 2018.
"The lines between my solo music and Slow Runner are extremely blurry," the artist admits. "Not only am I the chief songwriter in both, but my creative partner in SR, Josh Kaler, played on each of my solo records. So in some ways Slow Runner never stopped, and that collaboration is permanently ongoing in different ways. I helped write some of the songs on Josh's newest release for his 'Hula Hi-Fi' project."
"It's so weird how describing your own music is the hardest thing," he adds. "My stuff is fairly eclectic, which doesn't help. I guess I'd call it 'songwritery dork pop.' They're ultimately just pop songs, but I work real hard on the lyrics and I'm a big music nerd. And somehow 'Americana' has come to mean 'the genre for people who care about lyrics', so I'm somewhere on that spectrum too. It's complicated."
Survive with Me strikes a stunning balance between elegance and upheaval. While makes so much sense as a "2020 album," many of its songs actually date back before this year. "This album was basically built out of a few clumps of songs that all arrived together over the past two years," Flynn explains. "My last release was a pretty somber piano and strings affair so I knew I wanted this record to be more of a party, lyrics notwithstanding, so I assembled a dream band in my head and then begged/cajoled those friends into playing on it. The title was inspired by those 50s/60s crooner records, where the singer is inviting the listener to take a romantic journey with him (like Frank Sinatra 'Come Fly With Me'). I wanted to make the 2020 version of that, which is less 'come away with me' and more 'come with me if you want to live.'"
For Flynn, the through-line between his albums is some combination of building upon his past, while simultaneously dismantling and, in some ways, rejecting it entirely. "For me each album tends to be a rebellion against the last. So the first solo record was heavily electronic, the second was very organic and defined by its somber piano and string arrangements, and this one is more musically energetic and adventurous."
---
Thus we begin with the enchanting minute-long instrumental on album opener "But It Lived," blending melancholy neoclassical piano playing with haunting, harmonizing brass. Survive with Me is sure to win over many a listener well before Flynn has sung a single word – and yet, it is his stirring and emotional performance that seals the deal. "'But It Lived' is my sentimental favorite because it's kind of weird and unpredictable and vibey," he admits. "And I love songs that examine the darker corners of the soul."
It also makes for an incredibly memorable, arresting entrance, setting the tone for a the multifaceted arrangements and gorgeous melodies that proceed to rise and fall over the ensuing forty minutes. "In some ways I think this is the most complete realization of everything I've tried to do in music since the beginning of my career," Flynn remarks. "Oddly it's the most similar to the music I was making as a student, back before I learned the 'right way' to do a lot of things. I'm finally at a place where I'm able to incorporate those instincts and feelings back into my musical self. They weren't all bad."
Not at all. Flynn's songs flow freely and with care through explorations of love, loss, and empathy, reflections on global warming and growing older, big life changes, and so on. His sense of humor is clear through speaking with him, and on the record that levity translates into certain self-awareness that doesn't take itself too seriously, while still trying to take the whole "music" thing seriously.
It's a balance of sorts.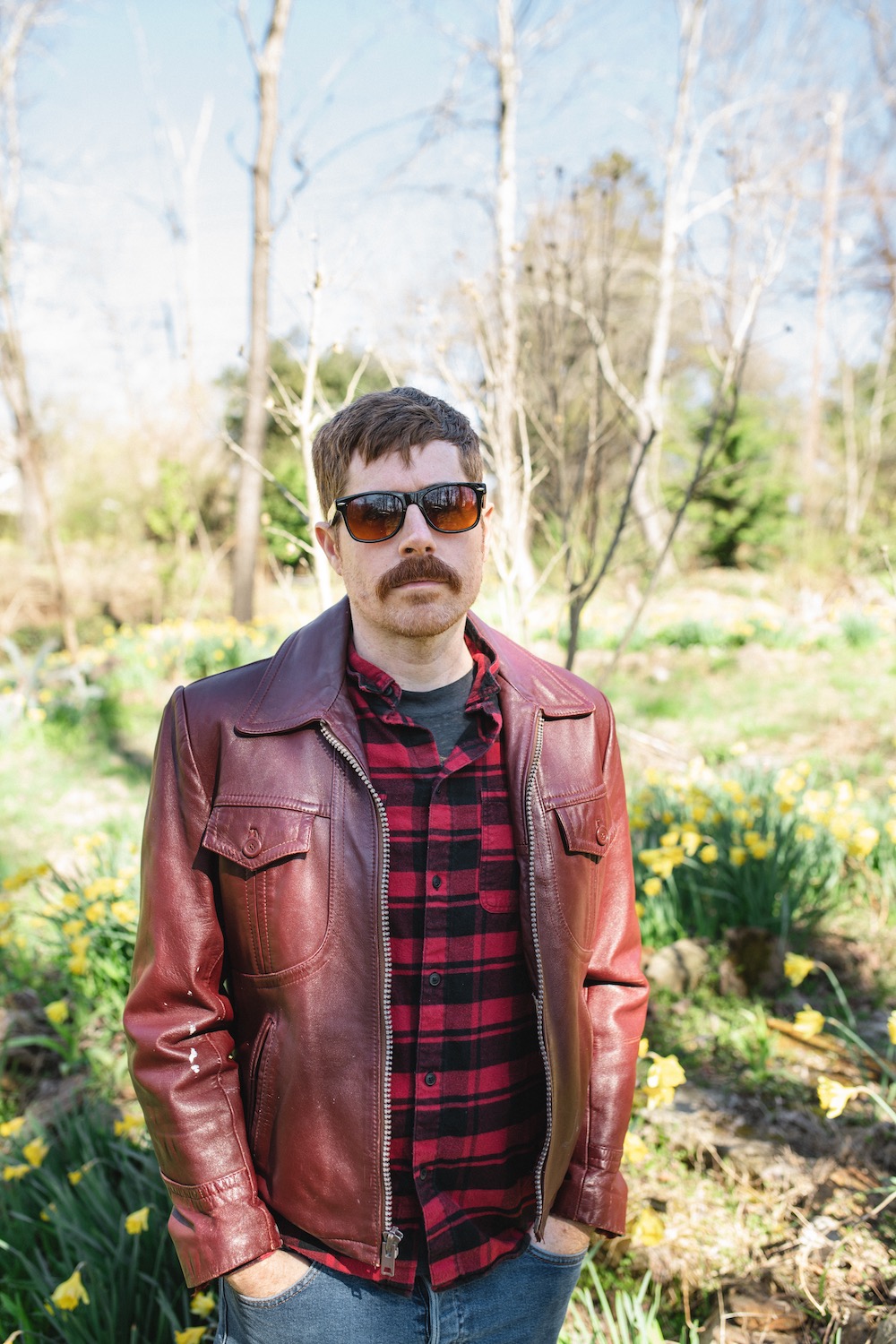 When it comes to an overall conception, Survive with Me is an interesting mix of happy accidents and well-executed intent.
Songs like "Easy to Love," "No Promises," and the title track work particularly well together in capturing a life that feels like it's teetering on the brink, but all the same making the best of each moment and every day. "I didn't really have a vision for the record beforehand, but I did play nearly all the songs live on tour before recording them," Flynn shares. "I'd never done that before, and it was really useful to figure out how to sing them and to see what worked and didn't work. By the time I was putting the finishing touches on the recordings they had really gelled together into having a unified identity, which is a lucky thing – that doesn't always happen."
As for lyrics, every song has its share of inspiration to pick and choose from. "B.O.M.B." is a particularly compelling listen, written from the perspective of Flynn's dog address his owner:
Bad dog trying to be a good dog
Good dog supposed to sleep
Bad dog trying to be a good dog
Still ends up chewing through the sheet
And I shouldn't but I do
I shouldn't but I want to
I know I'm not supposed to
But I want to
I'm back on my bullshit
A lover of words himself, Flynn cites two of his own favorite lines, both of which come from songs on the  album's back half. "The successful rhyming of 'avenue' with 'half a moon' in 'Perfect Crime,' because I am big into multi-syllabic rhymes, and using the word 'wet' to describe the air in 'Saluda.' I love how unromantic that word is; it makes the image more real to me."
As we noted earlier, Michael Flynn is bracing for the apocalypse with a tender, loving smile. Survive with Me is an earnest message not to wallow in despair, but to find more reasons to feel hopeful and inspired.
"Honestly this sounds preposterous when I say it out loudm but I hope this album makes people feel loved and optimistic," Flynn says. "I know the lyrics aren't particularly bright and sunny but they're very much about a soul being honest with itself and accepting reality in the way you must before you can change your life for the better. It's easily the 'healthiest' record I've ever made in that respect, and the musical soundtrack beneath those lyrics is playful and hopeful and was coaxed into existence from a place of childlike exploration. It was joyous and inspiring and cathartic to make, and if that translates in even some small way I'll be proud and happy."
Satan may or may not have "taken the wheel" (see the record's tongue-in-cheek closer), but at least if we do go down, we'll go down with some beautiful new music. And should things get better, let this album serve as an encapsulation of how, even when times got tough, we didn't stop trying to believe in a brighter future.
Experience the full record via our below stream, and peek inside Michael Flynn's Survive with Me with Atwood Magazine as the singer/songwriter goes track-by-track through the music and lyrics of his third album!
Who do I talk to about selling out
Got a real good soul just sitting here
All of my crossroads are roundabouts
Even the silence is loud and clear
And oh everyone's fighting
And singing about love
Satan take the wheel
Satan take the wheel
Let's make a deal
And get something going
Cause it's getting real
— —
Stream: 'Survive with Me' – Michael Flynn
:: Inside Survive with Me ::
— —
BUT IT LIVED
Inspired by a close friend battling recurring mental/emotional issues that never fully go away, written while watching too much Stranger Things. This was the hardest track to fully realize with its atypical form and horn arrangements but it felt like an appropriate introduction and musical 'mission statement' to open the album and introduce all the main instruments as 'characters' in the play.
EASY TO LOVE
This song is inspired by the dynamic in a relationship where the woman is the kick-ass, good-at-everything overachiever and the man is the goofy lovable screw up/comic relief. It's a sitcom trope that has always offended me, so it cuts extra deep to realize that it accurately describes nearly every relationship I'm privy to, including my own.
B.O.M.B.
For the first time in my life, and at the repeated insistence of my wife and daughter, I became a dog owner this past year. This song is from his perspective and is basically me trying to empathize with that puppy, who wants to be a good boy but can't quite control himself enough to pull it off consistently. I know the feeling.
SURVIVE WITH ME
A love song about global warming, and the distance between the older generation that isn't as concerned about it and the younger generations that are going to have to live with the consequences of that attitude. There's a certain feeling that I love in movies and songs when the main characters get up the courage to claim their own destiny: when Baby dances with Johnny at the end of 'Dirty Dancing', or when Springsteen's 'Thunder Road' couple drives away from the town full of losers. I've always wanted to write a song like that.
NO PROMISES
Written for a forthcoming William Fitzsimmons record, inspired by the recent dissolution of his marriage. This song is about how precarious the commitments we make to each other actually are. Promising a lifelong bond to somebody is a beautiful act of blind hope considering how complicated and unpredictable life can get.
BEAR STRATEGIES
Inspired by moving from the coast to the mountains and suddenly living among foraging apex predators. My wife and I would sit outside at night listening to the forest noises and jokingly discussing what we'd do if a bear charged us. Writing the song made me think about how cities might not have bears but they're teeming with their own set of dangers.
PERFECT CRIME
A song about the passage of time and how cruel it feels sometimes. It takes all your beautiful moments and escapes with them. It is undefeated and unstoppable. Doesn't feel fair in a world with so much beauty and meaning.
TOO MANY DREAMS
The first song I wrote after moving from Charleston to Saluda. Like the previous track, it's a meditation on time, how there is too much I want to do and not enough time to do it, and how none of us die with every single item checked off our wishlist. Fellow Saludan Hannah Seng plays a beautiful banjo part and sings harmonies. Jazz drummer Stephen Johnson plays the full kit with his bare hands.
SALUDA
I've never liked 'town name' songs, but that could be because I'd never lived somewhere that inspired one. This is a love song to a town but also to the tiny, beautiful life that has quietly unfolded for me since we moved there. All details 100% true.
SATAN TAKE THE WHEEL
Partly inspired by the title, which I can't believe no one has already used in the years since Carrie Underwood's 'Jesus Take The Wheel,' this is an update on the Robert Johnson 'crossroads' myth about trying to sell your soul to the devil for fame and musical greatness.  In the modern world it feels like souls have been devalued to the point that it's a buyers market, and 'selling out' isn't even on the menu. You just have to give your soul away for the exposure and hope you make money on t-shirts and vinyl. Thanks, Spotify.
— — — —
? © Nathan Baerreis
:: Stream Michael Flynn ::
---