A beautiful indie folk dream come to life, Tommy Ashby's 'Lay Low' EP (ft. Lydia Clowes) is a soft and tender beacon of light. The singer/songwriter dives into the depths of his new record with Atwood Magazine.
"Happy Just to Know" – Tommy Ashby & Lydia Clowes
---
I recently moved to the coast and I think the sea has unknowingly seeped into my songwriting.
A beautiful indie folk dream come to life, Tommy Ashby's new EP is a welcome respite after the past year we've all had. A sweetly stirring soundtrack to connection and reflection, Lay Low is a beacon of light: Lilting and soft, tender and heartfelt, it's a full-body musical experience ready to rejuvenate our spirits and lift up our hearts.
We all deserve our own space to breath, think, and feel, free from distraction. This record is one such vessel for us to escape – whether that means diving into our selves, or tuning out the world for a while.
Think I got a new philosophy
I wanna dive right in,
I hear the water calling out to me
But I don't think I know how to swim
– "Poolside," Tommy Ashby
Released May 14, 2021 via Wow & Flutter Records, Lay Low is a warm valley of wonder and connection. Featuring London's Lydia Clowes on all five tracks, the fifth extended player from Scottish singer/songwriter and Atwood Magazine artist to watch Tommy Ashby arrives a year after his fourth EP, Everywhere Is Home, which itself followed the 2019's third EP, Golden Arrow. Reviewing that record at the time, Atwood Magazine's Luke Pettican praised Ashby for his appetite for innovation and atmospheric nostalgia-tinged aura, calling his music "intimately moving and easily accessible": "In a world increasingly dominated by mediocrity and repetition, Tommy Ashby offers something that's delightfully distinct."
Pandemic aside, the past two years have proved an exciting time for Tommy Ashby, whose summer 2020 single "Blood Wolf Moon" – originally premiered here on Atwood – struck a nerve with audiences around the world. "A beautiful addition to the indie folk catalog, "Blood Wolf Moon" resonates with beautiful acoustics, sweet high harmonies, and a breathtaking sense of intimacy and connection," we wrote last year. The song has since garnered over 4.1 million streams, and serves as the moving middle tune on Ashby's gilded, sentimental three-track EP, Everywhere Is Home.
A fast-rising star on the indie folk front, Ashby has proven himself a prolific presence over the past five years, and Lay Low affirms that his best work still lies ahead.
"We've all been asked to lay low this year, in the sense that we are just trying to quietly keep going, on an emotional level as well as physically," Ashby tells Atwood Magazine. "Most of the friends I spoke to were having a tough time in one way or another; it was almost a universally hard year and made me realise how much we rely on each other for support. To lay low also has peaceful connotations, to slow down and see things anew. It was such a weird year but there were beautiful moments within it; I really felt the passing of the seasons and noticed nature as I haven't before."
The story of Lay Low begins with a transition and a fresh start.
"I moved out of London into rural Suffolk with my girlfriend at the start of 2020," Ashby explains. "Our arrival coincided almost exactly with the beginning of lockdown and so the start of life in our new house was extremely odd. We still haven't met many people in our wee village! However, for the first time I had my own little studio in the garden and so I was able to get my head down and work on music every day. And this record was the outcome! It's somewhat a story of reconnecting with rural life, the changing of the seasons and just slowing down a bit from hectic city life. Some songs are directly descriptive, for example 'High Moon' describes the long evenings of summer in the fields around our house. It's pretty universally about distilling your life down its essence and really picking out the things that are most important to you."
"I knew I wanted it to conjure something of the countryside that I had experienced growing up as a kid in Scotland and now living in rural Suffolk. Although I have lived in cities for a long time, I've never felt at home there. You feel time passing and things growing and changing more when you live in the countryside. I wanted this EP to reflect that. I also wanted the EP to be escapist and dreamy. It's been such an awful year in so many respects, I just wanted to be able to listen to the record and drift away from all the other stuff going on and be somewhere else for a while."
Lay Low certainly taps into the stuff of dreams, and one of the primary reasons for that is the dual vocal presence of Ashby and Lydia Clowes, a talented vocalist and writer in her own right who also performances as one-half of female electro duo Bad Honey. "I've been playing music with Lydia for years, as session musicians for other artists; I've never seen anyone make singing beautifully look so effortless," Ashby says. "I'd been meaning to ask her to sing on a song for ages but it had never quite worked out until lockdown stopped all session musicians in their tracks. Suddenly we had all the time in the world and so I got my head down into writing songs and this EP came out! Writing with another voice in mind opened up so many possibilities, the limitations of my own voice were no longer an issue and the mixing of our voices created a really interesting texture. It also gave me an alternative point of view to play with. So many of my favourite songwriters and artists have been part of a duet – Gillian Welch and Dave Rawlings, Simon and Garfunkel, the Everly Brothers, First Aid Kit and The Milk Carton Kids to name a few."
There is something so engaging about the merging of two voices that I think speaks to the soul.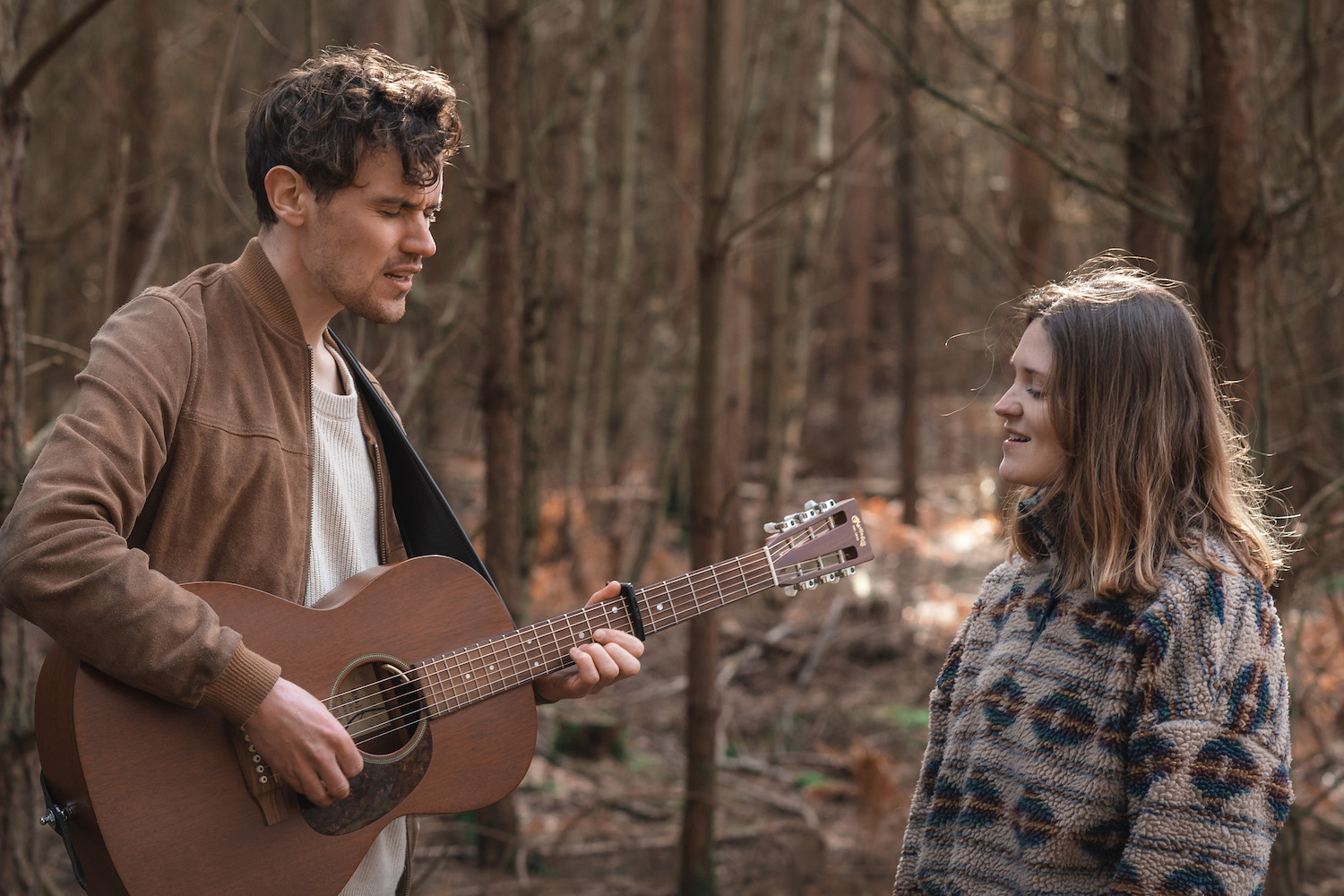 For Ashby, Lay Low is his truest offering yet.
"I think Lay Low captures me more than any other EP I've released, he says. "I grew up playing acoustic guitar with my dad from very young – people like Bob Dylan, Rolling Stones, Neil Young, Bonnie Raitt, I've always had an affinity with classic acoustic guitar-based songs. At the same time I love modern expansive soundscapes and atmospherics, we have such a wide palette of musical colours to draw from these days, even from tiny home studios. I think this EP brings these two loves together really well."
"I think the good thing about this record is that it has many different colours," he adds. "Just now I think I'm really enjoying 'Whiplash', which is the first track on the EP. I like the way Lydia's vocal moves and merges with mine, sometimes in harmony, sometime in unison. It allowed me to create melodies that I couldn't have if it had just been me. 'Whiplash' was definitely one of the most fun to record because it was so many different influences – the picked electric guitar part puts you in the world of the XX and London Grammar while the riff part is slightly spaghetti western and also Phoebe Bridgers like. The drum part spent quite a while orbiting Phil Collins and Lionel Richie before settling down. So it was a real journey putting all of those pieces together with my producer Sam (Okell)."
"I also like the way certain songs put you back in the place you were when you recorded them. 'High Moon' puts me back in the field where I first came up with the melody and 'Whiplash' puts me back in Sam's freezing cold studio in Cornwall singing backing vocals in the December dark."
Beyond the sounds and mood of his music, Ashby also excelled lyrically throughout his new record – exploring the natural world while plunging into existential wanderings full of questions for which there are few, if any, answers.
He cites a few favorite lines: "A simple one I like is, 'Time is for passing, and I give you mine,' from 'High Moon.' I think the time that we spent with other people is probably our most precious commodity, this has really been accented this year. The fact that we freely give it away to our friends and family is beautiful."
"I think lyrically, 'Poolside' captures the inertia we feel when trying to make decisions and take action: I have definitely been in the position where I preferred lamenting the actions I didn't take than taking them in the first place – which is such an odd choice."
And when I'm standing on the precipice
I can't seem to take a step,
Some days I wonder why I'm doing this,
So much easier to love regret
Atwood Magazine recently premiered the soft heart-on-sleeve "Poolside" in March, hailing it as a folk anthem for introverts everywhere: "'Poolside' ebbs and flows like a majestic lullaby. Ashby soars through a soundscape of fragile, atmospheric indie folk sounds akin to contemporariesNovo Amor and Dustin Tebbutt; acoustics remain up front and center, but he builds a world of wonder through subtle keyboard work and a wash of vocal oohs and ahhs that fills the air with gentle light. Written with Jessica Sharman (Ward Thomas, Hannah Grace, Dan Croll, Sarah Darling), 'Poolside' is as vulnerable as it is immersive and emotional."
---
In addition to "Poolside," Ashby adds EP opener "Whiplash" to his list of lyrical highlights, calling it "much more of a narrative based song": "I like trying to encapsulate characters and personalities in lyrics. Throwing in bits of conversation is fun too."
He works the night shift,
She works in the city and,
She's seen the Mardi Gras,
He's never traveled too far
Intimate and welcoming, Lay Low immerses its audience in touching gusts of loving, gentle sound. A refreshing highlight comes on the record's finale "Happy Just to Know," a buoyant and bright celebration of the connection we can share with one another. "Happy just to know it's never far to go, because I can't be happy if we're together," Clowes and Ashby sing in a chorus speckled in glorious harmony. "I'll come hold your hand if you just tell me when, because you make me happy when we're together." It's an inspiring way to end a record that, through times of darkness, always finds the light.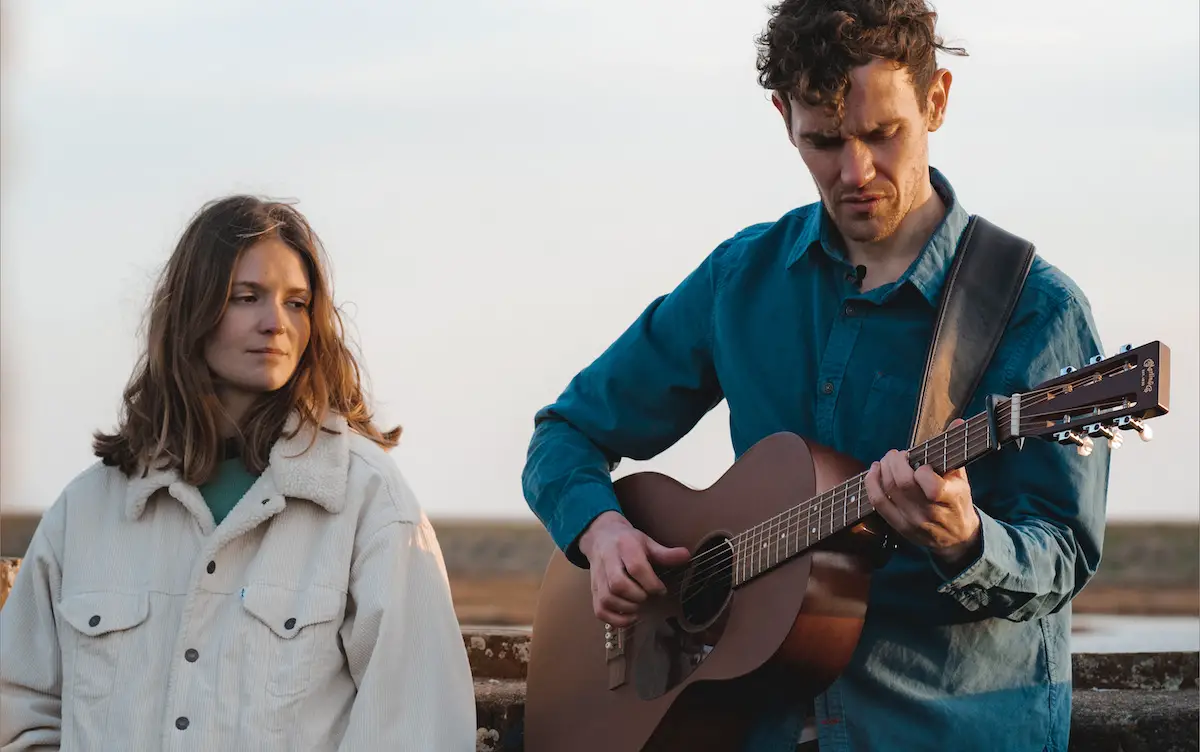 "I hope people can find a bit of peace and escapism in the EP," Ashby shares. "We tried to sit it in its own wee world in the hope that people would really engage with it and want to come into that world. For me that world was influenced by the Suffolk coast – the sea has unknowingly seeped into my songwriting. I grew up in Scotland surrounded by hills and rivers and never really felt the pull of the coast. To be honest I found it quite intimidating and dark; but having moved here it has really got under my skin, the beaches and the big open skies are so peaceful. I think that is one of the themes that has pulled the EP together."
"The lyrics and stories are often about relationships and how much we rely on each other for support. It's also about trying to overcome what's holding you back, or at least make peace with it. On a personal level, I guess putting the record out is an example of that. The fear that people might not like it can cause you not to release at all, but the reaction is always so positive and life affirming. I don't know why I always forget that with each release! Also, the addition of Lydia's vocal really opened things up for me as a songwriter. I think there is something so engaging about the merging of two voices that speaks to the soul. It's made me want to write and collaborate more with friends and try and push the boundaries of what I have done before."
Like the salt marks
on a high tide
it leaves lines
– "Whiplash," Tommy Ashby
Escape to wherever you want to go with these five enchanting indie folk dreamscapes. Experience the full record via our below stream, and peek inside Tommy Ashby's Lay Low EP with Atwood Magazine as the singer/songwriter goes track-by-track through the music and lyrics of his latest offering!
— —
Stream: 'Lay Low' EP – Tommy Ashby
:: Inside Lay Low ::
— —
Whiplash
I loved writing this song! It came really quickly, the two characters just arrived fully formed and it was just about describing them. The story is about two people who were around each other growing up but were very different and never quite had the chance get together. As they grow up they find themselves always looking for each other in a crowd, imagining what a certain situation would be like if they were there.
I like the idea that two people who on the surface are seem very different, can fit together. And that you can choose how you define yourself, it's not your job or where you live or whatever. You want the most important people to you to really see you as you are and love you for that. As they grow up and struggle through various things they lean on each other for support. And they create a little bubble that they can live in.
'Your life on show, gives you vertigo,
but it's just us you know'
The idea that it can be super tiring to be always putting on a show when we are out meeting people; trying to be social and succeed and progress. But that it's important to have someone who doesn't give a shit about any of that and let's you fully relax. I wrote this song on piano; I've been writing a lot on piano for this EP, which has been an fun change. When you have played guitar for a long time, you can get stuck in certain sounds and patterns; I think playing on a less familiar instrument can let your creative brain take over. I remember Joni Mitchell saying something similar about using odd tunings on the guitar. It makes you less critical of doing something simple. Due to my lack of dexterity on piano, this song started with a pedal note playing over different chords, which creates dissonances that are hard to replicate on guitar.
Sam and I had a really fun time with the production on this song. The piano, drums and doubled voices on the first verse instantly put the song in a certain world. The electric guitar parts on the chorus were fun; a picky part in the world of the XX and London Grammar, a riff part that is kinda surfy and also Phoebe Bridgers like. And a drum part that spent quite a while orbiting Phil Collins and Lionel Richie before settling down. So quite an eclectic mix of ideas in this one…
Poolside
Poolside is about someone who has spent their life on the sidelines. They desperately want to get involved and keep promising themselves that today is the day, but can't quite do it; it's not really who they are. I guess the idea is that things feel better if there is someone is standing in the corner with you. Suddenly the gap between where you are and where you want to be seems smaller; they might give you enough confidence to get involved.
'when I'm standing on the precipice,
I can't seem to take a step,
some days I wonder why I'm doing this,
so much easier to love regret'
The song spends a lot of time balanced on the point at which you have to decide to do something; and the absolute fear you feel making the decision. I think inaction often makes the decision for us, but it's not always the right one. I guess this song is just me accepting and being aware of my own inertia; maybe being aware of it means being more proactive in making choices in the future.
When I wrote this song I had a sore throat and my voice was a gravelly mess; but the demo sounded really cool, it had something slightly Johnny Cash about it. I spent months trying to recreate that sound with a healthier voice (this reminded me of the Friends episode where everyone loves Phoebe's singing voice when she is ill and so she doesn't want to get better…) My solution was that I ended up singing all of the lead vocals for the EP first thing in the morning, the complete opposite of what most people will normally tell you to do.
Poolside started off as a slow solo acoustic track but when Sam, my producer, heard it he immediately wanted to give it more drive and life. So I played the repetitive guitar riff and out came a quietly powerful atmosphere. The instruments float along but with a really direct vocal that I wanted to pull you in; I was sure that I wanted the voice and story to be prominent and not veiled by anything. This song was written with Jessica Sharman (Ward Thomas, Hannah Grace, Dan Croll, Sarah Darling).
Ceremony
.When we started this song I had a wee chorus with the words 'let's not stand on ceremony' running round and round in my head. The idea of not following formalities, just saying what you are actually thinking and being open.  I wrote this song with Jessica Sharman (Ward Thomas, Hannah Grace, Dan Croll, Sarah Darling) and when I played the wee chorus idea she got really excited and off we went. Jess is really brilliant for that; writing songs with other people can be intimidating and she just gets straight down to it with so much excitement that it stops being scary.
The song is about someone who hasn't always had it easy and is trying to explain why they are so guarded. The last line of the last verse made me kind of happy/sad:
'I thought life was making plans, just counting losses, 'til you showed me what I had'
I think they're trying to explain that the other person has made them feel good about themselves for the first time. Sometimes you get so stuck in a rut trying to get through each day that you can forget what you actually want and what makes you feel happy. I also had this line running through my head when we wrote it (haha apologies for quoting Shakespeare…) 'Tomorrow, and tomorrow, and tomorrow, Creeps in this petty pace from day to day, To the last syllable of recorded time'
 Or for a slightly more contemporary take (but still not exactly current): 'Life moves pretty fast. If you don't stop and look around once in awhile, you could miss it.' – Ferris Bueller
So the idea of being grateful for what you already have. I guess the idea is that a lot of bad stuff come from wanting and chasing an ideal too; where contentment sometimes comes from being happy with what you do have. Apologies if this is super zen, I think the pandemic has cause a lot of introspection?! I love the room background vocals on this track; they give the song a real atmosphere and vibe. We recorded these in the concrete space outside of Sam's recording studio in Cornwall. We always seem to record EPs in the depths of winter; I have strong memories of a million layers of jumpers and jackets and seeing my breath while singing. The track also wasn't quite working towards the end until we went for more of a country or 60s folk vibe; jangly strummed acoustic guitars and banjo opened up the sound and loosened everything off. That bit basically makes me smile.
High Moon
2020 was my first summer living in rural England having grown up in the wilds of Scotland. At points it genuinely felt like living in a Jane Austin novel; balmy summer evenings, green fields and birdsong. It was such a weird year but there were beautiful moments within it; I really felt the passing of the seasons and noticed nature as I haven't before. It was such a shocking contrast to the scary stuff happening on tv, it felt like an alternate reality. This song exists as much as possible in a beautiful summer. The idea of this song is to live in the moment, experiencing life as it happens, where you are, rather than wondering what is over the next hill. For quite a few years I have tried to get into meditation and mindfulness but I always struggled with that bit. Being in nature has really helped me this year; it has been great at pulling me into the present.
'The blackbird will call and tell us the time'
I became obsessed with learning birdsong this summer; you could hear them so clearly without planes in the sky. I noticed that just as evening was falling, at dusk, the blackbirds would switch from their beautiful song to a weird kinda chinking sound. Anyway to me that began to signify the end of the day and I put it in this song.
'But time is for passing and I give you mine'
I like the idea that you gave people time like a present. People often seem to say it in a bad light: 'I gave you my time and you wasted it' etc etc. But I think I like this line because who you chose to give your time to is important and a beautiful thing. You are very lucky when people choose to spend time with you. I wrote this song as an acoustic harmony duet, inspired by artists like The Staves and Gillian Welch; but I also wanted the lo-fi vibes of some of The Beatles stuff and maybe Elliot Smith in there to give it some grounding. The country waltz played on acoustic guitar immediately creates an atmosphere that doesn't need much else, especially when have dry double tracked vocals and then you add Lydia's voice to the mix. It would be really easy to overproduce this song but I think we really needed to keep it simple and not over-sweeten it.
Happy Just to Know
I remember really vividly recording this song at the end of February last year. I had just moved to a small rural village in Suffolk; there were moving boxes strewn all around me, my girlfriend was still in London finishing her job, and I was feeling a bit disorientated. We were coming out of winter and it felt like a new beginning but at the same time coronavirus was beginning to be in the news and that was confusing and a bit scary. I wanted to write a song about togetherness and the changing of seasons. The pandemic has made it apparent just how much we as humans value physical contact and interactions. Loneliness has been so prevalent and has made us reevaluate all the things we took for granted. Wanting to pop home and visit my parents in Scotland is no longer possible and has made me realise how much I love those trips.
Since it is a song about the start of a relationship, I thought it would be interesting to get both points of view. It's funny that everyone is nervous at the beginning and we probably don't need to be. We're all wondering why we can't just play it cool ('why can't I wear it on my sleeve') but I think it's often how hard we are trying that is kinda endearing and makes things work out (this is not always the case!)
Geeky reference from the film Juno about this…
Juno MacGuff: 'Cause you're, like, the coolest person I've ever met, and you don't even have to try, you know.'
Paulie Bleeker: 'I try really hard, actually.'
I immediately thought of Lydia singing the second verse; her voice is effortlessly cool and just has a gravity to it. I remember that she was in a recording studio in Norway at the time and we pieced the song together in her downtime over email; it was really exciting every time she sent through new vocal takes for me to play with. This was the first song I wrote for the EP and it sparked the whole collaboration idea.
This was the very first song I recorded in my new studio, a week after moving house; you can hear on the background vocals on the introduction that the room is super empty and echoey. It's a really cool sound and taught me a lesson in using what you have. I remember seeing the room in Abbey Road Studio 2 that they used for the Beatles reverb and it literally looks like a cupboard! My studio has now been acoustically treated and I think that this reverb may be gone but it's great to hear it preserved in this song.
Production wise, I just had a blast jumping about from instrument to instrument building it up. My girlfriend often walks in while I'm experimenting with weird vocal sounds or hitting the wall and generally looking a bit bananas. It's also the first song where Mandolin gets to play a prominent part and I LOVE IT; it gives a real drive and definitely is inspired by Steve Earles Galway Girl etc.
— —
— — — —
? © Fraser Taylor
art © Fraser Taylor
:: Stream Tommy Ashby ::
---