A radiant and impassioned indie rock affair, The Crystal Casino Band's new album 'Not About You' hits hard and fast, leaving listeners inspired, invigorated, and stunned all at once.
Stream: "Complicated" – The Crystal Casino Band
---
A radiant and impassioned indie rock affair, The Crystal Casino Band's new studio album hits hard and fast, leaving listeners inspired, invigorated, and stunned all at once. Rollicking riffs, soaring crescendos, and emotional upheavals coalesce on Not About You, a heartfelt and dynamic rock record whose supercharged energy inspires while igniting a fire within.
Well I think we're in the lost and found
To find ourselves again amongst this doubt
Treading in the deep end now
It's sink or swim you can bet that I'll hold out
Well I've got so many thoughts
If I could text you them my number would be blocked
Whoa, whoa
I've made things complicated
And that's not an overstatement
Whoa, whoa
Since our love's been sedated
I've made things complicated
– "Complicated," The Crystal Casino Band
Independently released August 11, 2021, Not About You arrives this summer as The Crystal Casino Band's fifth "overall" LP, and their first under their current name. Formerly known as The Colonies (named after their school George Washington University's sports teams, The Colonials), The Crystal Casino Band "reintroduced" themselves in June of 2020, inspired by protests following the deaths of George Floyd, Breonna Taylor, and countless others at the hands of police.
Consisting of Peter Stevens, Joey Mamlin, Jordan Mullaney, and Jarrod Hendricks, Washington, DC-based The Crystal Casino Band make effervescent, beat and guitar-driven indie rock akin to contemporaries like Young the Giant, Hippo Campus, The Happy Fits, Wallows, and so on. Elements of surf rock inject an undeniably sunlight into the driving guitars and pulsing drum beats that come to life on every song: 2017's debut album One of a Kind and 2019's follow-up Bound to Be Something Good set a strong foundation for a group dedicated as much to melodies as to storytelling, which they kept finessing throughout 2020's Someone When You Want It.
A product of the past year, Not About You is the band's tightest and most polished effort yet. Produced by Kyle Downes and Jay Nemeyer (of Color Palette), the new record shines with a glowing, buoyant light as The Crystal Casino Band take listeners through 25 minutes of tension and release, passion and euphoria. Their energizing, exhilarating bursts of sound stand in direct contrast to the past year and a half's turmoil – giving us all a chance at catharsis and relief.
I went to bed and dreamt of sunsets
Where you place your head on my shoulders again
It's left unsaid we sleep back to back
Living in the past though the present can leave so fast
When all is said and done we'll run and no one's gonna give a fuck
'Cause those times are gone
When plans they come undone you go and run towards a setting sun
And when we overcome just what was wrong we're a setting sun
– "Sunsets," The Crystal Casino Band
"I guess the story of this record began when I received an email from a fellow DC Musician, Jay Nemeyer of Color Palette, with a demo idea for an instrumental he thought would work well for our band," frontman Pete Stevens tells Atwood Magazine. "That instrumental idea would end up being 'Sunset' off of the album. Us working on that song together prompted Jay and Kyle Downes to become our producers for the album, and we began to work on our own originals that we otherwise would have recorded and mixed ourselves. I'm glad we started working with them because their work on the album leaves us sounding the most polished we've ever been. The record was recorded from July of 2020 – May of 2021 and gave us a sense of purpose throughout the pandemic. Being able to work on music with the band/these producers was one of the best distractions from the daily news at the time. I believe it's the most collaborative album to date and the most fun we've had working on music ever."
"To be honest, there was really no vision at the beginning. We were originally just planning to release all of these songs as singles, but in March we decided to package the previously released singles with four new unreleased tracks, and I'm glad we did because I think it flows super well. I guess the vision changed to provide songs for the listening experience as a whole, rather than one song at a time. Hence our inclusion of an instrumental track "Kala" to flow into "Bad Luck." That idea was completely written and led by our lead guitarist, Jarrod. I think in terms of the songwriting/production, our vision was to make it the most collaborative polished sound to date. Jarrod would help provide some lyrics like (Not About You/Slow Dance for example). Jay would reshape song structures ('Waste My Time' is an example) and everyone provided mix notes until every single member was content."
---
While by no means a concept album, Not About You's songs do share some commonalities in terms of how they capture romantic (or ex-romantic) tension and turbulence.
"The record is named after the title track, 'Not About You,'" Stevens explains. "The song is basically about your ex-girlfriends thinking that every song is about them ,when in reality it isn't. In one of our YouTube Q&A's, a friend of Jarrod's ex literally asked him if he ever wrote a song about her, which inspired the original version of the song. That niche idea, I think, encompasses several of the songs off the album – no matter which member of the band wrote it."
"I hope that Not About You captures us as a band of many hats," he adds. "We can make feel good upbeat indie rock like 'Not About You' and 'Complicated,' melt your face off with 'Kala' and 'Bad Luck', and make you cry with 'Waste My Time' and 'Slow Dance.'"
Just as Stevens himself states, Not About You has a little bit of everything – and The Crystal Casino Band do it all with poise, style, and a little bit of flash and pizzazz. "100 Degrees" pops just right; "Bad Luck" churns with unrelenting overdriven charm; "Waste My Time" aches with longing to be understood and connect on a deeper level, rising on the wings of a stirring guitar solo that hits the spot.
I'm coming over
Around the corner
Another night where I get so confused
Because we're just friends
The friends who undress
The friends with loose ends
That kiss your neck
And I don't mind if you waste my time
'Cause I've got some I can lose
Act like I don't need your love
And you call my bluff
That's all that I can ask of you
Well I'm coming over
I thought I told her
That I don't mind if our hearts get bruised
'Cause we're just friends
Friends at what end?
Friends with rеgrets
That wish you the best
And oh!
Whеn it's over will I know?
When the driver takes you home
Elevator kisses don't last the night alone
---
"I love 'Waste My Time,'" Stevens says. "That was a song where when I wrote it I knew I struck gold. I sent it to the band immediately the night I wrote it because I was so excited! Every part of the songwriting process just flowed seamlessly. The lyrics and melody came instantly, which is rare. That's how you know you'll have a hit."
Meanwhile, he cites a few favorite lyrical moments as well: "I love "We're too old to leave those marks around my neck/there's an age when no one looks at that impressed/it's just desperate" from '100 Degrees,' he adds. "I also really enjoy "Because we're just friends. Well friends at what end? Friends with regrets that wish you best" from 'Waste My Time.'"
Whether you're coming for the raw, dramatic fervor of indie rock explosions, or seeking out a wash of catchy, sunny hooks to sing out loud to your heart's content, The Crystal Casino Band is here to fill the world with some glorious sounds. Not About You is high-octane, high-energy fun: A record you'll find yourself coming back to time and again.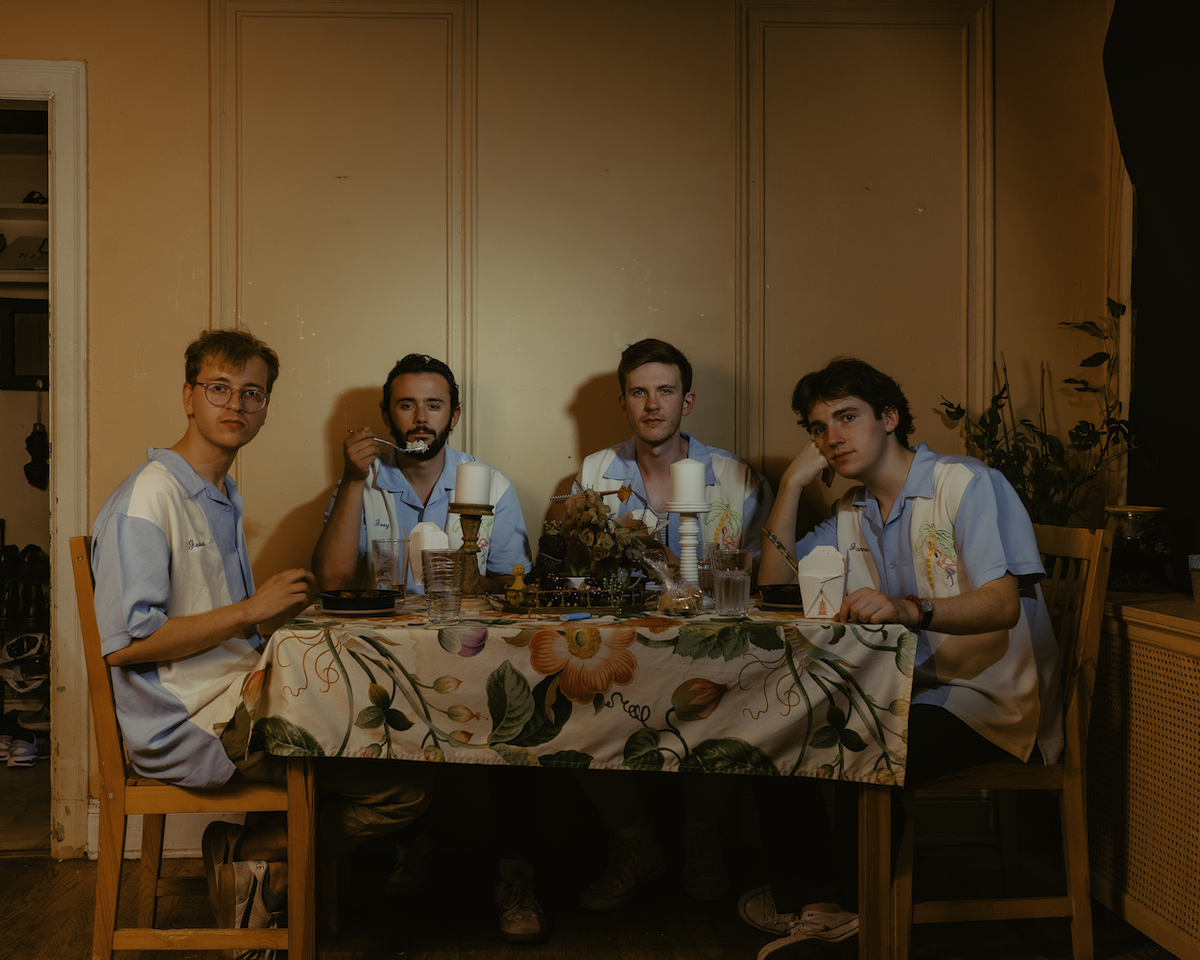 "I hope that [our listeners] think this is our best album to date; I think it is," Stevens shares. "Previously we were self-produced and recorded, so I really hope the outside assistance from Jay and Kyle shine on the album. I also hope that as writing and recording these songs helped me get through quarantine, I hope that listening  to the album can help others get through other difficult times."
Experience the full record via our below stream, and peek inside The Crystal Casino Band's Not About You with Atwood Magazine as the band goes track-by-track through the music and lyrics of their fifth (technically, also first) LP!
— —
Stream: 'XXXXXXX' – The Crystal Casino Band
:: Inside Not About You ::
— —
Not About You
This track was written by both Jarrod and I. Jarrod had the original lyrical ideas and a bass riff and I took his best lyrics, added some of my own, and arranged the song from there! It's basically about your ex girlfriends thinking that every song is about them when in reality it isn't. Maybe that's a niche idea but it's one I can definitely relate to as a songwriter. I absolutely love the "not about you" chorus part. It gets stuck in my head every time I listen.
Complicated
This song so far has been our most successful from the album. It was technically the very first release from The Crystal Casino Band as previously we were known as The Colonies. I feel like this set the precedent for how good the rest of the album sounded. My favorite part of the track has to be the harmonies for the "woahs" in the chorus. I was blown away when I heard that for the very first time.
Waste My Time
This song discusses the complexities and mixed feelings involved in a friends with benefits relationship. They're confusing! I was in one at the time of writing the song and didn't know if I wanted to progress it further or not that confusion resulted in one of the best songs I have ever written in my life. It just flowed seamlessly. Usually I can never write entire songs at once but this one was an exception.
Kala
Jarrod is the mastermind behind this. He led the entire writing/production sessions for this. It blends into Bad Luck beautifully!
Bad Luck
Believe it or not this song came to me in a dream. At least the melody did. I woke up at like 3 AM and had to jot it down on my phone's notes app right away. I believe that lyrically this song really touches the tough parts of quarantine for me. Going through a breakup, staying inside, definitely felt like I was going through some Bad Luck. This track is definitely the heaviest sounding one from the album and I feel like it will melt your face off. Especially Jarrod's solo!
Sunset
This song was originally presented to us by our producer, Jay. He wrote the instrumental for the track and we re-recorded the parts to make it authentic to our playing, and I wrote the vocal melodies and lyrics. To me, the song is about running away from your problems and not wanting to grow up. It's like realizing the good days of the past are just the past behind you like a setting sun in your rear view mirror. You got to move forward! That's how I interpret the song!
100 Degrees
"100 Degrees" was actually partially written back in 2019. One random day at practice I showed them this song and knew it would be a good fit for a summer release from the title alone. By the time we would have recorded it and released it, it would have been Fall of 2019 which wouldn't have done this track justice. We then forgot about it and missed the chance to release in 2020 too. But we're all so glad we waited on releasing this because if we self-recorded this it 100% would not compare what Kyle/Jay were able to do with it. The first verse/chorus part was back in 2019 and then I wrote new lyrics for a second verse/chorus/bridge in 2021. I tried to still replicate that feeling I had when I first wrote it with lines such as "It's 2019, July in all of my dreams" in the second verse. My personal favorite part is the bridge because it sounds like something Alex Turner would sing or the bass in the second verse because Jordan goes OFF.
Slow Dance
This is the last track off of the album. It's actually another that Jay initially brought forth instrumentally. Jarrod helped write some of the lyrics for the first verse and I mainly wrote the rest of it along with the melody. We did something really cool in the studio for this song where the verses were sung in a microphone that was shaped like a telephone. That's how we got that "singing through a tin can" sound on the verse! And just like Complicated, I love the harmonies in the chorus. The "I" part sounds huge! I feel like this song was such a good way to end the album. It wraps up the message of the album with how the protagonist is now self aware that they won't get back with their ex in the song.
— —
— — — —
? © 2021
:: Stream The Crystal Casino Band ::
---