Phoenix, though having released their first album in 2000, didn't begin to become widely known until 2009 with the release of their album, Wolfgang Amadeus Phoenix. Though classified as alternative rock, the album gave listeners bright bursts of pop throughout, which arguably aided in the album's large success.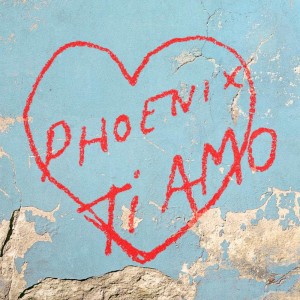 Following Wolfgang, Phoenix seemed to follow in the footsteps of many artists before them, and began to slowly step away from the sound and genre with which they had and began to slowly dive into the world of pop.  Now, 8 years after the release of Wolfgang, Phoenix's sixth album, Ti Amo (June 9 via Loyaute/Glassnote Records), is brighter and more colorful than ever and its pop sound can no longer be ignored.
But, while Ti Amo is bright, it's also somewhat repetitive.  Other than "Role Model," every song on the album seems to be addressing the same subjects, and while most artists do this, Phoenix does it in such a way where almost every song sounds the same.  There's very little change in style, and the whole album feels somewhat lackadaisical.  The album has no build-up or come-down, it just simply is, and when not paying attention, the whole album can often feel like one incredibly long song.  Again, there are some standout moments, and it's fun to hear frontman Thomas Mars play around with language and give listeners a taste of French and Italian in songs like "Lovelife" and "Via Veneto," which of course help make the album sound more romantic, but it seems as though the album was too much of one thing, and one cannot help but feel as though they have come down from a sugar-rush once completing the album.  Of course, it's still a different brand of pop than what most of us are used to, making this album somewhat unique, and there are still moments to look forward to.
---
The album begins with its first single, "J-Boy."  This is still by far an easy favorite on the album.  "J-Boy," being an acronym for "just because of you," (the song's chorus) serves as a starry-eyed love song, though musically, somewhat lackadaisical.  It takes place against a dystopian backdrop, launching listeners into unfamiliar territory – which is always good territory to be in when singing about love.
The album moves into "Ti Amo" which almost serves as an antithesis to "J-Boy." As Phoenix so eloquently described it, "Ti Amo is a song about the tragedy of unreciprocated love and desire."  But, keeping with what seems like a trend among pop music this year, though the song is meant to serve as a somewhat tragic song about love and desire, it's juxtaposed within a bright and sugary melody.
"Tuttifrutti" keeps up with the album's theme of bright and carefree melodies, only now, it has the lyrics to match.
We'll be trashing motels
Tuttifrutti, it's all for free
Sell the gold, silverware
Burn the rest and melt with me
Mars seems to be begging the listener to take a "vacation," and drop the rest.  This song, much like this entire album, is all about love, and sometimes, love causes us to break all of the rules.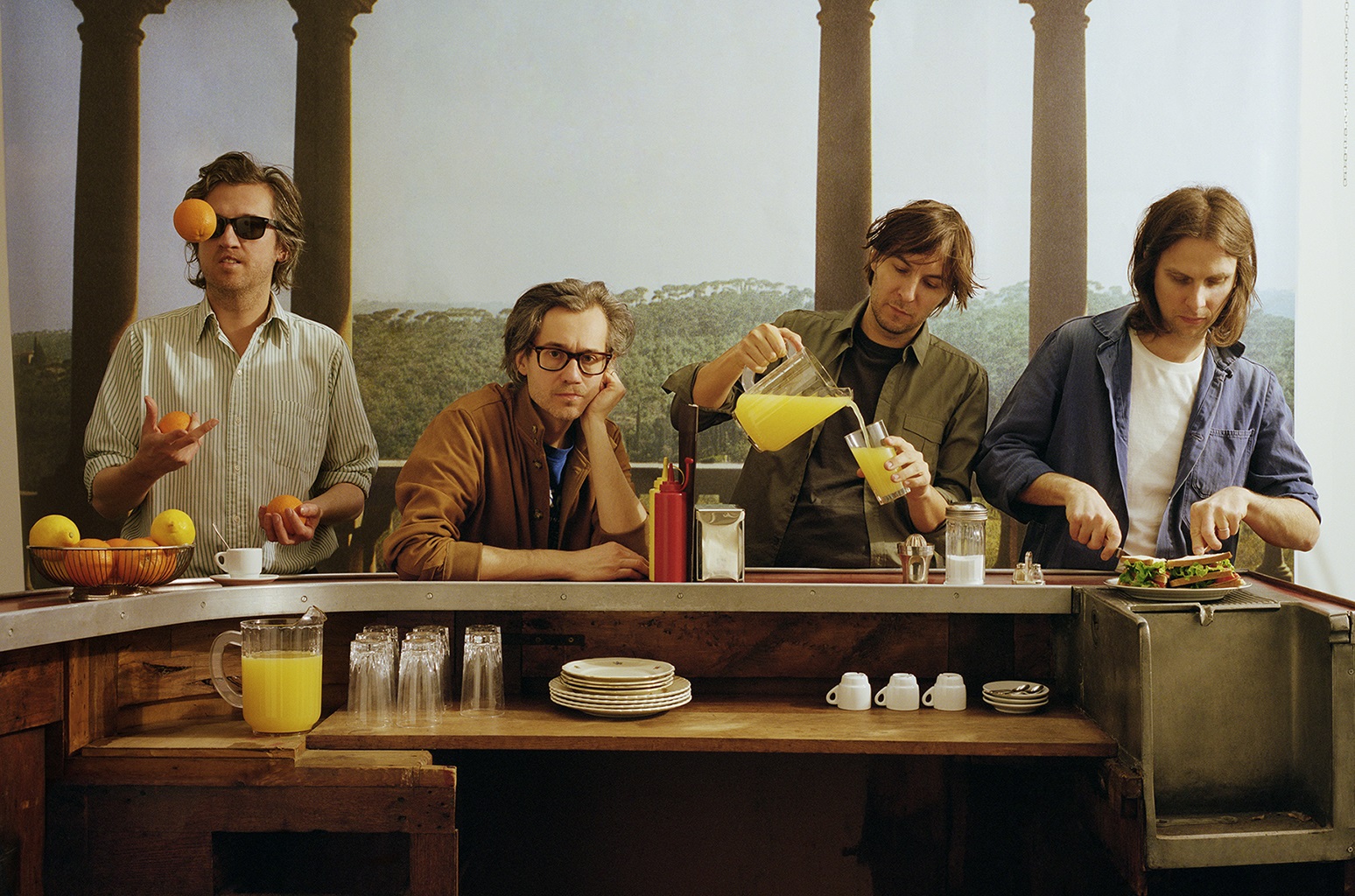 "Fior Di Latte" definitely stands out as one of the album's more sexually charged songs.  Whereas the previous tracks have been all about love and romantic desire, this song seems to focus more on lust and sexual desire.  The song's pre-chorus is a repetition of the phrase, "we're meant to get it on," launching the listener into the chorus:
Fior di latte, fior di latte
Throw your weight around behind me
Fior di latte, fior di latte
Don't think about it, trigger me happy
For those who may not know, "fior di latte" is best described as white Italian cheese, that is mainly known for its soft and springy texture.  Also worth noting, this cheese is typically eaten melted on pizza, which could be a nod at the previous track, "Tuttifrutti."  Why do I bring this all up? Because at one moment in "Tuttifrutti," Mars sings, "Burn the rest and melt with me," and near the end of "Fior Di Latte," Mars sings, "Give me your fior di latte," both lines helping the listener understand that "fior di latte" may just a metaphor for the object's body.  Remember when I said this song was sensual?
"Lovelife" is one of the album's more simplistic songs.  Like the other tracks on the album, this song has a very disco-pop/video game sound to it, though it seems to be detailing the singer's regret over a breakup.  Again, though the song's lyrics seem to be reminiscent and (arguably) regretful, the song's sound is one that is bright and airy.
Phoenix, though a French band, tends to write and sing in English.  However, this track is our first taste of their native French side. The song's chorus is song entirely in French, and when translated, reads:
In what way, for what reason
Tell me why I love you
Nothing but a second, if alone in the world
You wake up, goodbye sun
The song feels more romantic than the others, though this could be largely due to Mars' deliberate decision to sing in French, which is, as we all know, a romance language.  The song feels, lyrically, more conflicting and complex than the others thus far.  While he seems to be begging his love for just a moment of their time, and while it's obvious that Mars loves them, he very obviously seems to be questioning the reasoning behind the love he feels.
Watch: "J-Boy" – Phoenix
---
"Fleur De Lys" is yet another track about love and desire.  I won't spend too much time on this one, for it touches on themes that have already been exhausted within this album, but it is worth nothing that it's another nod towards the band's French patronage, and another song that helps keep this album moving forward.
"Role Model" gives us a something a bit different.  Whereas the entire album up until now has been more about romantic love, this seems to focus more on our love of our role models, though Mars is quick to tear this love apart.  Mars refers to the "role model" as a "same old recital / A chameleon / disguised."  It's clear that he's telling the listener that our role models, whether they be politicians, musicians, actors, etc. are nothing more than just people hiding behind a façade.  The song, musically and structurally, also feels a tad different than the rest of the album so far, and feels more relaxed in nature.  It's an interesting turn in direction, but definitely a welcome one.
"Via Veneto" takes us back to theme of romantic love, although now we've gone Italian.  The song's chorus is a bilingual one:
It's a sin
Senza te, senza te
A sin
It's a sin
Senza te, senza te
Senza te
"Senza te" translates to "without you," lyrics which, again, show us Mars's romantic side.
The tenth and final song, "Telefono," seems to be a song Mars wrote about wife, Sofia Coppola.  The song begins with what seems to be a mock phone conversation in where Mars is told his wife will be away from him longer than expected.  The rest of the song battles with this distance the two have to maintain due to work, and though the song's lyrics seem rather sad, it is again wrapped in a lighthearted, disco-pop sound.
— —
— — — —

cover © Emma Le Doyen
:: Phoenix :: 2017 Tour Dates ::
7/13/17 – Aix-les-Bains, France @ Musilac Festival
7/14/17 – Carhaix, France @ Les Vieilles Charrues
7/12-16/17 – Dour, Belgium @ Dour Festival
7/16/17 – Berlin-Ferropolis, Germany @ Melt! Festival
7/20-22/17 – Wiesen, Austria @ Out of the Woods
7/22/17 – Roma, Italy @ Rock in Roma
8/6/17 – Bandol, France @ Lunallena festival
8/11-12/17 – Bali, Indonesia @ Sunny Side Up Festival
8/11-13/17 – Jakarta, Indonesia @ We The Fest
8/12-8/13/17   Kuala Lumpur, Malaysia @ Good Vibes Fest
8/15/17 – Manila, Philippines @ Araneta Coliseum
8/17/17 – Bangkok, Thailand @ Moon Star Studio
8/18-20/17 – Osaka / Tokyo, Japan @ Summersonic Festival
9/1/17 – Stockholm, Sweden @ Popaganda Festival
9/2/17 – Laois, Ireland @ Electric Picnic
9/24/17 – Munich, Germany @ Tonhalle
9/25/17 – Cologne, Germany @ Palladium
9/26/17 – Hamburg, Germany @ Grosse Freiheit
9/28/17 – Luxembourg, Luxembourg @ Rockhalle
9/29/17 – Paris, France @ AccorHotels Arena
9/30/17 – London, UK @ Alexandra Palace