Clean but dirty, raw yet polished, The Jacks' 'Remember You' EP is 21st Century indie rock at its finest. Get to know the exciting Los Angeles band and dive into the heart, soul, and feverish energy of their new songs.
Stream: "Threw It All Away" – The Jacks
---
We said it two years ago, and we'll say it again today: There is something deeply satisfying about The Jacks' edgy, classic indie rock energy. "Simply put, we're rock n' roll in 2020," the band's bassist Scott Stone tells Atwood Magazine. "What we mean by that is at its core, it's still us four in a room writing and playing music to it, but we are incorporating a modern sound and element to keep it contemporary and not just a rock revival sound."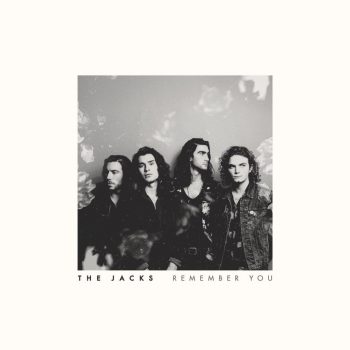 Released March 6 via EDGEOUT Records/UMe, The Jacks' sophomore EP Remember You rekindles the flame they first lit less than a year ago with their self-titled debut extended player. Formed back in 2016 and consisting of Jonny Stanback (lead vocals/rhythm guitar), Tom Hunter (lead guitar, vocals), Scott Stone (bass guitar, vocals), and Josh Roossin (drums/percussion), the Los Angeles band returned louder, harder, and stronger than ever this month – thanks in part to GRAMMY Award-winning producer Joe Chiccarelli (The Raconteurs, The White Stripes, My Morning Jacket, Frank Zappa), who helped capture the young group's passionate, electrifying presence on record.
Clean but dirty, raw yet polished, Remember You really is 21st Century indie rock at its finest.
Reminiscent of Oasis and The Rolling Stones at times, Kings of Leon and The Black Keys at others, Remember You charms and churns its way through five exciting, dynamic, and distinct songs full of heart, soul, and feverish energy.
"For our new EP, Remember You, the recording process was a huge learning curve for our whole band," Stone explains. "Working with a producer like Joe Chiccarelli really changed how we view writing songs and the production side of things. He pushed us to new levels of creativity."
For Stone and his bandmates, The Jacks and Remember You – EPs released within eight months of each other – together showcase the very best of this band, along with the hearty standalone 2019 single "In the Bleak Midwinter." In premiering The Jacks' single "Tonight" back in 2018, Atwood Magazine praised the group for delivering an alt-rock blaze of glory and grit: "What "Tonight" delivers is a more instinctual needing and wanting. The Jacks release pent-up tension in a ferocious outpouring of unadulterated desire, perfectly matching the in-the-moment sensibilities of late-night longing. When we hear Jonny Stanback shout, "Tonight….," holding the note to accentuate his point, we truly feel his and the band's passion." The full debut EP, driven by the rollicking opener "Who Are You," offers a grittier introduction than the more finessed, accentuated rock we hear on Remember You, but both records seize upon The Jacks' preference for the edgy and raw.
"Personally, I feel they are two sides of the same coin," Stone says of the band's two releases. "I don't think they sonically fit on the same album, however, the core of the songs is the same. All ten songs are distinctly The Jacks, but represent two different stages of our band."
He continues. "This EP is really about nostalgia and recognizing the fact that things will never be as they once were, hence the name Remember You. Whether that is about past relationships, friendships, or memories, it's a love letter and farewell to our past experiences throughout our lifetimes."
The heavy-hitting "Threw It All Away" opens Remember You with unrelenting hard rock energy: Josh Roossin's big, driving drums and Stone's pulsing bass set a defining pace, over which Tom Hunter's lead guitar licks offer a mesmerizing sonic wave of brute overdriven force. Add to that Jonny Stanback's loud, clear, and intoxicating vocals, and The Jacks have themselves a natural hit.
So begins a surprisingly expressive 19-minute journey of musical and emotional highs and lows, each one more stunning than the last: The forlorn "We Were Only Young" and its achingly affecting lead guitar solos, the sweet acoustic guitar love song "Olivia" (fans of Guns N' Roses "Used to Love Her," Oasis' "Married with Children," and other stripped-down hard rock tunes), the rip-roaring rock n' roll fever dream "Only One," and the bar-friendly overhaul "Just a Little Bit."
---
"There are a lot of different moments that I am incredibly proud of," Stone says of this second helping. "If I had to choose one, it would be the intro of 'Only One.' I think that really expands the sound of our band and gives a modern interpretation of rock n' roll, especially on the production side."
The Jacks are definitively an American band, and certainly one of the most exciting rock groups to come out of Los Angeles in the past five years. "Los Angeles is an amazingly creative and inspirational city for us," the band tell Atwood Magazine. "We are surrounded by countless talented artists and peers that always push us to expand our vision for our music. I think being in a city where every genre is represented, is heard throughout our songs. We are always asked what genre we define ourselves as and we always say rock n' roll, because we don't think we fit the mold of a specific genre."
Released on March 6, Remember You arrived just as the number of coronavirus COVID-19 cases began to escalate in the United States; within the next week American cities and states from coast to cast had declared states of emergency, restricted travel, and more. "This pandemic has forced us to reimagine how to be a band in the 21st Century by doing all of our meetings and writing remotely," The Jacks share. Their tour dates may have been (appropriately) postponed for now, but the California band are finding new ways of engaging with audiences through guitar lessons, posting homemade performance snippets to YouTube, and more.
When we are all able to leave our homes and interact in close proximity with our neighbors again, The Jacks will without-a-doubt be high on our concert list. Their music is tailor-made for a live club or arena stage, a pure slice of modern rock n' roll ready to knock us out, take our breath away, and kick us into high gear. "We're so excited with how each song ended up, and we feel this EP really shows a new side of our band," Stone proudly says.
Remember You packs enough of a punch to ignite even the most dull and dark work-from-home days. Put it on one morning and let The Jacks soundtrack your day – or at the very least, your hour.
Experience the full record out now, and peek inside The Jacks' Remember You with Atwood Magazine as the band go track-by-track through the music and lyrics of their sophomore EP!
— —
Stream: 'Remember You' EP – The Jacks
:: Inside Remember You ::
— —
Threw It All Away
This song took us many tries to get just right. Instrumentally, it's so much fun to play. We took a lot of time working on each part to make them exciting and unique. It's the kind of song that makes you grip onto your seat and enjoy the ride. It's about the feeling of being so close to perfection and having a great opportunity, yet one person decides to ruin that.
We Were Only Young
"We Were Only Young" deals with the passing of time. As cliché as it sounds, time is precious, and it's so important to step back and embrace the present. The line "forever lost in the unknown" is an optimistic perspective that while one cannot relive the past, the uncertainty of the future is what makes the journey so exciting. There are deeper themes that involve letting go of those in your life that stifle your own personal growth. The song sways between nostalgia and growing pains and is a piece of music we hold closely with us on this journey.
Olivia
We tried so many times to play this song with a full electric arrangement, but it could never capture the sincerity of its acoustic outfit. "Olivia" has been in our wheel house for the past two years, but would only get to shine during our acoustic performances. It represents a young love that's been cut short; a hopeful and naïve love that never saw fruition. "Olivia" is a tug of war between old promises and future desires.
Only One
"Only One" is one of the newest songs we've written together. Working together with Joe Chiccarelli on this song, we feel like we created a really exciting arrangement, one that can grip a listener from the beginning. Lyrically, it's about experiences we've had in the beginning phases of relationships, trying to understand what each party is thinking.
Just a Little Bit
This was one of the first songs we ever wrote together as a band. The track gained the attention of KLOS-FM when we submitted it in 2017 for their "Next2Rock" competition. The song earned our spot in the competition at the Viper Room in Hollywood, where we won the regional finals. However, since we recorded the song at such an early stage of the band's formation, we felt the recording did not match the progression of the band's current tune. Because "Just A Little Bit" is still one of our all time favorites, we wanted to re-record it with our vision for the future in mind. It was an honor to have Joe Chiccarelli spice up the arrangements and push the boundaries on a classic of ours. The energy the song contains always lights the fire in our engine and we are so excited to share it with all of you.
— —
— — — —
? © Paige Sara
:: Stream The Jacks ::
---