In honor of Women's History Month, Atwood Magazine has invited artists to participate in a series of essays reflecting on identity, music, culture, inclusion, and more.
•• •• •• ••
Today, Los Angeles singer/songwriter Irene Diaz shares her essay, "Lost and Found: A Los Angeles Story," as a part of Atwood Magazine's Women's History Month series. Born and raised in Highland Park, Diaz launched her career in 2010 and has been actively releasing music ever since. In 2022, she released her debut album Lovers & Friends, which was executive produced by Grammy Award nominee and Latin Grammy Award winner Carla Morrison. She released her follow-up single "Lost" on March 28. Says Irene, "A confession of desire, 'Lost' is that in-between where longing and fulfillment collide."
•• ••
"LOST AND FOUND: A LOST ANGELES STORY"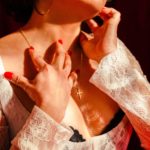 by Irene Diaz
All my life I've been told how I should look, not look, and be both in and out of the music scene.
I grew up the only girl of 4 in a small 2 bedroom apartment in North East LA. The town Hermon, right across the way is Highland Park, a town everyone would know only after massive gentrification and Billie Eilish. My dad a musician who played electric guitar in a Rock n' Espanol band called Cinema that later broke up, and my mom an insurance collector. My parents always struggled with paying the bills but managed to enroll us into a Christian School and made sure we attended church every Sunday, the standard was always modesty. Skirts must be below the knee as to not temp the boys, close your legs, no cussing and absolutely no profanity.
As I got older I remember some of my family members mentioning how one of my cousins started wearing makeup at a young age and how they didn't approve. Upon hearing this I held onto modesty and waited until I was 19 to wear makeup and even then it was minimal.
My mom grew up in a pretty conservative home in Cypress Park, but after she had us kids and as she evolved as a person, she started wearing high heels, putting on makeup, and even started taking salsa dance classes. My dad didn't approve. My parents divorced when I was 16, and I don't blame it on the changes my mom was making but subconsciously I avoided all of these things for the longest because their divorce was so traumatic.
Because my dad was a guitarist, I got into music. I started taking piano lessons at 7 and didn't start playing guitar until I was 16. My rebellion to my father was deciding to play the acoustic guitar rather than becoming a shredder like him.
I decided to take music seriously at 23 and started performing out at local events and open mics in Boyle Heights, Pasadena, Alhambra, etc. and eventually got involved with the Chicano music scene.
Early on I had people telling me how I should look as an artist. I remember I met these two people and they got really involved, dressing and glamming me up, telling me I needed to look a certain way to fit "the role". Looking back, I have appreciation but I wasn't ready for this version of myself. I think one thing that scared me was being told I would probably have to wax the hair on my face and being Latina that meant pain. I never followed through.
I was introduced to a Mexican producer early on and he said I needed to raise 25k to record with him and shouldn't date, just focus on the music. That sounds good but one, I couldn't afford that, and two, relationships are where I draw inspiration.
As I went on, I was in talks with a manager who wanted me to be his first client, I remember him dangling a venue for a release party I was planning and he couldn't guarantee the venue unless I signed with him, and stupidly I did. I had a hard time seeing red flags early on.
Upon performing out more, people started comparing me to other artists, but these particular artists sang in Spanish and I sang in English. I ended up feeling for the longest that I needed to sing in Spanish, but because its not my native language I never delved deep enough to pursue it.
I was told at one point that I should change my stage name from Irene Diaz because they believed Irene Diaz wasn't appealing to the "general market". I'm happy I never did but it created doubt in me but seeing artists like Jessie Reyez and Jose Gonzalez who sang in English who owned their Spanish names with their work was inspiring.
I was told one time by a male producer that I should stick to songwriting rather than producing after showing him my work. Luckily I didn't take his advice, but my confidence in this area was a bit shaken.
Entering the pop genre of music, I had people telling me that I needed to learn choreography moves to appeal to this market of music so I did my best even though doing choreography wasn't something I necessarily wanted to focus on. I'm glad I at least tried and in the end it did help me own my own form of movement on stage.
At the end of 2021 I reached a point where I needed to take something back for myself, so I did the craziest thing I could think of: I cut all my long hair off and went blonde. Was it freeing? It was a step to me claiming myself, but even at this point I was still struggling with my own personal confidence and who I was as an artist and as a woman.
I know when people give their opinions their intention isn't to harm, and yes I've had so many amazing experiences and people come into my life who have helped me and have believed in me; I wouldn't be where I am today without them but at the end of it all I lost my own voice and had no idea who I was and what I wanted. But, I know I didn't want to continue living this same narrative any longer, no more playing the victim, no more listening to the opinions and experiences that have held me back from finding myself.
The end of last year I caught COVID for the first time. It forced me into isolation and to actually stop, listen to my heart, mind and body.
I decided to take a hard look at all these experiences and relationships I've carried throughout the years, consciously and subconsciously. I had to evaluate how much 'I' let these encounters hold me back from discovering and exploring myself on my own terms. It's taken years to get to this point, but I'm so glad I can see all this now. When you are in it you can't necessarily see what's in front of you and I know now that being aware of where I've been, who I am, what I've experienced and who I can become without letting opinions or experiences sway me is key to confidently becoming my own artist as well as the best version of myself for myself. With these experiences and opinions you take what's needed and leave the rest. It's been a long road but I am truly grateful that it's shaped me to where I am today.
With all this being said, I am happy to release the first single LOST off an upcoming EP which will showcase my growth as a producer, songwriter, artist and woman who continues to find herself growing up a Latina from a conservative Christian household to a singer/songwriter from the East Side of Los Angeles. – Irene Diaz
— —
Stream: "Lost" – Irene Diaz
— — — —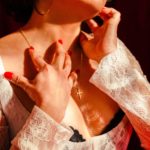 © 2023
:: Stream Irene Diaz ::