Jackie McLean of the indie band Roan Yellowthorn grants us an inside look at the making of an album from start to finish in her 'Breaking The Record' column.
Stream: "Stranger" – Roan Yellowthorn
---
I have a new song out. It's called "Stranger."
I wrote it as a song portrait. I like creating portraits of people. Because I am so visual, it's a fun challenge to turn images and tangible emotions into words and music. I often feel that the medium of music is able to transmit so much without losing anything in translation. If anything, melody and lyrics just enhance emotion and feeling. They provide another layer of meaning.
Just jumping into the Breaking The Record series documenting the making of our album from start to finish? Read part 1 here!
Often, songs start out as poems. In the case of this song, "Stranger," I wrote it all at once. It was a long poem that separated itself easily into sections – verse, chorus, bridge. I had a lot to say and knew what it was that I wanted to get across. That always makes the process of writing smoother and easier. It's not often that a song comes out fully-formed but this one was as close to that as it could be.
The song was inspired by an artist whose music I admire. Because I'm so visual, his music videos also played a part in the creation of the piece. I added homages to visual elements that had resonated with me. I also tried to pull from the mood of the music that he creates. We even added some little sonic homages during the recording process with our producer, John Agnello.
This artist is someone who often seems to march to the beat of his own drum. That's something I admire. Creating art is a vulnerable thing to do. It leaves the creator with no defenses. It exposes. It can be scary to be honest. It feels good to see others who are bold. It's inspirational to me. Maybe that's part of the reason why this artist in particular inspired a song.
Writing song portraits is something I hope to do more of. I did it in my last studio album with the song 'Factory Man' and that song is special to me because of that. I have an idea to someday maybe write a whole collection of songs that are all portraits.
The cool thing about the process of releasing this one is that I was able to connect with the subject of the song. In fact, he's become less of a stranger. And more of a friend.
Read our interview here:
https://www.talkhouse.com/jackie-mclean-and-alex-cameron-are-just-trying-to-tell-the-truth/
And pre-order my album here (coming out May 14th!)
— —
Stream: "Stranger" – Roan Yellowthorn
— — — —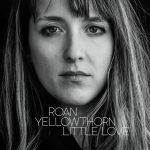 ? © Jackie McLean
:: Breaking the Record ::
---