Grit and soul melt together as Hamish Anderson waits for love in new single "What You Do to Me."
"What You Do to Me" – Hamish Anderson
[soundcloud url="https://api.soundcloud.com/tracks/422471202?secret_token=s-HUs0O" params="color=ff5500&auto_play=true&visual=true&hide_related=false&show_comments=true&show_user=true&show_reposts=false" width="100%" height="300″ iframe="true" /]
---
There are two ways that people do not fully return love. One, is when they actually don't feel it. Unrequited. Unable to reciprocate. This is the bad kind – the kind that is much more difficult to bear. And then there is the other kind. The kind that is easier to withstand. This is when someone wants to return the love, but something is holding them back from being able to entirely do it. Maybe it's something from their past or maybe they're just scared, but this kind of unreturned love is something the other half can endure. If you're patient enough, if your feelings are strong enough, and if deep down feel there is love on the other side, there is a calmness in the wait.
Lyrically and musically, Hamish Anderson's "What You Do to Me" tackles that calmness in the wait.
Atwood Magazine is proud to be premiering "What You Do to Me," the first release off Hamish Anderson's forthcoming sophomore album Out of My Head. This truly is the soulful ballad that you never want to end.
Smooth as silk guitar riffs lead you into this song like spring leads you into summer. Anderson's vocals, almost as smooth as his riffs, but with a calming rasp that adds a grit you didn't know you needed begins to sing,
I'm getting tired of being wrong
Tired of keeping on
Tired of holding on
For something that doesn't belong 
If I could take you there
then you just might see what I see
Everything that's going wrong
and what you do to me
The chorus then picks up with a slight chord shift and a delightful harmonization,
Yeah what you to do to me
What you do, What you do
What you do to me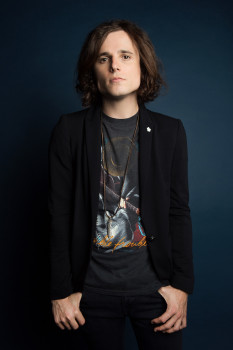 The harmonization of the "What You Do to Me" in the chorus perfectly fills the gaps between lines, which makes you feel the way Anderson is feeling. The second verse continues,
You've been resting on my mind
Stealing all my time
Waiting on you for a sign
To show me that you're really mine 
Just open up those eyes and
you just might see what I see
Everything that's going on
and what you do to me
With lyrics alone, it could seem that there is no hope for this love to be returned, but the hopeful ease of the music that accompanies these lyrics gives you permission to feel that it's going to be okay; that eventually, Anderson's love will be met.
"'What You Do To Me' was written so quickly that I almost completely forgot about it," Hamish Anderson tells Atwood Magazine. "I was out one day with a friend and the riff and melody just started looping around in my head. I wrote down a rough draft of the lyrics and later when I could get to a guitar I began to work out what key it was in and what the chords were. It was literally all in my head."
"After that, I recorded a rough demo of it on voice memos and honestly didn't think about it for a while. In fact, it was six months later when I was going over demo's of new songs to send to the producer for my new album that I luckily came across that voice memo and added it to the list of potential songs for the album. Everyone I played it for really responded to it so I'm really glad I remembered it. It has a similar vibe to a song off my first album called "U" and I knew I wanted to explore that dreamy soul vibe on "What You Do To Me". I was definitely influenced by the music of Smokey Robinson, Wilson Pickett and The Beach Boys while writing and recording it."
He continues, "The solo at the end of the song was totally improvised and a complete live take. I wanted to make my guitar sound like singing and be very melodic like B.B. King or George Harrison. I'm excited that after releasing two big rock n roll type songs, for this song to kick off my new album release. I feel it clearly showcases the diversity that became… Out of My Head."
You're tearing up my mind
Don't let me down
I want you around
If I could take you there then
you just might see what I see
Everything that's going on
and what you do to me
A simple, yet defining guitar solo leading to the outro lets you sit with the song. It allows you to enjoy it for just a little bit longer, slowly easing you out and teasing you until the very end, much like whomever he is singing about in this soul-filled tune. The combination of his signature melodic guitar riffs along with sultry vocals makes this song enjoyable from start to finish, so much so that you don't even realize almost a full five minutes has passed.
While there are definite undertones of Leon Bridges and John Mayer, two artists who he has been delightfully compared to in the past, there is also a tinge of Ray Lamontagne. Anderson has that rasp and grit which melts with his smooth soul, creating a recipe most cannot not pull off. He can.
Anderson opens for Gary Clark Jr in April, 2019 in his home country of Australia and then returning to the US to appear at Beale Street Music Festival in Memphis, TN in May, Redondo Beach Music Series in July and preparing for another tour of Europe in late September 2019.
Stream "What You Do to Me" exclusively on Atwood Magazine!
"What You Do to Me" – Hamish Anderson
[soundcloud url="https://api.soundcloud.com/tracks/422471202?secret_token=s-HUs0O" params="color=ff5500&auto_play=false&visual=true&hide_related=false&show_comments=true&show_user=true&show_reposts=false" width="100%" height="300″ iframe="true" /]

— — — —
Connect to Hamish Anderson on
Facebook, Twitter, Instagram
? © Elaine Torres
:: Stream Hamish Anderson ::