Every Friday, Atwood Magazine's staff share what they've been listening to that week – a song, an album, an artist – whatever's been having an impact on them, in the moment.
This week's weekly roundup features music by girlhouse, Anna Rose, Brasstracks x Mandy Lee, Jules Paymer x Miki Ratsula, Wvve, Joseph Terrell, Chance Peña, Lisa Remar, Willow Keith, GRAYtheband, Tribe Friday, & Cry Baby!
•• •• •• ••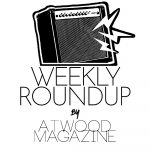 :: "you don't think about me" – girlhouse ::
We can't stop thinking about this girlhouse song. With "You Don't Think About Me" in particular, girlhouse's music sounds something like MUNA or Japanese House mixed with Samia. It's production-driven, while still leaning in to elements of rock and pop music. And it's so freaking good.
"Sunshine on the left side it's never-ending," the artist sings in the first verse. "Got this image of you in my head at the wedding / If I call you up, will you even answer / Big ask from a loser in the pretender."
"You Don't Think About me" was originally released in March 2023, shortly after "Worth It." Both tracks will presumably land on the artist's fourth EP, affectionately referred to as, you guessed it, the fourth EP — expected May 4, 2023. (Yes, that's an intentional Star Wars reference.)
:: "Alameda" – Anna Rose ::
She may be Alan Menken's daughter, but Anna Rose isn't making any show tunes – not here, anyway. The critically acclaimed Nashville-based singer/songwriter's latest material is a raw eruption from fractured, aching, and deeply intimate depths. Taken from her forthcoming fourth LP Last Girl of the Rodeo (out later this year), Rose's latest single "Alameda" is a cathartic upheaval from a bruised heart ready for healing: Reckoning with love, loss, and the messy aftermath, she delivers an impassioned power-ballad while embracing the full spectrum of energy and emotion.
I touched down at JFK
I didn't call you, it was too late
Didn't want to make the same mistake as last time
So I took a car back home
And I stood there by the front door
Every instinct in my bones told me to run
"'Alameda' is very much about the breakup of my marriage," Rose tells Atwood Magazine. "It's extremely autobiographical and it was a really hard one to write for that reason. Alameda is this tiny island off of San Francisco—and the way it was described to me was this beautiful place with pretty houses and sweet families. I realized that it was the fantasy of this place that I wanted to run away to, that I had completely fictionalized it in my mind. It's not really about Alameda, it's about the tornado that takes you to a fantasy path forward, like the yellow brick road."
So I tiptoed through the kitchen
And hoped you were asleep
How'd home become a place
That I can't wait to leave
Alameda, I fought for so long
But now I'm flying back where I belong
This isn't a song about happy endings, but it is one about redemption and reclamation; of taking back ownership over your story and writing your own narrative, rather than letting your life unfold through someone else's eyes. "Alameda" is heated; it's intense; it's unfiltered and uncompromising. It's the kind of anthemic outpouring that aches from the inside out, but by the time it's over, we know Anna Rose is in a better place than when she started – even if she still has a long way to go. "I fought for so long," she sings, "but now I'm flying back where I belong."
Anna Rose is doing the hard work she needs to move on, and the result is nothing short of inspiring.
Just a stranger in a strange land
Baby, your love feels like quicksand
And I could choke on all the lies you fed to me
The subway sings the saddest songs
And I always sing along
It echoes down the empty chambers of my heart
Well, I tried my best to love you
To say your name out loud
But you can't shine a silver lining on this dark a cloud
Alameda, I fought for so long
But now I'm flying back where I belong…
:: "Anesthesia" – Brasstracks ::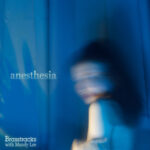 Forever injecting life, color and energy into their music, Grammy award-winning Brasstracks have just dropped another pop banger! Known for their impressive list of collaborations, the new single "Anesthesia" sees Mandy Lee of MisterWives joining the roster, lending her soft, soulful voice to Brasstracks' loved electronic sound and bold, brass arrangements. Sonically the upbeat, enthusiastic track is a juxtaposition to its more somber narrative, as the song details the disheartening feeling of always being one step behind.
"Anesthesia" is the second single to be released from the upcoming album, which is said to feature more of everything we love about Brasstracks. Continuing to blend animated electronics with colossal brass sections and vibrant, soaring synths, Brasstracks stay loyal to the sound and style that has been getting them attention from audiences and fellow artists around the world.
:: "Highs & Lows" – Chance Peña ::
Chance Peña's latest single is an intimate declaration of devotion: "Through the highs and lows, the ebbs and flows, all the things we can't control, I hope you know that my heart is steady," the 23-year-old Texan native sings on "Highs & Lows," baring his heart and his soul. It's a simple, strong message conveyed through an impassioned folk-pop ballad: One full of raw emotion and words unspoken, born from an intimacy we can't see, but we can absolutely feel.
We walk through the waters
Shallows getting colder
I know this is harder
Outside of new love's protection
Commitment aint easy
With two hearts beating
Gotta dance through the seasons
Whatever you need best believe I will be there
Released today, "Highs & Lows" is Peña's second single of 2023, and his first since signing to ONErpm earlier this year. "'Highs & Lows' is about unconditional love," the singer/songwriter explains. "Telling someone that no matter the circumstance you'd do anything for them."
Often it's the best songs that speak for themselves, and such is the case in this beautifully emotive eruption. Reminiscent here of artists like James Bay and Hozier, Peña spills his innermost self out in a song aglow with warm passion and his own pure, unfiltered humanity.
Let my love be your shelter
Your words be my helper
Keep us safe from the weather
All's fine when we fight together
Do my best not to let you down
Lift you up when you're on the ground
Nothing better than what we've found
With each other not another who could love me
Through the highs and lows
The ebbs and flows
All the things we can't control
I hope you know that my heart is steady
Through the highs and lows
I'll hold you close
Like greed to gold, I won't let go
I hope you know that my heart is steady
:: "The Daughter That My Mother Wanted"- Jules Paymer ft. Miki Ratsula ::
Newcomer Jules Paymer's new single featuring acclaimed artist Miki Ratsula "The Daughter That My Mother Wanted" details the difficult task of pleasing others while hiding your true identity. Speaking to the non-binary experience, and both non-binary themselves, the two have a powerful story to tell. The poignant piece showcases delicate vocals skating atop emotive piano, speaking of keeping up a heart wrenching façade.
The visuals exhibit younger versions of Paymer and Ratsula and the many adversities they have faced. From longing to wear your brother's clothes to wishing you could cut your long hair, it is not just a voice for LGBTQ+, but also for anyone who has struggled to fit in.
:: "Sweet Like Sugar" – WVVE ::
Roses are red, violets are blue, and WVVE has a new song for you!
As effervescent and dreamy as ever, WVVE's (pronounced "wave") "Sweet Like Sugar" brings listeners into a world of overt romanticism. Unafraid to dive headfirst into love, the Korean singer-songwriter happily dons rose-tinted glasses throughout the course of this track, ready to "watch love unfold."
"'Sweet Like Sugar' displays the true beauty and stimulating feelings of falling in love," WVVE shares on the track. Released today (April 28), the upbeat melody is well-suited for hours of daydreaming about a brand new love interest. WVVE happily meets listeners in that strange — yet exciting — transition period where a crush turns into a genuine romance. With bouncy instrumentals and lively percussion backing WVVE's smooth vocals, "Sweet Like Sugar" arrived just in time for summer romances.
:: "Tallest House of Cards" – Joseph Terrell ::
There's a hazy, golden hue surrounding Joseph Terrell's "Tallest House of Cards." Taken off the Mipso vocalist's forthcoming debut solo album Good for Nothing Howl (out May 5 via Sleepy Cat Records), the acoustic ballad aches with the memory of love and the embers of a connection that once was. It's a song dwelling in the power and passion of what once was; a raw tearjerker ready to be the soundtrack to your next big heartbreak. Together, Terrell sings with Grammy-nominated singer/songwriter Tift Merritt about a love that once was, and how mighty, how magical, and how beautiful it felt at the time:
We were Clyde and Bonnie
We gambled what was green
We lived to fill the papers and empty magazines
We took our chances
We ran in style
We built the tallest house of cards that didn't fall for a while
"The song is a bittersweet reflection on a broken relationship," Terrell tells Atwood Magazine. "It's finding gratitude for the Like a tall house of cards, it stood in perfect beautiful balance for a while, even though it did come crashing down. Each verse paints the lovers as a different duo — Bonnie & Clyde of course burned hot and bright with reckless abandon, Fred & Ginger danced like nobody else, and Mason & Dixon had a fascinating dynamic, an odd couple that tamed the wilderness together."
"I was really excited to get Tift Merritt to sing with me on this one," he adds. "She's been one of my songwriting heroes for a long time, so it's been fun to get to know her. She lives in Raleigh just down the road from me, and we have some mutual friends in the music world around here– and we had the same favorite professor in college (at different times). After we played a show together a couple years ago, I asked her to sing on this song I'd written, basically to play the other lover in this duet. She's the perfect voice for it! She sings an Emmylou Harris type of harmony – her voice floats over the whole thing with so much emotion. Her singing makes the song for me. And Matt McCaughan from Bon Iver is another music buddy I've gotten to know over the years. He's a studio secret weapon. He played percussion on this track and also some gooey synthesizer in the background. Chris Boerner from Hiss Golden Messenger is playing some electric guitar in the background, too. It was a fun session with some good North Carolina buds."
We were Dixon and Mason
We charted by the stars
Closing in our wilderness at the corner bar
Over the Alleghenies
We were only kids
We built a straight and narrow trail that didn't turn until it did
In truth, anyone who's loved and lost knows what this song is all about. Make that love count while it lasts. Terrell holds nothing back, pouring his heart and a wealth of inner pain into this gently glistening ballad. "If you're gonna fall, fall in style," he sings in the chorus, adding in the final hook, "Leave it on the ground a while." If a flame is going to burn out, at least let it burn bright first.
Whatever love he's lost, it sounds like it was well worth the journey.
We were Fred and Ginger
We were twirling in a trance
Levitating slowly just by happenstance
High above the buildings
We took a bow
When gravity presents itself you have to land somehow
If ever there's a reckoning
I'll take it on the chin
If somewhere there's a ledger book of our love and our sins
Let them say we doubled down
We slid the whole pile
We built the tallest house of cards that didn't fall for a while
:: "Woke Up Early"- Lisa Remar ::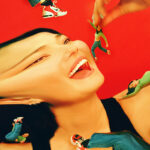 It is not always easy to love again. It can take a lot of soul-searching and self-reflection before you are prepared to even get your feet wet. Lisa Remar's "Woke Up Early" is all about the period of isolation before being ready to love once more. With spinning, psychedelic arrangements and effortless falsetto, the track caresses you in its stunning warmth.
Lisa Remar is a Japanese-American, New York native receiving international buzz. A record producer and singer/songwriter she is deeply dedicated to her craft. She creates melancholic tracks that ooze with pure vulnerability. This piece is no different with its rich, emotional depth.
:: "Company" – Willow Keith ::
A smoldering and cinematic debut single if ever there were one, "Company" is, well, good company! As catchy as it is comforting and cathartic, Meanjin/Brisbane artist Willow Keith's introductory track arrived in late March with a rush of glistening guitars, a roar of warm, sweltering saxophone blasts, an utterly radiant rhythm section, and tying it all together, a voice like gold full of unbridled intimate emotion. "It's far from a want, it's more than a need. Your company comforts me," Keith sings in an immersive, enchanting heart-on-sleeve chorus, baring all in a vulnerable expression of love and connection.
The thought of being alone
Is a selfish one I know
If it's all the same to you, I'll change for good
Now it's worth risking it all
It's far from a want
It's more than a need
Your company, comforts me
It's far from a want
It's more than a need
Your company, comforts me
"'Company' is a song for the lovers out there – whether you've found your person or are still looking," Keith tells Atwood Magazine. "It's about feeling or longing for the warmth of their presence, and putting it all on the line just to have that – to let them know you need them. It's an emotional and empowering song, so hopefully it can get people to come together, or dance away their loneliness."
Here's to letting our inner romantics run wild: "Company" is an embrace of love, because when you find it, and you have it, you hold on tight for dear life and never let it go. Packed with passion and with a saxophone solo sealing the deal as the cherry on top, "Company" is the power-ballad we so desperately need to keep us warm on a cold night.
For the first time in my life
I'm free from all old lies
I've fucked around from time to time
But I couldn't hurt if I tried
It's far from a want
It's more than a need
Your company, comforts me
It's far from a want
It's more than a need
Your company, comforts me
:: "You Never Change" – Cry Baby ::
Released late last year, "You Never Change" hits hard and leaves an instant mark on the ears and the heart. The sonically and emotionally charged offering from Cry Baby is absolutely breathtaking: A volatile alt-rock eruption from a weary heart, vacillating between soft (yet heavy) indie folk-esque verses and explosive emo choruses filled with angst and unbridled intensity. Founded in Charleston, South Carolina and now based in New York, Cry Baby are unafraid to spill themselves in song – that much is evident from their 2021 debut, Everything I Didn't Say  – and they're not afraid to get lost in a beat, either. Their last track of 2022 is beautifully aggressive, resonating with vulnerable lyricism and super-sized dynamic contrasts that capture the unabating ache of inner unrest.
Why'd you tell me you wanted
Everything that I wanted
Why'd you tell me you wanted
Everything, but you didn't
You never change
Its always the same
I guess I'm to blame
And then it's over
I took it away
And then it's over
Why'd you tell me?
Fronted by singer/songwriter Jamie Gray, Cry Baby today consists of Gray together with bassist Joey Haines, guitarist Carter Long, saxophonist Josh Kozic, and drummer (and sometimes rapper) Matt Allegrezza. "You Never Change" and their recent March release, "Mojo," are both taken off their forthcoming sophomore album, set to release later this year.
"'You Never Change' was one of the earlier tracks we worked on for the record," Haines tells Atwood Magazine. "We were starting to feel more comfortable playing heavier music and really leaned into that on this track. The melody came right away for the chorus and always made me think of Taking Back Sunday or early Third Eye Blind, both bands I never imagined Cry Baby using as references. We also got to experiment a lot with adding glitchy, interesting sound design on this track. We wanted every song to have a real digital, computer feel even though it's rock. The intro of the track was even recorded on an iPhone, just me and Jamie playing together in my room. When it was all finished and put together the song hit so hard and had all these little interesting moments you catch on a few listens, we were so proud of that!"
Cry Baby have never before dipped this much into the heavier side of the rock canon, but in letting their inner emo kids out, they've found a whole new side to their artistic identity – one we hope they continue to nurture moving forward.
"'You Never Change' is Cry Baby at our most emo," Carter Long says. "Instrumentally we're just playing as hard as we can while still keeping it tight and focused. We wanted the vocals/lyrics to bring the same clarity and intensity. To me it brings the energy of a melodramatic outpouring of emotion that feels cathartic but fun at the same time."
There's a bit of an irony in the track titled "You Never Change" inherently representing some sort of change for this band, but ultimately we couldn't be more into this song if we tried. Cry Baby stumbled upon a new secret sauce here; stay tuned for more news of their upcoming sophomore album, and for now, lose yourself in this impassioned upheaval.
Why'd you tell me you wanted
Everything that I wanted
You built it up
Just to burn it all down
Why'd you yell when I told you
Everything that I'm going through
Play it down like you never knew
NEVER KNEW!
You never change
Its always the same
I guess I'm to blame
And then it's over
I took it away
And then it's over
:: "All Done" – GRAYtheband ::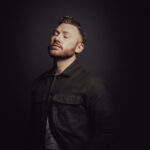 Edmonton neo-soul artist GRAYtheband recently unveiled the heart-wrenchingly beautiful new track, "All Done." Oozing with emotion, it's sure to send shivers down your spine, as singer Gray Ford showcases his powerful, whiskey-soaked vocals which glide over echoing piano melodies. Built around organic instrumentation, there is no need for any fluff, with Ford's voice soaring so brightly. In fact his vocals are so emotionally-charged that even if the song was just an acapella arrangement, he would still be able to portray the disparity and affection that the song narrates.
Written whilst navigating through a difficult period of his life, Ford shares, "I was closing a chapter of place and time with this song. Since showing others, folks seem to associate the lyrics and general emotion of the song with their individual trying – and sometimes traumatic – experiences that they have endured."
"All Done" is off of GRAYtheband's upcoming debut album and if this track is anything to go by, then we are going to be in for a treat!
:: "Swimsuit" – Tribe Friday ::
Sweden's Tribe Friday debuted with style, drive, and passion last year, introducing their "bubblegum emo" sound with a rousing, spirited ten-track album that burns bright with bits of glitz, glam, and raw rock fervor. In featuring the record last fall, Atwood Magazine remarked that it "establishes Tribe Friday as masters of the catchy, the cathartic, and the invigorating," and clearly never ones to disappoint, the four-piece returned earlier this spring with yet another inspiring enchantment.
Matilda's got a new swimsuit
She says it's all she'd ever hope it would be
"All the cute boys bend their backs for me now
And that's alright"
Matilda's got a new boyfriend
And he's all you'd ever dream to be
He only pops the pills, he (swears he) doesn't deal
So that's alright, so that's alright, that's alright
Released March 10 via Artist for Artist, "Swimsuit" is a no-holds-barred eruption from angst-ridden inner depths. It's a soul-search in the darkness; a track full of yearning, self-doubt, and unapologetic, unfiltered honesty.  "Cross my heart and hope to die," lead singer Noah Deutschmann sings in the chorus' feverish roar. "I'll be gone before I'm better. Eat that guilt and take that bow; she'd still be here if you'd let her."
Deutschmann calls "Swimsuit" a song about survivor's guilt. "It's about seeing the warning signs when looking back," he describes. "About wondering what your part in the whole thing was."
Cross my heart and hope to die
I'll be gone before I'm better
Eat that guilt and take that bow
She'd still be here if you'd let her
Cross my heart and close my eyes
Nothing happened, I was never here
Never here
Tribe Friday ask the sort of questions we know they'll never get answers to, but they ask them anyway. Full of what-ifs and regrets, "Swimsuit" tells us that it's okay to dwell – and to let the suffocating emotions out – as long as we don't let the darkness consume us whole.
Actually, it doesn't say that last part; that's just my personal advice. Everything in moderation.
Matilda's got a new conquest
She'll give anything a try, a taste
Says, "What's the point if you can't find out
what your brain can take?"
Matilda, oh-oh-oh
After all things done
M, I hope I wasn't folded
with a finger on the gun
— — — —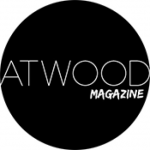 :: Weekly Roundup ::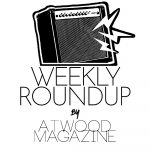 ---
:: This Week's Features ::
---