Dreamy Brighton-based upstarts CIEL have re-released their inadvertently topical debut EP, 'Movement'.
Stream: 'Movement' EP – CIEL
---
2020 has been an interesting year for us all. It's brought us together by forcing us apart, as well as in some cases, forced us apart by bringing us together.
Back in April, Brighton-based alt-pop outfit CIEL released their debut EP, Movement, which frontwoman Michelle Hindriks states reflects on "moving away from a more introspective period in which I felt quite distant from other people and moving into a new phase of my life in which I was able to open up." You could chalk this up as another one of life's cosmic jokes, but as she continues to explain, "we're now releasing this EP in a time in which we are forced to distance ourselves from one another, but I feel more connected to the people around me now that I did before."
With all the extra time that we've had of late, many of us have taken the opportunity to look inward, and for CIEL, this self-reflection manifested itself in their creative output.
Reflecting on their inadvertently topical debut, they took it upon themselves to re-release the project with two additional tracks that were written post-release during the lockdown, which salubriously slot into the mesmeric project's short runtime.
Kicking off with "The Shore," the lusciously dreamy sounds fast establishes the wildly introspective narrative with shimmeringly synth-led finesse. With life being brought to a standstill for much of the world over the past few months, Hindriks' tenderly crooned words pierce through with unequivocal ease, resonating in the back of your mind amongst the deeply enveloping soundscape.
Waiting for all there is
In my dreams
In a lifetime
Sitting on the shore
Waiting for
Life to start
Check out "The Shore," live at Bella Studios in Brighton:
---
This melancholic and vulnerable theme perfectly transitions onto "Days," an upbeat riposte that considers the sensation of feeling out of sync with the rest of the world. Shuffling rhythms and masterfully simple melodies set the stage for the otherwordly and irrefutably hopeful wall-of-sound chorus that's sure to rattle around your head for "Days," until you hear it again.
"Wasn't Enough For Me," the first of the two new additions follows, and comes across less like a song and more like the soundtrack to a personal epiphany. Lucid, and murky guitars simmer as an eerily warped vocal line echoing the title slowly dissolves into the aural bliss that builds around it, ushering the mood away from the despondent title towards a bright, yet considered optimism.
CIEL's music consistently maintains a palpable air of romanticism, whether that's in regard to the various facets of life itself, or to the connections with other people, of which "Same Old Times With U" dutifully fulfil;s the latter. An anthem for the rose-tinted memories of past loves, CIEL allows those thoughts and emotions to fully consume you before bringing you back down to earth with a grittily grooving alt-rock meets post-punk instrumental outro.
The second of the two additions, "…" acts a palette cleanser before "It's Not All The Same" reaffirms this aforementioned romanticism by closing out the project with a heart-achingly honest ballad on the apprehensiveness of modern love. Hindriks outlines that, "In the song, I am telling the person about my fears, and I am asking for understanding and to be soothed."
With Movement, CIEL have crafted a project where each track garners its own deeply engrossing storyline that functions independently, setting you on a path of pensive introspection. However, once it's amongst the collage of the full project, it becomes an enchanting personal journey filled with new discoveries with each listen.
CIEL's Movement Special Edition is available now via Box Bedroom Rebels and can be both purchased and streamed here.
— —
Stream: 'Movement' EP – CIEL
— — — —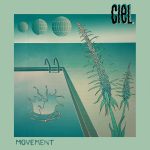 ? © Jonny Sanders
art © Michelle Hindriks
:: Stream CIEL ::
---